Herding dogs such as Aussies, Border Collies, and Corgis share a major behavioral trait in common that's not surprising given their breed class name — the strong inherent drive to herd. If you don't have a livestock farm, the challenge of having a herding breed as a furry family member is satisfying this instinctual nature to keep them happy.
Herding breeds and many herding mixes have certain playtime needs to keep them stimulated and ultimately well-behaved family pets. Herding balls can help satisfy some of their requirements, but you'll also want to keep a variety of indoor toys on hand for these intelligent dogs. We share your best toy options and herding balls (Jolly Pets and Race&Herd) to keep your high-energy pup physically and mentally engaged.
At A Glance: Best Herding Ball For Dogs
Why Do Herding Dogs Need Certain Toys?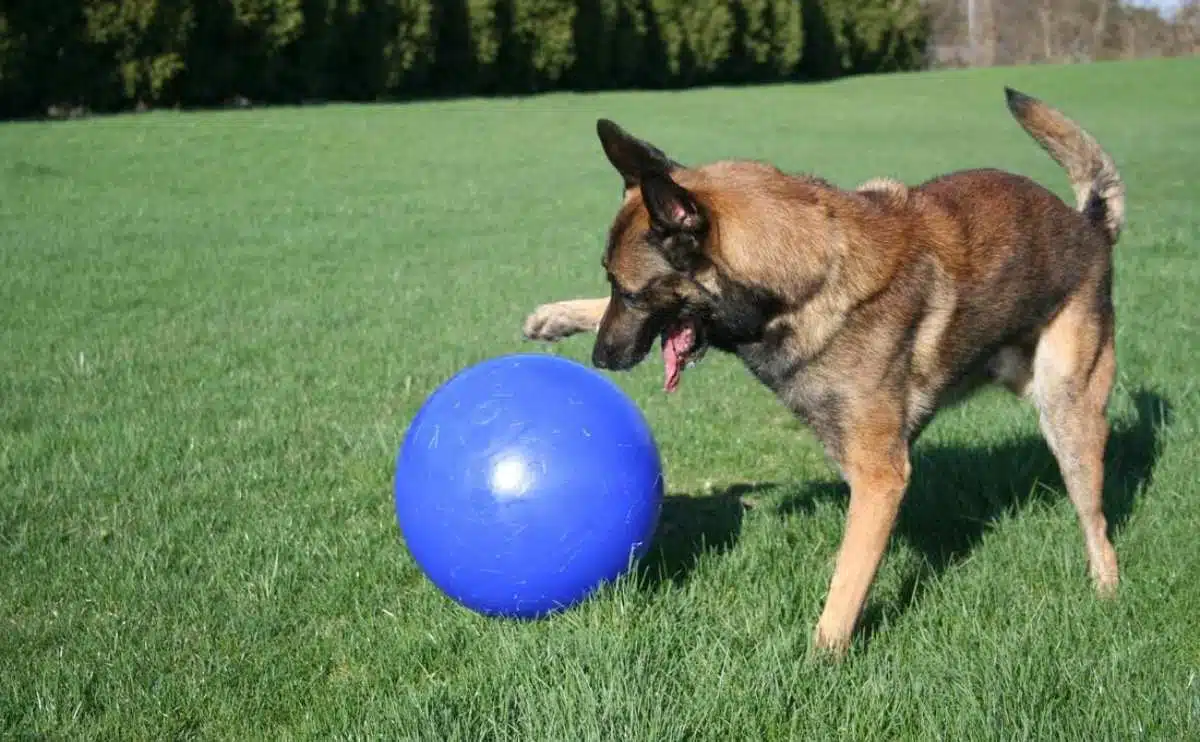 Herding dogs were bred to control the movement of animal herds, such as cattle and sheep. Herding breeds are extremely intelligent and loyal, but because they were bred to work, they're highly energetic and get bored easily. These characteristics make it so important to find the ideal toys to challenge them physically and mentally. Otherwise, they can become destructive and difficult to manage.
While The American Kennel Club recognizes more than 25 different herding breeds, the most popular in the U.S. include:
| | | |
| --- | --- | --- |
| Australian Shepherds | Australian Cattle Dogs | Bearded Collies |
| Belgian Malinois | Border Collies | Cardigan Welsh Corgis |
| Collies | German Shepherds | Miniature Australian Shepherds |
| Old English Sheepdogs | Pembroke Welsh Corgis | Shetland Sheepdogs |
What Is A Herding Ball?
Herding balls are used in the sport Treibball, where dogs compete to herd large balls into a pen within a set time period. But even if your pup doesn't partake in the sport, these balls are excellent toys for herding breeds because their natural herding instincts are incredibly strong.
Herding balls are too large and heavy for dogs to pick up in their mouths. So the only way to play with them is to push and chase them. And many dogs, not just herders, love them. The major factor in finding the best herding ball for your furry friend is to get one that's durable and big enough for your pup.
While Treibball competitions have ball sizing requirements based on a dog's height (e.g., 10″ for small dogs, 21″ for medium dogs, 25″ for large dogs), you don't necessarily need one as large for backyard playtime. But these can be helpful when deciding what size ball to purchase for your pup. According to Treibball rules, "balls should be at least the same height as the dog's height at the withers and may exceed the dog's head height."
Best Herding Ball For Dogs
We've chosen our top picks based on durability, customer feedback, size variety, pricing, and more.
Winner: Jolly Pets Push-N-Play Review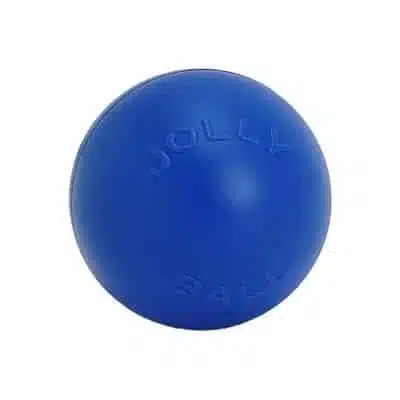 View on Amazon | View on Chewy
Arguably the best herding ball on the market, the Jolly Pets Push-N-Play is made from hard plastic to withstand hours of rough play. It's heavy enough that dogs can't pick it up and is virtually pop-free.
Made in the USA, it comes in three colors and five sizes, ranging from three inches to 14 inches in diameter. The 10 and 14-inch sizes have a plug so you can fill the ball with water, sand, or gravel to give your herder even more of a challenge. Most pup parents say their dogs absolutely love this ball.
Price
Runner-Up: Race&Herd Herding Ball Review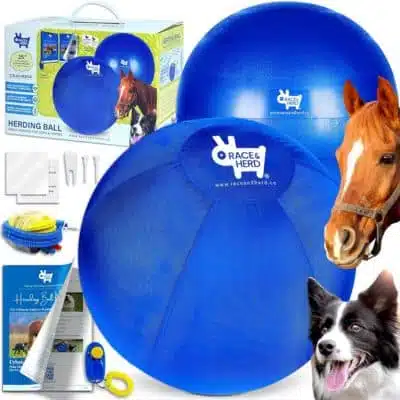 Think your dog may enjoy a larger herding ball? Look no further than this Race&Herd product, which comes in 18-inch and 25-inch diameters. The ball is made from heavy-duty, thick PVC material, and it comes with a durable polyester and nylon protective cover. And it even includes a herding ball training book. Customers say it's easy to blow up with the included pump. However, a few report that the ball doesn't hold air well. Still, many pup owners say their dogs spend hours of fun with this herding ball.
Price
Third Place: Trideer Extra Thick Yoga Ball Review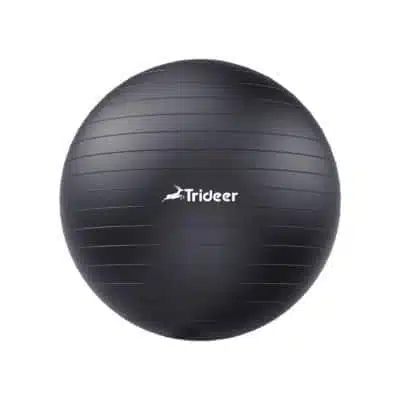 This pick isn't a traditional herding ball, but a regular exercise ball can be a fantastic alternative. In fact, they're frequently used in Treibball competitions. This top-rated Trideer yoga and exercise ball is made from heavy-duty, burst-resistant, and non-toxic PVC material and is designed to withstand weights up to 330 pounds. However, it's not entirely chew-proof so it may not be the ideal ball if your pup is a heavy chewer. It's available in five colors and five sizes, ranging from 15 to 34-inch diameters.
Price
Starting at $22.99 (15-18″ ball)
Best Toys For Herding Dogs
While a herding ball can provide hours of outdoor fun (and energy release), herding dogs need plenty of other mental and physical stimulation indoors and a variety of outdoor playtime to boot. Here are several types of toys that can keep your herder happy and occupied.
Puzzle Toys
Herding breeds are extremely intelligent and thrive on complex puzzle games. Interactive puzzles also give you a break from having to entertain your pup 24/7. While there are several different brands on the market, we recommend the line of sequential Outward Hound Nina Ottosson puzzles.
These puzzle games come in various difficulty levels and sizes. You can start easy and then move up to more challenging levels. At each level, your dog will follow his nose to find hidden treats. Along the way, he'll learn how to open and close compartments, move blocks, spin wheels, and master other tasks.
Personal Experience With Dog Puzzles
Although I don't have a herding breed, my dog, Tiny, loves these puzzles. He gets bored easily, so they've been a fantastic addition to our toy collection. Even after he figures each one out, he still enjoys replaying them. I love Outward Hound's puzzles because they have so many you can rotate with your pup. And they're really affordable for a high-quality product.

– Sally Jones, parent of a rescued mixed-breed
Fetch Toys
For indoor fun, the bestselling ChuckIt! Ultra Ball encourages exercise and playtime. These balls are made from high-bounce and buoyant material and come in five sizes. For longer-range outdoor fun, they're compatible with Chuckit! Launchers (but be sure to match up the ball and launcher sizes), one of our best dog ball launchers.
Outdoor Agility Kits
Herding dogs are excellent at agility games and competitions. Dog agility courses are a fantastic bonding activity for you and your furry friend, and they provide your energizer doggy plenty of physical and mental stimulation. It's easy to get started right in your backyard.
Outward Hound has an affordable ZipZoom Beginner Dog Agility Training Obstacle Course that includes an adjustable jump, weaving poles, and a tunnel. For a greater challenge, you may want to check out this PawHut Agility Training kit. It comes with an adjustable high jump, tunnel, weave poles, a square pause box, and an adjustable jumping ring.
Chew Toys
Chew toys can also be important for some herding dogs. When they get bored, they'll chew on anything in your house. However, having enticing chew toys on hand can help curb this behavior. If you have an aggressive chewer, you'll want toys that can withstand those powerful jaws, like the top-rated Benebone Wishbone chew toy, which comes in five sizes. For squeaky fun, check out the Voerou Dog Chew Toy. The Goughnuts toy Gouthnuts toy is also a fantastic option for pups who love to play tug of war.
See More Indestructible Dog Toys
Would Your Pup Have This Much Fun With A Herding Ball? (Video)
Check out this Border Collie going nuts over his herding ball. Get all that high energy out!
Keep Your Toys Stocked Up
For herding and other highly intelligent breeds, it's so important to invest in toys that help pups entertain themselves for those challenging hours during the day when you don't have time to interact with your pup. See our top picks of the best interactive dog toys to keep your pup occupied when you can't spend time with him.
For bright, energetic dogs, it's still so hard to keep stimulating dog toys on hand. If you don't have a lot of time to shop, you may want to consider a dog subscription box to receive toys and treats in the mail regularly so you never run out. You can even get a special dog subscription box for heavy chewers that comes with some of the toughest toys around, including mentally stimulating dog toys.
Tagged With: Comparison, Outdoors