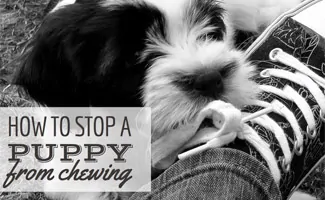 Help! My dog chews everything in sight! Is your puppy chewing on everything? You're not alone! Puppies (like babies) go through a teething process that lasts about six months. This is how your pup learns — by exploring this big world. But how do you stop her from destroying everything in your home? Try some of these tips to learn how to stop a puppy from chewing and keep them safe from ingesting something potentially harmful.
1. Make Sure Your Dog Has Chew Toys
If your dog is chewing on something she shouldn't, immediately replace that item with something she can chew on, like a chew toy. This corrects the behavior instead of punishing her. If you notice she isn't crazy about the toy you bought, buy her a different one. Dogs have preferences, so make sure she has a chew toy she likes.
One we suggest is the Benebone Bacon Flavored Chew Toy. This is a bacon-flavored wishbone chew toy that has a long lifespan. But be careful once you see that the toy is beginning to wear (cracks, breaking apart, deep teeth marks, etc.), you'll want to replace it.
2. Puppy Proof Your Home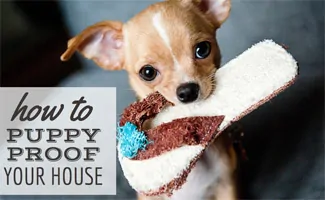 Puppy proof your home by blocking your pup from anything she shouldn't be chewing on and putting away anything she shouldn't have. Does she love to chew on shoes? Put all of your shoes out of sight so she can't sink her teeth into them. Is she a fan of chewing on the molding? Get a puppy pen or put her in a crate for short periods of time when you can't keep an eye on her.
3. Supervise Your Dog
Watch your dog whenever she's roaming about. She doesn't know the house rules yet, so it's up to you to show her. Let her know when something is off-limits. If she's a terror, use a leash inside, so she's close to you at all times.
Learn The Dangers: Did Your Dog Eat Something It Shouldn't?
4. Give Your Dog Attention
Sometimes dogs chew things up because they want your attention. Make sure you give your dog plenty of attention. If you have her locked up all the time, even when you are home, she's not getting the affection she needs to learn acceptable versus unacceptable behavior.
5. Try A Taste Deterrent
If your dog is sneaky (or you're just bad at keeping an eye on her), try getting a taste deterrent like Bitter Apple. But be careful, these don't always work, and some dogs will still chew on the item. So, be supervise your dog when you try something new.
6. Do Not Punish Them
Punishing your dog is not the answer. Punishment is not an effective way to train your dog, and often it can provoke other undesired behaviors. Your dog most likely won't associate the punishment with the "crime." And, if she is giving you a "guilty" look, it's not because she feels guilty. Dogs give this look when they feel threatened.
So instead of feeling guilty, she is actually scared of you because she can tell you are angry and upset but don't understand why. Keep in mind that your dog is like a baby. You wouldn't punish your baby for spitting up on your shirt, so don't punish your dog for chewing on a shoe that you should've put out of their reach.
New Toys For Heavy Chewers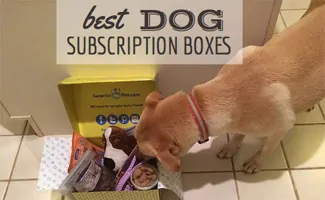 Whether teething or chewing with adult teeth, it might be a good investment to sign your chewer up for a monthly box subscription to deliver new toys regularly (dogs get bored quickly). They even make boxes for power chewers.
My Dog Loves To Chew Shoes
Are shoes your dog's favorite chew toy? Here are some specific tips related to those of you with a "shoe chewer" on your hands. If you are prepared to manage your dog's behavior, you may be able to stop puppy chewing right from the start.
We hope these tips have helped stop dogs from chewing all over the world. While it may be fun to get new shoes, it's not fun to spend all your cash on replacing chewed-up shoes. If these tips don't work, you might seek the help of a professional dog trainer. And if your dog is prone to chewing, you might consider getting pet insurance to help cover vet expenses should they swallow something they shouldn't. Check out our pet insurance 101 guide to learn more and determine whether pet insurance is worth it for your puppy.
Tagged With: Chewing, Training