Dog ownership is amazing, but it does come with some challenges. One of those challenges is chewing. Chewing is a common yet perplexing and sometimes long-lasting problem. Dogs love to chew, but sometimes they prefer to gnaw on furniture, household items, shows, and even their own paws and limbs rather than treats and chew toys. There are a few different reasons dogs chew. One method to discourage them is using anti-chew sprays.
At A Glance: Best Anti-Chew Spray For Dogs
Why Dogs Chew
Dogs chew for a variety of reasons. Puppies experience teething, which is quite uncomfortable and sometimes painful. Chewing and gnawing soothe the pain and help with the teething process. It is also a fun, engaging activity, and some dogs cannot get enough.
Adult canines chew out of boredom or as a coping method for anxiety and stress. It may be a sign of separation anxiety, especially if it happens when pets are home alone. This motion and sensation can help calm them down. It also helps clean teeth and keep the jaws strong and functional. In some cases, they may be chewing due to pain in their teeth, dental decay, or dental disease.
In some cases, dogs may chew if they are hungry. This is often directed at food bowls, treats, and other objects associated with meals and food. Some pups will develop a taste for other items, such as shoes, socks, rugs, blankets, clothing, or even furniture. We have known dogs who like to chew on wooden stairs, exercise equipment, and even couches. Chewing can come in a wide range of severities and affect canines of all ages. While it is often associated with puppies, this behavior is not exclusive to young puppies.
Dogs can start to excessively lick and chew on themselves due to allergies, irritation, wounds, bandages, or topical medication. This can become quite severe and even lead to an open wound, raw skin, infection, and long-term scarring. If your dog is licking one spot specifically, it is important you reach out to your veterinarian for assistance before using any topical products. This behavior is often associated with medical concerns like allergies or anxiety. Your veterinarian may suggest other methods, including probiotics and allergy medication, to help assist in stopping this chewing behavior.
Is Anti-Chew Spray Safe For Dogs?
Anti-chew spray is generally safe for dogs, but it is vital to always look at the ingredients and read the directions. Some sprays are not safe to be sprayed on fur. Others are unsafe for furniture, fabric, clothing, etc. So, always make sure to read the directions and check if a product is safe to use directly on your dog. This is preferable for many owners, especially pets licking excessively on a particular body area.
Not all sprays are safe to be used directly on your pet's body. Additionally, some products are not safe for puppies. Before using any product, read all the labels and discuss with your veterinarian if you have further concerns. If your dog is gnawing on themselves or excessively licking, a spray safe for fur is necessary. You may need a different product if your chewer's problem is directed at furniture, shoes, clothing, or other objects.
Best Spray To Stop Dogs Chewing
Like any other product, finding the best anti-chew spray for dogs depends on your pup's chewing triggers, habits, health, and individual situation.
For Aggressive Chewers: Bodhi Dog Bitter Lemon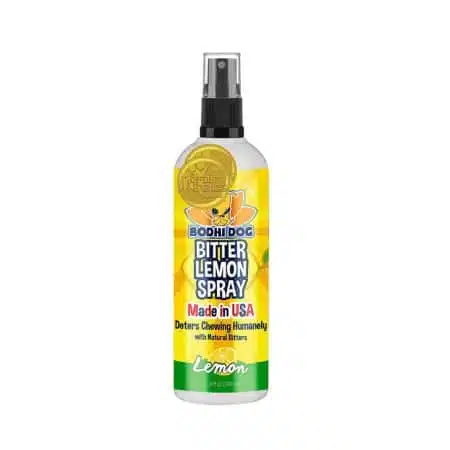 This is an all-natural, 100% nontoxic bitter lemon spray that is safe for your pup and furniture. This one is even safe for electrical cords. It is made from lemon extract and natural bitters and is 100% plant and botanical based. It has a naturally strong scent and is highly effective at preventing licking and chewing.
Use this one in a ventilated area, as natural bitters can smell very strong to some folks. The good news is this one smells very nice and has no chemical burn or sting. It is safe for indoor and outdoor use and safe to be sprayed right on your dog.
"I have personally used this one, and it works well for my dog. She was persistently licking one spot on her leg for weeks. It was raw, and would not heal due to the licking. We tried this product after trying other methods, including leg braces, wrapping, and distractions. Not only has it helped her not lick that spot, but it has also worked to discourage her from pawing at the dog gate. We spritz it right on her leg or right on the pet gate to keep her from chewing on that, which has made a significant difference."

Danielle D. Canine Journal
| Pros | Cons |
| --- | --- |
| All-natural | Some people may have a strong reaction to the smell |
| No chemicals | It does not taste good if you happen to taste it! |
| 100% plant-based | |
| Very effective | |
| Powerful smell | |
| Made in the US | |
Price
Best No Chew Spray For Dogs: Rocco & Roxie Extreme Bitter Spray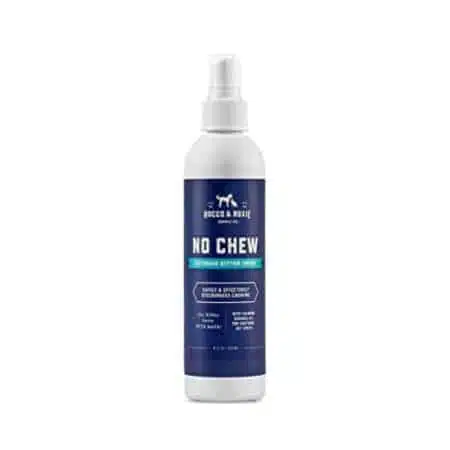 This product is designed to prevent pets from licking and chewing on fur, wounds, and bandages. paws, etc. It has a unique bitter taste that discourages licking. The formula is free of alcohol and other stinging chemicals. It uses copaiba oil for calming effects and to soothe irritated skin. This can be very helpful for pups who chew on open wounds or rashes.
This can also be used on cats. Additionally, it can be sprayed on fabric, upholstery, and other furniture. Owners report having positive effects, though it is not a home run for every dog. This spray is not safe for the eyes or genital area, so avoid spraying near those places. It is safe to spray on plants, though the company claims that it should not kill or harm them. However, it is not recommended to use it on plants excessively.
| Pros | Cons |
| --- | --- |
| It can be sprayed on the skin | May need to use a large amount |
| Safe to use on electrical cords | Not as effective for every dog |
| Made in the USA | Not safe for eyes or genitals |
| Calming effects from copaiba oil | |
Price
Best Fragrance-Free: Skout's Honor Super Sour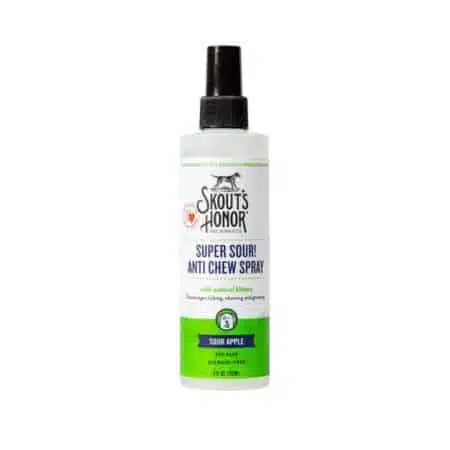 This is a powerful spray with a strong flavor but no fragrance. An intense sour apple flavor, as pups dislike the sour taste. Alcohol-free and safe for both cats and dogs. It may be used indoors and outdoors. It contains no sulfates, parabens, triclosan, petroleum, cocobentaine, added colors or dyes, or Diethanolamine and is never tested on animals.
The company donates a day's worth of food to a needy dog for every purchase. This product works to deter pesky habits, helps stop aggravating licking and chewing, and may be very helpful as a behavioral training tool. It is safe, natural, and effective.
| Pros | Cons |
| --- | --- |
| All-natural | Some owners report dogs like the flavor |
| Fragrance, alcohol and chemical free | May be more sour than bitter to some pups |
| Donates to needy pets | |
| Works for cats and dogs | |
| Indoor and outdoor use | |
| Safe for skin and household items | |
Price
Best Bitter Spray For Dogs: Grannick's Bitter Apple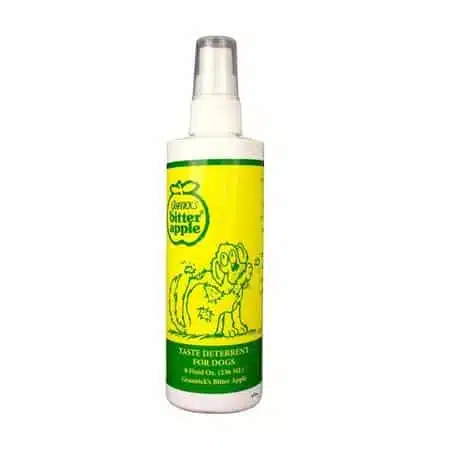 This has long been considered the best bitter apple spray, if not the best overall anti-chew formula for dogs. This formula was developed by a pharmacist back in 1960. It has been around for six decades and counting and continues to be a best-selling and highly effective anti-chew spray for pets. This one is appealing because it has no detectable smell for humans, but canines intensely dislike the odor and the taste. It is made right here in the USA, is non-toxic, and will not stain your furniture or clothing.
This product has gotten consistently high ratings for decades compared to other anti-chew sprays. Some owners debate the effectiveness. However, this one continues to be a top choice. Contact your veterinarian before using this product. It contains water, isopropanol 20%, bitter principles, and extractives. Make sure to contact your veterinarian before use, especially if you plan to put this on your dog's skin or fur. The alcohol content can increase itchiness, cause stinging, and dry out your dog's skin. This is especially important to note if you have a dog with itchy skin or continuously licking one specific spot or open wound.
| Pros | Cons |
| --- | --- |
| Decades old brand | Some owners report the sprayer is hard to use |
| Highly rated | Contains alcohol which can worsen itching |
| Developed by a pharmacist | Not as effective for all pets |
| Odorless to people | |
| Canines dislike taste and smell | |
Price
Best Dog Chewing Deterrent
There are a few different kinds of deterrents owners can try if they have a chewing problem.
A cone or E collar is a highly effective method to deter and stop chewing behavior. While many owners may object to this and feel that their dog is uncomfortable or in pain, these collars are quite comfortable and very effective in stopping a chewing habit. While no one wants to have to put their pup in a cone, if chewing is a problem and is causing harm or injury to them, it may be necessary.
"I have an older dog that is a chewer and have had to use an inflatable E collar in order to stop this behavior and allow her leg to heal. I use the inflatable e collar along with allergy medication and an anti-chew spray. This was done upon advice from my veterinarian, as this pup was an aggressive chewer, and we had tried other methods, including bandaging her leg."

Danielle D. Canine Journal
Katoggy Inflatable Collar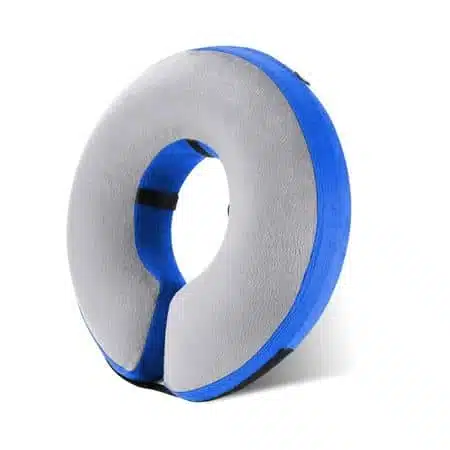 An inflatable Elizabethan collar can be a wonderful alternative to a traditional cone. They are quite comfortable and do not block your dog's vision or impede their ability to move or feel balanced. I have used the Katoggy collar with dogs of various sizes. One was quite small, just five pounds, and the other is larger, about 15 pounds. Both pups did well in this collar and could see, move around unhindered, sleep, and eat without any trouble while wearing this color.
This one attaches to an existing collar and has Velcro straps so owners can make a snug fit. It comes in four sizes, and the airbag comes out easily to wash the cover.
| Pros | Cons |
| --- | --- |
| No chemicals | Dogs may not want to wear it |
| Comfortable | Some dogs may figure out how to escape if it is not on properly |
| Easy to use | |
| No mess or spray | |
| Affordable and reusable | |
Price
Homemade Spray To Stop Dogs From Chewing
Many pet owners feel more comfortable taking things into their own hands and may be curious about making an anti-chew spray or mixture at home. The good news is there are ways owners can do this, creating a non-toxic, safe DIY formula they can feel comfortable with.
Owners can make very simple and easy mixtures from items they have on hand in the kitchen. For example, a mixture using apple cider vinegar and white vinegar has been effective for some owners. Simply mix one-part white vinegar with two parts apple cider vinegar in a spray bottle, mix well, and see if it works. You can add a cup or two of lemon juice to this mixture for added strength.
Canines dislike both the smell and taste of citrus fruits. This is why lemon is often an ingredient in anti-chew sprays. Owners can mix 1 1/2 cups water with 2 tablespoons of distilled white vinegar, and add several drops, about 20, of citrus-scented essential oils, shake together, and use to deter their pup from certain areas and objects.
Owners can try the spicy route if bitter tastes and smells do not work. A homemade cayenne pepper spray may be effective. This is made by boiling water and adding fresh cayenne peppers to it. Stick to about 1/2 a cup of peppers per cup of water. You must boil these together, remove the peppers, and cool the liquid down. Be very careful, as pepper oils and infused liquids can be quite strong, irritating skin, nose, and eyes.
Other Anti-Chew Methods
While anti-chew products like spray or bandages can be effective, there are other approaches owners can take. These include providing your pups with a variety of high-quality chew toys.
Dogs grow tired of the same thing daily, so keeping a variety of chew treats and sturdy toys of different flavors, sizes, and textures and then rotating them out is a very effective way to discourage chewing on other objects, like shoes. Your pup should have plenty of toys to choose from and one-on-one attention from people.
Owners must be responsible for their own belongings. If your pup develops a habit of chewing shoes, and you are trying to break this habit, leaving shoes out within his reach will not make things any easier.
Pups often chew out of boredom, so keep your pup entertained with plenty of physical and mental activity options. This includes regular physical exercise every day. They also need mental stimulation, so interactive dog toys like maze feeders, puzzle toys, and a change of scenery on daily walks are all effective ways to keep them entertained. This prevents boredom, which will prevent chewing. Owners may want to consider a super chewer subscription box for super persistent pups.
Distraction is often an effective method if you have a pup chewing on an open wound, paw, or specific area. You may need to wrap the site, use spray, and then provide your dog with a distraction like a new chew toy or a licking mat. You can spread peanut butter, cheese, or another tasty treat on it and give your pup something better to lick or chew.
Do I Need More Help?
In some cases, owners may need more help than a topical spray or physical blocker. If your pup refuses to stop chewing you must work with your veterinarian to rule out any medical causes. After that, consider consulting an animal behaviorist or professional dog trainer. These professionals are trained in canine behavior and have a deeper understanding of what may be motivating chewers.
Warning: If you want to use an anti-chew spray to keep your pup from chewing on his skin, get your vet's approval first. And never apply it to incisions or severe wounds. If your dog is licking or gnawing at a serious wound, you should contact your veterinarian as soon as possible to make sure your dog hasn't damaged their healing. An Elizabethan collar is usually the best deterrent in these cases.
Tagged With: Comparison, Training