Few things are more miserable for our furry friends than having to don the rigid plastic "cone of shame" that restricts their movement, field of vision, and comfort. But that's what you often get from your vet to protect your pup from licking and chewing at wounds or surgical incisions. Fortunately, several different protective products aren't nearly as disconcerting as the old-school Elizabethan collar. Some work better than others, so we've reviewed some top dog cone alternatives to help you find a better solution.
At A Glance: Our Top Picks
What Can I Use Instead Of A Dog Cone?
Depending on the area of your furry friend's body that requires protection, you have several options to keep your pup's mouth out of bounds. But any dog cone alternative product you choose must keep your dog from licking and chewing at her wound or surgical site 24/7. They're also helpful for keeping your dog from licking hot spots or irritated and inflamed skin.
The bacteria in dogs' mouths can cause infection and delay healing time. Even minor licking makes the site moist, which invites bacteria to spread. Excessive licking may re-open wounds, even those with stitches. And many dogs will chew out sutures, leading to severe complications.
E Collar Alternatives For Dogs
Some popular alternatives to hard plastic e-collars to help your pup heal and prevent licking wounds include:
Inflatable e-collars
Soft fabric e-collars
Onesies/surgery recovery suits
Sleeves
Booties
Best Cone Of Shame Alternatives
We chose our top picks based on several factors, including how effective each product is at deterring licking wounds, quality, comfort, customer feedback, pricing, and more.
Best Inflatable E-Collar: Katoggy Inflatable Dog Cone Collar Review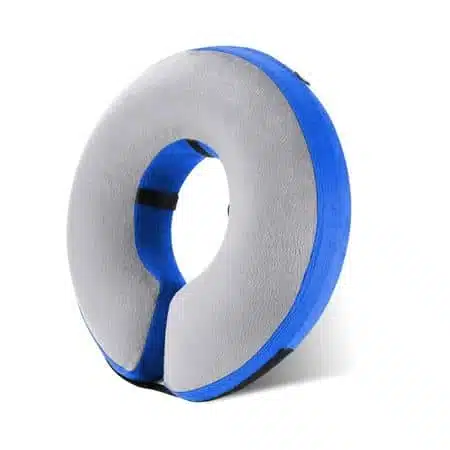 Inflatable e-collars are an excellent alternative to rigid cones because they're more comfortable and don't block your dog's vision. This Katoggy collar is an inflatable PVC airbag with a soft plush cover for your pup's comfort. Unlike with many cones, dogs can eat, drink, and move around much more easily while wearing this collar.
You can attach the Katoggy to your pup's existing collar with inner ring loops to secure it in place, and the opening has a Velcro strap you can adjust for a perfect fit. It comes in four sizes, with the neck circumference ranging from 5-24 inches. And you can remove the airbag to hand wash the cover.
Our Personal Experience With The Katoggy Inflatable Collar
I've purchased two of these for my five-pound older dog recovering from surgery and my 10-pound dog following neutering. This collar is easy to use and clean and comfortable for my dogs to wear. We had no worries about the dogs licking or chewing; these were highly effective in preventing that. Both were able to eat and drink with it on and move around much better than with the plastic cones.

Danielle DeGroot, Rescue Dog Parent
| Pros | Cons |
| --- | --- |
| Fits securely and easy to adjust | Doesn't work for dogs with long snouts, bodies, or legs |
| Doesn't block your dog's vision | Some customers said their dogs were able to maneuver out of it |
| Comfortable, plush material | |
| 3-month free exchange warranty | |
Price
Best Soft E-Collar: Manificent Dog Cone Collar Review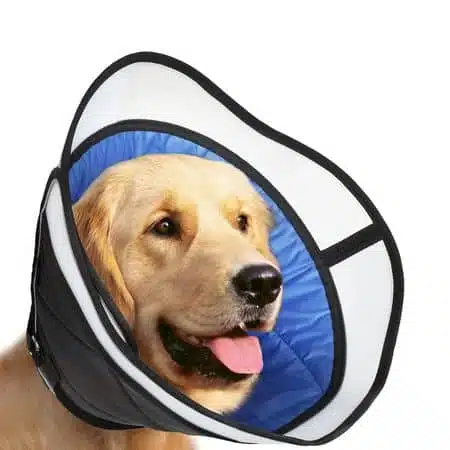 Unfortunately, for some dog shapes and sizes or wound locations, there's simply no way of getting around the need for a cone. But soft dog cones like our top pick are a better alternative to the hard plastic traditional cone that can pinch and hurt a dog's neck. This soft cone is made with water-repellent padded nylon with a foam backing and transparent PVC on the top to keep the cone from collapsing.
It's available in four adjustable sizes, ranging from 9-24 inch neck circumference. And it's easy to get an ideal fit with the wide Velcro strip. It also has a reflective strip for nighttime walking and a safety strap that runs around your pup's neck for extra security. The Manificent soft cone gets overall excellent customer reviews.
| Pros | Cons |
| --- | --- |
| Better protection for some dogs than inflatable collars | Too large and heavy for very small dogs |
| Easy to put on and adjust | Blocks vision |
| Foam padding for comfort | |
| Water-repellent and easy to wipe clean | |
Price
Best Onesie: Suitical Recovery Suit For Dogs Review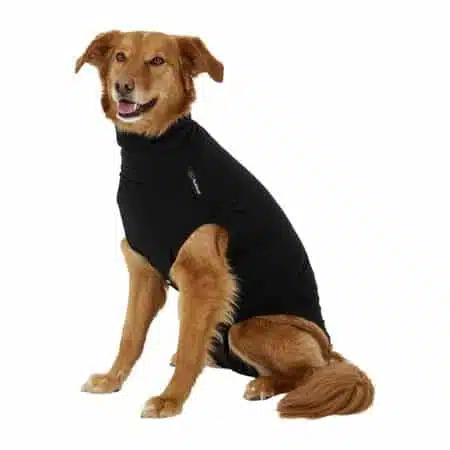 The Suitical Recovery Suit is an excellent alternative to a dog cone after neutering, spaying, GI surgery, or for any wound on your dog's abdominal area. The non-toxic four-way stretch fabric is comfortable and can also help your pup feel less anxious (similar to how a thunder coat works). The fabric is breathable, allowing air to circulate to the wound site for proper healing.
This recovery suit is also a fantastic way to keep the site clean from dirt and debris that could cause an infection. The rear fastener is easy to pull back for potty time, and it's available in 10 sizes to fit a wide variety of breeds. This suit gets rave reviews from pet parents.
| Pros | Cons |
| --- | --- |
| Keeps wounds protected, clean, and dry | A few customers said it can be hard to figure out the right size |
| Breathable cotton fabric | |
| Comfortable and doesn't block vision | |
| Machine-washable | |
Price
Best For Hind Leg Protection: Buckwheat Dog Hind Leg Sleeve Review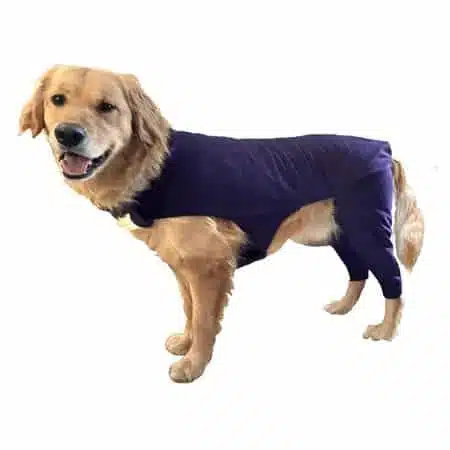 The Buckwheat Hind Leg Sleeve is a fantastic Elizabethan collar alternative for dogs with rear leg wounds or hind leg and hip surgical sites, e.g., TPLO or hip dysplasia incisions. The breathable polyester fabric lets air in to promote healing while keeping your pup from getting to the site. There is no risk of irritation to a dog's neck with these kinds of recovery sleeves. And your dog can pee and poop without any adjustment to the suit. It's available in 10 adjustable sizes with hook and loop straps at the neck and torso for a perfect fit.
| Pros | Cons |
| --- | --- |
| Keeps wounds protected, clean, and dry | On the pricey side |
| Breathable polyester fabric | A few reports that it doesn't fit well |
| Comfortable and doesn't block vision | |
| Made in the USA | |
Price
Best For Front Leg Protection: Suitical Recovery Sleeve For Dogs Review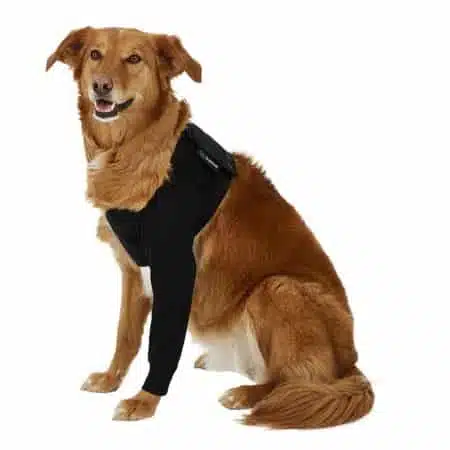 If you only need to protect one of your pup's front legs, the Suitical Recovery Sleeve may work well for you. It gets better reviews compared to similar front-leg sleeves. Like the Suitical Suit we reviewed above, this protective sleeve is constructed with the same breathable material. The design allows you to use it for either front leg, and it snaps closed for a secure fit. It's available in eight sizes to fit a variety of breeds.
| Pros | Cons |
| --- | --- |
| Keeps wounds protected, clean, and dry | Some complaints that the material isn't durable enough to withstand determined chewing |
| Breathable cotton fabric | |
| Easy to put on | |
| Comfortable and doesn't block vision | |
| Machine-washable | |
Price
Our Personal Experience With The Suitical Recovery Sleeve
I have used this sleeve with my larger dog Daisy, a 75 pound Pitbull Lab mix. She experienced skin irritation and started licking excessively. This caused a large sore, and no matter what I tried she could not stop licking. Daisy managed to get out of every cone alternative I tried, and popped an inflatable cone within 5 minutes. So, I purchased the recovery sleeve. The sleeve made a huge difference, as she could not get through the sleeve nor get it off. Using this made a huge difference, and even though it took several weeks, her leg finally healed.

-Danielle DeGroot, Rescue Dog Parent
What About The Comfy Cone Or A Fun Option?
Although these products didn't make our top picks, they're popular options that you may want to consider.
Alfie Recovery Collar Review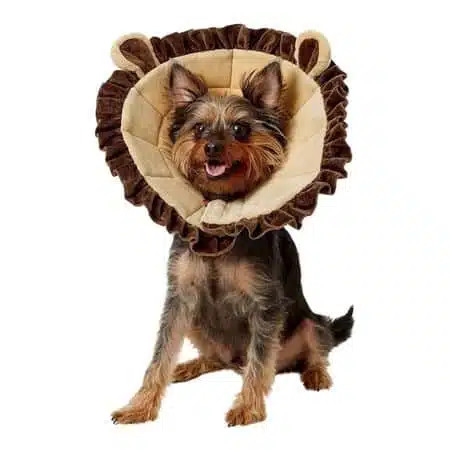 If you want to go for the cuteness factor, it doesn't get much more adorable than the lion-head Alfie Noah Recovery Collar (it's also available in cow, frog, monkey, sunflower, and other designs). This collar is lightweight, soft, and super comfortable. It comes in six Velcro-adjustable sizes. While this soft collar won't be effective for many dogs because it's too flexible, it may work for small dogs or those who aren't very active. You know your pet best and whether this will work or not.
| Pros | Cons |
| --- | --- |
| Adorable design | Won't work for pets determined to get to their wound |
| Soft and comfortable | Blocks field of vision |
| Strong Velcro closure | Can flip back and forth |
| Easy to put on and take off | Gets wet from drinking water and in the rain |
Price
Comfy Cone E-Collar Review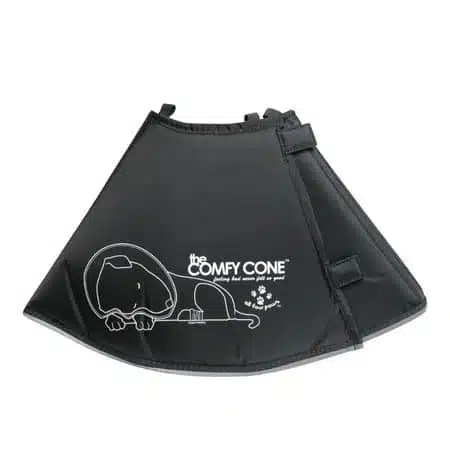 The Comfy Cone by All Four Paws is a popular soft e-collar alternative to the rigid traditional cone. It's made of foam-backed, padded nylon with plastic stays, which you can remove if your want a more flexible collar. It has three fastener strips, elastic loops to attach the cone to your pup's collar. Also has a reflective edge for nighttime walking.
The Comfy Cone is available in eight sizes, ranging from 9.25-28.25 neck circumference. You can purchase a 2-inch extender for dogs with super thick necks. It gets a lot of positive customer reviews. The main complaints are that it obstructs vision too much and is heavy, making it difficult for some dogs to move around.
| Pros | Cons |
| --- | --- |
| More comfortable than rigid plastic cones | Blocks field of vision |
| Removable plastic inserts | Heavy and bulky |
| Has larger neck sizes than other collars we review here | |
| Water resistant and easy to clean | |
Price
Homemade Dog Cone Alternatives
There are several different ways you can make a DIY dog cone alternative easily and cheaply. Here are two of our favorite methods.
Pool Noodle E-Collar
One popular method is to use a regular hollow foam pool noodle. All you have to do is cut the noodle into segments and slide them onto a classic dog collar, so they fit all around your pup's head. You'll just need to make sure the noodle's circumference is large enough to keep your dog from reaching her wounds.
Towel And Duct Tape (Video)
Another DIY option is just as simple, but it has limitations as all non-cone collars have. Check out this video from P.E.T.S., a nonprofit spay and neuter clinic in Texas, that demonstrates an easy way to use a towel and duct tape to make an e-collar for your pup.
How Can I Relieve My Dog's Pain?
If your canine companion is recovering from surgery or an injury or has a painful chronic condition, your pup may need help relieving her discomfort. You may want to learn more about the best pain meds for dogs as well as natural pain relief alternatives to medication. Calming treats and CBD oil may be beneficial to help inflammation and mood. You and your veterinarian can discuss which options are ideal for your dog's situation.
Tagged With: Comparison