Do you feel like you always have to let your dog in and out, especially when you're in the middle of something important (baby crying, must-answer phone call, dinner on the stove) or when you're not home? Then you need a dog door.
Why Should I Get A Dog Door?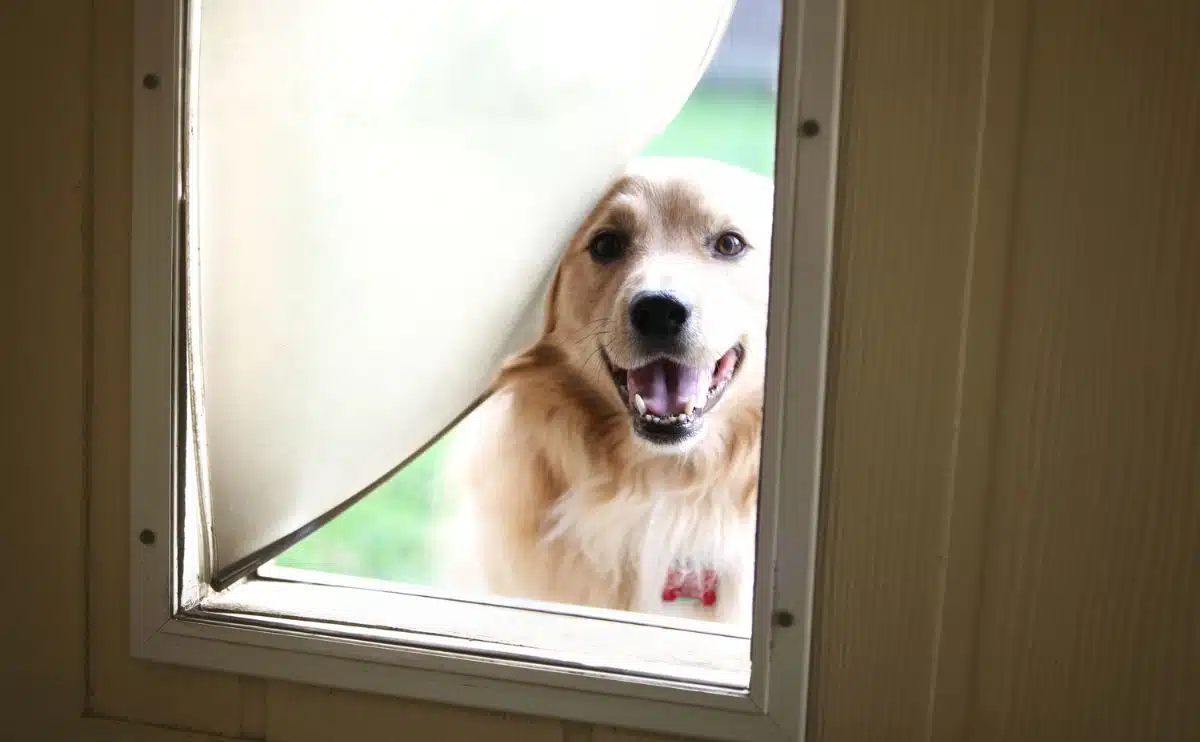 Don't let your dog drive you crazy or keep them cooped up all day — give them some freedom to come and go on their terms. Installing a dog door in your home can go a long way in simplifying your home life — and making your dog a happy family member.
If you can afford the cost and time to install a dog door, why not invest in something you and your canine will love? The benefits are enormous — increased freedom for your pet and a dog door may also reduce destructive behaviors, including chewing, indoor potty accidents, scratching, and even barking.
Our Personal Experience With Dog Doors
"We used to have a Pet Safe dog door for Domino. We use the Pet Safe dog door in our garage to allow our Dalmatian Domino to have a sheltered area when he wishes. It allowed our dog in and out but no rain or snow ever came inside."

– Michelle Schenker, Co-Founder of Canine Journal and Dog Parent
Keep An Eye On Your Pups While Away

A door/window sensor on your dog door and an outdoor camera from this home security system will notify you of your dog's activity while you're gone and give you peace of mind as you watch your dog relax and play.
Best Dog Doors (By Type)
So, what are the best dog doors on the market? Our extensive research led us to the following list of the best dog door reviews, which we've categorized to help you hone in on what you need in our in-depth dog door review below. We chose our top picks based on quality, durability, ease of installation, customer reviews, and more.
Best Automatic Dog Door: SureFlap MicroChip Pet Door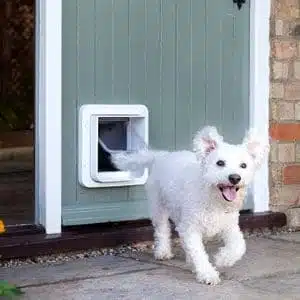 The SureFlap Microchip Pet Door is a no-hassle approach to pet doors. The SureFlap pet door uses your pet's implanted microchip to open the door and eliminates the need for collar keys. This lets only your pets with microchips enter and exit the home while keeping out other pets, strays, and wild animals. The SureFlap is an excellent choice for households with multiple pets or owners who don't have time to monitor their pet's location.
If your pet isn't microchipped yet, you can use one of these SureFlap Microchip ID Tags to authorize the use of this pet door. If your pet does not have an implanted microchip, be sure also to get this ID Tag so that this product will work correctly.
| Pros | Cons |
| --- | --- |
| Easy DIY installation with step-by-step manual | Only accommodates cats and dogs under 50 pounds |
| Fits doors 1 to 2″ thick | Need for a microchip (or a special ID tag) |
| Double-flap, weather-resistant, and high energy efficiency | |
| Multi-point locking | |
| Modes to restrict access to certain times | |
| Customer support Mon.-Sat. via phone and email | |
Pricing & Tech Specs
Best Traditional Dog Door: PetSafe Never Rust Plastic Pet Door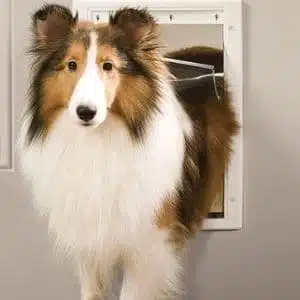 Are you looking for something a little more basic? This pet door from PetSafe is your best bet. It can be used for doors and walls and has a plastic flap tinted for privacy. The frame is durable and you can paint it to match the door color. It also has a snap-on panel to close when not in use. This door comes in four sizes, and all are under $100.
PetSafe's U.S.-based customer care experts are available on the phone Monday through Saturday to help you through any installation issues. Plus, it's made by one of the biggest, most trusted names in the pet product industry (founded in 1991).
| Pros | Cons |
| --- | --- |
| Easy DIY installation with step-by-step manual | Some reports of lower quality and water leakage |
| Can be installed on most doors and walls, including metal doors | |
| Soft flap for comfortable access to come and go | |
| Available for pets up to 220 lbs | |
| Snap-on panel to restrict access | |
| Customer support 6 days a week via phone | |
Pricing & Tech Specs
Best Dog Doors For Walls: Endura Flap Dog Door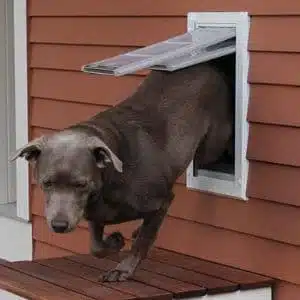 The Endura Flap wall mount pet door is the best in wall dog door and the sturdiest, most energy-efficient wall mount we found on the market. Unlike other flaps, Endura flaps are sealed with magnets, making them more rain and wind resistant than many other dog door flaps. And their flaps are made from environmentally friendly materials.
This is a sturdy, well-made product with an aluminum steel tunnel and locking cover, which is easy to lock quickly. They also have four different size options, as well as the option for one or two flaps. Use flaps in harsher climates. The only drawback to the Endura Flap is that the installation is complicated. If you're considering this dog door, you may want to look into hiring a contractor to install it for you.
| Pros | Cons |
| --- | --- |
| Small, medium, large and extra-large options accommodate most dog sizes | Installation can be tricky, even for handy people |
| Highly weather and wind-resistant | Expensive |
| Fits walls up to 8″ thick | |
| Single and double flaps seal with magnets | |
| Heavy-gauge aluminum tunnel | |
| Easy and sturdy locking clip | |
| Customer support 7 days per week via phone and email | |
Pricing & Tech Specs
Best Extra-Large Dog Door: Plexidor X-Large Door Mount Pet Door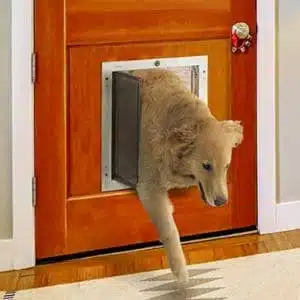 Looking for a dog door for large dogs? Need a sturdy, durable dog door for your massive-sized canine? Look no further than the Plexidor Extra Large Door Mount Pet Door. Made with many of the same features found on commercial kennel doors used by the military and police, the Plexidor is strong enough to withstand all the power behind your pooch.
The Plexidor incorporates 3/8 inch thick shatter-resistant acrylic doors and chew-proof aluminum trim in a saloon-style, swinging door design. No more flaps to replace! Yes, it's pricy, but it's worth it if you want a dog door that will outlast your dog. Plexidor also makes an extra-large wall mount version in case that's a better fit for your home.
| Pros | Cons |
| --- | --- |
| Accommodates dogs up to 220 pounds | Although the door has a lock, there's no easily attachable cover for temporary use |
| Extremely sturdy and durable | Customer support only available between 10 am – 4 pm Mon – Fri via phone |
| Weather-resistant and energy-efficient | |
| Fits standard household and glass doors | |
| Easy installation if you're moderately handy | |
| Self-closing doors that seal tightly | |
| Heavy steel security plate you can screw in for longer periods away from home | |
Pricing & Tech Specs
Best Dog Door For Screen Doors: Ideal Pet Doors Screen Guard Pet Door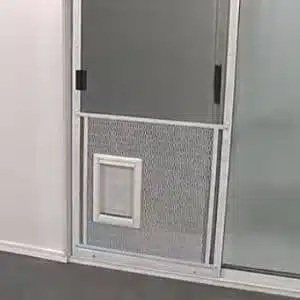 The Ideal Pet Doors Screen Guard Pet Door is ideal if you need something a bit less expensive and easy to install and don't want to blemish your home's walls or permanent doors. It has a removable cover so you can slide it in place when you don't want your dog to use the door.
Installation is a breeze. You can attach the Ideal Pet Screen Guard to a door grill (sold separately) to ensure that your screen door doesn't get damaged. An excellent choice for owners living in milder climates or a seasonal second dog door. However, if you are looking for a more energy-efficient, less drafty option, Ideal offers this replacement flap upgrade too.
| Pros | Cons |
| --- | --- |
| Less expensive option | Not suitable for dogs over 90 pounds or larger stature dogs (be sure to measure your dog before purchasing) |
| Easy DIY installation | Not energy-efficient |
| Flexible vinyl flap with magnetic closure | |
| Sturdy construction | |
| Customer support Mon – Fri working hours via toll-free hotline | |
Pricing & Tech Specs
Best Sliding Glass Dog Door: Endura Flap Thermo Panel 3e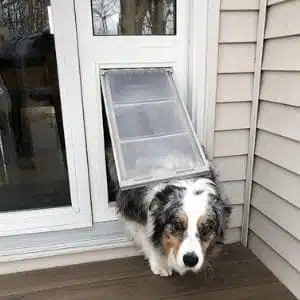 The Thermo Panel is an excellent choice if you want your doggy door installed in your sliding glass door. It fits all standard-size sliding glass doors, has heavy gauge aluminum framing, and incorporates Patio Pacific's Endura flap technology (also used in our Best Doggie Door For Walls above). You can also choose custom height patio panels and frosted glass. Although expensive, you're getting a sturdy, durable, safe, and energy-efficient product.
| Pros | Cons |
| --- | --- |
| Accommodates all dog sizes | Expensive |
| Durable dual-pane glass for better insulation | Learning curve for smaller dogs and cats to push through the magnet-fortified flap |
| Fits all standard size sliding glass doors (minimum track width 1 inch) | |
| Sturdy locking flap cover | |
| Flap has adjustable magnet strength | |
| Moderately easy do-it-yourself installation | |
| Customer support 7 days per week via phone and email | |
Pricing & Tech Specs
Best Storm Door With Pet Door: EMCO K900 Series White Vinyl Self-Storing Pet Storm Door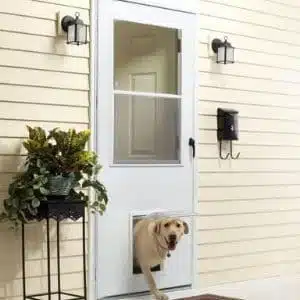 The EMCO K900 Pet Storm Door is another alternative if you don't want to mar your solid doors or walls permanently. And, unlike using a screen door with a dog door, the storm door is more energy-efficient. We like the ease of installation, the sturdiness of the door and the dog door, and the fact that it has a window panel at the top to let light through. It's an affordable option with easy installation for handy people.
| Pros | Cons |
| --- | --- |
| Relatively affordable option | Only accommodates dogs up to 90 pounds |
| Storm door has weather-stripping, and dog door closes well with minimal airflow, so moderately energy-efficient | Storm door doesn't have a lock (just push-button closure) |
| Two-flap dog door with clear flaps so dogs can see through | |
| Dog door has locking cover | |
| Easy installation | |
| Solid 10-year warranty | |
| Customer support 7 days a week (business hours) via phone | |
Pricing & Tech Specs
What Factors Should I Consider In A Dog Door?
There are several factors you need to consider when embarking on your research. Give some thought to the following questions to help you narrow down your choice to find the best fit among the best pet doors.
And no matter your dog door, you will want an indoor doormat inside the entrance to clean up dirty paws before getting too far.
Things To Consider In Dog Door (Infographic)
Here's a quick summary of what to remember when shopping for a dog door so you can keep these things in mind when considering one for your home.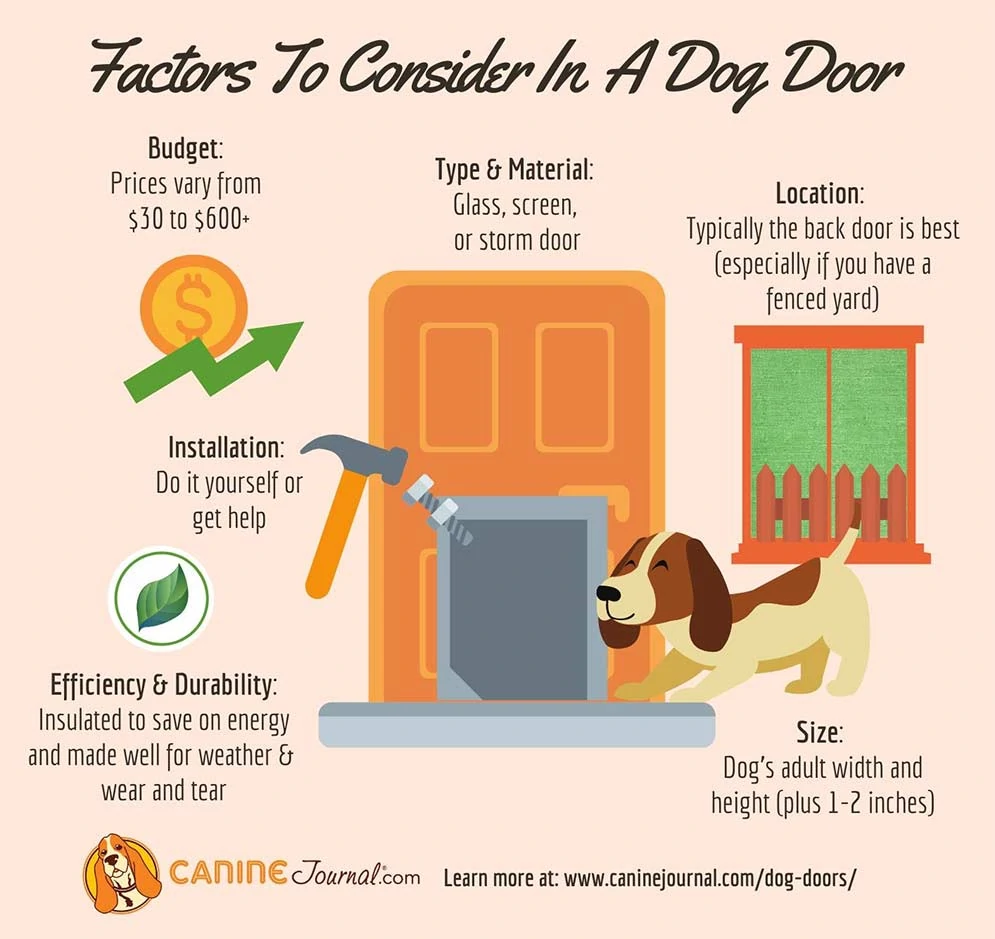 Video: How To Train Your Dog To Use A Dog Door
Once you get your dog door set up, your dog might need some time adjusting to using it. Like anything unfamiliar, they will adjust over time and with practice. Watch this video to get some tips to make training easy for you and your dog.
More Ways To Let The Dog Out
We hope our article has helped you choose the best dog door for your home. But if you're looking for alternative ways to keep your pup from escaping, check out our dog gate review. And if you let your dog roam free, make sure you have a fence (or wireless fence) so they don't run away. If you are not ready yet to commit to a doggy door, you might consider installing this dog doorbell.
Tagged With: Comparison, Containment