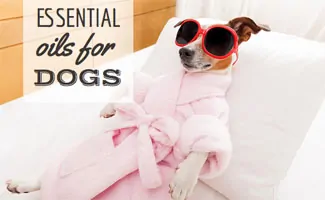 Ahhh, eau de toilet is the scent of choice among canines everywhere. But, as an alternative to the real thing, are essential oils safe for dogs? Some but not all essential oils are safe for your pup. So it's important to do your research before trying aromatherapy on your pup.
Some of the oils we discuss in this article can help with flea infestations, arthritis, and more. Don't worry about purchasing them all. Depending on your dog, you may find that some make more sense for your pup's unique spa experience and needs.
Fleas On Dogs
Fleas can be tricky to get rid of, but essential oils are great for keeping them away. There are a couple of different herbal solutions you can use to de-flea your dog. Two of the most common oils used are lavender and cedar oil for dogs.
Oils For Flea Collars
3-5 drops of Cedar, Lavender, Lemongrass or Citronella Oil
3-5 drops of olive or other carrier oil
1-3 tablespoons of water
Bandana or your dog's collar
Eyedropper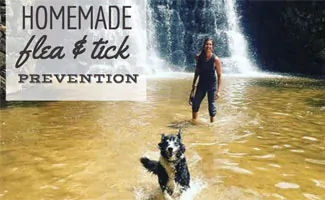 Dilute the oils in the water, then apply 5-10 drops to the bandana or collar. Reapply the mixture to the collar/bandana once a week. Apply more often if the collar gets wet from rain or swimming.
More Natural Flea & Tick Prevention Recipes
Fleas Around The Tail
Dilute 1 or 2 drops of Cedar or Lavender Oil with at least 1 tablespoon of olive oil and place it at the base of your dog's tail.
Flea Spray
1 cup white distilled vinegar or 1 cup apple cider vinegar or a 50/50 blend of both
1 quart fresh water
2-3 drops of Cedar, Lemongrass, or Lavender Oil
Spray bottle
Combine all ingredients in the spray bottle. Mist your dog with the spray, but be careful not to get it in their eyes, ears, and nose (avoid the face in general). To get the area around their neck and behind ears, take a cloth, dampen it with the mixture, and wipe it on. You can also spray your pet's bedding with this mixture.
Dog Allergies
Human skin can be very sensitive, and this is also true for dogs. So make sure you are using therapeutic grade essential oils on your dog's skin (not aromatherapy grade or perfume quality). By using the wrong grade of oil, you could be causing more harm than help.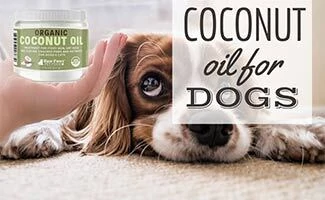 IMPORTANT: Make sure you dilute the essential oil with a carrier oil (olive oil or coconut oil work great). The appropriate ratio for large to medium pups is 1 drop essential oil to 10 drops base oil, or for small dogs, it's one drop essential oil to 25 drops base oil. Diluting the oil is vital because an essential oil's strength is based on the human body, equal to a 100-pound dog.
Oils to use for your dog's allergies (always remember to dilute them):
Chamomile – This oil can soothe skin irritations, allergic reactions, and burns for dogs.
Helichrysum – Works well on skin conditions like eczema and irritations. It has anti-inflammatory and analgesic properties and provides pain relief.
Lavender – Not sure what the problem is, but you want to try to help your pooch? Rub some diluted lavender oil on the spot she is scratching.
Niaouli – This oil has antihistamine and antibacterial properties to help your dog's skin issues from allergies.
Sweet Marjoram – This oil is great for healing bacterial skin infections and wounds. It has strong antibacterial properties and has a calming agent as well as a muscle relaxant.
Dog Anxiety
Lavender Oil
The most discussed essential oil for dogs' anxiety is lavender (it also works well for human anxiety). When diluted, Lavender oil is very safe and gentle for dogs. It can calm and soothe your dog by gently rubbing it into your dog's ears, fur, and skin while giving it a nice massage. In addition, lavender oil for dogs has antibacterial and anti-itch agents. This is great if your dog has a skin irritation or needs first aid.
CBD Oil
Studies are still underway, but early results indicate that CBD (the portion of the hemp plant that contains no THC) can reduce anxiety in pets and humans. It is a natural solution, and to-date, trials have found no real side effects.
Available as an oil that can be added to food or baked into dog treats, it is an easy solution to administer and one that we feel is worth trying. But, before you give it to your dog, be sure to check with your vet to make sure it is safe for your pet.
Coconut Oil
Coconut oil has many benefits for dogs. Coconut oil aids your dog's digestion, improves their coat, and can help prevent infection. Below is a more extensive list of the benefits of coconut oil for dogs.
Healthy skin and coat: Clears up eczema, relieves itchy skin, minimizes dog odor, reduces allergic reactions, gives a shine to their coat, heals wounds, and more
Improves digestion: Helps with nutrient absorption, colitis, and inflammatory bowel syndrome, reduces bad breath, and helps with coughing
Considered a superfood: Aids in weight loss, antibacterial, antiviral, anti-fungal, may be possible to prevent or control diabetes (check with your vet), increases energy level, prevents infections and diseases, and more
Coconut oil can be rubbed into your dog's fur or ingested. But be careful. Introducing coconut oil into your dog's diet takes time, and you must start with small amounts. Talk to your vet about adding coconut oil to your dog's diet to see if it is okay and how much to give them.
Learn More About Coconut Oil For Dogs
Neem Oil
Neem oil can help manage ticks, intestinal parasites, mange mites, and fleas. Also, it can improve your dog's immune system, coat, and teeth. To achieve these benefits, many pet parents use neem shampoo on their dogs.
Caution
If you decide to use pure neem oil, you'll want to know a few things.
If your dog has an open sore, you should dilute the neem oil 1:10 in a light carrier oil like grape seed oil or almond oil. Then massage the solution into the skin. Feel free to apply it multiple times a day. If your dog has eczema or demodectic mange, dilute the neem oil 1:1.
It's important that whenever you apply something onto your dog's coat that you monitor the skin. If there is a bad reaction, wash it off immediately. Also, should you choose to put pure neem oil on your dog's skin, you should leave it on for no more than 48 hours.
Tea Tree & Other Toxic Essential Oils
Recent reports state that tea tree oil may do more harm than good for your dog. If your veterinarian recommends tea tree oil, proceed with caution, and follow instructions precisely. However, if you feel uncomfortable with administering it, you can always ask your vet for an alternate treatment. Should you go forward with the treatment, you'll want to know that essential oils, including tea tree oil, should never be given to your dog orally and should always be diluted. You should never administer essential oils without the consent of your vet.
Dogs Should Avoid These Essential Oils
Studies have shown that using tea tree (melaleuca), cinnamon, citrus, pennyroyal, peppermint, pine, sweet birch, wintergreen, and ylang ylang can be toxic for dogs and cats. These essential oils are risky, so be sure you understand the potential risks.
Aromatherapy For Dogs
There are many benefits to aromatherapy for dogs. Not only will many of the scents calm and soothe your pet, but it's also a great bonding time for the two of you. Check out this video to see how this woman uses aromatherapy on her dog.
Want more pampering for your pup? Learn more about the benefits of dog massages to help with anxiety.
Tagged With: