To keep the lights on, we receive affiliate commissions via some of our links. Our review process.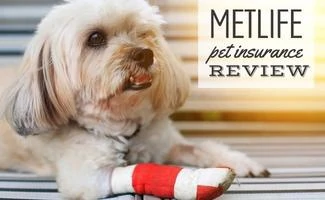 PetFirst was founded in 2004 and bought by MetLife in December 2019. MetLife Pet Insurance is one of the few pet insurance companies to offer a 100% reimbursement option. It also has a short waiting period for accidents (only one day after enrollment). But do these factors make it the best pet insurance for your dog or cat?
MetLife Pet Insurance Overall Rating
2.0/5.0
Our pet insurance experts read through each pet insurance companies' policy to provide detailed comparisons and information regarding how a provider fares against others in the industry. We also speak with customers, read online feedback, and communicate one-on-one with the pet insurance companies to obtain a well-rounded, unbiased analysis of a company's standings.
Our team rates pet insurance companies based on several factors, including A.M. Best ratings (an indicator of financial stability), claim processing reputations, contract coverage, customer service, pricing, plan customizations, and more.
Pros & Cons Comparison Table
| Pros | Cons |
| --- | --- |
| Optional wellness plan (must purchase in conjunction with pet insurance) | Doesn't cover treatment, services, or supplies provided outside the U.S. |
| 80% of claims are processed within 10 days | Excludes working pets (e.g., law enforcement, racing, etc.) |
| Diminishing deductible | |
Alternatives To MetLife Pet Insurance
Don't like the score you're seeing? Our experts have analyzed over a dozen pet insurance providers. Check out our pet insurance reviews to learn more about this year's top-ranked companies.
Key Features
Underwriter: Independence American Insurance Company (IAIC)

A.M. Best rating (a measure of financial stability): A-

Bilateral conditions (a condition or disease that affects both sides of the body) may be covered in some cases
Claims process:

Submit claims via email, app, mail, MyPets account, or fax
80% of claims are processed within 10 days
Reimbursement is available via direct deposit, check, or Zelle

Healthy pet incentive: Deductible decreases by $50 each policy year you don't receive a claim reimbursement (may not be available in all U.S. states)
Automatic policy limit increase: if your policy limit is $5,000 or more and you have an unused amount of $1,000 or more at the end of the policy period, then MetLife Pet Insurance will increase your policy limit by $500 at no extra cost to you when you renew
Offers coverage for advertising and reward if your pet is lost (due to theft or straying), grief counseling when your pet passes away, and more
Customer Service Options & Hours
Phone

Monday-Friday: 8am-9pm EST
Saturday & Sunday: 10am-7pm EST

Email
Live chat
Waiting Periods*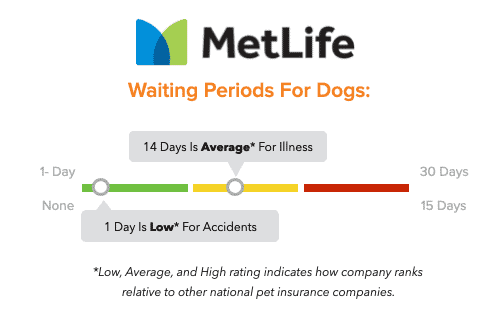 Illnesses: 14 days
Accidents: 1 day
Cruciate Ligament: 6 months
Hip Dysplasia: 1 day
Wellness: 1 day
*Waiting periods for Maine are as follows:
Accidents - 0 days
Illnesses - 14 days
Cruciate Ligament Conditions - 30 days
Routine Care - 0 days
What Does MetLife Pet Insurance Cover?
Please know that none of the providers in our pet insurance comparison charts cover pre-existing conditions, cremation and burial costs, pregnancy and breeding, or unnecessary cosmetic procedures.
All of them cover the following items when deemed medically necessary: emergency care, surgery and hospitalization, specialized exams and specialty care, X-rays, blood tests, ultrasounds, cat scans, MRIs, rehabilitation, cancer, chronic conditions, euthanasia, hereditary conditions, congenital conditions, non-routine dental treatment, and prescription medications. However, this coverage may have limitations, so please review your policy carefully.
| Condition | Covered By MetLife Pet Insurance |
| --- | --- |
| Behavioral Therapies | |
| Alternative/Holistic Therapies | |
| Cremation/Burial | |
| Exam Fees | |
| Wellness Care | Extra Fee |
Routine Care
MetLife Pet Insurance offers a routine care package as an add-on to your pet insurance policy, but doesn't share specific details about what's offered in this wellness plan.
Pricing Quotes
From the options below, MetLife Pet Insurance lets you choose your deductible, annual payout, and reimbursement amount. What you select will help determine your monthly cost.
Deductible Options
Payout Options
Reimbursement Options
$50
$100
$250
$500
$2,000
$5,000
$10,000
70%
80%
90%
100%
Pricing is based on your pet's details. Visit the MetLife Pet Insurance website for a quote specific to your pet. Then use our pet insurance quote form to see how it compares against other providers.
Discounts
Offers a 10% discount for vets, shelter personnel, etc. It also offers discounts for those serving in the military, veterans, first responders, and healthcare workers.
How Does The Claim & Reimbursement Process Work?
Uses a "deductible then copay" reimbursement method. This is calculated in the following way:
Actual vet bill amount – Remaining annual deductible – Copay = Reimbursement amount
What's Our Final Verdict?
MetLife Pet Insurance isn't our top pick for pet insurance but why? Other companies can offer lower prices, more comprehensive coverage, and have longer, more stable reputations in the pet insurance industry. We rate the best pet insurance companies based on coverage, customer service and reputation, claim processing, price, plan customizations, and more. Find out who we chose as our top picks in our pet insurance reviews.
Tagged With: Review, Reviewed By Insurance Agent