To keep the lights on, we receive affiliate commissions via some of our links. Our review process.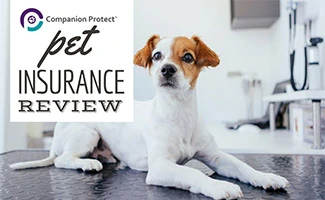 Companion Protect offers a pet insurance policy that differs widely from every other provider we've reviewed (and we've reviewed a lot). With an in-network setup and some requirements you don't see from other providers, does Companion Protect stand above or fall short compared to such stiff competition in the pet insurance industry? We'll give you all the details you need to know to make the best decision for your situation.
Companion Protect Pet Insurance Review

Product Name: Companion Protect Pet Insurance
Product Description: Companion Protect offers pet insurance for dogs and cats.
Summary
Companion Protect is the only pet insurer incorporating in-network and out-of-network vet care. It has good in-network benefits with no waiting periods and a free annual wellness. However, using an out-of-network vet can become expensive, and in-network vets may be located far from your home.
Our pet insurance experts read through each pet insurance company's policy to provide detailed comparisons and information regarding how a provider fares against others in the industry. We also speak with customers, read online feedback, and communicate one-on-one with pet insurance companies to obtain a well-rounded, unbiased analysis of a company's standings.
Our team rates pet insurance companies based on several factors, including A.M. Best ratings (an indicator of financial stability), claim processing reputations, contract coverage, customer service, pricing, plan customizations, and more.
Pros
Premiums don't increase due to your pet aging
No waiting periods
No upper age limits
Good in-network benefits
Multi-pet discount up to 15%
Free annual wellness exam (with in-network vet)
Coverage for alternative and holistic care
Cons
Lifetime payout limits
No information about annual payout limits
Using an out-of-network vet can be pricey
Inflexible policy options
Strict prior approval requirements
No wellness plans available
Doesn't cover your pet if they travel outside the U.S. with you
No BBB rating
Alternatives To Companion Protect
While Companion Protect has a unique spin on its pet insurance offering, it didn't make it into our top picks for best pet insurance providers. Our experts have analyzed over a dozen pet insurance providers. Check out our pet insurance reviews to learn more about this year's top-ranked companies. You can also use our free tool below to get multiple quotes instantly.
Key Features
Underwriter: Aspen American Insurance Company
May require an exam prior to enrollment if your pet hasn't had one in the last 12 months
Free annual wellness exam (if you use an in-network veterinarian)
Requires prior approvalfor the following (except with emergency treatment):

Surgeries and overnight hospitalization (they also reserve the right to select the provider of any surgical procedure)
Covered services and treatments over $2,500
Veterinary specialist fees
Hip dysplasia treatment
Organ or tissue transplants

Claims process:

In-network veterinarians will submit claims on your behalf and be reimbursed directly
For out-of-network veterinarians, their sample policy states: "You should report to us any covered services obtained from an out-of-network veterinarian within seven (7) days of completion of the treatment or covered service to initiate a claim. Claims initiated more than sixty (60) days from the date of the covered service may be denied."
Can submit claims and check status online

They allow up to 30 days for out-of-network claim repayments, but average 3-5 business days
Agile Health Insurance sells Companion Protect pet insurance policies
Pre-Existing Conditions
Pet insurance providers don't cover pre-existing conditions, but the specific definitions can vary by company. Companion Protect defines a pre-existing condition in their policy as:
Pre-existing Condition(s) means any Injury, Illness, or other condition which was identified or suspected prior to or at the time of enrollment or diagnosed by a Qualified Veterinarian or Qualified Staff prior to the effective date of this policy.
Customer Service
Email: [email protected]
Phone: 800‑304-9930
Live chat
FAQ and blog
Hours: Monday — Friday from 8am to 8pm CST and Saturday — Sunday from 9am to 6pm CST
Waiting Periods*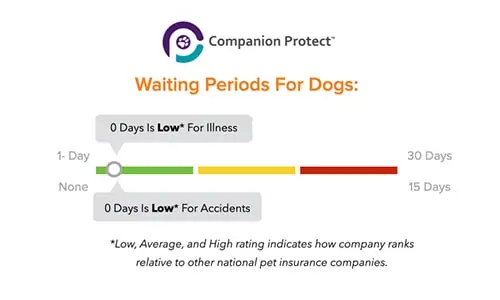 Unlike all other pet insurance providers we've reviewed, Companion Protect has no waiting periods in its policies, so you have coverage for your pet as soon as your policy is active. Most providers have a 2-15 day waiting period for accidents and/or illnesses once your policy begins.
*Waiting periods for California, Maine, and Mississippi are as follows:
Accidents - 0 days
Illnesses - 14 days
Cruciate Ligament Conditions - 30 days
Routine Care - 0 days
What Does Companion Protect Cover?
Please know that none of the providers in our pet insurance comparison cover pre-existing conditions or cremation and burial costs. All of them cover the following items when deemed medically necessary: x-rays, blood tests, ultrasounds, cat scans, MRIs, rehabilitation, specialized exams, surgery, hospitalization, emergency care, specialty care, hydrotherapy, chronic conditions, cancer, diagnostic treatment, alternative/holistic therapy, and euthanasia. However, there may be limitations to this coverage, so please check your policy.
| Condition | Covered By Companion Protect |
| --- | --- |
| Exam Required To Set Health Baseline | |
| Behavioral Therapies | |
| Exam Fees | |
| Wellness Care Available For An Extra Fee | |
| Non-Routine Dental Treatment | |
| Hereditary Conditions | |
| Congenital Conditions | |
| Prescription Medication | |
| Breed, Whelping, Pregnancy | |
| Cosmetic Procedures (e.g., Tail Docking, Ear Cropping, Dew Claw Removal) Unless Medically Necessary | |
Pricing Quotes
Unlike many other pet insurance providers, you don't have the option to choose from a variety of reimbursement and deductible levels with Companion Protect. And you get knocked if you don't use one of their in-network veterinarians. Here's how Companion Protect handles these:
In-network vets: 90% reimbursement, $50 deductible, and 10% co-pay
Out-of-network vets: 80% reimbursement, $100 deductible, and 20% co-pay
A $200 deductible applies for all surgeries (in-network and out-of-network)
A $200 deductible applies for all out-of-network emergency clinics
Medication: 10% co-pay and 90% reimbursement
Prescription Food: 50% co-pay; deductible does not apply
Additionally, Companion Protect has a lifetime payout limit of $100,000 but doesn't list any annual payout limit restrictions on its website or in its sample policy.
We've gathered some sample prices from Companion Protect. Individual premium prices are based on location and age (they have two categories: seven weeks through under seven years old or seven years old+). Unlike many other providers, they don't base premiums on your pet's breed or gender. Our quotes are from December 2020.
| | Dog | Dog | Dog | Dog | Cat |
| --- | --- | --- | --- | --- | --- |
| Location | Virginia (22901) | California (90210) | Indiana (46201) | Florida (33601) | Illinois (60169) |
| Price Per Month Under 7 Years Old | $44.99 | $59.99 | $44.99 | $41.99 | $22.99 |
| Price Per Month 7+ Years Old | $67.99 | $89.99 | $67.99 | $78.99 | $33.99 |
What's Our Final Verdict?
Companion Protect does have some good things going for it — competitive premiums that don't increase as your pet ages, no waiting periods, etc. However, to get the most out of their benefits, you'd want to go with one of their in-network vets.
This in-network model is highly unusual in the pet insurance industry. Other providers let you use the vet of your choice without "penalties." We're also not crazy about their relatively strict prior approval requirements (again, an unusual practice in the industry today).
The only customer reviews that we could find online were on their Facebook page, and all of those were positive. We would also expect to find reviews in other locations with a broader range of experiences, especially for a company that has been around since 2015.
If you're unsure if Companion Protect is the best fit for your pet insurance needs, you've got lots of options. See our top picks for pet insurance to see how they compare. And you should always get multiple quotes to compare coverage and costs to find the best value for your family.
Tagged With: Reviewed By Insurance Agent