Did you know you can get pet insurance for more than one pet? It doesn't matter if it's dogs, cats, or a combination of the two. Many pet insurance companies offer policies for multiple pets and even give you a discount. But which company offers the best deal? Our experts dig in to find out.
Article Overview
Best Pet Insurance Plans For Multiple Pets
We chose the best pet insurance plans for multiple dogs or cats based on coverage, price, and multi-pet discounts available.
Keep in mind that price isn't everything, though. If you want to see our picks for the best pet insurance based on coverage, price, customer service and reputation, plan customization, and claim repayment, read our pet insurance reviews.
Embrace Review
| | |
| --- | --- |
| #1 | |
Embrace offers one of the largest multi-pet discounts at a maximum of 10%, making it our top pick for the best pet insurance for two dogs or cats. Other pet insurance companies may offer multi-pet discounts, but Embrace offers the best coverage with this significant discount.
However, even with Embrace's multi-pet discount, there's a chance it could be more expensive than other pet insurance companies. As always, we recommend you obtain quotes from multiple companies to thoroughly evaluate your options. Although Embrace has excellent coverage, our other top picks do as well, and they may be more affordable for you.
Read Our Full Review Of Embrace
Figo Review
| | |
| --- | --- |
| #2 | |
Figo has some of the best pet insurance coverage — and often at a good price. On top of its 5% discount for multiple pets, many customers can get similar coverage from Figo at a competitive price. This combo might make it your cheapest pet insurance for multiple dogs. It's also one of the only companies to offer a 100% reimbursement option.
We recommend adding Figo to your list of pet insurance companies to get a quote from. We've found in our research that Figo can be tough to beat price-wise while still offering thorough coverage for your pets.
Pets Best Review
| | |
| --- | --- |
| #3 | |
Pets Best rounds out our top three picks for best pet insurance for multiple pets with its 5% discount. Like Figo, Pets Best offers detailed coverage, often at a relatively low price.
The downside is that Pets Best currently has a longer claim repayment timeline, which is why it isn't higher in our top picks. However, if you don't mind possibly waiting a little longer for reimbursement, Pets Best may be a compelling option.
Read Our Full Review Of Pets Best
Multi-Pet Insurance Comparison Table
The table below lists all of the companies we include in our pet insurance reviews, so you can see which companies offer pet insurance multi-pet discounts.
Which Other Companies Offer Multi-Pet Discounts?
Below you'll find an alphabetical listing of other companies we've reviewed that offer multi-pet discounts.
AKC Pet Insurance Review

AKC Pet Insurance's multi-pet discount is 5%, so it's in line with several competitors. However, AKC Pet Insurance has more coverage restrictions, which is why it didn't make our top three picks.
Read Our Full Review Of AKC Pet Insurance
ASPCA Pet Health Insurance Review

ASPCA Pet Health Insurance has a 10% multi-pet discount, which is the same as our #1 pick. So why didn't it make our top picks? Well, ASPCA Pet Health Insurance has longer waiting periods and more coverage restrictions than the competition.
Read Our Full Review Of ASPCA Pet Health Insurance
Companion Protect Review

Companion Protect offers the highest multi-pet discount, up to 15%. But why didn't we place it in our top picks? There is more to pet insurance than just price.
Companion Protect requires you to visit an in-network vet; otherwise, your deductible is doubled. This isn't a common practice in the pet insurance industry. There are also fewer customization options to adjust your policy to fit your budget.
Read Our Full Review Of Companion Protect
Hartville Pet Insurance Review

Hartville Pet Insurance is administered by Crum & Forster Insurance Agency (the same company that administers ASPCA Pet Health Insurance policies). Hartville has a 10% multi-pet discount, but it has longer waiting periods, more coverage restrictions, and customers report lower reimbursements than expected.
Nationwide Review

Nationwide offers a 5% discount for up to three pets and a 10% discount for four or more pets. Unfortunately, finding customer complaints about Nationwide's pet insurance policy isn't too tricky, which is one reason it's not among our top picks.
Additionally, Nationwide has age restrictions, annual limits per condition for some of its policies, and fewer policy customization options to fit it into your budget.
Read Our Full Review Of Nationwide
PetFirst Review

PetFirst offers a 5% discount for two pets and a 10% discount for three or more pets. In contrast to Nationwide Pet Insurance, PetFirst didn't win our top awards because there is very little customer feedback about the company, even though it's been in business for more than 15 years. However, it's one of the few companies to offer a $0 deductible and 100% reimbursement, so if you're seeking those features, PetFirst may be an enticing consideration.
PetPartners Review

PetPartners, Inc., administers AKC Pet Insurance as well as PetPartners, and the policies are nearly identical. Like AKC Pet Insurance, PetPartners has a 5% multi-pet discount. However, it also has coverage restrictions that kept it from our top ranks.
Multi-Pet Insurance: Compare The Market
You can start comparing multi-pet insurance policies by completing our pet insurance quote form for your first pet. Then your quote from each respective company will prompt you to add in any additional pets. Our quote form includes multiple well-respected pet insurance companies, so you can compare apples to apples.
How Does Pet Insurance Work?
Watch the video below for a quick rundown of how pet insurance operates and why you may need it.
Can You Have Two Pet Insurance Policies For One Pet?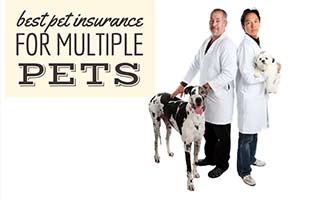 Yes, you can have multiple pet insurance plans for one pet. However, the way this works is truly a case-by-case situation depending on the two companies you purchase plans through. For example, some companies may split the costs 50/50 between one another. Others may have the primary insurance company pay, and then the secondary insurer may request an explanation of benefits from the primary insurer before processing any claims.
Because of this, we can't give you a clear answer on how multi-pet insurance for dogs works. Instead, we suggest you read through each contract's verbiage and speak with representatives from each company before you purchase a policy. Discuss which company would be considered the primary insurance and which would be classified as the secondary, and get their responses in writing before signing up.
Learn More About Pet Insurance
To find a pet insurance policy for your pet based on coverage, value, age, health needs, or species, read our best pet insurance article. You can also compare the top pet insurance companies in our pet insurance comparison, which includes multiple tables analyzing coverage, plan customization, waiting periods, and more.
What's most important to you in your pet insurance policy?