To sustain this free service, we receive affiliate commissions via some of our links. This doesn't affect rankings. Our review process.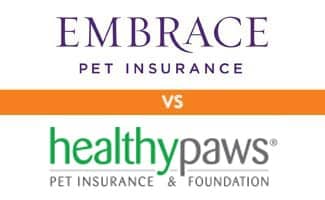 Do you have pet insurance? Those veterinarian bills can get pretty expensive, especially if your new pup likes to make frequent visits. Just the normal vaccines can get pricey! Maybe Embrace or Healthy Paws can help you out.
Read Embrace vs Healthy Paws to find out how these companies can help reduce your vet bills, especially in times of emergency. Maybe they can even keep your pup healthy.
Visit Healthy Paws' Website | Visit Embrace's Website
Policy Coverage
Sometimes it's easier to compare 2 companies by seeing a side-by-side comparison of what each covers. Below is a chart showing the similarities and differences between Embrace and Healthy Paws.
| | Healthy Paws | Embrace |
| --- | --- | --- |
| Overall Ranking in our Pet Insurance Reviews | 1st | Not Ranked |
| X-Rays | | |
| Blood Tests | | |
| Ultrasounds | | |
| MRI | | |
| Rehabilitation | | |
| Surgery | | |
| Hospitalization | | |
| Emergency Care | | |
| Specialty Care | | |
| Exam Fees | | |
| Pre-existing Conditions | | |
| Check Ups, Vaccinations, Spay/Neuter, Teeth Cleaning | | Extra Fee |
| Non-routine Dental Treatment | | |
| Hip Dysplasia | Waiting Period - 12 Months | Waiting Period - 6 Months |
| Chronic Conditions | | |
| Illnesses | Waiting Period - 15 Days | Waiting Period - 14 Days |
| Accidents | Waiting Period - 15 Days | Waiting Period - 48 Hours |
| Hereditary Conditions | | |
| Congenital Conditions | | |
| Cancer Treatments | | |
| Diagnostic Treatment | | |
| Behavioral Therapies | | |
| Alternative/Holistic Therapy | | |
| Prescription Medications | | Extra Fee |
| Enrollment Fee | $25 | None |
| 30-Day Money Back Guarantee | | |
As you can see, the key differences here are that Embrace offers coverage for exam fees, wellness options (for an additional fee) and behavioral therapies. Healthy Paws covers prescription medications (as do most pet insurance companies) at no additional cost to you.
Healthy Paws' underwriter has a slightly better A.M. Best rating, and the company offers unlimited claim limits, which we think is the best since you can't predict how many accidents or illnesses your dog will suffer in a year.
With all of this information in mind, we've got a tie for this category. However, the other categories have definite winners.

Winner: Healthy Paws & Embrace (Tie)
Customer Service & Reputation
Healthy Paws has outstanding customer service, and its reputation is top notch. In contrast to the rave reviews we read across the internet for Healthy Paws, Embrace has limited phone hours and we've received more negative comments than positive about Embrace. Compare this to the numerous positive reviews we've received for Healthy Paws, and it's hard not to give Healthy Paws the winning spot here.

Winner: Healthy Paws
Timeliness Of Claim Repayment
Both Healthy Paws and Embrace have great claim repayment timelines. Healthy Paws pays 99% of its claims within 2 days, while Embrace averages 10 to 15 days for accident and illness claims (5 business days for wellness). Healthy Paws comes out slightly ahead here since it has a quicker turnaround vs Embrace for costly accident and illness reimbursements.

Winner: Healthy Paws
Price Of Policy
While both companies' plans start around $15 for cats and $25 for dogs, it's always helpful to look at more specific examples of pet insurance price quotes. We recommend you request quotes from both Embrace and Healthy Paws by clicking on the links above to make sure you find the best plan for your pet's characteristics and needs. Our links offer discounts that can help you save money every month.
Below are the characteristics considered for these quotes:
Neutered male Labradoodle
8-months-old
Residency in Miami, Florida (zip code 33139)
Quote is from December 26, 2018
| | Deductible | Reimbursement % | Annual Maximum | Price Per Month |
| --- | --- | --- | --- | --- |
| Healthy Paws | $500 | 80% | Unlimited | $30.33 |
| Embrace | $500 | 80% | $30,000 | $29.87 |
| Healthy Paws | $200 | 80% | Unlimited | $35.73 |
| Embrace | $200 | 80% | $30,000 | $40.33 |
Below are the characteristics considered for these quotes:
Spayed female Labrador Retriever
4-years-old
Residency in Los Angeles, California (zip code 90015)
Quote is from December 26, 2018
| | Deductible | Reimbursement % | Annual Maximum | Price Per Month |
| --- | --- | --- | --- | --- |
| Healthy Paws | $500 | 80% | Unlimited | $51.08 |
| Embrace | $500 | 80% | $30,000 | $50.67 |
| Healthy Paws | $500 | 90% | Unlimited | $61.04 |
| Embrace | $500 | 90% | $30,000 | $56.30 |
As you can see, prices are fairly similar on all of these quotes, but with Healthy Paws you get an unlimited annual limit instead of a $30,000 limit from Embrace. We also ran even more quotes, which you'll find on our Pet Insurance Quotes page. You'll find that Embrace was less expensive than Healthy Paws the majority of the time.
Price can really vary between these two, which is why this category is a tie.

Winner: Healthy Paws & Embrace (Tie)
Coupons
Healthy Paws
Use this link and you will automatically receive up to a 5% discount. The actual discount varies based on individual state regulations. You can also visit our dedicated HealthyPaws promotions page to discuss current offers.
Embrace
Embrace offers a few different discount options. Spayed or neutered pets get a 5% discount. if you have multiple pets, each one gets 5% off. You can also pay annually and get 5% off. Click here to access any of these discounts.
Why You Need The Best Pet Insurance
It's important that you find the perfect pet insurance coverage for your dog — not just any insurance. Watch our brief video for a better understanding of how to select your pet insurance coverage.
Overall Winner
In the end, Healthy Paws takes the cake in this comparison. Embrace and Healthy Paws aren't your only options for pet insurance. We suggest that you research other companies as well to make sure you're making the best choice for your pet. Check out our review of pet insurance companies to see how Embrace and Healthy Paws stack up against other national pet insurance companies.

Winner: Healthy Paws
Do you agree with our winner in this comparison? Why or why not?

Disclaimer: Information regarding insurance company offerings, pricing and other contract details are subject to change by the insurance company at any time and are not under the control of this website. Information published on this website is intended for reference use only. Please review your policy carefully before signing up for a new pet health insurance contract or any other contract as your unique circumstances will differ from those of others who may be used for example purposes in this article.
Disclaimer: The information provided through this website should not be used for diagnosing or treating a health problem or a disease. It is not a substitute for professional care. If you have or suspect you may have a health problem, you should consult your health care provider.
Disclaimer: This website contains reviews, opinions and information regarding products and services manufactured or provided by third parties. We are not responsible in any way for such products and services, and nothing contained here should be construed as a guarantee of the functionality, utility, safety or reliability of any product or services reviewed or discussed. Please follow the directions provided by the manufacturer or service provider when using any product or service reviewed or discussed on this website.