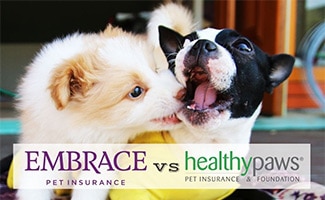 Veterinarian bills can get pretty expensive, especially if your new pup makes frequent visits. Just the normal costs of aging can get pricey. Maybe Embrace or Healthy Paws can help you out.
Find out which company is the better choice to help reduce your vet bills, especially in times of an emergency.
Visit Healthy Paws' Website | Visit Embrace's Website
Policy Coverage
The table below shows specifically what Embrace and Healthy Paws cover. Both companies cover x-rays, blood tests, ultrasounds, cat scans, MRIs, rehabilitation, specialized exams, surgery, hospitalization, emergency care, specialty care, hydrotherapy, chronic conditions, cancer, diagnostic treatment, alternative/holistic therapy, euthanasia, non-routine dental treatment, hereditary conditions, congenital conditions, and prescription medications.
| | Healthy Paws | Embrace |
| --- | --- | --- |
| Overall Ranking in our Pet Insurance Reviews | 2nd | Not Ranked |
| Exam Fees | | |
| Pre-existing Conditions | | |
| Check Ups, Vaccinations, Spay/Neuter, Teeth Cleaning | | Extra Fee |
| Hip Dysplasia Waiting Period | 12 Months | 6 Months |
| Illnesses Waiting Period | 15 Days | 14 Days |
| Accidents Waiting Period | 15 Days | 2 Days |
| Behavioral Therapies | | |
| Enrollment Fee | $25 | $25 |
| 30-Day Money Back Guarantee | | |
| Annual Payout Options | Unlimited | $5,000, $8,000, $10,000, $15,000, $30,000 (Unlimited available via phone) |
| BBB Rating | A+ | A+ |
| Underwriter | Westchester Fire Insurance Company/Chubb | American Modern Propety & Casualty Insurance Group |
| A.M. Best Rating | A++ | A+ |
As you can see, the key differences here are that Embrace offers coverage for exam fees, wellness options (for an additional fee), and behavioral therapies.
Healthy Paws' underwriter has a slightly better A.M. Best rating for financial stability, and the company offers unlimited claim limits for all plans. If all other considerations are similar, we prefer an unlimited plan since you can't predict how many accidents or illnesses your dog will suffer in a year.
However, we give Embrace the edge in this category because its coverage is more comprehensive than Healthy Paws, and Embrace offers an optional wellness plan, whereas Healthy Paws does not. Embrace also has a short two-day waiting period for accidents compared to Healthy Paws' at 15 days.

Policy Coverage Winner: Embrace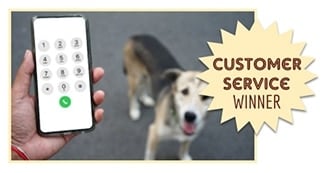 Customer Service & Reputation
Healthy Paws has outstanding customer service, and its reputation is top-notch. In contrast to the rave reviews we read across the internet for Healthy Paws, Embrace has limited phone hours, and we've received more negative comments than positive about Embrace. Compare this to the numerous positive reviews we've received for Healthy Paws, and it's hard not to give Healthy Paws the winning spot here.

Customer Service & Reputation Winner: Healthy Paws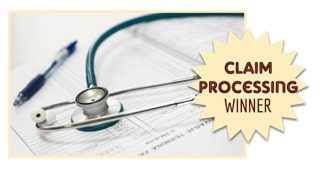 Claim Repayment
Both Healthy Paws and Embrace have great claim repayment timelines. Healthy Paws pays 99% of its claims within two days, while Embrace averages eight to nine days for accidents and illnesses and five days for wellness. Healthy Paws comes out slightly ahead since it has a quicker average claim reimbursement turnaround than Embrace for accident and illness.

Claim Repayment Winner: Healthy Paws
Plan Customization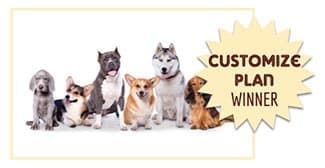 The major differences between these two companies in your ability to customize your plan comes down to age restrictions. While Healthy Paws has unlimited payouts for all plans, they do have some restrictions on reimbursement and annual deductible amounts, depending on your pet's age at enrollment.
Dogs and cats 5 years and under:

90%, 80%, and 70% reimbursement
$100, $250, and $500 deductible

Dogs and cats 6 and 7 years old:

80%, 70%, or 60% reimbursement
$250, $500, or $750 deductible

Dogs 8 years and older:

50% or 60% reimbursement
$750 or $1,000 deductible
Healthy Paws only enrolls pets from 8 weeks to 14 years old. Embrace offers a lot of customizable options with no age restrictions. You can choose your annual payout option from $5,000, $8,000, $10,000, $15,000, or $30,000 (unlimited is available, but you have to call to request it). They also offer reimbursements of 70%, 80%, or 90% and annual deductibles of $200, $300, $500, $750, or $1,000.
Embrace ultimately comes out on top because of greater flexibility to build your plan no matter your pet's age.

Plan Customization Winner: Embrace
Price Of Policy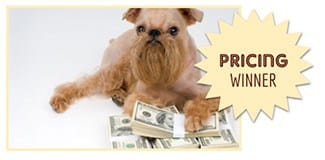 While both companies' plans start around $15 for cats and $25 for dogs, it's always helpful to look at more specific examples of pet insurance price quotes. We recommend you request quotes from both Embrace and Healthy Paws by clicking on the links above to make sure you find the best plan for your pet's characteristics and needs. Our links may contain discounts to help you save money every month.
Below are the characteristics considered for these quotes:
Neutered male Labradoodle
8 months old
Residency in Miami, Florida (33139)
Quote is from December 2020
| | Deductible | Reimbursement % | Annual Payout | Price Per Month |
| --- | --- | --- | --- | --- |
| Healthy Paws | $500 | 80% | Unlimited | $33.99 |
| Embrace | $500 | 80% | $30,000 | $40.37 |
| Healthy Paws | $200 | 80% | Unlimited | $40.30 |
| Embrace | $200 | 80% | $30,000 | $54.51 |
Below are the characteristics considered for these quotes:
Spayed female Labrador Retriever
4-years-old
Residency in Los Angeles, California (90015)
Quote is from December 2020
| | Deductible | Reimbursement % | Annual Payout | Price Per Month |
| --- | --- | --- | --- | --- |
| Healthy Paws | $500 | 80% | Unlimited | $58.21 |
| Embrace | $500 | 80% | $30,000 | $59.06 |
| Healthy Paws | $500 | 70% | Unlimited | $52.01 |
| Embrace | $500 | 70% | $30,000 | $52.50 |
As you can see, prices are relatively similar on all of these quotes, but with Healthy Paws, you get an unlimited annual payout instead of a $30,000 limit from Embrace. We also ran even more quotes, which you'll find on our pet insurance quotes page. You'll find that Healthy Paws was less expensive than Embrace the majority of the time.

Price Of Policy Winner: Healthy Paws
Coupons
Healthy Paws
Embrace
Embrace offers a few different discounts:
If you have multiple pets, each one gets 10% off (5% in NY).
Pay annually and get 5% off in NY.
USAA customers are eligible for a discount of up to 15% off.
No discount code needed -
click here
to take advantage of these offers. You can also visit our
dedicated Embrace promotions page
.
Why You Need The Best Pet Insurance
It's important to find the perfect pet insurance coverage for your dog — not just any insurance. Watch our brief video for a better understanding of how to select your pet insurance coverage.
What's The Verdict?
In the end, Healthy Paws is the top dog in this comparison. If you didn't find what you were looking for, our experts have gone in-depth with individual reviews of Embrace and Healthy Paws so you can expand your comparison.

Overall Winner: Healthy Paws
Our experts have spent hundreds of hours researching to bring you our comprehensive pet insurance reviews, which includes more than 20 companies.
If you prefer to see winners by category, we award the best price, multiple pets, 100% reimbursement, unlimited payouts, and "best for" categories, including puppies, older dogs, dental, wellness coverage, bilateral conditions, behavioral therapy, and more in our best pet insurance comparison. You'll even see winners for exotic pets and cats.
Do you agree with our winner in this comparison? Why or why not?