This post may contain affiliate links and we'll be compensated if you make a purchase. This doesn't affect rankings. Our review process.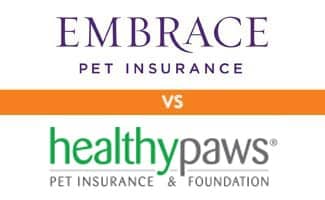 You've just adopted an adorable new puppy. You love playing and snapping photos of him to share with your friends. Unfortunately, he's a bit rambunctious and enjoys eating q-tips, bobby pins, pennies and other not so doggy friendly "snacks". What do you do?
Obviously, you need to take him to the vet to make sure he's okay and get those items out of his stomach. But how will you pay for it? Do you have pet insurance? Those veterinarian bills can get pretty expensive, especially if your new pup likes to make frequent visits. Just the normal vaccines can get pricey! Maybe Embrace or Healthy Paws can help you out. Read Embrace vs Healthy Paws to find out how these companies can help reduce your vet bills, especially in times of emergency. Maybe they can even keep your pup healthy.
Winner: Healthy Paws

Visit Website
Healthy Paws is the winner in this comparison due to their unlimited lifetime benefits with no claims cap so you never have to worry financially about too many accidents. So, your financial risk over time is lower vs the competition. They also have a great customer service record and offer good coverage.
Healthy Paws also donates to an animal in medical need each time a quote is requested so it's a win-win, even if you do not choose them. They have a 15 day waiting period to be enrolled in a new accident and illness policy.
Healthy Paws is a great choice if your dog breed is predisposed to certain illnesses. Your dog is still covered if you decide to travel to Canada and their customer satisfaction rate is excellent. Finally, Healthy Paws has an annual deductible designed to benefit the pet parent (some have a per incident deductible which can add up with multiple visits during the year). Because of all of these features, we've chosen them as the winner in this pet insurance comparison.
Discounts
Use this link and you will automatically receive up to a 10% discount. The actual discount varies based on individual state regulations. You can also visit our dedicated HealthyPaws promotions page to discuss current offers.
Read our in-depth analysis of Healthy Paws
We are also really proud of the work that the Healthy Paws Foundation does, learn more in this video:
How Did Embrace Rank?

Visit Website
Embrace fought a good fight but in the end they came in second. What it ultimately came down to was Embrace's annual claims limit (varies based on your chosen plan) and Embrace charges an extra fee for items that Healthy Paws covers automatically.
One thing that Embrace offers but Healthy Paws does not is a wellness program as an add-on to their plans to allow you to better budget for routine vet exams and vaccines. They have a two day waiting period to be enrolled in a new accident policy, 14 days for illnesses and a six month waiting period for orthopedic conditions.
Similar to Healthy Paws, for every policy sold Embrace donates $2 to a pet-related charity.
Discounts
Embrace offers a few different discount options. Spayed or neutered pets get a 5% discount. if you have multiple pets, each one gets 5% off. You can also pay annually and get 5% off. Click here to access any of these discounts.
Read our in-depth analysis of Embrace

Embrace vs Healthy Paws Comparison
Sometimes it's easier to compare two companies by seeing a side-by-side comparison of what each covers. Below is a chart showing the similarities and differences between Embrace and Healthy Paws.
Overall Ranking in our Dog Insurance Reviews

1st

Honorable
Mention
X-Rays
Blood Tests
Ultrasounds
MRI
Rehabilitation
Surgery
Hospitalization
Emergency Care
Specialty Care
Pre-existing Conditions
Check Ups, Vaccinations, Spay/Neuter, Teeth Cleaning
Extra Fee
Non-routine Dental Treatment
Extra Fee
Hip Dysplasia
Chronic Conditions
Illnesses
Accidents
Hereditary Conditions
Congenital Conditions
Cancer Treatments
Diagnostic Treatment
Alternative/Holistic Therapy
Prescription Medications
Extra Fee
Enrollment Fee
$25
None
30-Day Money Back Guarantee
BBB Rating
A
A+
Claim Limits
Unlimited
$5,000, $10,000 or $15,000
Quotes From Embrace and Healthy Paws
While both company's plans starts around $15 for cats and $25 for dogs, it's always helpful to look at more specific examples of pet insurance price quotes. We've put together a couple of examples below to help you decide between Embrace vs Healthy Paws. We recommend you request quotes from both Embrace and Healthy Paws by clicking on the links above to make sure you find the best plan for your pet's characteristics and needs. Our links offer discounts that can help you save money every month.
Labradoodle – Mixed
Below are the characteristics considered for these quotes:
Male
8 months old
Neutered
Residency in Miami, Florida (zip code 33139)
Quote is from April 27, 2017
|   | Deductible | Reimbursement % | Annual Maximum | Price Per Month |
| --- | --- | --- | --- | --- |
| Healthy Paws | $200 | 80% | Unlimited | $28.47 |
| Embrace | $200 | 80% | $15,000 | $58.89 |
| Healthy Paws | $100 | 80% | Unlimited | $24.53 |
| Embrace | $500 | 80% | $15,000 | $34.74 |
Labrador Retriever – Purebred
Below are the characteristics considered for these quotes:
Female
4 years old
Spayed
Residency in Los Angeles, California (zip code 90015)
Quote is from April 27, 2017
|   | Deductible | Reimbursement % | Annual Maximum | Price Per Month |
| --- | --- | --- | --- | --- |
| Healthy Paws | $500 | 80% | Unlimited | $40.57 |
| Embrace | $500 | 80% | $5,000 | $40.36 |
| Healthy Paws | $250 | 90% | Unlimited | $58.78 |
| Embrace | $500 | 90% | $5,000 | $54.47 |
What Are Your Other Options for Pet Insurance?
41% of pet parents worry that they couldn't afford vet bills for their sick dog or cat. Planning ahead and budgeting for pet insurance can help ease these worries. Of course, Embrace and Healthy Paws aren't your only options for pet insurance. We suggest that you research other companies as well to make sure you are making the best choice for your pet. Check out our review of pet insurance companies to see how Embrace and Healthy Paws stack up against other national pet insurance companies.
Disclaimer: Information regarding insurance company offerings, pricing and other contract details are subject to change by the insurance company at any time and are not under the control of this website. Information published on this website is intended for reference use only. Please review your policy carefully before signing up for a new pet health insurance contract or any other contract as your unique circumstances will differ from those of others who may be used for example purposes in this article.