To keep the lights on, we receive affiliate commissions via some of our links. Our review process.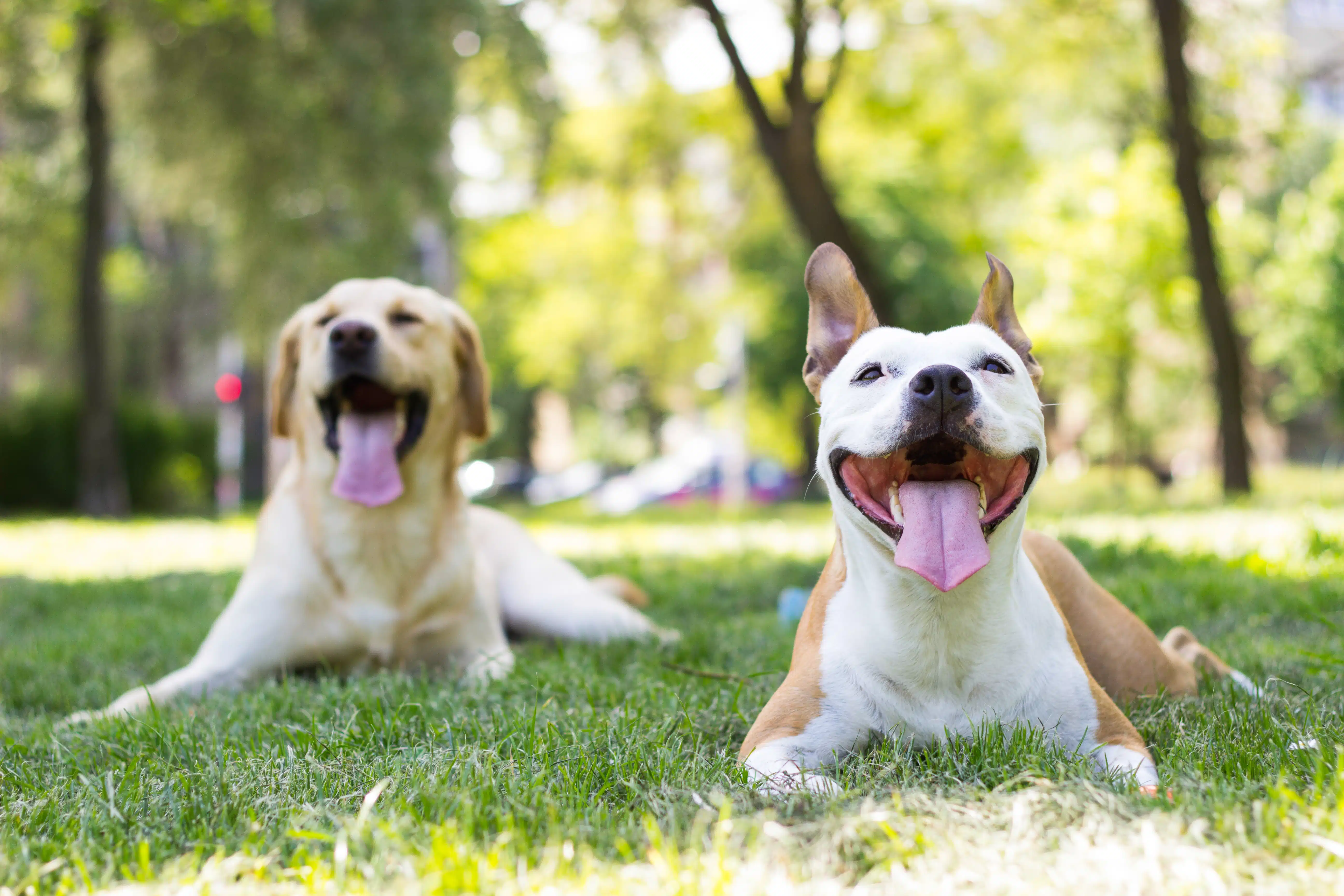 Trupanion has been a big brand name in the pet insurance industry for more than two decades. It's well-established and trusted by many vets and pet parents nationwide. However, Pumpkin is shaking things up as one of the new kids on the block with its extensive coverage and plan customizations. Is one a better fit for your pooch?
We compare coverage, customer service and reputation, claim processing, pricing, and customizations and explain which company delivers the best option for most. Remember that each pet and household budget varies, so obtaining quotes from multiple companies for your situation can help you get the best policy and price.
Policy Coverage
Policy Coverage Winner

The table below shows precisely what Pumpkin and Trupanion cover.
Both companies cover emergency care, surgery and hospitalization, specialized exams and specialty care, X-rays, blood tests, ultrasounds, cat scans, MRIs, rehabilitation, cancer, chronic conditions, euthanasia, hereditary conditions, congenital conditions, non-routine dental treatment, and prescription medications.
Neither covers pre-existing conditions, cremation and burial costs, pregnancy and breeding, or unnecessary cosmetic procedures.
| | Pumpkin | Trupanion |
| --- | --- | --- |
| Illness Waiting Period* | 14 Days | 30 Days |
| Accident Waiting Period* | 14 Days | 5 Days |
| Hip Dysplasia Waiting Period* | 14 Days | 30 Days |
| CCL Surgery Waiting Period* | 14 Days | 30 Days |
| Behavioral Therapies | | |
| Alternative/Holistic Therapy | | Extra Fee |
| Wellness Care For An Extra Fee | | |
| Exam Fees | | |
| Underwriter | United States Fire Insurance Company | American Pet Insurance Company |
| A.M. Best Rating | A | Unrated |
*Waiting periods for California, Maine, and Mississippi are as follows:
Accidents - 0 days
Illnesses - 14 days
Cruciate Ligament Conditions - 30 days
Routine Care - 0 days
Pumpkin comes out ahead because it covers exam fees, includes alternative/holistic therapy for no extra fee, and offers wellness care. Pumpkin pet insurance also has shorter waiting periods for illness, hip dysplasia, and CCL surgery.
Pumpkin's underwriter has an A rating from A.M. Best (a measurement of financial stability). This means that its underwriter is considered less of a risk than Trupanion's based on A.M. Best's reporting when it comes to dependability of claim repayment. However, it should be noted that Trupanion has been in business 20 years longer than Pumpkin. So, finding actual customer experiences for Trupanion will be more readily available – for both good and bad reviews. You can read more about these companies' reputations in the next Customer Service section.
Another key deciding factor for you may be the age restrictions. Trupanion doesn't enroll pets who are older than 14 years old, while Pumpkin does not enroll new puppies from birth while Trupanion does. Overall, Pumpkin has more extensive coverage than Trupanion.
However, given its newness to the category, we would be hesitant to recommend them as our first choice. It might be wise to get quotes from these two and also consider other popular pet insurance providers.
Customer Service & Reputation
Customer Service & Reputation Winner

Pumpkin entered the pet insurance space in 2020. And from the customer reviews we've seen, there are many complaints regarding pricing, difficulty canceling, long claim processing times, and more. It takes years for a company to stabilize its performance and pricing, and it appears that Pumpkin is still working through these challenges.
Trupanion has a consistent history of higher than average prices. There have been no significant policy changes for several years, and prices have remained about the same as well. This is a good sign that you can count on steadiness when you sign up for a Trupanion policy. However, Trupanion isn't immune to high prices or lack of coverage and reimbursement complaints.
As you can see, both companies have opportunities for improvement, but Trupanion wins this category in the end.
Claim Processing
Claim Processing Winner

Trupanion processes claims within two days on average, which is considered extremely good since most companies average fewer than ten days. You may be able to have Trupanion pay your vet directly, so you don't have to pay a hefty vet bill in advance and wait for reimbursement. But this isn't available everywhere, so check with your vet first to see if Trupanion Express is an option for you.
Pumpkin states it processes claims in two to four weeks. This is drastically longer than the time it takes Trupanion to process claims.
Because Trupanion has a shorter claim processing average and offers a direct payment option to veterinarians, it wins this category by a strong margin.
Price Of Policy
Price Of Policy Tie

Trupanion requires a one-time enrollment fee of either $0, $25, or $35, depending on the state in which you live, but has no transaction fees. Pumpkin has a monthly transaction fee of $2 but no one-time fees. In just 12 months, you will have paid $24 in fees to Pumpkin which is likely pretty close to what you would have paid Trupanion upfront, so considering these fees may be a bit misleading at first glance.
Pricing is based on your pet's details (age, breed, location, etc.). We recommend obtaining quotes from each company for your specific pet. You can also visit our pet insurance comparison quotes to see a few sample prices we've gathered. Then use our pet insurance quote form to see how other top providers compare for your actual pet.
On average, both companies are among the most expensive on average compared to competitors, which is why this category is a tie. Again, we recommend getting multiple quotes and reading each policy before signing on the dotted line for any policy.
Coupons
Pumpkin
Pumpkin offers the following discount:
10% off for multiple pets
Use this link to take advantage of the best possible price. No promo code is needed.
Trupanion
Use this link to get the best possible price and obtain a quote for your pet from Trupanion. You can also visit our dedicated Trupanion promotions page to learn more.
Plan Customization
Plan Customization Winner

One of the significant differences between these two companies is the available plan customizations.
| | Pumpkin | Trupanion |
| --- | --- | --- |
| Deductible Options | $100, $250, $500, $1,000 | $0-$1,000 |
| Payout Options | $10,000, $20,000, unlimited | Unlimited |
| Reimbursement Options | 90% | 90% |
Overall, Pumpkin has more customization options than Trupanion, which may make it a better fit for your budget.
What's Our Verdict?
Overall Winner

In the end, Trupanion wins this comparison against Pumpkin due to its 20+-year-long reputation and faster claim processing. However, if you want coverage for your pet's routine (aka wellness-related) expenses or more custom options to fit pet insurance into your budget, you may want to consider Pumpkin.
If you didn't find what you were looking for, our experts dig even deeper into each company in our individual reviews of Pumpkin and Trupanion.
Our experts have spent thousands of hours researching to bring you our comprehensive and frequently updated pet insurance reviews, including our top picks, along with details on each of the most popular pet insurance companies. So, if you want to know how other providers compare against one another, you may find this review helpful in your pet insurance search.
Tagged With: Reviewed By Insurance Agent, Vs