To keep the lights on, we receive affiliate commissions via some of our links. Our review process.
Pumpkin is a relative newcomer, entering the pet insurance world in 2020. Their wellness program brings something unique to the industry, and they are the first pet insurance producer to incorporate under a global pharmaceutical giant. At first glance, Pumpkin appears to offer a solid and innovative product to help protect pet owners, but let's dig in to learn more.
Pumpkin Pet Insurance Review

Product Name: Pumpkin Pet Insurance
Product Description: Pumpkin offers pet insurance for dogs and cats.
Summary
As a newcomer to the pet insurance space, Pumpkin has some unique offerings, including its wellness program. With many plan customizations and coverage for conditions often excluded by competitors, Pumpkin may be worth considering for your pet.
Our pet insurance experts read through each pet insurance company's policy to provide detailed comparisons and information regarding how a provider fares against others in the industry. We also speak with customers, read online feedback, and communicate one-on-one with pet insurance companies to obtain a well-rounded, unbiased analysis of a company's standings.
Our team rates pet insurance companies based on several factors, including A.M. Best ratings (an indicator of financial stability), claim processing reputations, contract coverage, customer service, pricing, plan customizations, and more.
Pros
90% reimbursement rate for all plans
Optional non-insurance wellness plan called Preventative Essentials can be purchased as an add-on
30-day money-back guarantee
10% multi-pet discount for all additional pets
Your pet is covered when they travel with you in the U.S., Canada, Puerto Rico, Guam, and U.S. Virgin Islands
No upper age limits for enrollment (pets must be 8 weeks or older)
Cons
Price quotes tend to be more expensive than most competitors but this may be due to only offering 90%
$2/month transaction fee
Policies have a 14-day waiting period for accidents and illnesses
No app (most competitors have an app)
Excludes routine dental procedures
Alternatives To Pumpkin: We don't include Pumpkin or any company with less than five years of experience in our annual pet insurance rankings because it takes time for providers to establish a consistent customer experience. To find the best, our experts regularly analyze over a dozen established companies. Learn more about this year's top-ranked companies.
Key Features
Underwriter: United States Fire Insurance Company, a Crum & Forster company
Bilateral exclusions (a condition or disease that affects both sides of the body): ligament and knee conditions
Claims process:

Must submit claims within 270 days of the service date
Direct deposit or check reimbursement is available

Curable conditions term: Pre-existing conditions are not covered. However, an injury or illness that is cured and free of treatment and symptoms for 180 days will no longer be regarded as pre-existing, with the exception of knee and ligament conditions. If a knee or ligament condition occurs before the coverage effective date or during a waiting period, any future ones won't be covered.
Pumpkin agency is formed under Zoetis, the world's largest global animal health company
Customer Service Options & Hours
Email: [email protected]
FAQ
Phone: 866‑273‑6369

Monday – Friday from 8 am to 8 pm EST
What Are Pumpkin's Pet Insurance Waiting Periods*?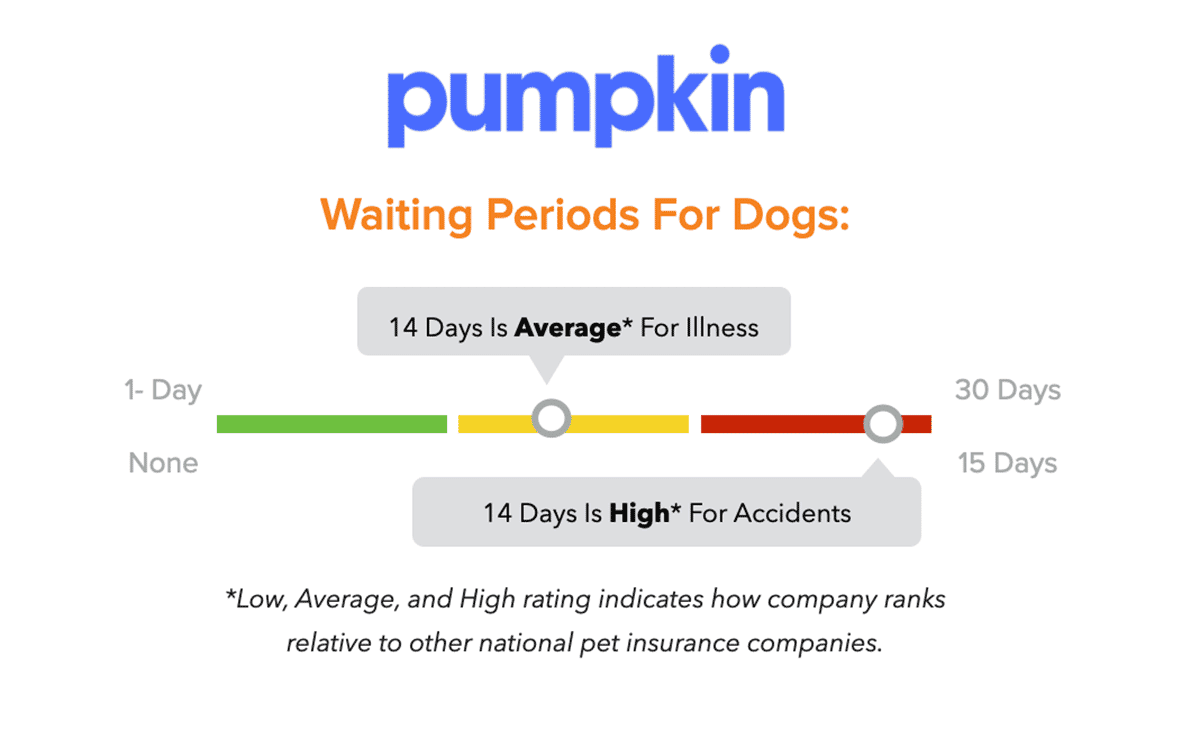 Illness: 14 days
Accidents: 14 days
Cruciate Ligament Events: 14 days
Hip Dysplasia: 14 days
Wellness: 0 days (Wellness is not insurance, so there is no waiting period associated with it)
*Waiting periods for California, Maine, and Mississippi are as follows:
Accidents - 0 days
Illnesses - 14 days
Cruciate Ligament Conditions - 30 days
Routine Care - 0 days
What Does A Pumpkin Plan Cover?
Please know that none of the pet insurance plans offered by providers in our pet insurance comparison charts cover pre-existing conditions, cremation and burial costs, pregnancy and breeding, or unnecessary cosmetic procedures.
All of them cover the following items when deemed medically necessary and prescribed to treat a covered condition: emergency care, surgery and hospitalization, specialized exams and specialty care, X-rays, blood tests, ultrasounds, cat scans, MRIs, rehabilitation, cancer, chronic conditions, euthanasia, dental illnesses, and prescription medications. However, this coverage may have limitations, so please check your policy.
Condition
Covered By A Pumpkin Plan
Behavioral Issues
Alternative/Holistic Therapies
(prescribed for covered conditions)
Exam Fees
(for covered conditions)
Preventative Essentials Add-On
Preventive Essentials is Pumpkin's wellness package. It's not insurance, but an optional benefit you can add to your Pumpkin plan if you want refunds for certain routine care your dogs need to stay healthy. If you opt to pay $18.95 per month for Pumpkin's Preventative Essentials plan, here is what you'll be reimbursed for.
1 annual wellness exam fee
4 vaccines
1 blood test for heartworm and tick disease
1 fecal test for intestinal worms
How Much Is Pumpkin Pet Insurance?
Pumpkin has no one-time enrollment fee but a $2 transaction fee for every premium payment. Your monthly premium is based on the deductible, reimbursement percentage, and annual payout options that you choose from the table below.
Deductible Options
Payout Options
Reimbursement Options
$100
$250
$500
$1,000
$10,000
$20,000
Unlimited
90%
Pricing is also based on your pet's details (age, species, breed, location, etc.). We recommend obtaining quotes from Pumpkin for your specific pet to get a more accurate idea of how much a policy would cost you.
Compare Pet Insurance Quotes From Multiple Providers
Pumpkin vs Other Companies
Interested in seeing how Pumpkin stacks up against other popular pet insurance companies? We've written comparison articles to show how Pumpkin and other leading pet insurance companies compare in coverage, customer service and reputation, claim processing, plan customization, and price.
Is Pumpkin The Best Pet Insurance For My Dog?
Since Pumpkin is relatively new to the industry, there's still room for this agency to experience many changes. We like to give companies five full years of experience before ranking them in our pet insurance reviews. It's common for pricing to fluctuate, underwriters to change and customer service and claims experiences to vary because it takes time for a company to get its footing.
Disclosure From Pumpkin
Pumpkin Pet Insurance policies do not cover pre-existing conditions. Waiting periods, annual deductible, co-insurance, benefit limits, and exclusions may apply. For full terms, visit pumpkin.care/insurancepolicy. Products and rates may vary and are subject to change. Discounts may vary and are subject to change.
Pumpkin Insurance Services Inc. ("Pumpkin") (NPN#19084749) is a licensed insurance agency, not an insurer. Insurance is underwritten by United States Fire Insurance Company (NAIC #21113. Morristown, NJ), a Crum & Forster Company, and produced by Pumpkin. Pumpkin receives compensation based on the premiums for the insurance policies it sells. For more details visit pumpkin.care/underwriting-information and pumpkin.care/insurance-licenses.
Pumpkin Preventive Essentials is not an insurance policy. It is offered as an optional add-on non-insurance benefit. Pumpkin is responsible for the product and administration. For full terms, visit pumpkin.care/customeragreement. Pumpkin Preventive Essentials is not available in all states.
Tagged With: Reviewed By Insurance Agent