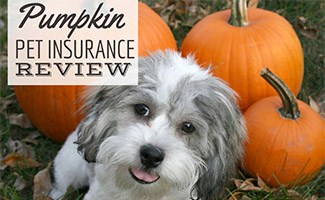 Pumpkin is a newcomer, entering the pet insurance world in 2020. Their wellness program brings something unique to the industry and they are the first pet insurance company to incorporate under a global pharmaceutical giant. At first glance, Pumpkin appears to offer a solid and innovative product to protect pet owners, but let's dig in to learn more.
Article Overview
Alternatives To Pumpkin
We don't include Pumpkin or any company with less than five years of experience in our annual pet insurance rankings because it takes time for providers to establish a consistent customer experience. To find the best, our experts regularly analyze over a dozen established companies. Learn more about this year's top-ranked companies.
Key Features
Underwriter: United States Fire Insurance Company, a Crum & Forster Company
A.M. Best rating: A
No exam required prior to enrollment
Submit claims online within 270 days of service and track their status via your account
Reimbursement options: Policyholders can opt for direct deposit or check in the mail, and an eCheck option (digital check sent via email) for Preventative Essentials claims
You can transfer your pet's coverage when you transfer pet ownership
For an additional cost, Pumpkin offers a Preventive Care plan that includes reimbursement for a wellness exam, a few vaccines and annual screening tests for select health concerns.
Formed under Zoetis, the world's largest global animal health company
Pre-Existing Conditions
Pre-existing conditions play a major role in pet insurance, but the definitions can vary by company.
A pre-existing condition is defined by Pumpkin in their policy as:
Illness, disease, injury, or change to your pet's health that first occurs or shows symptoms before coverage is effective or during a waiting period. This includes conditions that are related to, secondary, or resultant from a pre-existing condition.
Customer Service Hours
Email: [email protected]
FAQ
Live chat: coming soon
Phone: 866‑273‑6369

Monday – Friday from 8am to 8pm EST

Text: 559-853-4779
What Does Pumpkin Offer?
Pumpkin offers pet insurance and preventative care. Read more about the pet insurance services included in a Pumpkin plan on their website.
Preventative Care Plan
If you opt to pay extra for preventative care through Pumpkin, here's what you will be reimbursed for.
Annual wellness exam fee
Select vaccines each year (2 for dogs, 4 for puppies & 1 for cats)
Yearly screening tests (dogs: fecal exam and screening for vector-borne diseases or heartworm; puppies and cats: fecal exam)
Pumpkin's Preventive Care plan costs $227.40 per year for dogs and puppies; $143.40 for cats.

Customer Opinions
We typically share a couple of positive and negative reviews from customers in our pet insurance reviews, but we're unable to for Pumpkin because it's so new.
Is Pumpkin The Best Pet Insurance For My Dog?
Since it's so new to the industry, there's still a lot of room for this company to experience many changes (we witnessed some even during the eight weeks we were working on this review). We like to give companies five full years of experience before ranking them in our pet insurance reviews. It's common for pricing to fluctuate, underwriters to change and customer service and claims experiences to vary because it takes time for a company to get its footing.
If you do not feel Pumpkin is right for your pet, we invite you to read up on our top three picks for pet insurance.
What stands out most for you about Pumpkin pet insurance?