To keep the lights on, we receive affiliate commissions via some of our links. Our review process.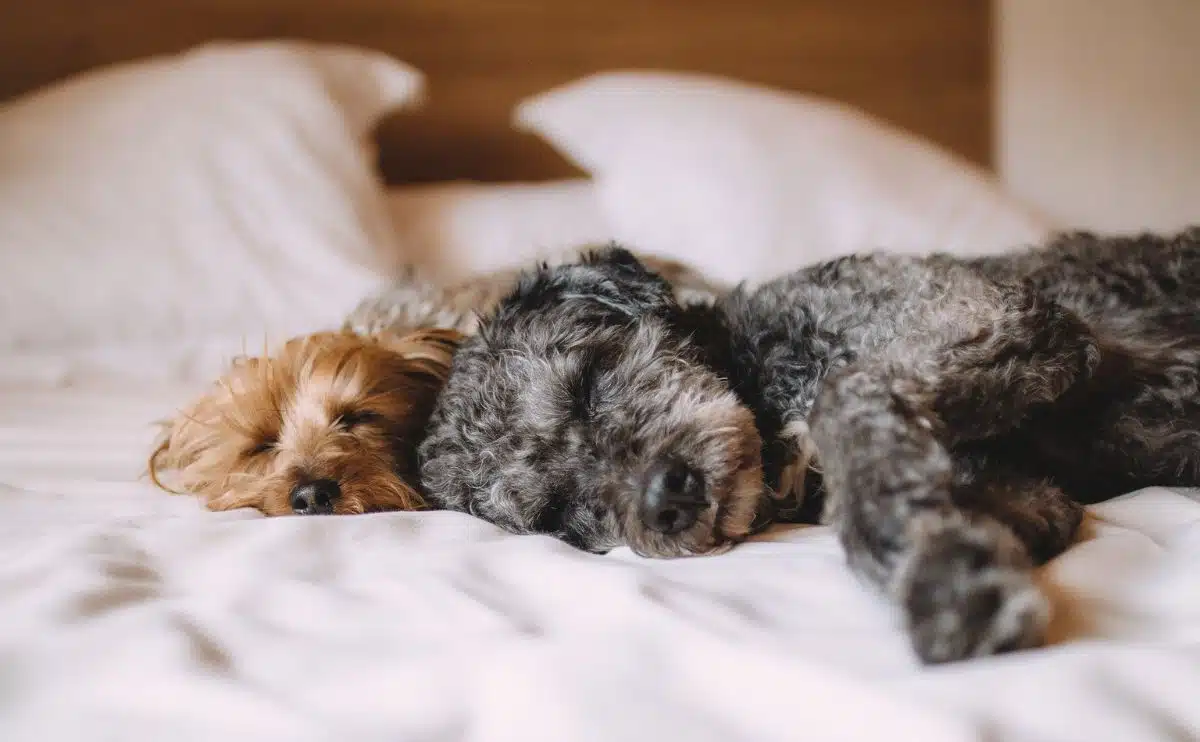 We find Embrace to be a better overall pet insurance choice over Trupanion. Embrace has fewer exclusions and more customization options than Trupanion. However, it's important to read our detailed comparison to determine which provider best suits your pet's unique health needs and budget.
Policy Coverage
Policy Coverage Winner

The table below shows specifically what Embrace and Trupanion cover. Note: Both companies cover emergency care, surgery and hospitalization, specialized exams and specialty care, X-rays, blood tests, ultrasounds, cat scans, MRIs, rehabilitation, cancer, chronic conditions, euthanasia, hereditary conditions, congenital conditions, non-routine dental treatment, and prescription medications.
Neither covers pre-existing conditions, cremation and burial costs, pregnancy and breeding, or unnecessary cosmetic procedures.
| | Trupanion | Embrace |
| --- | --- | --- |
| Illness Waiting Period | 30 Days | 14 Days |
| Accident Waiting Period | 5 Days | 2 Days |
| Hip Dysplasia Waiting Period | 30 Days | 6 Months |
| CCL Surgery Waiting Period | 30 Days | 6 Months |
| Behavioral Therapies | | |
| Alternative/Holistic Therapy | Extra Fee | |
| Exam Fees | | |
| Underwriter | American Pet Insurance Company | American Modern Property and Casualty Insurance Company |
| A.M. Best Rating | Unrated | A+ |
Waiting periods are a big factor to consider for pet insurance. The shorter the waiting periods, the faster your pet's coverage kicks in. The average waiting periods for illness is 14 days and accident is 1-5 days. It's also common for some companies to place additional waiting periods for ligament and hip-related conditions, such as cranial crucial ligament (CCL) injuries and hip dysplasia. On average, their respective waiting periods are six months.
Trupanion has a longer waiting period for illnesses and accidents compared to Embrace, but its hip dysplasia and CCL surgery waiting period is drastically shorter.
A perk with Trupanion is that it doesn't list any bilateral exclusions for CCL injuries. Most other pet insurance companies we review exclude CCL injuries if one leg has experienced pre-existing issues. This makes Trupanion a good option for those breeds who are prone to knee issues or dogs that have pre-existing conditions because it's more likely to cover a second, currently healthy knee than its competitors. However, it's always important to carefully read your contract because the sample policies we've examined may be different from yours.
If you're searching for a pet insurance policy to add a preventative care plan to, Embrace may be a good option for you. Trupanion doesn't offer a wellness plan.
The biggest concern with Trupanion is that its underwriter is unrated by A.M. Best (a measurement of financial stability), which means it's considered higher risk than a company like Embrace, whose underwriter has an A+ rating from A.M. Best.
Depending on your specific needs, you may see one of the two companies as a better fit than the other. But we give Embrace a slight edge in this category because it covers exam fees, includes alternative/holistic therapy for no extra fee, and offers wellness care, while Trupanion does not.
Customer Service & Reputation
Customer Service & Reputation Winner

Unfortunately, finding negative reviews for Embrace and Trupanion isn't too difficult. However, both have vast customer bases and it's more common for people to post poor reviews when disappointed than kudos when they're satisfied.
According to feedback from our readers and many online reviews, there are frequent complaints about each company, including long claim processing time, classifying items as pre-existing, denial of claims, premium increases, and more. You can also find good reviews for each of these providers. So, this category is a toss-up, depending on your priorities.
Claim Processing
Claim Processing Winner

For claim processing, Embrace averages five days for accidents and illnesses. Meanwhile, Trupanion averages only two days. Both of these wait times are in line with the competition.
You may be able to have Trupanion pay your vet directly, so you don't have to pay a hefty vet bill in advance while you wait for reimbursement. But this isn't available everywhere, so check with your vet first to see if Trupanion's Vet Direct Pay is an option for you.
Since Trupanion has a shorter claim repayment period and it has the possibility to pay your vet directly, it's the category winner.
Price Of Policy
Price Of Policy Winner

Embrace has a $25 enrollment fee and a $1 transaction fee, while Trupanion requires a one-time enrollment fee of either $0, $25, or $35 (depending on your state), but charges no monthly transaction fees. But both companies offer 30-day money-back guarantees.
Your premium price quote is based on your pet's details (age, breed, location, etc.). We recommend obtaining quotes from each company for your specific pet. You can also visit our pet insurance comparison quotes to see a few sample prices we've gathered.
Trupanion was often among the most expensive compared to competitors. Embrace was all over the board with its pricing. However, remember that it's always best to get quotes for your specific dog to compare what pet insurance could cost for you. You can use our pet insurance quote form to get multiple company quotes when you complete this one-quick form.
Additionally, Embrace has an annual deductible, whereas Trupanion's deductible is per-condition and lifetime. An annual deductible is important if your pet experiences multiple accidents or illnesses during the policy period (one year). However, if your dog is subject to chronic conditions, like allergies, hip dysplasia, cancer, urinary tract infections, etc., then Trupanion's per-condition deductible for the life of your pet may be a better choice.
Coupons
Embrace
Embrace offers the following discounts:
10% off (5% off in NY) for multiple pets
5% off for military and veterans (NY and TN excluded)
10% off if your company or clinic offers Embrace as an employee benefit (FL, ND, NY, and TN excluded)
5% off in NY if you pay annually
Up to 25% off for eligible USAA customers
Your deductible automatically goes down $50 each year you don't receive a claim payment
Use this link to take advantage of the best possible price. No promo code is needed. You can also visit our dedicated Embrace promotions page to learn more.
Trupanion
Use this link to take advantage of the best possible price and get a quote for your pet from Trupanion. You can also visit our dedicated Trupanion promotions page to learn more.
Plan Customization
Plan Customization Winner

Finding a company that has the coverage you need and fits within your budget is a necessity. See what plan options you have below from each provider.
| | Embrace | Trupanion |
| --- | --- | --- |
| Deductible Options | $200, $300, $500, $750, $1,000 | $0-$1,000 |
| Payout Options | $5,000, $8,000, $10,000, $15,000, $30,000, unlimited | Unlimited |
| Reimbursement Options | 70%, 80%, 90% | 90% |
| Optional Wellness Plan | | |
| Accident-Only Plan | Pets enrolled after their 15th birthday | |
| Deductible Type | Annual | Per-Incident |
Embrace offers more plan customizations whereas Trupanion is limited with a 90% reimbursement and unlimited payouts. Normally, this wouldn't be a bad thing because this means more coverage. However, having more options can allow pet parents to find a plan that fits within their budget.
One key difference between the two is that Trupanion has a per-incident deductible, which means each emergency will have its own deductible. This could result in more expenses for you. However, this could be beneficial for pets diagnosed with a chronic condition because the pet parent only has to pay that deductible once during the pet's lifetime as long as you maintain coverage.
Overall, Embrace wins this category because it has the most customization options. But if you have a purebred, it may be worthwhile to consider Trupanion, as pedigrees are more susceptible to chronic conditions.
What's The Verdict?
Overall Winner

Both Embrace and Trupanion offer unique options for pet parents. If your dog has pre-existing conditions, Trupanion may be a better option if you want a condition or disease covered that can affect both sides of the body but has only presented itself on one side to date. If that's not the case, then Embrace may be appealing since it has more pricing options and a more stable reputation.
If you didn't find what you were looking for, our experts have gone in-depth with individual reviews of Embrace and Trupanion so you can expand your comparison.
Our experts have spent thousands of hours researching to bring you our comprehensive and frequently updated pet insurance reviews, including our top picks, along with details on each of the most popular pet insurance companies. So, if you want to know how other providers compare against one another, you may find this review helpful in your pet insurance search.
Tagged With: Reviewed By Insurance Agent, Vs