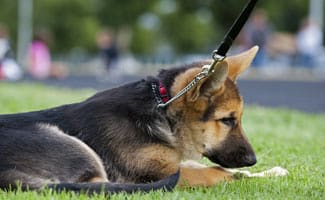 See our article on the dog training collar for an overview of all the different types of dog training collars available. A choke collar looks just like a thick silver chain, and unlike the pinch collar the choke collar does not have prongs that pinch in to your dogs skin. The choke collar works very much like the pinch collar in that it works in direct relation to the amount of tension in the leash. Unlike the pinch collar when the choke collar pulls tightly it chokes the dog by pulling tightly. A choke collar works much like a rope looped through itself, when the leash is pulled tightly the collar pulls tightly around the dogs neck causing it to choke itself (hence the name) and relax back in to stride to loosen the tension on the leash and the collar.
Choke collars are used in many of the same training situations as pinch collars, for the most part in maintaining composure outside the home and with aggressive dogs. Choke collars can be helpful with larger dogs or dogs with aggressive tendencies; again they should not be used on small or fragile necked breeds. Choke collars can also be detrimental when used on stubborn dogs who can continue pulling on their leash despite being choked; this can cause damage to the dog's neck as well as the loss of circulation to the tongue which will turn blue.
Criticism Of The Choke Collar
There are quite a few critics of the choke collar due to the fact that the collar does exactly what its name describes – it chokes a dog that is not being obedient. The choke collar is, in fact, one of the most critiqued training collars used to train dogs. The truth of the matter is that this is not a collar to use if you are an inexperienced dog owner. The trouble when using this collar is that even when fitted correctly the collar can damage your dog's neck and cause choking. If you are considering using a choke collar you should consult your vet or trainer to determine whether this is the right collar choice for you.
Tagged With: Aggression, Collars, Training