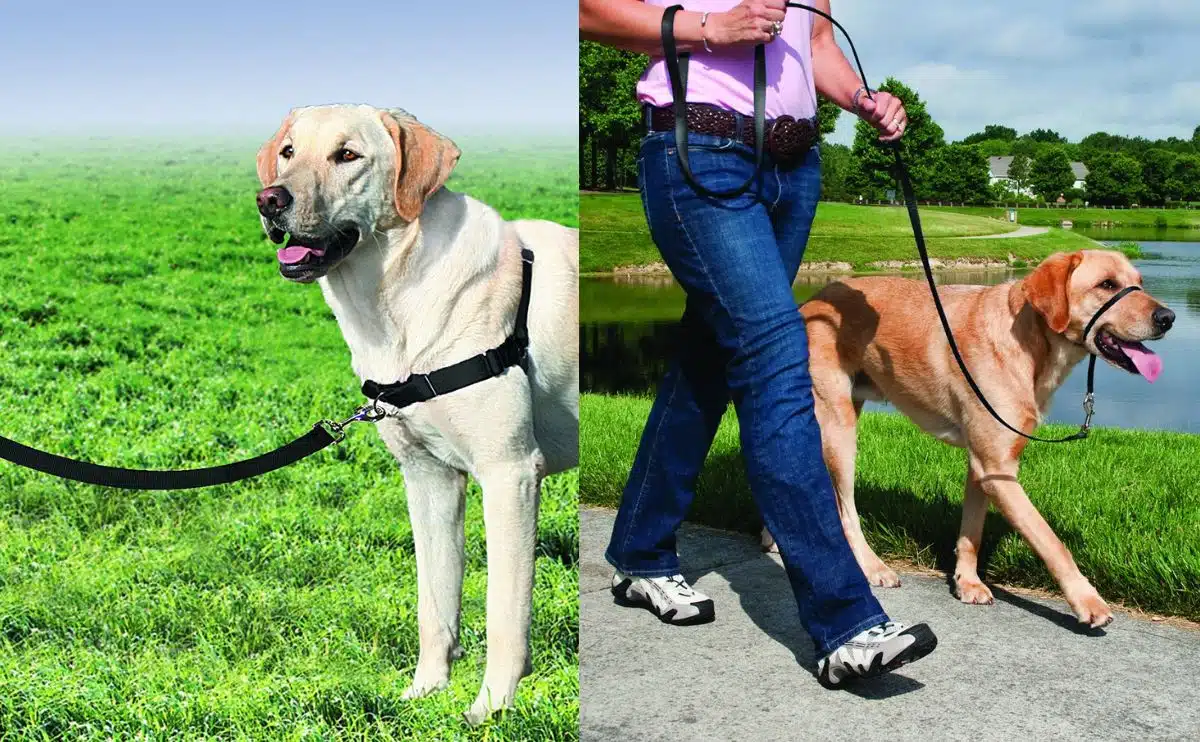 Does your dog have issues pulling on the leash, barking excessively, or lunging and jumping while walking? Not every dog is a perfect Lassie. So a training leash is a helpful tool to tame your pup's anxiety and aggression. Two popular options to help are reviewed here. But which is better: gentle leader vs easy walk harness? Find out which might help your dog.
Gentle Leader & Easy Walk Harness Features
Two popular training collar options are the Easy Walk Harness and Gentle Leader Headcollar.
Both can help train against unwanted behavior, but they are not identical products. So when comparing side by side, we wanted to point out the features of each.
To help you see which one you should pick, look at the table below. After reading, you may decide that your dog could benefit from both (more on that below).
| | Gentle Leader Headcollar | Easy Walk Harness |
| --- | --- | --- |
| Discourages pulling on the leash | | |
| Helps train against excessive barking, lunging, jumping, and even anxiety and aggression in some cases | | |
| Perfect for training dogs to heel | | |
| Easier to fit because it goes on the body, not the head | | |
| Recommended for brachycephalic breeds or short-nosed dogs (pugs, boxers, etc.) | | |
| Can be used on most breeds older than 6 weeks | | |
| Does not damage the trachea | | |
| Prevents gagging, choking, and coughing | | |
| Requires little acclimation time or special technique | | |
| Great for everyday walks | | |
| Popular among trainers and vets because you can walk your dog more comfortably on a leash | | |
Use & Sizing Guide
The Gentle Leader headcollar is sized by weight, whereas the Easy Walk dog harness uses chest and girth measurements.
Gentle Leader
Why is the gentle leader effective for dogs who pull? Because the Gentle Leader harness applies gentle pressure on the nose when the dog pulls.
How Does A Gentle Leader Work (Video)
Correctly putting on the Gentle Leader is critical to its effectiveness. Watch this one-minute video from Austin Pets Alive to see how to put on a gentle leader and how your dog should wear this headcollar appropriately.
Easy Walk Harness
The Easy Walk harness has four adjustment points, so your dog is comfortable and has a reliable fit. There is a martingale loop in the chest piece to prevent twisting, and the quick snap buckles on the shoulder and belly straps make it easy to put on and take off. The collar sits high on your dog's neck without putting any pressure on the throat.
How To Put On Easy Walk Harness
The Easy Walk Harness is relatively easy to put on. One strap secures via clasp and goes across the dog's back and another below their belly. There's a hook in the loop hook in the front where you attach the leash. Adjust the straps as needed so it fits firm without being too tight.
How Much Do These Products Cost?
The Easy Walk harness costs $22.95 and the Gentle Leader for dogs is $19.95 .
| Gentle Leader Headcollar | Easy Walk Harness |
| --- | --- |
| Petite weight under 5 lbs | Petite chest width 6″-7″ girth measurement 12″-16″ |
| Small weight up to 25 lbs | Petite/Small chest width 8″-9″ girth measurement 13″-18″ |
| Medium weight 25-60 lbs | Small chest width 8.5″-11″ girth measurement 15″-21″ |
| Large weight 60-130 lbs | Small/Medium chest width 11″-13″ girth measurement 19″-26″ |
| Extra Large weight over 130 lbs | Medium chest width 12″-15″ girth measurement 21″-32″ |
| | Medium/Large chest width 14″-18″ girth measurement 24.5″-34″ |
| | Large chest width 16″-21″ girth measurement 27″-40″ |
| | Extra Large chest width 17.5″-23.5″ girth measurement 32″-50″ |
Our Experience With The Easy Walk Harness
"We use the Easy Walk Harness on our Lab. It definitely reduces her uncontrolled pulling on walks. However, it gets stuck behind her front legs sometimes, rather than staying in front as it should. I guess this annoyance is worth the trade-off for a more manageable dog on walks!"

– Michelle S., Canine Journal
Can You Use Both The Gentle Leader & Easy Walk?
You might be debating easy walk harness vs gentle leader. But what about both? These two tools are relatively inexpensive. So, if your dog has issues with pulling on the leash and lunging, you may want to purchase one of each and try them out. You can then apply the training tool that makes sense in a particular situation.
For example, you may use the Easy Walk at the park but the Gentle Leader for dogs at the vet's office. Just don't use them at the same time.
Tips For Improving Dog Walking Behavior
View Gentle Leader on Amazon | View Easy Walk on Amazon
We want to remind you that although these harnesses can be immensely helpful, they are still just one of many training tools. If your dog's issue is that they pull on the leash, you must be consistent with your commands. Also, don't forget to reward your dog when they aren't pulling, reinforcing good behavior.
To further maximize your dog's walking success, you might also consider other dog training collar options, an online dog training class, or other harnesses.
Tagged With: Collars, Comparison