Daily walks with your pup are essential to long-term physical health. Walk time is a special bonding time for pets and owners and gives both an opportunity to connect with the outdoors. While seemingly idyllic, this once enjoyable activity can become a frustrating challenge for dog owners with pets that pull when they walk. Fortunately, there are several no-pull dog harnesses that can make a world of difference. The best harness for dogs that pull is Rabbitgoo, but we have some other options for dogs of all types.
At A Glance: Our Top No-Pull Dog Harness Picks
Can Leash Pulling Be Harmful?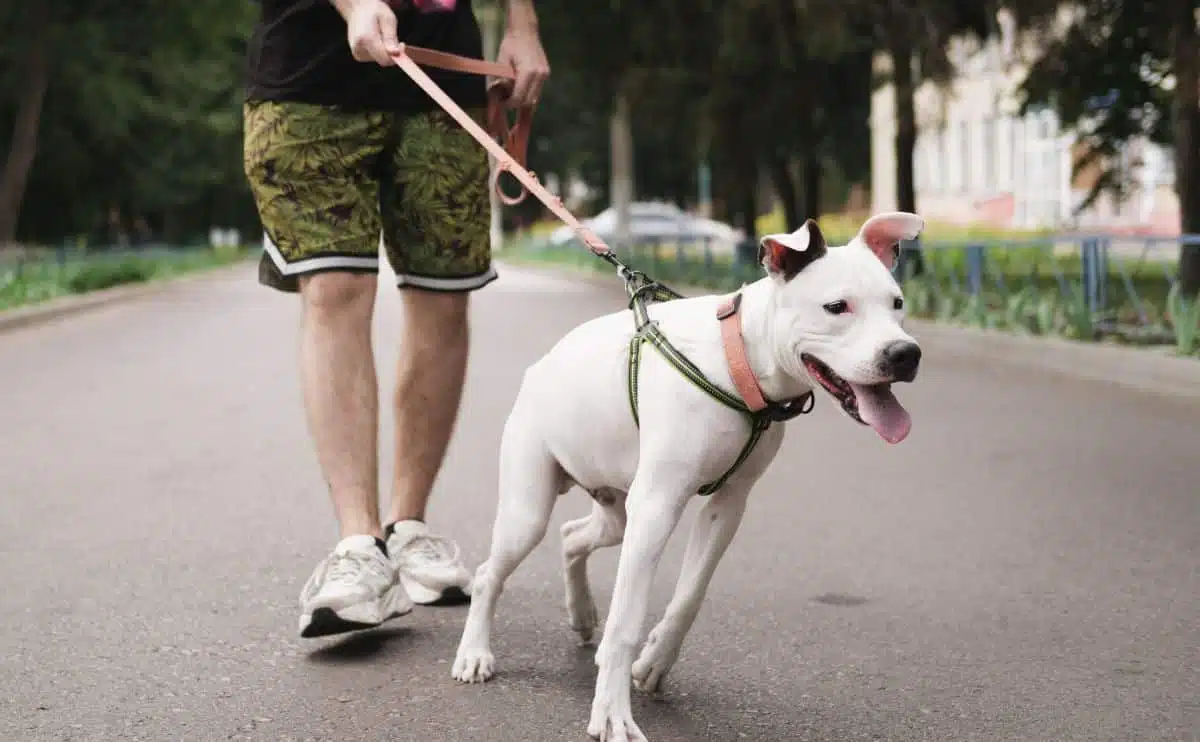 Traditional collars worn around the neck do not hold up well to the force of pulling and straining when a dog pulls. The strain gets worse when owners tug on the leash. It can be very painful and cause long-term damage to the neck. Smaller dogs are at more risk of getting hurt from pulling behavior.
Along with physical damage and pain, pulling also leads to destructive behaviors. For example, a pup gets excited and pulls when they see a person, or another canine might get a hard tug when they pull. The tug becomes a negative response. Due to the negative association, dogs may become afraid or nervous when they see other animals and new people. The cycle creates a negative feedback loop, causing your pup to fear walking, the leash, other dogs, and even you.
The physical effects of pulling do not stop with your pup. These can affect you too. Large dogs who pull can cause pain in their owner's back, leg, and shoulder. Sometimes, they can even cause injury if an owner loses control or falls. For owners who have physical limitations, a pup that pulls may not get walked due to fear of physical pain to the owner or the inability to do so safely. I personally had my back injured when walking two larger (65 plus pounds each) pups that were both pullers when a rabbit happened to run by. Both dogs pulled quite forcefully, and though I managed to restrain them, my back paid the price.
Do No-Pull Harnesses Work?
No-pull harnesses can be helpful, but it is important to note that no product will work for every dog. How effective a no-pull harness is depends on each specific animal and situation. Additionally, these are not a perfect solution, nor will they work by themselves.
Along with the introduction of a no-pull collar, owners will need to work on training their pups to be more obedient walkers. Additionally, some no-pull harnesses may not be suitable for longer distances like runs or longer-distance hikes.
Most of the time, these tools, along with training, can improve the pulling behavior but will not eliminate it completely.
How Do No-Pull Harnesses Work?
No-pull, also called anti-pull harnesses, work due to their specific design. These harnesses often have a design that includes strong straps that go over the shoulders and are fastened over a dog's chest or back. These will often have clips on the front and back to attach a leash to.
No pull designs allow for something called loose leash walking. When the pup pulls, the leash falls to one side, forcing them to walk beside their owners rather than in front. This also allows owners to control the leash better without using a lot of force or pressure. Look for harnesses with thick straps made from a durable, comfortable material. Those that provide leash rings on both front and back are helpful as they are secure. Also, look for easy-to-use fasteners.
2 Types Of Harnesses That Stop Dogs From Pulling
There are two main kinds of harnesses to use to stop dogs from pulling. These are harnesses that attach from the front or back. Head harnesses are not true harnesses but are labeled and grouped in with the others.
Front-attaching harnesses allow the leash to connect at the front. These are effective for doggies that pull all the time. By attaching the leash to the front, when a dog pulls, they end up turning around and looking at their owners. The design stops any pulling because the walk cannot continue unless your pup is walking appropriately.
Harnesses that attach to the back generally have leash clips between the shoulders. The placement takes the pressure off your pup's neck. Some harnesses will have both front and rear clips.
3 Features To Look For:
Durability & quality: You need something durable to hold up to your dog's pulling and be comfortable. Even small dogs who pull can have impressive strength, and a harness must withstand some wear and tear.
Adjustability: Look for a design that allows adjustments and tightening. A proper fit is especially important for both large and small breeds. Smaller breeds can slip out or get tangled up, and larger breeds may feel pinching and pain if harnesses are too tight. Adjustability is crucial in getting a proper fit.
Safely: You always want your pup to be safe, so avoid collars not made for dogs or those that use hard, sharp, or uncomfortable material.
6 Tips On How To Measure Your Pet For The Right Size No-Pull Harness
Owners must pick the right size to ensure that harnesses will work to the best capacity. Do not try and guess on proper sizing. I can speak from experience that often just leads to the wrong size, a product that gets broken or doesn't work right, and an upset owner. In some cases, it can even lead to a pet slipping out, running away, and being in danger. You will need to measure your dog's neck and chest. Keep in mind that even canines the same size will need different dimensions. For example, a 55-pound Labrador will have a different fit than a 55-pound Boxer.
Use a soft measuring tape or a piece of string and a ruler.
Have your pup stand upright on all fours. Try to keep his back straight and as little movement as possible while measuring. Measuring may be a two-person job.
Measure the girth or circumference of the chest. This is especially important for picking the correct size. Measure from between the shoulder blades or withers and around the chest. You will wrap the tape or string around the entire chest and through the legs to get an accurate measurement.
Also, measure the lower neck at its thickest part, above the shoulders but well below the head.
Measure at least three or four times to ensure you get accurate info.
Try to get an accurate weight on your pup to help with sizing.
Best No-Pull Dog Harnesses
There are a few different things to look for in a no-pull harness. What works best will depend on your dog's size, breed, age, walking habits, and pulling severity. There are assorted styles to use, including those meant for training and those for very excitable pups.
Best Overall: Rabbitgoo No Choke Vest Review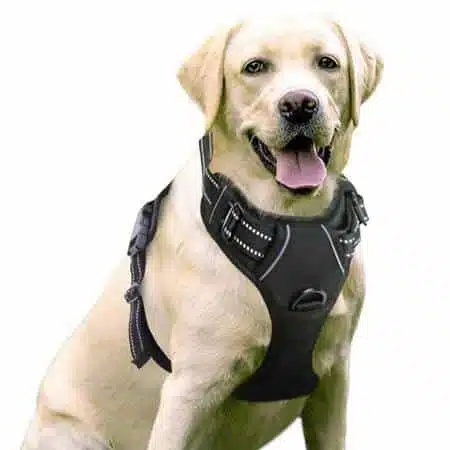 The Rabbitgoo no-pull harness is highly reviewed and very affordable. It has four adjustable straps, two at the neck and two at the chest, making it easy to secure your pup and prevent pulling. Buckles are on the sides and are fast-release. Rabbitgoo also has an easy-to-access back handle. It comes in sizes X-Small through X-Large, so it works for every pup. Owners can pick from 14 colors, though not all sizes come in every color.
The Rabbitgoo model has two metal leash rings, one on the front and one on the back. Made from nylon Oxford and soft padding, very durable and incorporates breathable mesh to keep dogs cool. It slides over the head rather than having to be stepped into. It is an excellent fit for doggies that can be hard to wrangle into harnesses. It also has bright reflective strips, making pets very visible day or night.
Personal Experience
"This is an effective harness that has held up well for years. It keeps our dog from pulling, and there's a handle on the top that adds even more control when another dog walks by."

– Alex Schenker, Canine Journal co-founder and rescue dog parent
| Pros | Cons |
| --- | --- |
| 2 chest and 2 neck straps for adjustability | Takes time for dogs to acclimate |
| Attaches at front and back | Needs hand washing |
| No choke design | If improperly sized dogs may be able to wriggle out |
| Goes on over the head | Some dogs may be able to chew through |
| Easy grab handle | |
| Affordable & comfortable | |
Price
The Rabbitgoo is available in 4 sizes and 12 colors.
Best Harness For Large Dogs That Pull: 2 Hounds Design Freedom Review
View On Amazon | View on Chewy
The 2 Hounds no-pull harness is designed for generous-sized, aggressive pullers. It is made to fit larger breeds, even up to 250 pounds. So, if you happen to be a pet parent to a Neapolitan Mastiff, a Great Pyrenees, a larger-sized Great Dane, or any other giant-sized breed, it may be a top pick. Adjusts in four places for a proper fit. Made in the USA and has plenty of colors available.
Made to counter the "opposition reflex," the 2 Hounds harness is simple yet effective. It comes with a double-connection leash, making handling and steering your giant breed much easier. Dogs are trained to walk in a straight line with no twisting or pulling. It has a front and back clip and is made of nylon and synthetic fabric. It has Swiss velvet lining along the front legs to prevent chafing and rubbing.
| Pros | Cons |
| --- | --- |
| Gentle pressure instead of sharp pain when pulling | No reflective material |
| Swiss velvet-lined straps | Not chew proof |
| Easily adjustable | |
| Swiss velvet lined straps | |
| Made in the USA | |
Price
The 2 Hounds is available in 7 sizes and 19 colors.
Best Harness For Small Dogs That Pull: TwoEar No-Pull Reflective Review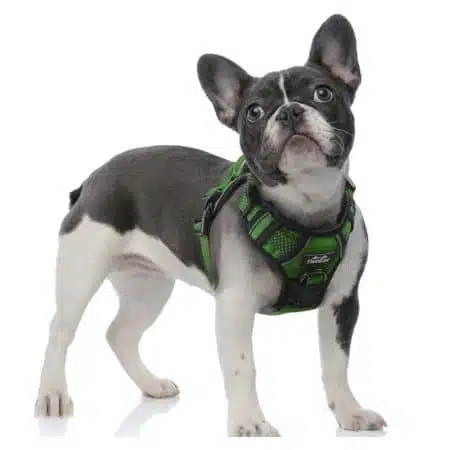 TwoEar is a top pick for small breeds. It features a fully reflective design, which is helpful for small breeds. Anti pull design has two leash rings and a control handle. It has a four-way adjustable strap and buckles on both sides. The strap also adjusts at the neck, and the whole device is soft and padded. It is made from breathable fabric.
Front and back rings make it a very versatile product. The quick-release buckles make the harness easy to get in and out of. Reflective design features reflective material woven through and has breathable mesh, so pups don't get overheated.
Personal Experience With TwoEar No-Pull
I have used the TwoEar harness for two years with my Poodle Beagle mix, Falkor. He is 17 pounds and a considerable puller. Though small, he has a good amount of energy and strength. We started using the smaller size when he was about six months and outgrew the smaller one we started with. I love that it is adjustable. The two different options for leash attachment are beneficial and have reduced the pulling quite a bit. We use the harness almost every day and have little signs of wear and tear. For his small size, it works really well.
| Pros | Cons |
| --- | --- |
| Very durable | Some dogs may not like the feel |
| Good control | If not adjusted properly or wrong fit dogs may wriggle out |
| Simple to use | |
| Designed for small dogs | |
Price
The TwoEar is available in 4 sizes and colors.
Best No-Pull Training Harness: Sporn Original Training Halter Review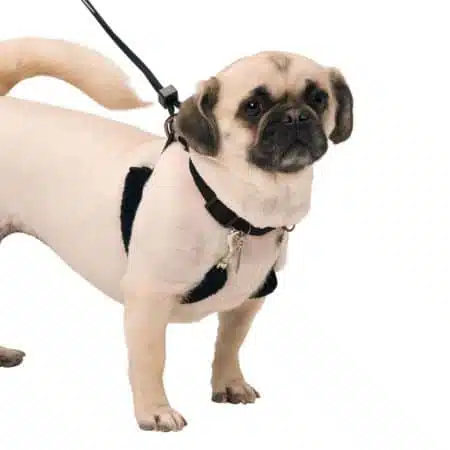 View on Amazon | View on Chewy
Sporn's uniquely designed training halter is a no-choke design and is humane. The Sporn design works slightly differently than the traditionally designed harnesses. It has a traditional type of collar, with restraints that go underneath the front legs. These are covered in Sherpa sleeves for comfort and are connected with a soft chest mesh piece. As soon as any pulling happens, the under-leg straps prevent movement.
Spron's product comes with a lifetime guarantee. Made for walking and training only, the product is not a tie-out, car harness, or product in which dogs should be left alone. Sporn is a particularly good choice for dogs with sensitive necks, collapsed tracheas, or injured throats. Follow the product size guide and measure your pup before purchase for proper fit.
| Pros | Cons |
| --- | --- |
| Innovative design | May be tricky to get on squirmy dogs |
| Highly effective | Some users would like more padding |
| Humane, no choke control | |
| Easy to use | |
| Lightweight with nickel plated steel fasteners | |
Price
The Sporn comes in 4 sizes and colors.
Best For Long Walks & Hikes: Auroth Tactical No-Pull Adjustable Review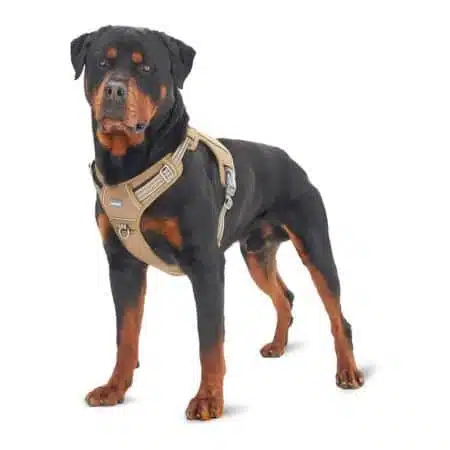 Very sturdy and designed for rugged and outdoor use, the Auroth tactical harness is popular for long walks, hikes, and outdoor time like camping. They are designed with a front no-pull D ring leash attachment. Adjustable steel rings made from military-grade Kevlon. It has a durable back handle to help owners keep control of their pets. It also has spots for owners to attach gear and includes a very visible Best Friends ID badge.
Features four fully adjustable straps and two quick-release buckles. Fits dogs snugly and comfortably. Front clip for no-pull control, back clip for easier walking. Durable, strong, and made for heavy-duty use. Multiple colors and sizes to pick from.
| Pros | Cons |
| --- | --- |
| Exceptionally durable | May not fit if not sized correctly or if dogs are extremely wiggly |
| Easy to adjust | Some dogs have chewed through harnesses |
| Made for outdoor, heavy-duty use | |
| Dual leash attachments | |
| Reflective material | |
Price
The Arouth is available in 4 sizes and 14 colors.
What About Ruffwear & Easy Walk?
Although these didn't make our top picks, we want to include these popular harnesses worth considering as well.
Ruffwear Front Range Review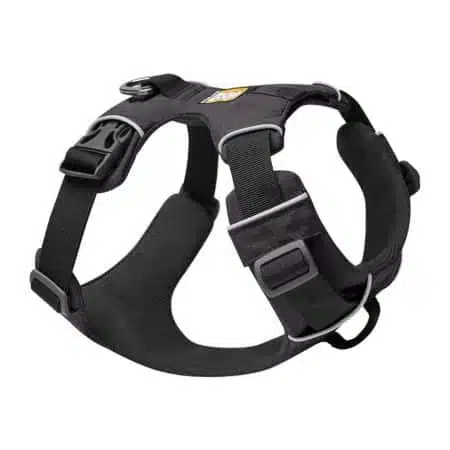 Ruffwear's front range dog harness is a lightweight and highly durable harness. It is made for extended wear. Extra foam padding for comfort. Features two leash attachment points. It also has reinforced webbing on the chest. Four adjustment points and reflective trim. Light loop to attach a flashlight.
Ruffwear is designed to be easy on and off. The design works on equal load distribution to keep your pup from getting overworked or sore in one spot. Easily visible fabric to keep dogs seen day or night.
| Pros | Cons |
| --- | --- |
| Front and back clips | Not escape proof |
| Easy to put on | Sizing runs small according to some users |
| 4 adjustment points | |
| Sturdy and durable | |
Price
The Ruffwear Front Range is available in 5 sizes and 10 colors.
Easy Walk Review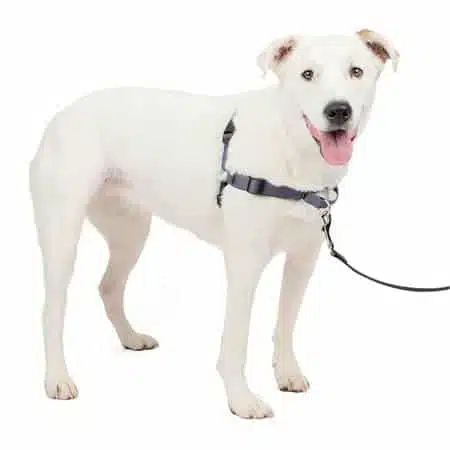 View on Amazon | View on Chewy
The Easy Walk harness is a highly reviewed training tool. Easy Walk helps discourage pulling and has four adjustment points. There is a martingale loop in the chest piece to inhibit twisting, and the quick snap buckles on the shoulder and belly straps make it simple to get pets in and out of. The collar sits higher on the neck without placing any stress on the throat and neck.
Easy Walk will connect across the back and belly. The leash attaches to the front. Works to help with strong pulling.
| Pros | Cons |
| --- | --- |
| Simple design | Not good for training dogs to heel |
| Easy to use | May not be sturdy enough for heavy pullers |
| Prevents gagging, choking, and coughing | |
| No damage to trachea | |
| Recommended for brachycephalic breeds or short-nosed dogs | |
Price
The Easy Walk Harness is available in 4 sizes and 4 colors.
Personal Experience With Easy Walk's Harness
"We use the Easy Walk Harness on our Lab. It definitely reduces her uncontrolled pulling on walks. However, it gets stuck behind her front legs sometimes rather than staying in front as it should. I guess this annoyance is worth the trade-off for a more manageable dog on walks!"

– Michelle Schenker, cofounder of Canine Journal and rescue dog parent
Read Our Easy Walk Harness vs. Gentle Leader Collar Comparison
What About Collars & Leashes?
Along with picking the proper no-pull harness, dogs also need sturdy leashes and reliable collars. There are a few different kinds to choose from, including LED collars. Always remember that these are only tools. A good part of dog walking behavior comes down to training, and your pup will need practice. Be sure to stay calm and patient, and remember that each dog may respond uniquely to various methods and tools.
Walking is a necessary activity for every dog, big or small, and it is worth the time and investment to make it work. You can try a dog training class or enlist the help of a private trainer if the behavior persists. Learn more about other harness options and training tools to help make walking a pleasant experience for both owner and pup.
Tagged With: Training