''''
Letting your dog run wild and free sounds like a great idea until it's not. Having your pup on a leash can prevent him from running away or, worse, running into traffic. But when it comes to choosing the right leash, you may feel lost with so many options. No worries, we've got you covered. The best dog leash is Max & Neo. But we've reviewed our top picks for the best dog leashes to meet various needs.
How Do I Pick The Right Leash?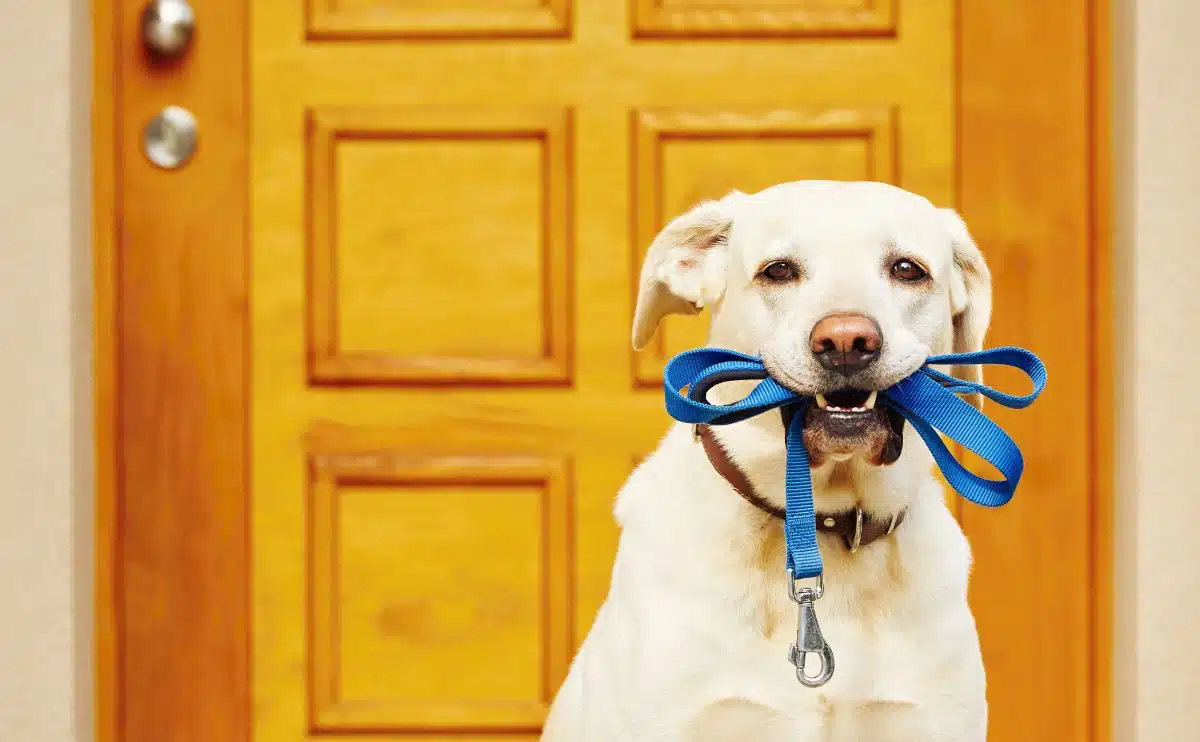 When you look for a leash, the options might seem overwhelming. So, how do you know what is right for you? Essentially, the best leash is the one that fits comfortably in your hand and helps you maintain control of your pup. If you want to get into more detail than that, check out our guide on how to pick the best collars and leashes. This guide will give you lots of info to help you make the right decision.
Best Dog Leashes: Our Top 3 Picks
Once you understand what you are looking for, you are ready to shop. We have detailed reviews of our top three standard leashes. If you are looking for something more specific, check out the other options we recommend.
Best Adjustable Length: Max And Neo Review
The Max and Neo Double Handle Traffic Dog Leash is our top pick for the best dog leash. This double-handled dog leash helps you have extra control when walking your pup, and the padded neoprene handles make it comfortable to manage. With multiple colors and two length options, you can find a choice to meet your needs. The material is durable, and the stitching is reflective for more visibility. This leash has a D-ring near the top to attach accessories and, like the clasp, is made with heavy-duty metal.
One of our favorite parts of purchasing this leash is that when you buy a leash from Max and Neo, they will donate a leash to a rescue organization. Some customers complain that the clasp on this leash doesn't stay clipped and that the material is not chew-proof. You do get a lifetime warranty if there's a problem.
| Pros | Cons |
| --- | --- |
| Two neoprene-padded handles | Clasp can unclip on some leashes |
| Multiple color options | Not chew-proof |
| Reflective stitching | |
| Durable material | |
| Heavy-duty metal clasps and D-ring | |
| Lifetime warranty | |
| One leash donated for each leash sold | |
Price
Most Variety: PetSafe Nylon Review
The PetSafe Nylon Dog Leash is another excellent choice for a basic leash and is available in multiple colors, lengths, and widths. The material is durable, and the one-piece construction gives added strength. The heavy-duty metal clasp is easy to use and works well with the PetSafe gentle leader collar and easy walk harness.
We don't love that this leash only has one handle that isn't padded. It's also not chew-proof. However, there is a one-year warranty if something goes wrong.
| Pros | Cons |
| --- | --- |
| Available in multiple lengths and widths | Only one handle that's not padded |
| Multiple color options | Not chew-proof |
| Durable material | |
| 1-piece construction | |
| Heavy-duty metal clasp | |
| 1-year warranty | |
Price
Most Durable: PWSTV by The Pawsitive Co. Review
Our most durable pick is the PWSTV by The Pawsitive Co. Leash. This leash is available in multiple color options but comes as a one-size-fits-all six-foot leash. The material is made with high-density webbing to increase strength and durability. The heavy-duty metal clasp is easy to use and effortless. We also love that every purchase from this company provides a meal for a pup in need. This product is not chew-proof, but there is a 30-day return policy if you aren't satisfied with your purchase.
| Pros | Cons |
| --- | --- |
| Multiple color options | Only one size available |
| Durable material made with high-density webbing | Not chew-proof |
| Heavy-duty metal clasp | |
| 30-day return policy | |
| Every purchase provides a meal for a pup in need | |
Price
Multi-Functional: Walkee Paws Leash & Bag Combo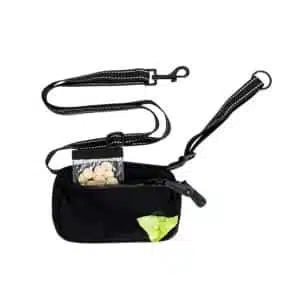 If you're looking for a way to carry your stuff while on the go, this combination leash is a functional option. The patent-pending design, is a bag and leash in one, turning your leash into a cross-body bag when not in use. It can stores your phone, extra poop bags, treats, keys and more on the go. The zipper pouch has compartments to keep everything organized. And there is a hole to pull the poop bags through. The adjustable leash can be used for dogs up to 30 pounds (with a larger dog version coming soon).
| Pros | Cons |
| --- | --- |
| Lightweight | Only one color available |
| Padded handle | Only for smaller dogs |
| Multiple storage options and clip | |
| Adjustable up to 5 feet | |
| Every purchase provides a meal for a pup in need | |
Price
Our Personal Experience With Walkee Paws Bag & Leash Combo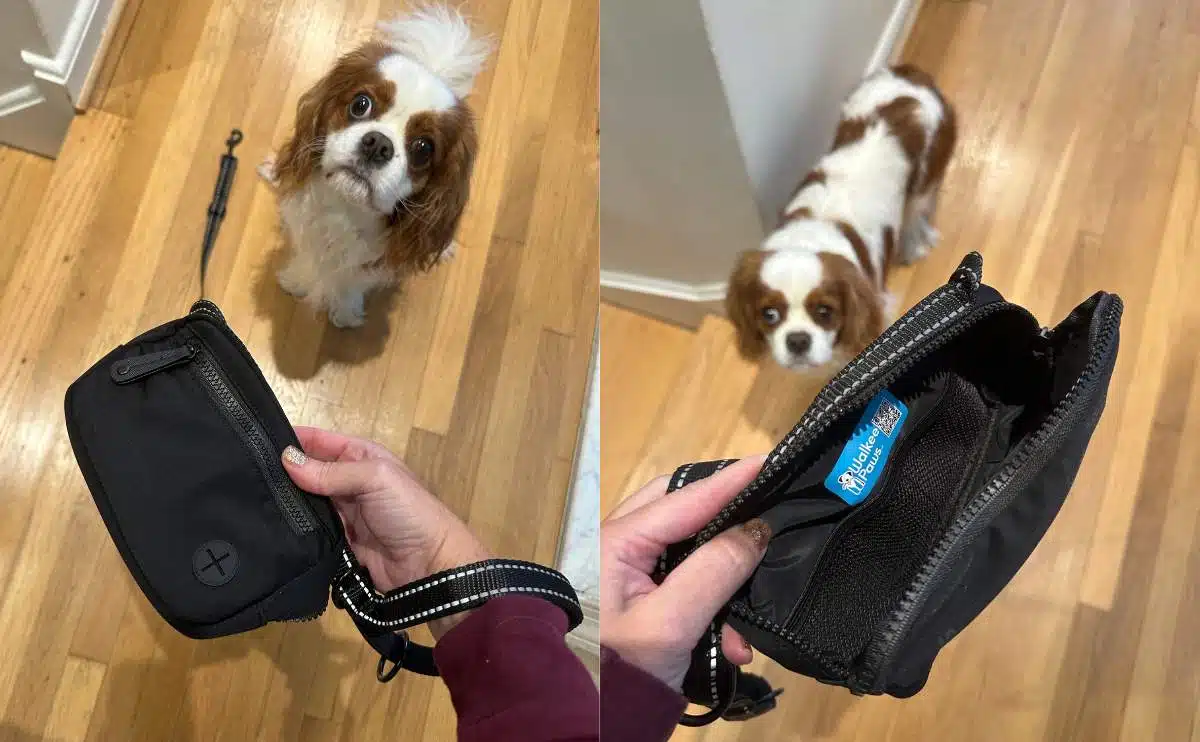 We tested the Walkee Paws 2-in-1 leash and bag combo and it's super light weight which is nice since it can get heavy when carrying things in the pouch. It's super high-quality nylon material for easy cleaning. The strap is comfortable and love all the pockets and way to carry treats while on walks (instead of holding in my hand or putting in my jacket or pant pockets). The clasp is a bit small but we had no issues using it with our existing harness.

– Sadie Cornelius, Cavalier King Charles Spaniel dog parent
What About Retractable, Hiking, Leather, Rope, For Dogs That Pull & More?
If you're looking for a leash for a specific need, you have many options. Here are our top picks in several categories to help you narrow down your choice.
Best Retractable Dog Leash: Tug 360°
Retractable leashes give you the power to decide how far your pup can roam. We recommend the TUG 360° Tangle-Free, Heavy Duty Retractable Dog Leash with Anti-Slip Handle.
Comes in 4 sizes (tiny, small, medium, large)
7 different color combination options
16 ft easy-adjust
360-design for tangle-free movement
Quick-lock and unlock feature
Comfortable grip with ergonomic anti-slip handle
Heavy-duty coil for consistent retraction
Staring at: $21.99
Best For Dog Parks: Shed Defender Mag-Snap™ Dog Leash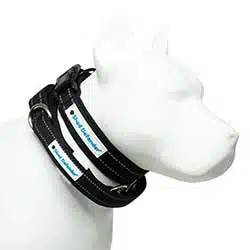 The Mag-Snap Leash – 5 ft. is quite sturdy and suitable for walking dogs of large and medium sizes. It is comfortable on the dog, fits well in the owner's hands, and is not hard to maneuver or handle. It easily attaches to collars and harnesses. The magnets are a useful feature, making it easy to keep the leash attached to my dog in between walks. This is a very beneficial feature, especially with excitable dogs who make it tricky to get a leash properly attached. It is comfortable and easily adjustable around the dog's neck. Once properly attached and adjusted, this leash is a very enjoyable product.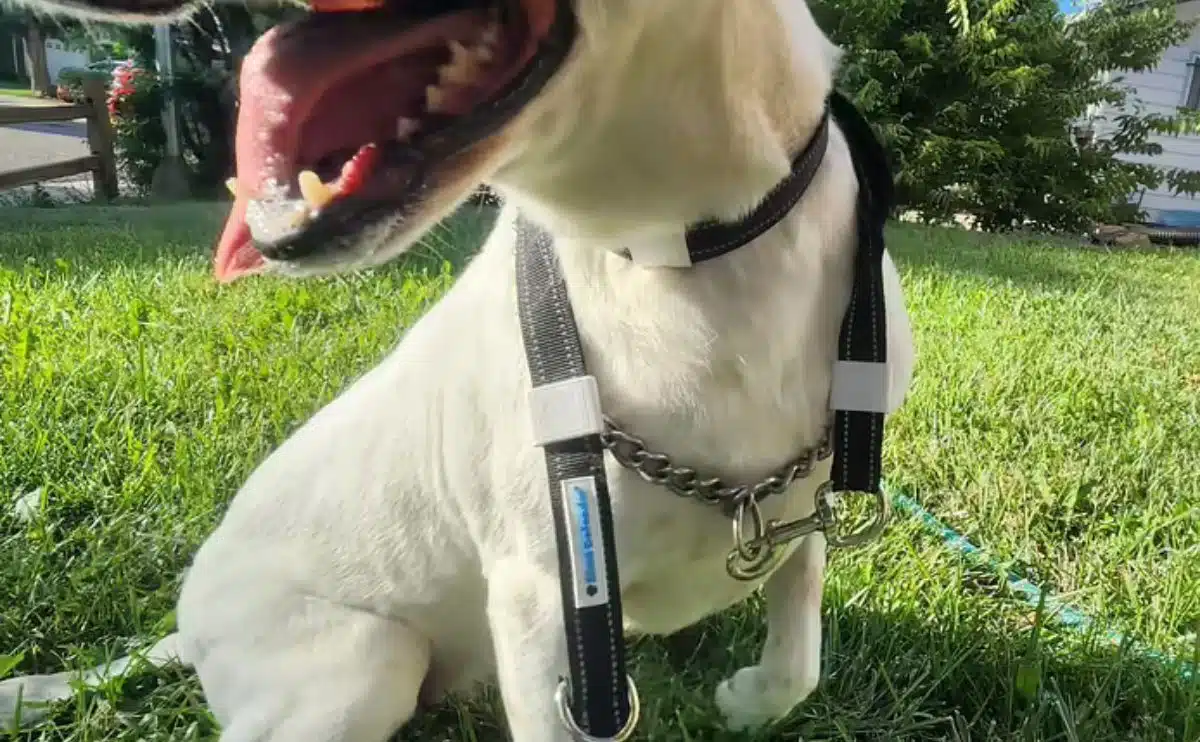 "We tried this out on a larger dog, an 8-year-old Pitbull mix who is about 70 pounds. It helped a lot with my dog, who often gets so excited at the idea of a walk that she makes it tricky to get a collar and leash on her. Being able just to unravel the leash and go right outside took a lot of trouble and chaos out of our pre-walk routine. After a week of use, we have been able to transition to going out for a walk quickly, and she can transition back into the house easily and without waiting to get her leash taken off. Once adjusted, the collar stays on reasonably well for some time, though it will eventually loosen. The collar is not too snug and does not seem to bother the dog."

– Danielle DeGroot, Rescue Mutt dog parent
Comes in 2 colors
Adjustable fit
Ideal for parks, the beach, and other leash-free areas
Leash wraps around dog's neck using magnet design
Allows for hands-free walking
Attaches to any standard dollar
Starting at: $39.99 ($39.99 / Count)
Best Leash For Puppies: PetSafe Nylon
When it comes to a puppy leash, keep it simple. The PetSafe Nylon Dog Leash will do the trick, and as your pup grows, you can decide if you need something more specific.
Comes in 4-ft and 6-ft lengths (and 3 widths)
7 different color options
Easy off-hook made of nickel-plated zinc alloy for durability
Reputable brand
Starting at: $4.99
Best Dog Leash For Aggressive Pullers: Wild One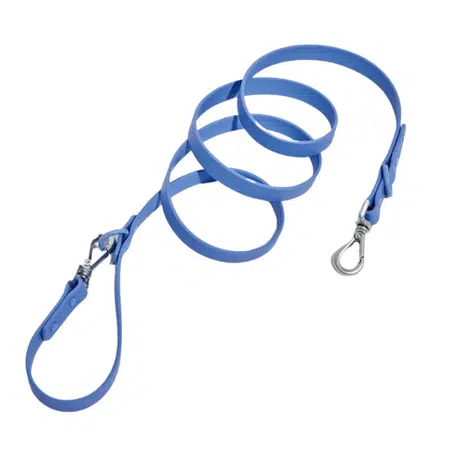 The silicone leash from Wild One is the best dog leashes for pullers. It takes the knots out of walking and helps with those dogs that can pull. Its slick, rubbery material reduces knots in the leash plus it's waterproof, easy to clean, and super strong for dogs that like to tug. The clasps are heavy-duty and easy to snap in and out. Plus, adjustable loops can make the leash shorter or longer. It comes in a wide range of colors, including limited edition designs. They even have a line of matching poop bags, harnesses, and collars. Bundle with a "walk kit" to save.
Comes in several colors
2 length options
Easy to clean
Weather-proof
Anti-rattling
Starting at: $58
Our First-Hand Experience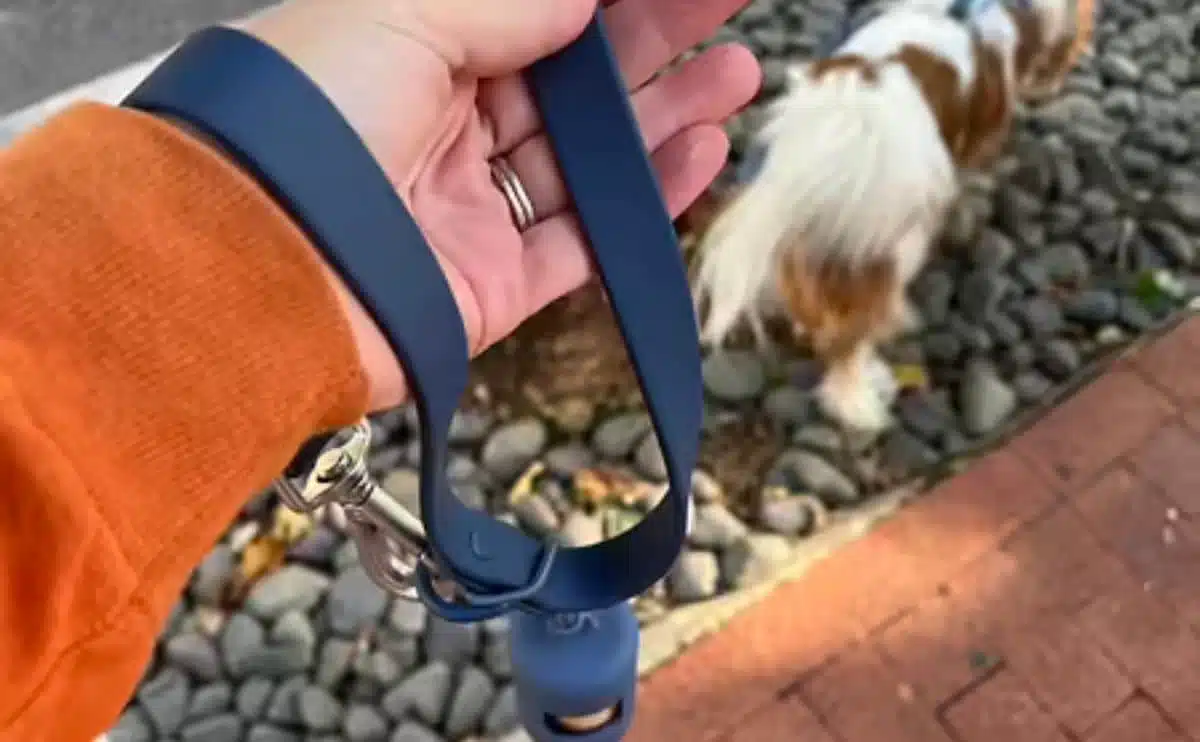 "We tried out the medium-size Wild One leash, and it's a game-changer. The nylon leash we used previously had knots and would get wet and dirty in the rain. Our dog can be reactive on walks, but the thick material keeps him securely in our control while feeling lightweight at the same time. The rubber no-slip handle also makes it easy to grip. The clasps are high-quality, and we feel very stylish on walks."

– Sadie Cornelius, Cavalier King Charles Spaniel dog parent
Best Dog Leash For Running: TaoTronics Hands-Free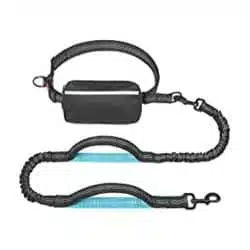 Running with your pup is excellent exercise and a fun way to bond. The TaoTronics Hands-Free Dog Leash is the best dog running leash to make jogs or walks with your furry friend an even better experience. There are many options, but this is our recommendation for the best bungee dog leash.
Our Personal Experience With TaoTronics Dog Leash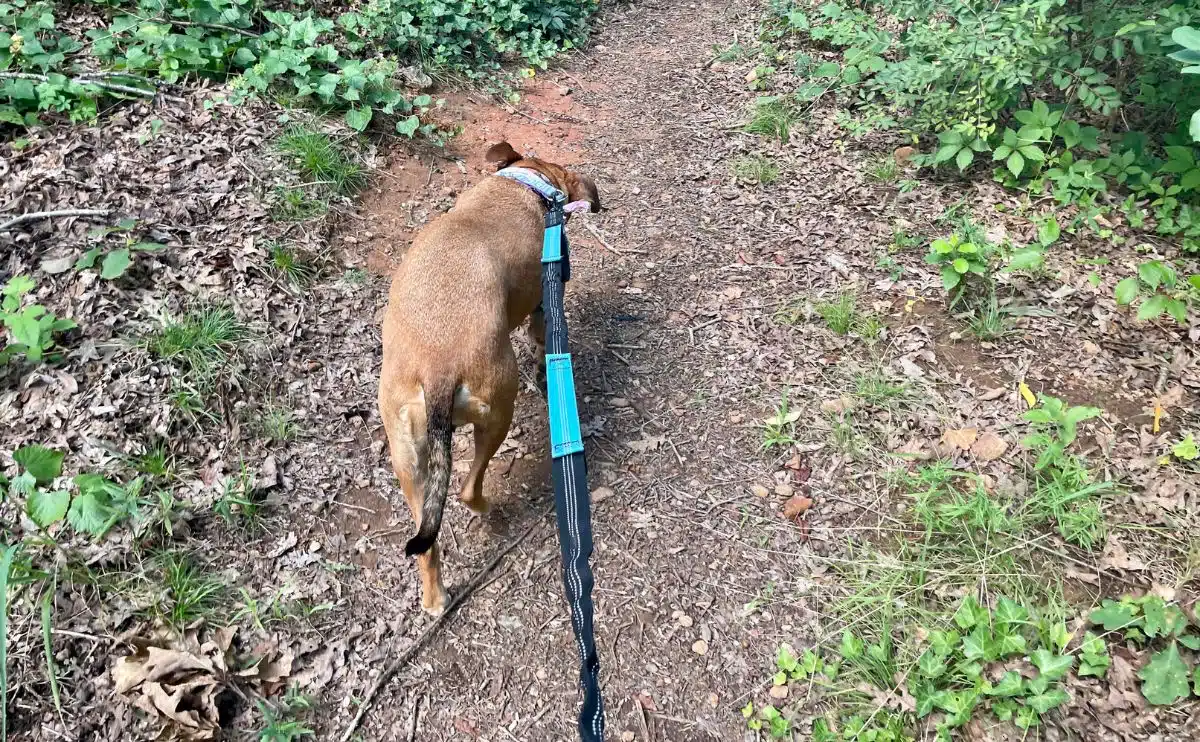 "When I started experiencing lots of shoulder pain from always walking the dogs with the same arm, I decided to try out this hands-free solution. Now, there is no going back! Al shoulder pain is gone from dog walking, and I am able to carry a water bottle too. Plus, the little pouch is great for carrying poop bags and my cell phone. I would highly recommend trying a hands-free leash if you are experiencing shoulder tightness from dog walking, so long as your dog is not too strong to risk pulling you over."

– Michelle Schenker, rescue dog mom
Comes in a variety of colors
Waist clip is adjustable
Bungee gives you flexibility and comfort
Bonus pouch for storage
Reflective stitching
Starting at: $19.99
Best Dog Leash For Training: Leashboss Long Trainer
Finding the right training leash is essential for achieving our walking and obedience goals. The Leashboss Long Trainer is our top pick for the best training leash for dogs. It comes in 20, 30, and 50-foot lengths to give you space for anything from recall training to off-leash simulation.
Comes in 4 sizes (up to 50 feet in length)
2 color options
Comes with storage strap to gather leash when not in use
Made of strong nylon webbing
Starting at: $22.95
Best Dog Leash For Hiking: Ruffwear Ridgeline Dog Leash
Are you and your pup into hiking adventures? The Ruffwear Ridgeline Dog Leash might be the right leash for you. This leash is lightweight and compactable to reduce the need for space when hiking long distances and easily clips into a harness or collar with just one hand.
Available in 2 lengths
Wavelength webbing stretches and absorbs shock
Locking crux clip is lightweight and easy to clip in
Starting at: $24.95 ($24.95 / Count)
Best Leather Dog Leash: Logical Leather
Leather is a robust durable option when it comes to leashes. We like the Logical Leather Dog Leash because of its 245-lb pulling weight and premium grade leather.
Comes in 3 lengths
12 color options available
Made of genuine leather to last a long time
Professional and military-grade material
Premium nickel-plated brass clasp
Lifetime guarantee
Starting at:
Best Hands-Free Dog Leash: Kurgo 6 in 1 Quantum
A hands-free leash can be an excellent option for walking your pup with ease. The Kurgo 6 in 1 Quantum Leash converts six ways by adjusting the carabiner and is also reflective.
6 different color combination options
6 styles (around waste, over shoulder, double leash, tether, training)
Hands-free belt
Adjustable from 48-72″
Reflective material
Padded handle for comfort
Price:
Best Leash For Large Dogs: Dutchy Ultra Strong
The Dutchy Ultra Strong Heavy Duty Reflective Dog Leash is durable and versatile and has a two-layer design to help you manage your large or extra large pup.
5 different color options
6-ft length
360-degree swivel squick connect snap clip
Hook at base of handle to clip on keys or poop bag
Constructed from high-strength nylon
Padded handle
Chew-resistant
Price: Check Amazon for availability
Best Leash For Small Dogs: Pawtitas Pet Puppy Reflective
Need a leash for your small dog? The Pawtitas Pet Puppy Leash Reflective Dog Leash comes in a small/extra small size explicitly designed for puppies and tiny breeds.
Comes in 2 sizes (small/x-small and med/large)
12 different color combinations
Padded handle
Reflective design
Reinforced with double nylon
Starting at: $17.69 ($17.69 / Count)
Best Rope Dog Leash: Ruffwear Knot-A-Leash
If you're looking for a rope leash, we like the Ruffwear Knot-a-Leash Dog Leash. This leash is made from durable rock climbing rope and has a highly secure carabiner that attaches to your pup's collar or harness.
Comes in 2 sizes (small and large)
10 color options
Made of strong, flexible rope with interior core and woven sheath
Reflective design
Accessory loop at the top near handle
Secure locking carabiner
Starting at: $39.95 ($39.95 / Count)
Best Dog Leash For Chewers: VirCewLy
Some pups like to chew on their leash and go through leashes rather quickly. We recommend the VirCewLy indestructible dog leash as a good option for a super chewer. This vinyl-coated steel cable has a 900 lb breaking limit and is virtually chew-proof.
Comes in 8 sizes
Made from lightweight, flexible, vinyl-coated in steel
Doubles as a tie-out
Detachable handle
Starting at: $27.62
Best Leash For Dogs That Pull: 2 Hounds Design Freedom
If you have a dog that pulls on the leash, you need to be thoughtful about the leash you buy. The 2 Hounds Design Freedom No Pull Dog Harness comes with a leash that attaches to the harness in two places to give you more control and help with training.
You may also want to learn more about gentle leader vs easy walk harnesses to see if those might help meet your training goals.
Comfortable harness with 4 adjustment points
2 connection options
Recommended by vets and trainers
Made in the USA
Chewing replacement warranty
Price: $41.96
Don't Forget Gear For Yourself
Having the best leash for your dog is key, but ensuring you're set up for success is equally as important. After all, you're walking too! Make sure you wear comfy, well-fitting shoes that minimize the chances of tripping on uneven terrain and curbs. Dress comfortably in clothing that is not too baggy or loose, as it could get tangled up in the leash. We also recommend having a treat pouch and poop bag handy for on-the-go rewards and cleanup.
Want to make heading out the door more of a breeze? Kizik hands-free sneakers allow you to step in without bending over to tie your shoes. The patented spring-like heel technology enables your foot to easily slide right in. Plus, they have memory foam to make your dog strolls even more enjoyable.
Firsthand Experience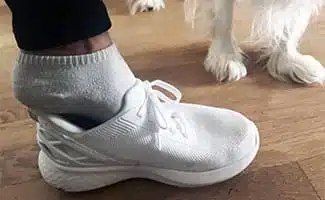 I had the chance to try out Kizik Shoes in exchange for an honest review. They come in various styles and colors, but I went with Athens, which has the most options. My dog gets anxious when we're about to leave the house, which requires my undivided attention as we prepare. Having hands-free shoes is one less thing to worry might trigger his excitement, so I can focus on keeping him calm with praise and treats as I put him on his leash. The Athens is super breathable and has thick rubber soles on the bottom, which is handy when it's raining and the streets are slick.

– Sadie Cornelius, Cavalier King Charles Spaniel dog parent
Loose Leash Training (Video)
This four-minute video from Instinct Dog Behavior & Training gives some excellent ideas on how to train your pup to walk on a loose leash.
Get The Right Collar
Finding the right leash can help you train and manage your pup when you're out and about. The other crucial part of having a dog on a leash is the collar. There are many choices for collars and depending on your needs, you might be surprised by which one will work best for you. We give you a breakdown of all the different dog training collars to help you make the right choice for you.
Tagged With: Comparison, Leashes