To sustain this free service, we receive affiliate commissions via some of our links. This doesn't affect rankings. Our review process.
| | |
| --- | --- |
| Best Overall | |
| Longest | |
| With Light | |
| Dual | |
| Large Dogs | |
Retractable leashes give your dog freedom and flexibility. However, there are a variety of options and features to consider when shopping.
Article Overview
What To Consider Before Buying Retractable Leashes
Before you start shopping, ask yourself these key questions to help you narrow down your search for the best retractable leash:
Do you walk at night or during the day?
Do you have more than one dog?
What is the weight and size of your dog(s)?
How much space do you prefer between you and them?
What are there leash length rules for the location where you normally walk your pup?
Best Retractable Dog Leash
Now that you are more familiar with what style of walker you are and what your needs are, you can browse the best retractable leash by type (along with the features, pros and cons and pricing for each).
Best Overall Retractable Dog Leash: TaoTronics Review
View on Amazon
TaoTronics Retractable Tangle-Free Dog Leash is our pick for best retractable dog leash overall. This retractable dog leash is strong and durable. However, there have been some customers who have had the leash break.
Fortunately, TaoTronics has a 1-year warranty and does an excellent job of replacing any broken leashes. We're confident that if you contact TaoTronics about any issue with your leash, they'll do their best to fix it.
Pros

Cons

Extends up to 16 feet
Strong and durable
Ergonomic grip and anti-slip handle
For dogs up to 110 pounds
Weatherproof
1-year warranty (does not cover dog chewing)

Small clasp can be tricky to latch to dog's collar
Pricing
Longest Retractable Dog Leash: Flexi Review
View on Amazon
This Flexi Design Retractable Dog Leash is the longest retractable leash we could find that still had great reviews. This long retractable dog leash extends up to 26 feet.
The typical retractable leash extends an average of 10 to 16 feet, so this one has an extra +10 feet on it. This extra long retractable dog leash is designed to give your dog more freedom to roam in open areas.
Pros

Cons

Extends up to 26 feet
Strong and durable
Ergonomic handle
For dogs up to 110 pounds
Use in all weather
2-year limited warranty (does not cover dog chewing)

Complaints of warranty not being fulfilled
Pricing
Best Retractable Dog Leash With Light: BC Retail Review
View on Amazon
This BC Retail retractable dog leash with light is great because it has both a LED flashlight and bag dispenser. These types of leashes can be handy if you walk your dog at night often. Particularly during those winter months when our days become shorter.
Having everything in one place can keep you from dropping or losing bags, flashlights or your dog's leash!
Pros

Cons

Includes an LED flashlight and bag dispenser
Extends up to 15 feet
Strong and durable
Ergonomic handle
Use in all weather
Lifetime warranty

Only for dogs up to 50 pounds
Pricing
Best Dual Retractable Dog Leash: Wigzi Review
View on Amazon
Wigzi has the best retractable leash for two dogs. If you're tired of your dogs' leashes getting tangled up and you spinning around trying to untangle them, then this is the leash for you. You can stop each dog separately, so if one dog likes to explore more than the other you can have control of both dogs.
The leashes and brakes are color-coded, so you know which dog you're stopping. The only downside we could find is that these are only for dogs up to 50 pounds each, so if you have two larger sized dogs, this isn't the leash for you.
Pros

Cons

Color-coded to match dog on lead
Spinning action prevents entanglement
Extends up to 10 feet per dog
Use in all weather
6-month warranty

Only for dogs up to 50 pounds each
Pricing
Video: How the Dual Dog Wigzi Leash Works
Check out this video to see how this dual leash works (it's pretty cool to see in action).
Best Retractable Leash For Large Dogs: HappyDogz Review
View on Amazon
The majority of dog leashes have a maximum weight limit of 110 pounds. However, this heavy-duty retractable dog leash from HappyDogz can hold up to double that weight, 220 pounds. So, if you have a larger breed (i.e. English Mastiff, St. Bernard, etc.), this is the best heavy duty retractable dog leash for you.
It extends up to 16 feet and has a 10-year money back guarantee.
Pros

Cons

Extends up to 16 feet
Ergonomic handle
Use in all weather
10-year money back guarantee

Complaints of leash breaking, but customer service reportedly replaces leash
Pricing
What To Consider In A Retractable Dog Leash Infographic
Here's a quick summary of what you should look for when finding the best leash for you and your dog(s).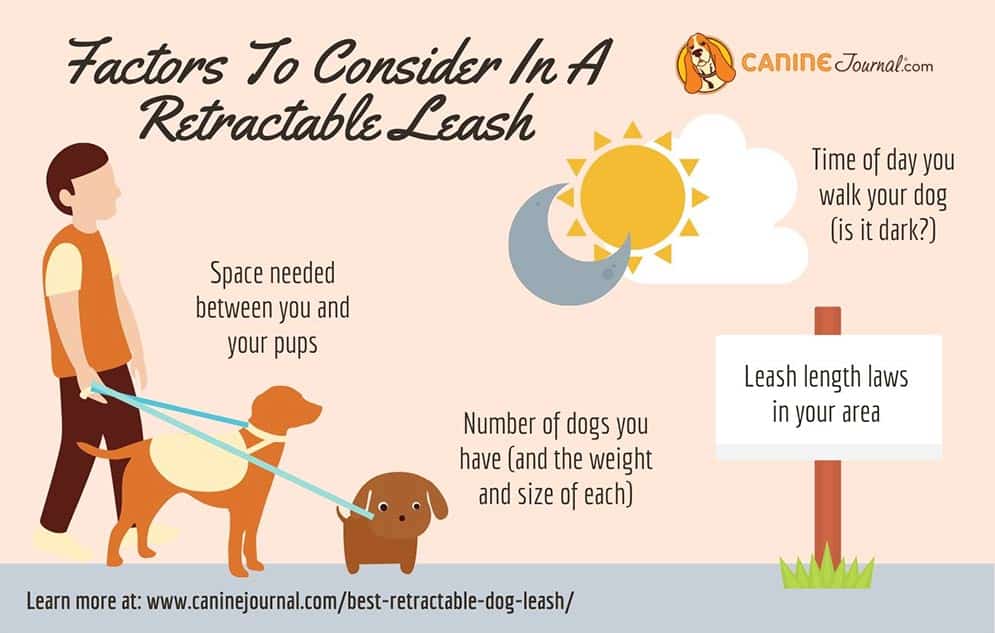 To share this infographic on your site, simply copy and paste the code below:
Dangers To Retractable Dog Leashes
A leash can be very dangerous no matter how far it can extend. People can fall, get cut, burned, lose fingers and other serious injuries.
It's important to use the retractable leash correctly to keep yourself and bystanders safe. You can only do this by reading the documents included with the leash.
We urge you to read any documents that come with your dog's retractable leash.
Walking Your Dog Keeps Your Dog's Tail Wagging
Regardless of what type of leash you have, make sure your dog gets plenty of exercise throughout the day, not just when they need to go potty. Regular walks are important to the overall health and well-being of your dog's life. To help keep you accountable we recommend these dog activity trackers (yes, just like the human ones but for pets).
If you prefer a regular leash then check out our review of the best dog leashes for all dog breeds and sizes. And just a friendly reminder to dog walkers everywhere, make sure you are being a responsible pet parent by picking up after your pooch with poop scoopers or bags.
Why do you use a retractable leash for your dog?
We are a participant in the Amazon Services LLC Associates Program, an affiliate advertising program designed to provide a means for us to earn fees by linking to Amazon.com and affiliated sites.
Disclaimer: This website contains reviews, opinions and information regarding products and services manufactured or provided by third parties. We are not responsible in any way for such products and services, and nothing contained here should be construed as a guarantee of the functionality, utility, safety or reliability of any product or services reviewed or discussed. Please follow the directions provided by the manufacturer or service provider when using any product or service reviewed or discussed on this website.