Retractable leashes give your dog freedom and flexibility. If you have a yappy dog, you can keep them on a short leash. But if you are at a park and want to let your dog run wild, you can give them more slack. There are various options and features to consider when shopping for retractable leashes. We share what you should think about when purchasing a leash and find the best fit for you and your dog (or dogs).
| Best Overall | Longest | With Light | Dual | Large Dogs |
| --- | --- | --- | --- | --- |
| | | | | |
| TUG 360 | Flexi | BC Retail | Wigzi 2 | Mighty Paw |
| | | | | |
| | | | | |
What To Consider Before Buying Retractable Leashes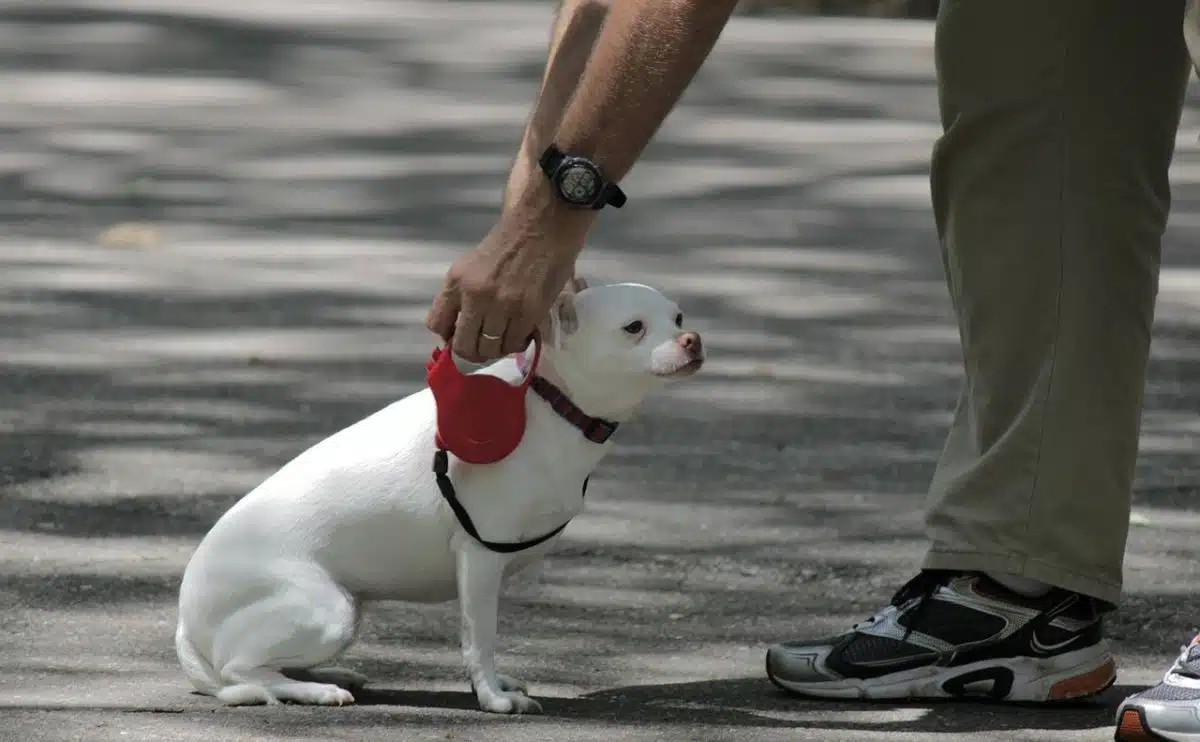 Before you start shopping, ask yourself these key questions to help you narrow down your search for the best retractable leash:
Our Personal Experience With Retractable Leashes
"I often take my dog Tiny on walks through the woods behind our house, and I find that using a retractable leash gives him more range of movement than a standard leash. It gives him more freedom to meander among the trees and plant life — it's one of his favorite things to do! However, when we go on walks where we can encounter other dogs or people, I stick to a standard leash because it gives me better control over him."

– Sally J., Canine Journal
Best Retractable Dog Leash
Now that you are more familiar with what style of walker you are and your needs (also summarized in a graphic below the reviews), you can browse the best retractable leash by type (along with the features, pros, and cons, and pricing for each).
Best Overall Retractable Dog Leash: TUG 360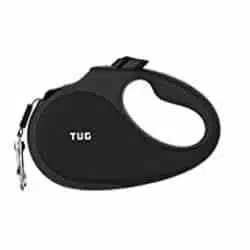 The TUG 360 is everything you need in a retractable leash at an affordable price. This basic retractable leash has a variety of sizes and color options. It doesn't have some bells and whistles that the other leashes do, but it gets the job done (if your dog is a good leash walker). It's small and lightweight, so easy to take on the go.
| Pros | Cons |
| --- | --- |
| Comes in 4 sizes and 7 colors | Not ideal for larger dogs |
| Ideal for smaller dogs | Only 10-foot length |
| Ergonomic anti-slip handle | No reflective leash |
| Light and compact | |
| Swivel clip | |
| Good value | |
Pricing
Longest Retractable Dog Leash: Flexi Review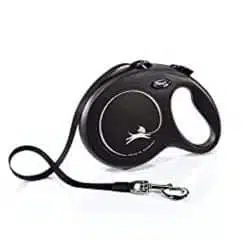 This Flexi Design Retractable Dog Leash is the longest retractable leash we could find that still had great reviews. This long retractable dog leash extends up to 26 feet. The standard retractable leash extends an average of 10 to 16 feet, so this one has an extra +10 feet on it. This extra-long retractable dog leash gives your dog more freedom to roam in open areas.
| Pros | Cons |
| --- | --- |
| Extends up to 26 feet | Complaints of warranty not being fulfilled |
| Strong and durable | |
| Ergonomic handle | |
| For dogs up to 110 pounds | |
| Use in all weather | |
| 2-year limited warranty (does not cover dog chewing) | |
Pricing
Best Retractable Dog Leash With Light: BC Retail Review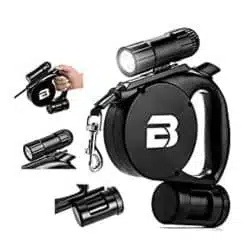 This BC Retail retractable dog leash with light is great because it has an LED flashlight and bag dispenser. These types of leashes can be handy if you walk your dog at night. Particularly during those winter months when our days become shorter. Having everything in one place can keep you from dropping or losing bags, flashlights, or your dog's leash.
| Pros | Cons |
| --- | --- |
| Includes an LED flashlight and bag dispenser | Only for dogs up to 50 pounds |
| Extends up to 15 feet | |
| Strong and durable | |
| Ergonomic handle | |
| Use in all weather | |
| Lifetime warranty | |
Pricing
Best Dual Retractable Dog Leash: Wigzi 2 Review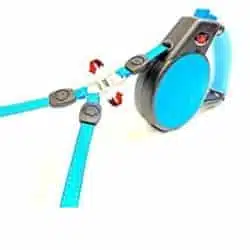 Wigzi has the best retractable leash for two dogs. If you're tired of your dogs' leashes getting tangled up and you spinning around trying to untangle them, then this is the leash for you. The only downside is that these are only for two dogs up to 110 pounds, so if you have two larger-sized dogs, this isn't the leash for you.
| Pros | Cons |
| --- | --- |
| 360-degree zero tangle design | Only comes in blue |
| Patented gel-filled handle for comfort | For dogs with a combined weight of 110 |
| Easy lock and unlock buttons with smooth reaction | |
| Reflective nylon leash | |
| 16 feet long | |
| For all weather conditions (and rust-proof) | |
Pricing
Best Retractable Leash For Large Dogs: Mighty Paw 2.0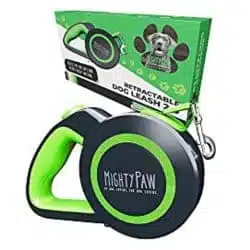 If you have a larger breed (i.e., English Mastiff, St. Bernard, etc.), this is the best heavy duty retractable dog leash for you. The standard version of this heavy-duty retractable dog leash from Mighty Paw can hold up to 110 pounds. If your dog weighs over 100 pounds, though, it's probably best you don't use a retractable leash. It has 16 feet of reflective nylon leash (half an inch wide for the standard size), an anti-slip handle for strong pups, and durable stainless steel 360-degree swivel clip.
| Pros | Cons |
| --- | --- |
| Comes in colorful green or orange | Not ideal if you have more than one dog |
| Made in the USA | Heavier |
| One-touch quick-lock brake | |
| Reflective material to see dog at night | |
| Tangle-free design | |
| Built for strong dogs | |
Pricing
What To Consider In A Retractable Dog Leash Infographic
Here's a quick summary of what you should look for when finding the best leash for you and your dog(s).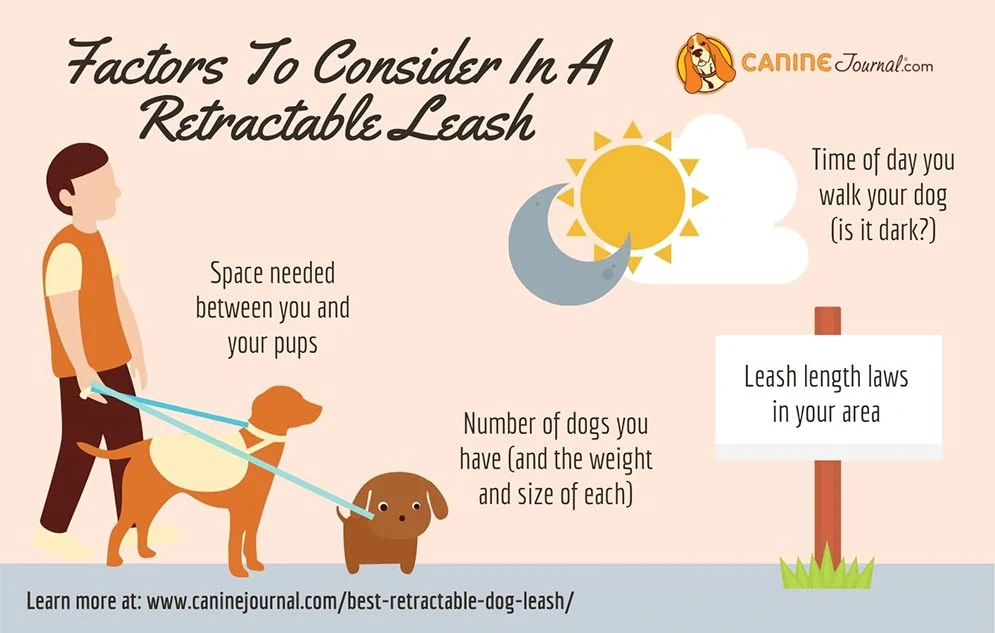 Are Retractable Dog Leashes Safe?
A leash can be very dangerous no matter how far it can extend. People can fall, get cut, burned, lose fingers, and other serious injuries.
It's essential to use the retractable leash correctly to keep yourself and bystanders safe. You can only do this by reading the documents included with the leash. We urge you to read any documents that come with your dog's retractable leash.
What Do Dog Trainers Say About Retractable Leashes? (Video)
The topic of retractable leashes can be very controversial. Some trainers love them, other people hate them. If you do plan to use one, you should train yourself (and your dog) on how to use them properly so your dog doesn't get tangled, hurt, or in danger. Watch this trainer who walks you through some tips (no pun intended) with retractable leashes.
Walking Your Dog Keeps Your Dog's Tail Wagging
Regardless of what type of leash you have, make sure your dog gets plenty of exercise throughout the day, not just when they need to go potty. Regular walks are important to the overall health and well-being of your dog's life. To help keep you accountable, we recommend these dog activity trackers (yes, just like the human ones but for pets).
If you prefer a regular leash, then check out our review of the best dog leashes for all dog breeds and sizes. And just a friendly reminder to dog walkers everywhere, make sure you are a responsible pet parent by picking up after your pooch with poop scoopers or bags.
Tagged With: Comparison, Leashes