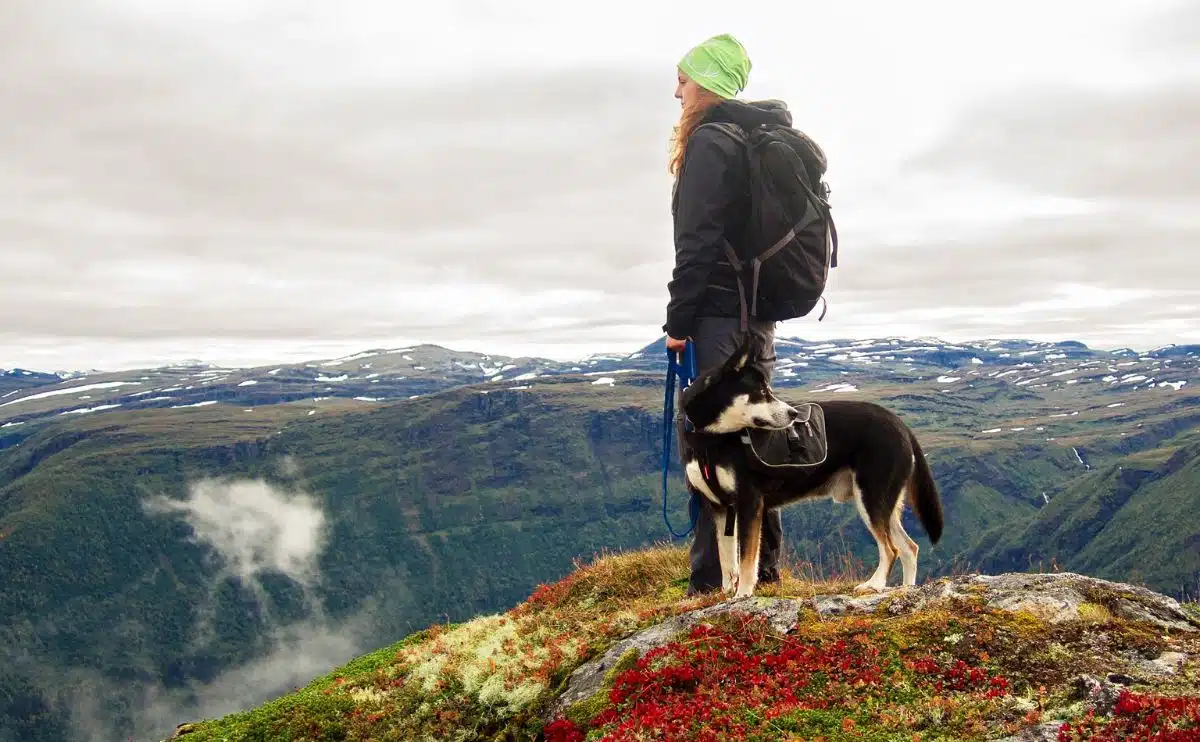 When we adopted our dog, Sally, we knew she'd be the perfect hiking companion. As we got ready for some outdoor trips with her, we researched all the latest dog backpacking gear to have with us. Here are the top picks for hiking gear for dogs in each category. Being prepared with the best dog camping gear makes backpacking with dogs an enjoyable experience for everyone.
Best Leash For Hiking With Dog: TaoTronics Dog Leash Review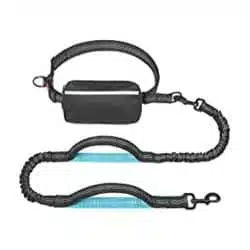 If you want a convenient leash for hiking, look for a hands-free option like this one from TaoTronics. It attaches to your waist, keeping your hands free to push away low-hanging branches or catch yourself if you stumble on bumpy terrain.
It adjusts to fit all adults, so you can tether your dog up to other sturdy objects like a tree or fence post. This leash has two handles for added control and a dual bungee to reduce jerking, absorbing some of the strain from your back.
Our Personal Experience With TaoTronics Dog Leash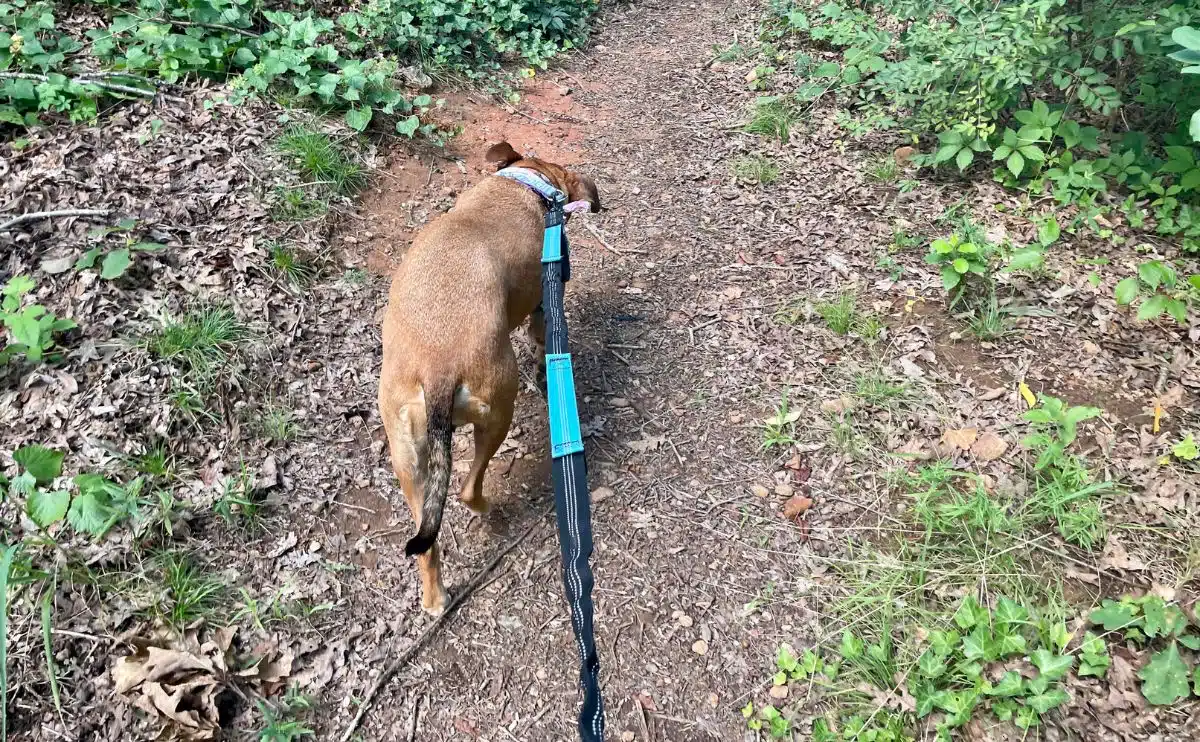 "When I started experiencing lots of shoulder pain from always walking the dogs with the same arm, I decided to try out this hands-free solution. Now, there is no going back! Al shoulder pain is gone from dog walking, and I am able to carry a water bottle too. Plus, the little pouch is great for carrying poop bags and my cell phone. I would highly recommend trying a hands-free leash if you are experiencing shoulder tightness from dog walking, so long as your dog is not too strong to risk pulling you over."

– Michelle Schenker, rescue dog mom
| Pros | Cons |
| --- | --- |
| Reflective stitching | Not ideal if you have more than one dog |
| Waist clip is adjustable | |
| Comes in a variety of colors | |
| Built for dogs up to 150 lbs | |
Pricing
Best Dog Hiking Backpack: Outward Hound Backpack Review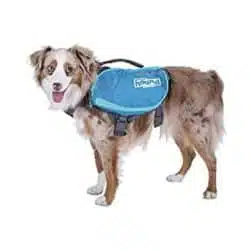 After you pack all your gear, including water and snacks into your backpack, you might not have enough space left for your dog's stuff. A hiking backpack allows your dog to carry their water dish, treats, poop bags, and medical supplies themselves.
This saddlebag-style pack has reflective accents and is adjustable to fit all dogs, which is why it's our pick for the best dog backpack for hiking. It also has four pockets that expand, and the harness is made out of breathable mesh to help keep your dog comfortable.
| Pros | Cons |
| --- | --- |
| Reflective accents | Can rub dog's skin |
| Simple to adjust | Not 100% waterproof |
| Pockets expand | Doesn't stay on straight if not fit properly |
| Breathable mesh | |
| Easy to clean | |
Pricing
Best Dog Hiking Boots: RuffWear Grip Trex Booties Review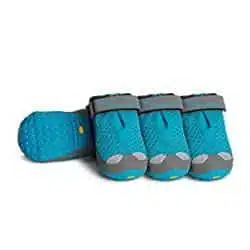 RuffWear's Grip Trex high-performance dog shoes are among the most durable you'll find. They're made for hiking rough terrain, but they're also effective for heat protection. RuffWear's boots have rubber gripped souls to prevent slips, and breathable mesh fabric on the upper part of the shoe provides plenty of ventilation.
They're also easy to put on with a secure velcro system. The inside is rubber, so you'll need socks to go with them. These tough booties come in a variety of sizes and in three stylish colors.
Our First Hand Experience with Dog Boots
"We use dog hiking boots on Sally when the weather is too hot or too cold. She always walks a little funny in them when we first put them on her, but after a few minutes, she begins to move more normally. We like using boots on her so the extreme weather doesn't hurt her paw pads. They're also helpful to use when she's walking over areas with ice melt on them because not all ice melt is pet-friendly. We notice if we don't use the boots on her during extreme weather, she spends 10 minutes after our hike/walk licking her paws. We assume she does this because they're a bit tender. We feel terrible and ensure we use the boots next time."

– Kimberly A., Canine Journal
| Pros | Cons |
| --- | --- |
| Anti-slip outsole is rugged and durable | On the pricer side |
| Protection from hot and cold surfaces & sharp objects | Upper part of boot isn't waterproof (but does keep snow out) |
| Water-resistant sole and toe | |
| Easy to put on (and keep on) | |
| 4 boots available in variety of colors and sizes | |
| Machine washable | |
Pricing
Dog Camping Tent: Sherpa Pet Playpen & Kennel For Dogs Review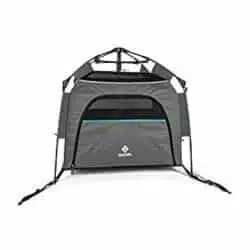 Your dog deserves their own canine cabin. That's where dog tents come in handy on hikes. This tent breaks down and sets up quickly with a pop-up design and umbrella mechanism. No tools are required.
The vents are breathable and claw-proof, so if your dog likes to scratch around, this tent will hold up. It packs into a messenger-style bag for easy storage and carrying. It also includes a rain cover to keep your pup dry during a rainstorm.
This tent doesn't have any padding on the bottom. We recommend getting a pad or tarp to place underneath to prevent your dog from losing too much body heat to the ground.
| Pros | Cons |
| --- | --- |
| Easy setup and tear down | May want a pad or something to cushion the bottom for them |
| Durable, sturdy | Screen doesn't allow tons of airflow |
| Great travel crate | |
| Lightweight | |
Pricing
Dog Camping Gear List
Below is a list of 16 dog hiking gear items you should bring with you when you're camping with your dog.
Food and treats
Water & water bottle
Leash
Collar with tags
Reflective vest/glow sticks: to help your dog be more visible at night
Boots for pavement and winter dog boots (in colder climates)
Backpack for dog
Brush: in case you need to remove burrs, leaves, etc. from your dog's fur
Stake: attach your leash to and keep your dog within range while you're busy setting up camp and cooking
Hand wipes, paper towels, carpet spray: many dogs get car sick, so it's best to plan ahead so you can take care of it immediately
Poop bags
Towel: in case your dog hops in the water for a swim or gets muddy
Toys
Tent
Make Sure Your Dog Is Allowed
Keep in mind that not all camping locations and hiking trails are dog-friendly. Be sure to do your research ahead of time, so you and your pup don't show up uninvited. For instance, while you might assume that National Parks are dog-friendly, they aren't always, so check in advance. Check out our guide to trail etiquette for dogs.
7 Tips For Hiking & Camping With Dogs
See the vet beforehand to make sure Fido is fit for the activity
Know the rules of the area
Pack lots of water
Keep your dog leashed
Take breaks in the shade
Do not leave your dog unattended
Check your dog after every hike for injuries, ticks, burrs, etc.
Dog Hiking Tech Accessories
Hiking with a dog is fun but can be stressful unless you are prepared. Now that you know the best hiking gear for dogs, do you want to make your dog an even more tech-savvy hiker? Why not track your dog's activity while hiking? It's fun to see how many steps they get in and make sure they get enough exercise regularly (not just while on hikes).
Another pro tip is to get a dog GPS tracker. That way, in case your pup gets off their leash, you'll be able to find them in the wilderness.
Tagged With: Comparison, Exercise, Outdoors