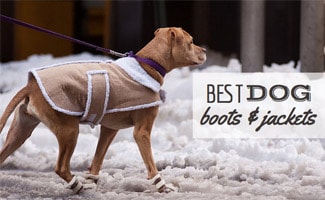 Looking to keep your pup warm in the winter? Just because your dog has a fur coat doesn't mean they can't get cold.
When temperatures plummet, your furry friend might need an extra layer of warmth and protection, just like their owner.
Article Overview
Do Dogs Need Clothes In Winter?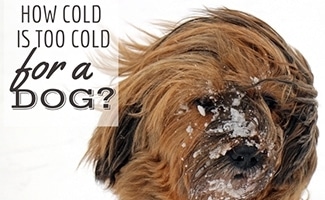 Depending on your dog's breed makeup, they may be more susceptible to cold temperatures. Small dogs tend to have thinner coats and can get pretty chilly in the cold (e.g. Terriers, Chihuahuas).
Some bigger breeds with thin coats may shiver when the temps drop too (e.g. Greyhounds, Whippets). But, if your dog comes from a heritage further from the equator, they have a double coat or undercoat and are comfortable with colder weather (e.g. Huskys, Saint Bernards).
When is it too cold for your pup to be outside?
Things To Know Before You Buy Dog Booties
Dog boots are meant to help with traction, weather, allergies and lawn care chemicals. The boots will help keep your dog's paws safe from these elements but still allow him to walk and enjoy the outdoors.
Your dog may walk a little funny at first. This is completely normal. It will take some adjusting, but soon he will love his new accessories.
How To Measure Your Dog's Paw Size For Booties
Each company suggests a certain way to measure your dog's paws. So be sure to see what they recommend and follow the instructions accordingly, so you purchase the proper fit.
Buying the wrong size could make the boots not fit and if they're too small, your dog could suffer damage to his paw.
Best Dog Boots For Winter
We've reviewed three of the best-selling dog boots that have received great reviews. We've done the research and are sharing with you why there' a good solution to protect your pup's paws.
Bark Brite Review | Lonsuneer Review | Pawz Review
Bark Brite Neoprene Paw Protector Dog Boots With Reflective Velcro Straps Review
View on Amazon
These dog boots come in four packs in five different sizes and three colors. One owner ordered the largest size, and they didn't fit his 140 pound Doberman, so the company offered to make a custom pair for the dog. The shoes worked great, and the pup and owner were pleased.
The boots have great traction and work well in all-weather conditions. We are very impressed with these boots, and that's why we've chosen them as the best dog boots for snow and best dog rain boots.
Pros

Cons

Water-resistant
Good traction
Great dog snow boots, rain, indoor and outdoor
Keeps paws clean, dry and protected
Great customer service

Some pairs wear out quickly, but you can get them replaced for free or your money back
Price
Lonsuneer Dog Boots Review
View on Amazon
These boots come in a four-pack and are available in five sizes in either red, blue or black. The sides of the boots expand to make it easy to put the boots on your dog's paws but difficult for them to slip off. The boots have adjustable velcro straps to fasten them in place.
These are also great boots for older dogs who need more traction on tile and hardwood floors (or young pups who are in their clumsy stage).
Pros

Cons

Secure grip and cushion for dog's paws
Water-resistant soles
Performs well in hot and cold conditions
Good traction

Some customers say the sizes run large
Not ideal for deep water or heavy rain (can soak through mesh fabric)
Price
Pawz WaterProof Dog Boot Review
View on Amazon
Pawz waterproof dog boots come in eight sizes and are biodegradable. What exactly does that mean? Well, it means your dog can wear the boots multiple times, but they won't last as long as the #1 and #2 picks in this article.
Twelve Pawz come in each package, so your dog has more than enough pairs to last him (unless he's got 12 legs!). The boots look like balloons and have no zippers or straps, so it's important you purchase the proper size, so they fit your dog appropriately.
They don't have any padding, allowing your dog to feel the ground. This may be a pro to some and a con to others depending on whether you want your dog to have padding or not. Overall, there are just too many warning signs with these boots, and we don't feel comfortable recommending them.
Pros

Cons

Offer a 2 pack
100% biodegradable
Protection from hot surfaces, lawn chemicals, salt, snow and ice

No size guidelines listed
They constrict your dog's paws too much
Depending on the dog's activity level the boots may break sooner than others
Tons of bad reviews on Amazon
Punctures easily
Price
Best Sweaters For Dogs
So far we only have one review for dog sweaters. If you have suggestions on others that we should review, please feel free to mention it to us!
Chilly Dog Boyfriend Sweater Review
View on Amazon
Founded in 2001, Chilly Dog makes a line of stylish, knit sweaters for dogs of all sizes (ranging from XXS to XXXL). They work with Incan artisans in South American to hand-knit fair-trade sweaters made from 100% wool using plant dyes. By partnering with these communities, they can provide a fair wage and sustainable living to those in need while giving pet owners high-quality, affordable sweaters to keep warm.
Chilly Dog stays on top of the latest fashion trends, yet their knits are classic enough for dogs to wear for winters to come. Pictured is the boyfriend sweater, but they have an American flag sweater (we think is adorable) and dozens of other designs too.
Pros

Cons

Keep pets warm
Classic, stylish patterns
Inexpensive
Handmade by artisans

Hand or delicate wash
Wool might itch dog's fur
No hole for harness
Price
Best Dog Winter Coats
Be cautious when choosing your coat to make sure it is made of machine-washable materials that don't irritate your dog's skin or cause an allergic reaction.
We also recommend minimizing the buttons, zippers, and other adornments to minimize and choking hazards or the risk of getting caught on something. Lastly, use common sense and don't leave it on for more than 20 minutes or so at a time to avoid the risk of overheating.
We've reviewed two popular winter coats for dogs and have some thoughts on both. Find out which one we like best.
Kurgo Review | Shearling Review
Kurgo Loft Dog Coat Review
View on Amazon
Kurgo Loft winter dog coats come in five different sizes. The jackets are waterproof and machine washable, so if your dog gets into some mud (which we all know they do), then you can easily clean it without a hassle.
The coat is also reversible, and it's easy to use with a harness or leash. Overall, customers are fairly pleased with this winter dog coat, and we feel comfortable recommending it.
Pros

Cons

Waterproof jacket
Machine washable
Zipper opening so you can use dog harness or leash attachments
Reversible

Not as thick as other coats but still warm
Price
Shearling Fleece Dog Winter Coat Review
View on Amazon
These fleece dog winter coats are available in four sizes and are faux suede with fleece lining to make the coat soft and cozy. There is a belly strap to adjust the fit of the coat on your dog. It both machine washable and clothes dryer safe, so it's easy to clean.
This is a rather affordable coat, and some customers have been frustrated with it being "cheaply made" but just remember, you often get what you pay for.
Pros

Cons

Keeps dogs warm in winter
Looks nice
Machine washable

Velcro is weak
Questionable quality
Price
Dogs Playing In The Snow (Video)
Watch Lily and Bella play around in the snow and the cold not affect them one bit, thanks to a cute and comfy little doggie jacket.
Need Hot Weather Dog Shoes?
Some of the dog boots we review here work in all seasons, but you may want to check out our reviews of the best dog shoes for hot pavement. Your pups can blister their feet easily when temperatures rise, so protection is a must in summer.
Why are you considering boots or a coat for your dog?