Don't find yourself in the dog house because you're not giving your dog adequate shelter. If your pup spends a lot of time outside, he needs protection from rain, wind, snow, and sun. A sturdy, high-quality dog house can offer a place to stay safe from all the elements. See which ones we recommend for all kinds of situations.
| Winner | Runner-Up | Third Place |
| --- | --- | --- |
| | | |
| Petsfit Wooden Dog House | Petmate Precision Extreme | Petmate Indigo |
| | | |
| | | |
Top 3 Dog Houses
We've chosen our top picks based on several factors: quality of construction, protective features, customer reviews, pricing, and more. Note the size of a dog house depends on the measurements of your dog. There should be enough room for your dog to comfortably stand up and turn around without hitting their head or bumping into the sides. Finding the best dog house will depend on your dog's needs, the space you have, and your budget.
Winner: Petsfit Outdoor Wooden Dog House Review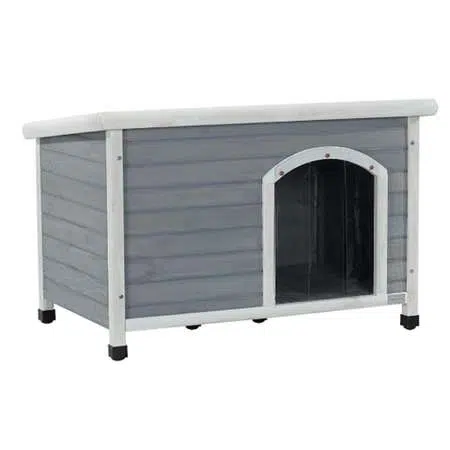 Petsfit Dog House is our top choice for the best dog house overall and the best dog house for hot weather. You can quickly remove the floor for easy cleaning and open the roof for ventilation during warm months. It's also an excellent option for many types of weather — when the roof is on and you have the door flap installed, it protects your dog from rain, snow, and sun.
It's made of solid wood and stainless steel hardware, so it's sturdy for the harshest elements. And most customers say it's easy to set up with pre-drilled holes. It's available in three colors and two sizes to meet many pet parent needs.
| Pros | Cons |
| --- | --- |
| Made of high-quality wood and stainless steel | Largest size may be too snug for dogs over 90 lbs |
| Easy assembly | Some users said they needed to apply a coating to the wood (especially in high-humidity locations) |
| Can open roof for ventilation | |
| Removable floor for easy cleaning | |
| Raised floor off the ground | |
| Optional door flap for added protection from elements | |
| 1-year warranty | |
Price
Runner-Up: Petmate Precision Extreme Outback Log Cabin Review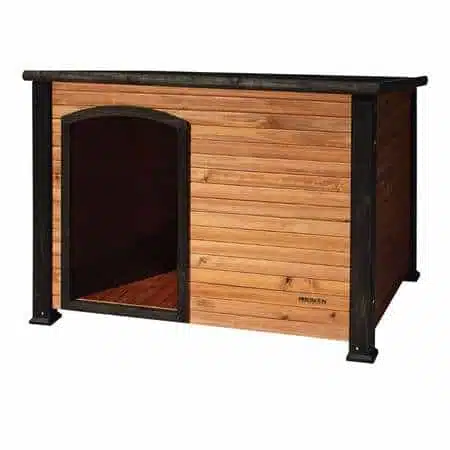 This solid wood dog house is an attractive option to complement any yard. The materials are high-quality and stand up to the elements. We like that it already comes with a sealed coating on the wood (unlike our top pick). The offset door can give your dog room to shelter from wind and rain. However, it doesn't come with a door flap. The spacious interior also makes this our top pick for large dogs. But it comes in four sizes in case you have a small dog who doesn't need as much space.
| Pros | Cons |
| --- | --- |
| Made with solid wood with a sealed protective coating | Doesn't have a removable floor and can't open the roof, so it's harder to clean than the Petsfit dog house |
| Easy assembly | |
| Attractive, modern design | |
| Weather, pest, rot, and rust-resistant | |
| Roof is rain-resistant, asphalt-shingled, and slanted | |
| Raised floor off the ground | |
| Has an insulation add-on kit | |
| 1-year warranty | |
Price
Third Place: Petmate Precision Extreme Dog House Review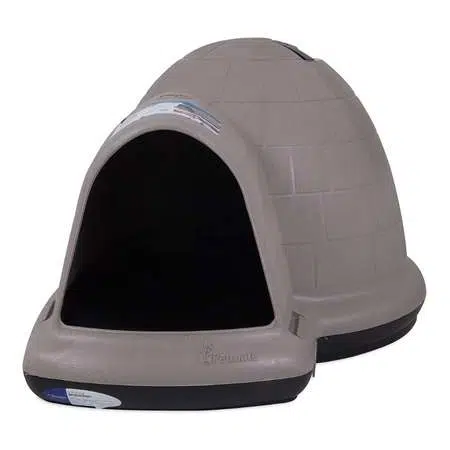 This igloo dog house has a unique dome design that keeps the house stable in high winds and sheds snow and debris from the top. The insulated dog house features heavy-duty construction that keeps pets warm in the winter and roof air vents that help keep pets cool in the summer. It also has an extended offset doorway to help protect your pup from wind and rain. This "dog-gloo" is our pick for the best dog house for winter.
| Pros | Cons |
| --- | --- |
| Heavy-duty plastic construction | No small sizes (only one size) |
| Tool-free snap assembly | Must purchase door separately |
| Raised floor with side moats to drain off rain | Doorway may be too small for huge dogs to fit through |
| Roof ventilation for airflow | |
| Microban antimicrobial protection to help prevent the growth of stain and odor-causing bacteria | |
| Can accommodate dogs up to 125 lbs | |
| 1-year warranty | |
Price
Personal Experience With "Dog-Gloo" Style Dog Houses
"My family used a "dog-gloo" style dog house for many years. This house was incredibly sturdy, warm, and held up to years of weather and natural elements. We lived in a hot desert climate, with very cold winters, with moderate snow. The "dog-gloo" was purchased as a place to give our pup some shade in the summer and a cozy place to get out of the elements when it was cooler. This was mainly for daytime use, as the dogs sleep inside at night. My dad bought the house for one dog but ended up using it for three different dogs over the years. All the dogs were larger breeds, Australian Cattle Dog, Rottweiler, and Golden Retrievers. It fits all three well (not at the same time though) and suffered only minor wear and tear over many years. Definitely worth the investment. "

–Danielle DeGroot, Canine Journal writer and longtime dog parent.
Best Dog Houses By Category
Here are some other options that didn't make our top three but could fit the various needs you may have.
Best Insulated Dog House: ASL Solutions Deluxe Insulated Dog Palace Review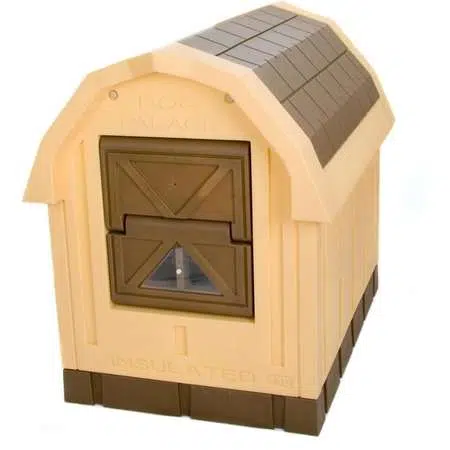 ASL Solutions is our pick for the best insulated dog house for cold weather. It has 4″ of real foam (Styro/EPS) insulation in each panel, an insulated, self-closing door, and a floor heating pad — features that are hard to find in a dog house. It also has an electrical cord portal in the rear so your dog won't trip on the cord. The insulation also helps keep it cooler in the summer. This dog house is also available without a heating pad.
| Pros | Cons |
| --- | --- |
| Heavy-duty plastic construction | Might be too cramped for dogs over 75 lbs |
| 4″ of foam insulation in every panel | Several complaints that the panels aren't completely filled with insulation |
| Easy assembly | Some customers said the heating pad quit working after a few weeks |
| Easy pass-through, self-closing door (can remove the bottom part of the door) | |
| Raised and sloped floor with a drainage hole for easy cleaning with a hose | |
| In-door window panels and rear can open for cross-ventilation | |
| Sits on top of a riser to prevent ground contact | |
| 10-year warranty | |
Price
Size: 38.5″H x 31.5″W x 47.5″L
Best Smart Dog House: PawHut Wooden Cabin Style Elevated House With Porch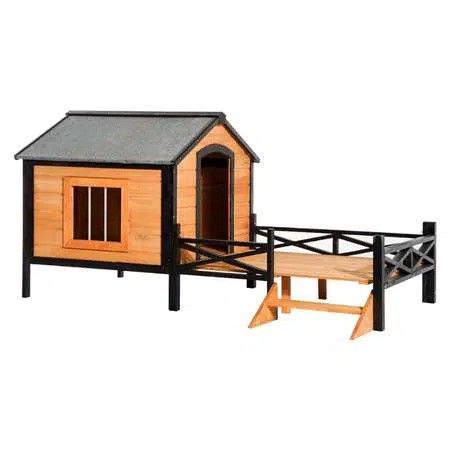 This cute dog house has a large porch deck for your pup to relax inside and out on the patio. Its attractive design is made of solid fir and cedar wood with dark trim accents. The A-frame roof is durable, with shingles to keep your pet protected in the weather. The raised platform also helps keep rodents and insects out.
| Pros | Cons |
| --- | --- |
| Solid wood construction | Pricey |
| Easy assembly | Only one size (suitable for small to medium-sized dogs) |
| Attractive design with an attached porch | |
| Floor is raised off the ground | |
| Side window for ventilation | |
| 1-year warranty | |
Price
Exterior Dimensions: 67″ L x 39.5″ W x 32.75″ H
Interior House Dimensions: 33.75″ L x 38.5″ W x 32.75″ H
Best Budget Dog House: Petmate Barnhome III Review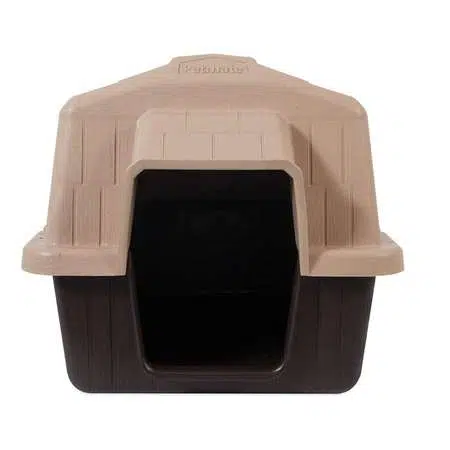 Petmate scores again in our reviews with our pick for the best budget dog house. It's a fairly cheap dog house compared to the others we review here, but it's not cheaply made. This heavy-duty plastic barn house features rear air ventilation, an extended roof guard, and raised floor for weather protection. The two pieces snap together easily in just seconds, and it's easy to clean with a hose.
| Pros | Cons |
| --- | --- |
| Budget buy | Largest size only accommodates dogs up to 90 lbs |
| Durable plastic construction | Some complaints that the top and bottom don't stay snapped together well |
| Easy snap-together assembly with no tools | |
| Raised floor and extended roof guard for better rain protection | |
| Most customers say it's leak-proof | |
| 1-year warranty | |
Price
The color varies based on what size you get:
Best Portable Dog House: Free Paws Elevated Pet Dog House Review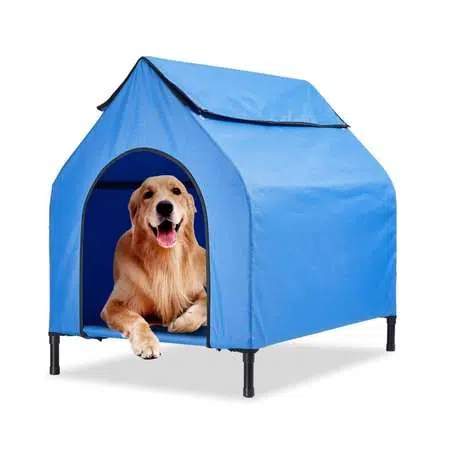 This portable dog house is lightweight for portability but made with durable materials. It's raised off the ground and has an A-frame canopy roof with mesh paneling along the top for enhanced air circulation. And it has a raised cot for comfort and support. It does take a bit of time to set it up and break it down, so it's not an easy fold-up option, but its sturdiness makes up for that. This also makes a nice indoor dog house if you need one.
| Pros | Cons |
| --- | --- |
| Made of durable, breathable fabric that's waterproof and sun-resident | Takes time to set up |
| Lightweight for portability | Not as durable as a traditional dog house |
| Raised off the ground | Not ideal for larger, heavier dogs |
| Very spacious, even for large dogs | |
| 1-year warranty | |
Price
Available in 2 colors: blue and khaki
Cold Weather Accessories For A Dog House
What's the best way to heat a dog house? It depends on the type of dog house you have, the temps outside, and how long your pup will be spending in his home during cold weather.
Are you wondering what to put in the outside dog house for warmth? Here are some options for you to consider. While they are not insulated dog houses, they do offer heat to existing canine structures. Also, see our article, "How Cold Is Too Cold For A Dog?" for some temperature safety tips.
Akoma Hound Heater Dog House Furnace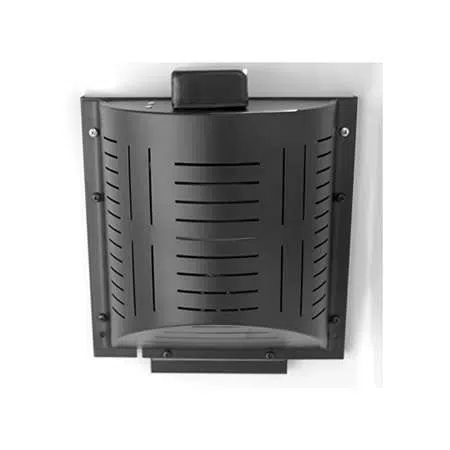 This heater is a safe option you can mount to a wall in your dog's house. It has no sharp edges, won't burn your dog, and has a protective, chew-resistant, heavy-duty stainless steel spring covering the entire cord. The Hound Heater heats up to a 75 cubic foot dog house but is effective for smaller dog houses too. It adjusts from 30°-100°F. Be sure to inspect it regularly to make sure there are no concerns. You might also consider adding a smoke detector to the structure.
Price: $129.95 ($129.95 / Count)
K&H Pet Products Lectro-Soft Outdoor Heated Pet Bed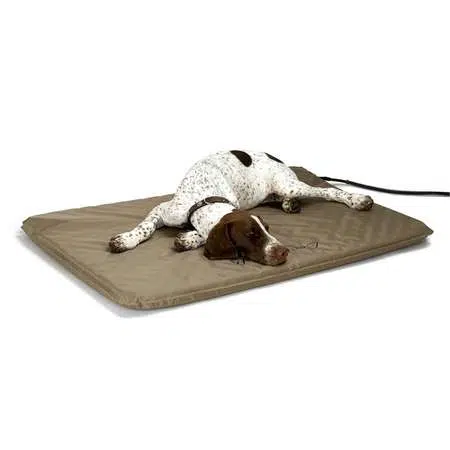 This outdoor heated pet bed is thermostatically controlled to automatically respond to temperature changes to warm to your pet's normal body temperature. It's made of soft orthopedic foam and comes with a fleece cover. It has a 5-1/2 foot steel-wrapped cord, is only 60 watts, and has been tested and certified to exceed USA/CA electrical safety standards. It is wise to inspect this device regularly to make sure it is holding up and remains safe. It is available in various sizes.
Price: $57.86
K&H Pet Products Self-Warming Pet Crate Pad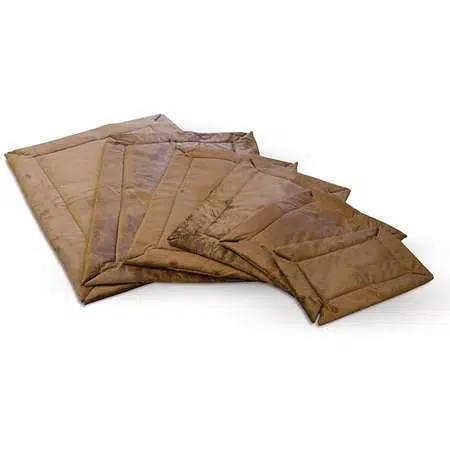 This self-warming pad provides warmth without the cords and related safety concerns. The material captures your pet's body heat and radiates the warmth back to your pet. It has a soft microfleece top for comfort and a non-slip bottom for stability. It's machine-washable and comes in six sizes.
Price: $21.37
Seeking a Smart Dog House?
While Samsung introduced the Dream Doghouse in 2015 at the Crufts dog show in the UK, we have yet to find a smart dog house that is actually for sale. However, it is likely only a matter of time. But then again, wouldn't any smart dog want to live in their human's smart home?!?
How To Build A Dog House
Are you handy and have wood saws? Here are the basic steps involved in building your own dog house.
Cut the wood
Frame the base and build a foundation floor
Frame the house sidewalls
Frame the front and back walls
Cut the siding
Create a roof
If you want a cheap dog house, this DIY video shows you how to build a pallet dog house. You can find used pallets, either for free or for a minimal fee, from many different businesses like grocery, pet, and home improvement stores, just to name a few.
Please use caution with building your own dog house and wear protective gloves and eyewear. If you think making your own is too much work and prefer something a bit more upscale, then you have plenty of options we recommend above. Especially if you don't have the tools already, the materials alone could cost more than buying a pre-made house.
Need Apparel Too? Best Dog Coat And Boots
It's also important to protect your pup from inclement weather and harsh elements when you're out for a walk or just hanging out in the yard. When temperatures plummet, your dog needs an added layer of protection. And you also need to protect his feet from snow, ice, and harsh chemicals used on roadways and sidewalks. See our best dog boots and coats for winter for our top picks.
Tagged With: Comparison, Containment, Outdoors