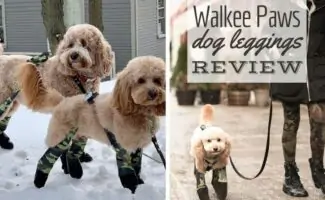 As humans, we understand the need to protect our feet from the elements. The same goes for our pups. It's essential to be aware of the potential hazards when walking your dog on hot pavement or icy sidewalks. Dog shoes can help keep your dog's feet safe, and Walkee Paws waterproof dog leggings, as seen on Shark Tank, might be the right choice for you.
View on Amazon | Visit Walkee Paws' Website
Walkee Paws Review
Summary
While the durability of Walkee Paws Dog Leggings has received mixed reviews, the product's features make it an attractive option that many customers adore.
Our experts determine the overall rating by considering many factors, including comfort, durability, style, price, customer support, and more.
Pros
Indoor and outdoor use
Once adjusted, you won't need to refit them
Stays in place without being tight on the feet
Lots of fabric choices available
Protects the whole leg
Several size options
Excellent customer service
Cons
Some users complain about durability
Can be difficult to put on
Back strap can be uncomfortable
Key Features
Spandex 4-way stretch fabric
Cushioned cord stopper
Adjustable height and leg width
Grips for extra traction
Strong waterproof rubber booties
Water-resistant legging material
Price
Walkee Paws Coupon Code
Looking for a way to lower the cost of your purchase? Walkee Paws often has seasonal sales, you can find the best discouunt now via this link.
Walkee Paws Instructions
This one-minute video from Walkee Paws shows you how to simplify putting these dog leggings on your pup.
The Right Boots For Every Need
View on Amazon | Visit Walkee Paws' Website
Walkee Paws Dog Leggings have mixed reviews regarding durability, but the features make this a desirable product that many customers love. However, you have other options, and some are better than others if you have a specific need. We review the best dog boots (and coats) for winter, hiking, and hot pavement.
Tagged With: Clothing