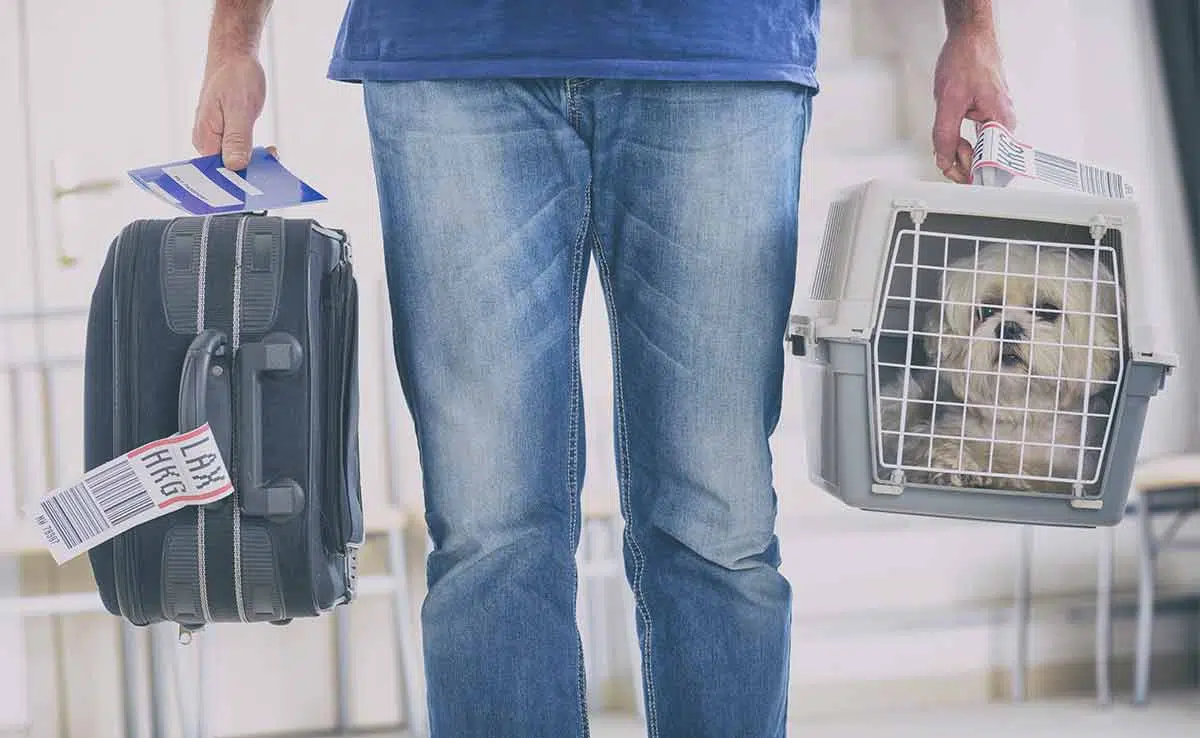 Our pets notice everything – even the slightest change. They know when something is up and want to make sure they are included in whatever exciting activity you have planned! Hence their tendency to follow around your suitcase to showcase their travel anxiety.
Every vacation season brings its own share of activities but there are some things that always get our pets pretty excited. Visiting guests, new places to explore, changes in feeding schedules, new friends to meet, and maybe more outdoor cooking than usual.  All of this can turn your pet's normally calm and collected personality into a frustrated, frazzled, and, well, mischievous dog filled. Find out how to vacation with a dog and make it enjoyable for everyone including Fido.
How To Minimize Your Pup's Travel Anxiety
There are things that you can do as a loving pet parent to minimize your pet's travel anxiety and make life easier for the whole family:
Keep your dog on a regular schedule – this includes food and grooming.
Limit the amount of travel that you do with your pet. But also make sure you have a good pet sitter if you do travel without them.
Reduce the number of guests that come over to your house (and only bring over the nice ones who give belly rubs and treats please).
Don't leave things lying around for your pet to "dig around in" just because you are away from home… because your pet will be curious.  And all those new decorations in the rental home look like play toys so it might be best to keep them out of your pet's reach.
As much as your dog may beg, table scraps are not good for pets so please do not tempt them.
Keep introductions of new friends (pets or people) to a minimum so as not to overstimulate me.
Take a walk around the vacation location where your pet might explore to make sure there is nothing they could get into, eat or hurt themselves within the vicinity. There may even be snakes or other varmints that could harm your pet. Better safe than sorry!
Take Your Dog For Regular Walks And Consider A Crate
The easiest way to create a stress-free escape for your pet is to take them for regular exercise to reduce anxiety. Be sure to keep us close to you with a nice, strong collar and leash, and consider taking a crate along to protect your pet and the housing at your vacation spot of choice.
Other Tips For Traveling With An Anxious Dog
Wondering "what can I give my dog for anxiety when traveling?" Talk to your vet about possible dog travel anxiety medication depending on their age, weight, and your situation. Having a dog sedative for travel on hand might be a good backup option if your dog is extra nervous while out of your normal routine. You could also consider CBD drops for dogs or CBD dog treats can ease anxiety conditions your pup may suffer from while traveling. Learn more about the benefits of CBD for dogs.
Tagged With: Anxiety, Pet Sitting