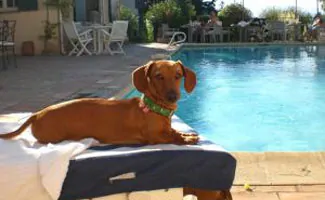 When you make plans to go on vacation, there are only three options for your furry friend:
Board him in a local kennel or doggy day camp
Why Pet Sitting & Boarding Might Be Better Than Bringing Them With You
If you travel a lot, you have probably run across several situations where you stayed at hotels that did not allow you to have pets (all though more and more are allowing it every day!). You have probably also been on trips where you were so busy that you would feel guilty even having your pet with you. You would never be around to walk him or give him the love and attention that he deserves. In situations like these, the best thing to do is to look into pet sitting and boarding.
Read our review of Pet Sitting Websites
Pet Boarding
When boarding, you might want to make sure that your pet has the type of food that he is most used to so that he will not get sick from the food at the establishment. Additionally, many places require that your pet is up to date on his vaccinations like rabies and Bordetella, so that he will not infect other animals.
If you are planning to board your pet for a holiday vacation or business trip that you know about well in advance, then you should probably start planning this out right now. Holidays when many people travel (think Thanksgiving and Christmas!) are especially important to plan ahead for and book your dogs spots. Though it can seem like a last minute thing – just call the place two weeks ahead of time, reserve a space and drop him off – but there is much more to boarding your pet, and it should be your goal to avoid last minute hassles and problems.
Visit The Vet To Prepare
As soon as you decide to board, take your pet to the doctor and get veterinary clearance and any vaccines that he needs. Ten days before his stay is the absolute latest that you should wait to do this.
Because your animal might have a reaction to the vaccine by getting slightly ill, you want to make sure that he goes through these changes at home and with his normal vet. If this reaction happens at the boarding facility, the staff will think he is truly sick unless you are lucky enough to board your dog at your vet's office.
Make sure to bring a clean fecal report and proof of vaccinations when you check in as well.
Some boarding facilities will not require vet clearance, but it is a good idea to do this anyway, just in case there is some health concern that will cause boarding to be an unhealthy or unhappy experience for your pet. Clearance is especially vital if your animal is very sick or very old. He might not be able to handle a long overnight stay.
Make sure to triple check that he has enough medicine to last him for the entire trip. If you can get some extra, then do so to account for staff making a mistake and spilling a few doses. Sometimes another dog might get hold of the medicine that your dog needs, so if you can get extra, it might help the staff in a pinch.
Make sure that your furry friend also has a flea treatment right before checking into the facility. This should be something that you are doing every month anyway though.
Vital Details To Share About Your Pet
Any facility that you decide to patronize should answer any questions you have clearly and respectfully. In order to provide your animal with the best care, the facility needs to know:
All of your contact information
Who a local emergency contact would be for your family
Whether your dog has any special needs (aggression, medication, anxiety, etc.)
Your vet's contact information
Any allergy information
If your animal has never stayed at a boarding facility before, it might be a good idea to have him stay for several half days, so that he can get used to the people and the environment. This will make the transition less stressful for him, and he will know in his heart that you will be back to get him soon. This should reduce your pet's anxiety levels.
Pet Sitting In Your Home
Hiring a pet sitter is a great option because your animal can stay in the home that he loves, and receive care, attention, food and exercise from someone that seems like a friend of the family.
When you are hiring a pet sitter, make sure you can trust that person in your home and with your pet. You can choose to go with a service or hire an individual. In either case, you should be able to check references and feel confident about the person that you are hiring. A friend who is also a dog lover may also be a good option to consider.
Choosing A Pet Sitting Service
Sometimes pet sitting services can be better options. They may be easier to deal with because they take all of the legwork out of finding someone that you can trust. They run background checks for you and gather all of the worker's references together for you.
Their workers have received training with a certain code of conduct so that you know what you can expect. Anyone that comes to your home would be experienced, professional and qualified to care for your animal, and that person will respect your home and possessions. The services should also be licensed, bonded and insured to protect against any risks associated with someone other than you being in your home.
Read our review of Pet Sitting Websites
It is much easier to hire a pet sitter than to board your dog in many cases because you do not have to worry about all of the pre-planning. In many cases, you can call a pet sitter or sitting service at the last minute and get top-notch care for as long as you need. It might be a little more expensive to hire a sitter though, and if your dog enjoys the company of other animals while you are gone, then boarding might be a better option for you.
Most of the people that work as pet sitters are animal lovers. They work full time in animal hospitals and vet offices and do pet sitting part time. Most of them are pet owners themselves and care deeply for all animals.
Going with a pet sitting service is always a good option when you really need someone you can count on. Sometimes the personal sitter you hire has her own emergency and has to cancel on you. When you go with a service, there is always someone else to take over the job if your scheduled sitter has to cancel.
How Does Your Pet Behave When You Are Away?
So if you've left your pet at home or in a boarding facility, chances are you've received a report card at the end. How did your dog do? Was he a good boy or a bit of a mischief hound?
Tagged With: Pet Sitting