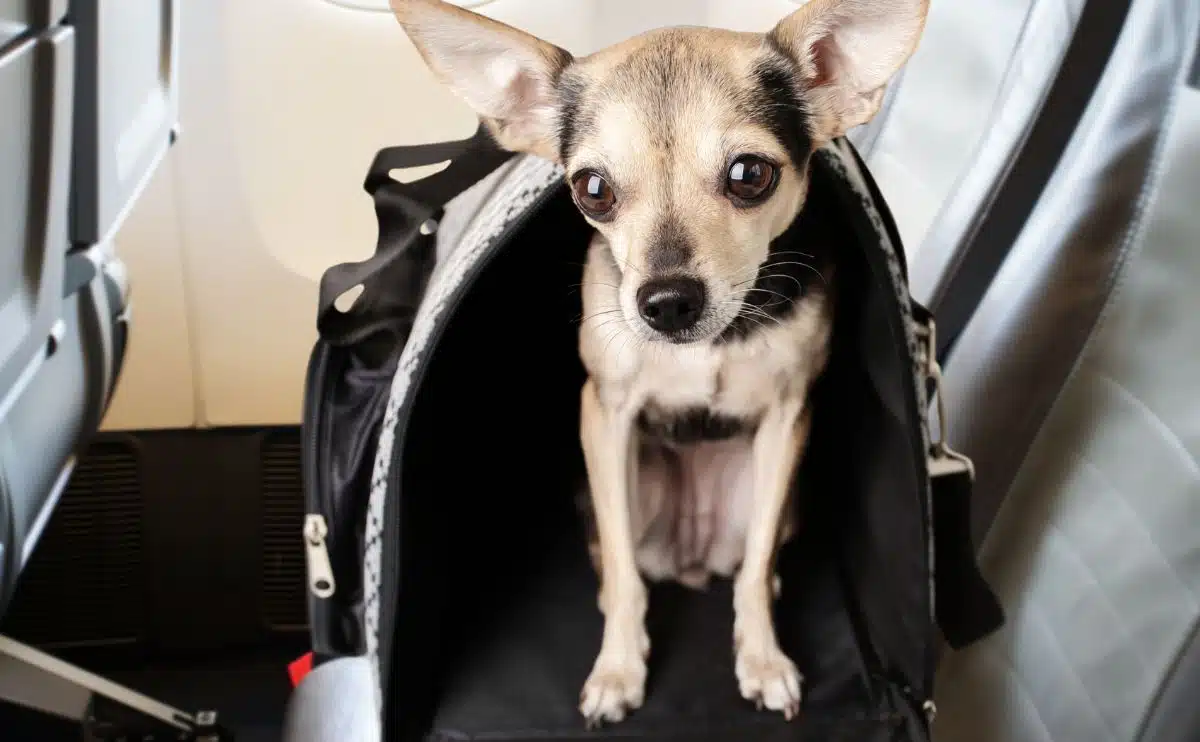 Flying with a dog can be complicated and costly. Before you start packing your pup's luggage, be sure to understand the expenses involved. Pet parents must also be aware of airlines' guidelines and rules for flying with dogs. Several factors impact the costs of flying a dog, including the animal's size, the airline, where in the plane the dog is, and whether it is domestic or international air travel. Let's get into everything to consider when calculating the cost of flying with a dog.
How Much Does It Cost To Fly With A Dog?
How much does it cost to take a dog on a plane? Many factors impact how much the price. Canines can fly in the cabin or as cargo, and there is a price difference depending on where.
In-cabin fees for dogs (domestic): $150-$125
In-cabin fees for dogs (international): $125-319+
Cargo fees for dogs: $200-$1,000+
Owners can expect to spend an average of around $125 per flight to have their pup fly along with them.
Airline Pet Policies
Airlines have different policies on pets flying, so pet parents must be sure to research and ask lots of questions before booking airline tickets.
Health Records – Air carriers usually require health and rabies certificates and current vaccinations for a canine to board. Your veterinarian can provide these, so owners must ask for this at least a few weeks before travel to ensure your documents are accepted and that your pup's vaccinations are updated. Most airlines require these to be dated within 10 days of travel. As required by the U.S. Department of Agriculture, all pets crossing state lines must have a rabies immunization and valid health certificate dated within 30 days of flying.
Airline-Approved Carrier – Owners must research the specific guidelines for carrier size for the airline they are traveling on before trying to board. If kennels are not up to the airline-specific requirements, your pet may not be allowed on board. Learn more in our airline-specific pet carrier article.
Pet Weight Limit – Air carriers all have weight guidelines for pets for traveling. Smaller dogs, those 20 pounds and under, are often allowed to travel in cabins (of air carriers that allow travel). Most require them to be kept in a carrier that can fit under the seat in front of you. Larger dogs will need to travel in the freight area. Some set this at 70 pounds, though others allow larger dogs than that. American Airlines, for example, allows dogs and carriers that total a combined weight of 100 pounds.
Breed Restrictions – Some breeds may not be accepted for travel, such as brachiocephalic pups and those breeds that are likely to be aggressive.
What Affects The Cost To Fly A Dog?
Several factors can affect the cost of flying with your fur baby, including:
Size of your dog – Larger dogs will often incur more significant fees, as they require more space and may need to travel in the freight hold instead of the cabin.
Airline – Some airlines are more expensive than others.
Destination & Distance – Depending on where you travel (and how far). Additionally, some international destinations may require additional vaccinations or paperwork, which can add to the total cost.
Routes – Direct flights are best, as layovers or rerouting can add additional fees. For instance, United has an additional $125 fee for layovers 4 hours or longer.
International Flights: Additional Paperwork, Costs & Requirements
One area that may get overlooked when preparing to fly internationally (or in the Caribbean) with pets is the requirements and health certificates that can be required for animals to be allowed into the country. Start getting these health certificates and required vaccinations early, as some airline companies require these to be done within a specific time frame before the flight. International travel may have an even higher price tag for fees depending on the airline and destination country.
Some locations, including Hawaii, require pets to have rabies certificates dated at most 10 days before the travel date. All cats and dogs are subject to a 120-day quarantine. Though this does not apply to every dog, it is something to remember. These quarantine periods can be costly and, in many cases, must be paid on arrival and are the responsibility of the owner.
Dog Plane Ticket Cost
Flying with your pup can be a great option if you are moving to a new city, on a long trip, or going on a vacation that's dog friendly. However, it is important to understand that flying with your dog can be expensive. You will need to consider the price of your ticket, the expense of your dog's ticket, and any additional fees and expenses associated with traveling with a pet.
How Much Does It Cost To Fly A Dog in The Cabin?
Some airlines allow customers can buy a seat for their fur babies at full fare. Others require pets to be placed in carriers at their owner's feet. Most major airlines will allow qualifying pets to travel in the cabin under certain conditions. Pets are not permitted on every flight, and a limited number of animals are allowed to board every flight. Finding an airline allowing pets to fly domestically is easier than flying with an animal internationally.
Major U.S. Airline Fees For Dogs Flying In The Cabin (Domestic Within U.S.):
| Airline | One-Way Cost |
| --- | --- |
| Alaska | $100 |
| Allegiant | $50 |
| American | $125 |
| Cape Air | $30+ |
| Delta | $95 |
| Frontier | $99 |
| Hawaiian | $35 (inter-island) $125 (other states) |
| JetBlue | $125 |
| Southwest | $95 |
| Spirit | $110 |
| Sun County | $75-100 |
| United | $125 |
| WestJet | $50-59 |
How Much Does It Cost To Fly A Dog Cargo?
Flying pets in cargo domestically on a pet-friendly airline, owners can expect to spend an average of $300 for a smaller pooch. Bigger breeds will cost up to $1,000. On top of the cargo fee, owners must also ensure they purchase an airline-approved cargo carrier, which can be an additional $100+.
Not all airlines will allow animals to be checked in as cargo. This is because flying pets in the cargo area can be unsafe and complicated for baggage handlers. On top of that, cargo bin areas are usually not temperature controlled, so it can be dangerous (and too hot or cold) depending on the destination. Airlines are starting to outsource cargo shipping to third-party services that are trained and experienced in transporting animals.
Animals over the typical 20-25 pound weight limit for cabin travel will need to fly as cargo. Currently, only Alaska, American, and Hawaiian Airlines will transport pets as checked baggage or cargo within the United States. Air Canada will allow pets to be shipped as cargo on some flights. JetBlue, Southwest, Spirit, and United are some of the more well-known airlines that do not permit animals booked as cargo.
Learn more in our pet transportation service guide, including companies that specialize in relocation services.
How Much Does It Cost To Fly A Dog Internationally?
Flying pets internationally and overseas is more expensive. Only some air carriers will accept animals in the cabin on international flights (depending on the destination). Airline fees do not include any fees the destination country may charge or any health-related costs.
Look at the country you are traveling to and see if they offer flights from the United States and allow animals. British Airways, for example, is an international airline based in the U.K., well known for being animal-friendly.
International Pet Fees For Air Travel Examples:
| Airline | One-Way Fee Per Pet |
| --- | --- |
| Air Canada | $270-319 |
| American Airlines | $125 |
| British Airways | $196 |
| Delta | $200 ($75 to Brazil) |
| Hawaiian Airlines | $225 |
| JetBlue | $125 |
| United | Varies |
| WestJet Cargo | Varies |
Cheapest Airline Pet Fee
Most major airlines that allow companion animals have prices that start around $100. Some regional or smaller airlines are cheaper. Frontier, Allegiant, Southwest, and Delta offer the lowest starting fares for domestic flights.
How Much Does It Cost For Service Animals To Fly?
Service animals are usually allowed to accompany their owners on airplanes at no extra charge. Owners will need to contact their airline beforehand to confirm their service animal policy as well as weight limits. Most will allow service animals to be in the cabin and may sit on the passenger's lap or the cabin floor.
They must be harnessed, leashed, and tethered to their owners in most cases. Owners must be prepared to show documentation of their pet being a certified service animal. Emotional Support Animals (ESA) are no longer allowed to fly for free.
Additional Tips For Flying With Dogs
Flying with dogs can be expensive, but worth it to have your furry friend with you on your adventures (and possibly more cost-effective than boarding or leaving them behind with a sitter). However, be prepared to deal with travel anxiety (especially for first-time canine flyers). To make sure you're set up for success, be sure to learn more about tips for traveling with dogs in cars and tips for traveling with pets on airplanes.
Tagged With: Cost