No matter how long the distance, moving can be one of the most stressful life events in your life (let alone for your pet). That's why it's so important to make sure you find dog shipping services that offer TLC and reliability to make your pet's journey as seamless as possible. Learn more about the best pet ground transportation services and our top picks for domestic and international relocations.
How To Find A Trustworthy Pet Delivery Service
There are a lot of pet transport scams online, so be sure that the pet delivery carrier you're considering is registered with the United States Department of Agriculture (USDA).
This ensures their commitment to humane practices. You'll also want a pet transfer service that's a member of the International Pet and Animal Transportation Association (IPATA), the industry's leading professional organization.
Moving during a global pandemic creates a whole new set of challenges. Last-minute flight cancellations, human quarantining, and the limited availability of airlines transporting pets are some of the complications you might experience due to COVID-19. These special considerations make it even more critical to hire a trusted professional to help with your pet's logistics, allowing you to focus on other aspects of your move.
Best Pet Transport Service Winners
We've based our best pet transportation services rankings on several factors, including:
Services offered
Reputation
Professional accreditation
Pricing
More
Winner: Happy Tails Travel, Inc. Review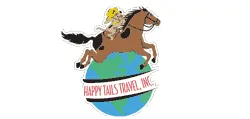 Arizona-based Happy Tails Travel, Inc. has been an industry leader in shipping dogs by air for 23 years, and they also transport cats, birds, etc. They specialize in European relocation but have experience in many countries worldwide. Happy Tails one-time fee is extremely competitive.
The $425 fee covers all of their services, from booking flights and coordinating logistics to securing all necessary documents and providing detailed written instructions. This fee doesn't include airfare.
| Pros | Cons |
| --- | --- |
| Domestic and international | None are known at this time |
| Air transportation available worldwide | |
| USDA and IPATA accredited | |
Pricing
$425 fee for domestic service (doesn't include airfare), including Alaska and Puerto Rico
$500 for service U.S. to Hawaii or international to the U.S.
$500-950+ for other destinations
Runner-Up: Air Animal Review

Florida-based Air Animal has safely moved more than 100,000 animals since it opened 40 years ago. This veterinarian-owned family business partners with more than 225 airlines. Air Animal professionals are experts at various destination-based requirements in more than 165 countries.
This pet courier service is extremely knowledgeable about quarantine issues, blood test and documentation requirements, and each destination's preferred air carriers. They also provide excellent domestic air transport with optional door-to-door service.
| Pros | Cons |
| --- | --- |
| Domestic and international | Expensive |
| In-transit pet lounges at some locations | No long-distance ground transport |
| Free country-specific microchipping with all international transport | |
| USDA and IPATA accredited | |
| | |
Pricing
Domestic transport ranges from $1,095- $1,995+ (includes airfare)
International transport ranges from $1,795 to $2,895+ (includes airfare)
Third Place: Pet-Express Review

Are you looking for the best pet ground transport reviews? California-based Pet-Express Animal Transport has been a trusted animal relocation service since 1978 on both air and ground. They have a broad network of professionals nationwide and internationally. All of their drivers are certified pet handlers, and they work closely with major airlines to ensure a safe, stress-free delivery.
Pet-Express also works with USDA-accredited veterinarians to provide treatment and handle any medical issues your dog may need assistance with while traveling. Another plus, Pet-Express supports several animal organizations, and they help transport many rescue pets from shelters to their new forever homes. Learn more about Pet-Express in our interview with General Manager John Manning.
| Pros | Cons |
| --- | --- |
| Domestic and international | No information about pricing fees on their website |
| Ground and air transportation available | |
| USDA and IPATA accredited | |
Pricing
Must contact Pet-Express for a quote
Pex Express Luxury Pet Hotel
They have a state-of-the-art, luxury facility at LAX airport, complete with a pet hotel for those traveling in or out of the Los Angeles area (a major hub for international travelers).
Other Pet Transport Reviews
Below are our reviews for some other recommended pet transport companies.
Animals Away Review

New York-based Animals Away has been a trusted worldwide pet shipping service since 1995. Like the other companies reviewed here, Animals Away takes care of all the booking, documents, and door-to-door logistics for you.
They're committed to giving you a customized dog transport service, from direct flights when possible to a wide variety of modifiable kennels. Animals Away offers air transport worldwide and ground within local regions of New York, Connecticut, Philadelphia, New Jersey, Vermont, New Hampshire, Albany, Syracuse, and Boston.
| Pros | Cons |
| --- | --- |
| Domestic and international | No information about pricing fees on their website |
| Air and regional ground transportation available | |
| USDA and IPATA accredited | |
Pricing
Must contact Animals Away for pricing
Blue Collar Pet Transport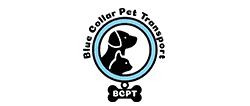 Newer to the pet transport service game is Florida-based Blue Collar Pet Transport. They pride themselves on high-quality, individualized care for your furry family members while in transit to their destination. From photo updates and communication, door-to-door pick up (with ID verification), and GPS tracking, you'll rest assured knowing your pet is in good hands during their journey.
All breeds are welcome, and they do not charge extra for puppies or dogs with special needs. Pricing varies depending on distance and type of service, ranging from private air travel to more economical, shared road routes.
| Pros | Cons |
| --- | --- |
| No cargo or kennels | Not as established and experienced as other companies |
| Background checks and screenings of drivers and handlers | No international transportation |
| Air and ground transportation available for North America | |
| Bonded, insured, and USDA certified | |
Pricing
Shared Ride: $0.35 cents per mile + $375 handling fee ($675 minimum)
Private Transport: $1.57 per mile + $475 handling fee (minimum $1,000)
Escorted Air Transport (for pets under 20 lbs only): Starts at $800
Central Florida Relocation: $1 per mile + $99 service fee
PetRelocation Review

Texas-based PetRelocation has been specializing in international pet relocation since 2004, with service in more than 50 countries worldwide. They also provide air transport within the U.S. PetRelocation books all of your pet's flights, drivers, and veterinary or USDA appointments if needed.
In addition, they only work with trusted airlines and agents. However, if your pet can't fly, you're out of luck with PetRelocation, as they don't offer long-distance pet ground transport.
| Pros | Cons |
| --- | --- |
| Domestic and international | They don't offer ground transport |
| Air transportation available | No information about pricing fees on their website |
| IPATA accredited | Not USDA registered |
Pricing
Must contact PetRelocation for pricing
Ready Your Pet For Moving Day
The following video is an excellent resource for planning and preparing for your pup's big move day.
Are You Vacationing With Your Pets?
Can't stand to be away from your dog while you're on vacation? You're not alone! It's a fun adventure for him to accompany you on your travels. If you want to fly with your dog, there are airline requirements and other info you need to know.
Our Flying With Pets article can give you answers to all your questions. If you are traveling closer to home, check out our tips on how to travel safely with dogs in your car.
Tagged With: Comparison