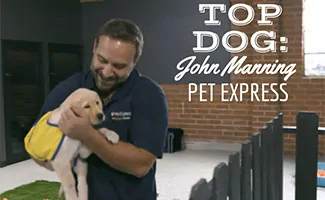 John Manning, General Manager at Pet Express pet relocation, recently moved from his home country of Australia to Los Angeles, California, with his two dogs Frank and Walter. As a pet relocation industry expert, he shares his first-hand experience and some tips for anyone embarking on an international move with their furry family members.
Share your background and role at Pet Express
My role at Pet Express is as the USA General Manager. I have been here since late 2018 after working with the company in Australia for some time. We have a great team in the United States with facilities in both Los Angeles and San Francisco.
My professional background is long and colorful. My corporate experience began with Australia's largest brewery Lion, where I worked in numerous roles across sales, marketing, operations and special projects. I then moved through different roles with Heineken Mexico managing Asia-Pacific and then found a spot as National Manager for Australia's largest manufacturer of raw food for dogs and cats.
After a few years in the Pet Sector, I was approached by my close friends Scott and Christine Williams to join the Pet Express team!
Can you tell us more about Pet Express and what makes your service unique?
Our people first and foremost. I believe the people we have are the best in the world at what they do. The personal care and attention for each relocation, the fact that seeing a photo of a pet reunited with their family goes viral around our business, as do the sincere thank you notes we receive from our clients.
We also have a presence on both sides of the pacific so managing international time frames is smoother and having a 'bricks and mortar' facility in two major West Coast hubs means we have our people managing and touching these jobs and can ensure the best possible service.
We pride ourselves on being the Best Pet Transport company in the world. We have world-class pet boarding facilities in California, and most importantly we understand that transporting pets can be emotional and very complex, so our dedication to animal welfare helps provide peace of mind to the owners of our clients (the pets we transport).
Video: Pet Express, The Pet Travel Experts
Watch this quick one-minute video to get a peek into Pet Express' facilities so you'll know what to expect when you use their services.
How did you and your pups meet?
I met my eldest Frank when he was one, he was my wife's dog and we hit it off immediately. My youngest Walter came along about 5 years later when I was told by my wife we were going to "look" at a puppy (just a look). I purchased his dog bed on the way! He and Frank have been best mates for a long time now. Inseparable.
What concerns did you have about a long-distance move?
The same concerns any pet parent has. My dogs' safety, wellbeing and comfort. However, as I see pets coming off long-haul flights every day, it wasn't too much of an issue for me. I knew my boys were in safe hands both with our trusted airline partners and with the Pet Express Pet Handling team. It ended up being a stress-free process for me.
For anyone not so experienced with pet travel, there will obviously be a lot more concerns. The process is quite complicated and can take a lot of back and forth questioning to wrap your head around. This is where having a team of Pet Travel Experts ready and waiting to answer any question you might have comes in handy!
How long did the relocation process take? Are there special requirements?
Relocating a pet from Australia to the US is fairly straight-forward. I made sure all their vaccines, flea and tick treatments were up to date. I then had them examined by a trusted vet, ensured I was comfortable with their crate sizes, gave them a big hug and bid them farewell. I also had their RNATT (Rabies Neutralizing Antibody Titre Test) blood drawn before they left, which was not necessary for this move but a good tip for anyone shipping their pet from Australia to another country. I will keep this updated, which will allow me to head home with the boys if we do have to leave the country in a hurry.
For anyone considering making a move from the USA to Australia, a lot longer lead time and preparation is required. Because of the requirement to have an RNATT Blood Test and the subsequent timing, it takes a minimum of 180 days to get your pets back to Australia. The Vet Schedule is also more demanding, and flights are harder to source. Because of this, we always recommend beginning your research and preparations at least 9 months before this big move.
How are your pups adjusting to life in the US?
They love it, they tell me they have doubled their Instagram followers, but I'll have to take their word on that. They are both incredibly handsome and wonderful conversationalists, so they garner attention wherever they go. To be fair, its most likely only a matter of time before they have their own TV show.
What do you and your pups love most about LA life?
LA is so dog-friendly. I can take my boys to the counter at my local coffee shop and almost anywhere. We also like the walking tracks (LA folk call them hiking paths, but they're just walking paths). My boys are beach boys as well, so they're right at home in South Bay or Long Beach.
Any tips for someone considering a long-distance move to/from the U.S.?
I would recommend not trying to do it all on your own and seeking professional assistance. Get in early with your preparations and do not be afraid to seek assistance. Laws and regulations surrounding pet transport are constantly changing and minor details and errors can cause major delays. Transporting your loved one can be so stressful, and at the end of the day, their safety and welfare is the number one priority. You can reduce unnecessary stress caused by delays by seeking expert help.
We also highly recommend crate training your pets prior to travel. Having a dog or cat comfortable in their travel crate is one of the most important aspects of pet travel and can really help to reduce the anxiety of both your pet and you as the owner. For this reason, we always recommend getting your crate shipped to you as soon as you know you will be moving and beginning the process early. Start slow, normalize the crate by adding items your pet is familiar with (including toys and blankets) and be patient. Before you know it, your pet will be begging to go inside their crate, and you can have peace of mind knowing they will be comfortable inside their travel crate on a long flight.
Thanks, John for sharing your story and relocation tips with us. Learn more about Pet Express and why they're one of our top picks for best pet relocation services.
Tagged With: