How do we keep this site running? This post may contain affiliate links — the cost is the same to you, but we get a referral fee. Compensation does not affect rankings. Thanks!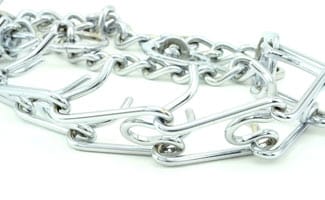 The pinch collar, also known as the prong collar, is a metal collar that is comprised of various links which can be expanded or shortened by removing or adding an additional link. Each of the links in the collar has a set of metal prongs which set against a dog's skin.
It is a controversial training apparatus in that it may cause pain to the dog if used incorrectly or on small dogs. However, if used properly, many claim to have found much success with it, especially with large, strong dogs.
As a dog owner myself, I am not a fan of this product as I would be worried about the possibility of inflicting pain on my big babies. However, I understand that some dog trainers recommend them and some owners also find them very helpful.
How it Works
When putting a pinch collar on your dog the links simply fit in to one another much like they do on a piece of jewelry, the prongs of one piece of the collar fit directly in to the loops of another piece. The pinch collar also has a small silver ring to which a dogs leash can be attached and this ring should sit on the back of the dog's neck. As a dog is walked on a pinch collar the prongs simply sit against the dog's skin; however, as the dog starts to pull the tension in the leash tugs at the pinch collar and pulls it tighter. As the links in the pinch collar pull tighter the prongs on the back side of the collar pinch (hence the name) the dogs neck and cause the dog an unpleasant sensation which forces them to fall back in to step as you walk.
Is it Safe?
The pinch collar can be used for a wide variety of reasons including teaching your dog to heel, teaching your dog not to pull, teaching your dog not to heed distractions while you are walking and not to pick up "dirty" items from the ground while you are walking together. Pinch collars are also used to control dog aggressive dogs while walking in an area when you may encounter other dogs. Pinch collars are most helpful on "bull necked" breeds (breeds with thick necks or exceedingly "fatty" necks) and larger dogs with hard headed temperaments; they should not be used on small or fragile necked breeds.
Just Say No to Pinch Collars for Small Dogs
A pinch collar should fit close to the dog's skin but should never be too tight or too small for the dog in question. A pinch collar should not be used on smaller dog breeds with more fragile bodies. They apply too much force to a small dog's neck to be considered a safe option.
Criticism of the Pinch Collar
There are many critics of the pinch collar, namely because when it pinches the dogs skin it can cause the dog pain. Advocates claim that if it is fitted and used correctly to train a dog, the dog may experience only a slight discomfort. In this case, there should be no significant degree of pain associated with its use.
The Risks
Much of the criticism of the pinch collar is associated with individuals who use the collar improperly and snap on the leash to suddenly tighten the collar and therefore cause increased pain and potential tissue damage to the dog. This seems risky to me! There is also the potential of choking the dog if the collar is not fitted correctly. A pinch collar should be fit by your vet or a pet store specialist if you are unsure of how to fit it correctly. When used correctly the pinch collar is designed to work as a preventative measure to help your dog to remember his or her manners in public.
More on Dog Training Collars
Read our article on the dog training collar for more information on the different types of dog training collars available on the market.
The information contained in this article and website is not intended nor implied to be a substitute for professional safety advice; it is provided for educational purposes only.