To sustain this free service, we receive affiliate commissions via some of our links. This doesn't affect rankings. Our review process.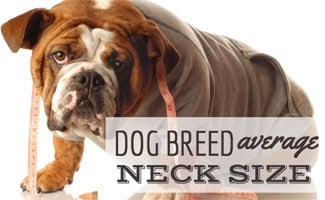 Ever wonder what the neck size of your pup was and how it compares to other dogs? Or maybe you got a new dog and need to know what size collar to get for him?
Search for your dog breed to find the right size collar for your pup. If your dog's breed is missing, let us know with a comment below, and we'll add it to the list. Thanks!
AFGHAN 16-22″; 58-64 LBS
AIRDALE 16-22″; 42-46 LBS
AKITA  20-24″; 70-130 LBS
ALASKAN MALAMUTE 15-22″; 40-120 LBS
AMERICAN ESKIMO 16-20″; 18-35 LBS
AMERICAN INDIAN DOG 16-22″; 30-60 LBS
AMERICAN PIT BULL TERRIER 14"- 18"; 35-55 LBS
AUSTRALIAN CATTLE DOG 22-28″; 31-35 LBS
AUSTRALIAN KELPIE 15-21″; 25-45 LBS
AUSTRALIAN SHEPHERD 16-22″; 35-75 LBS
BASENJI 10-14″; 20-26 LBS
BASSET HOUND 16-22″; 40-60 LBS
BEAGLE 12-18″; 18-30 LBS
BEDLINGTON TERRIER 14-18″; 17-23 LBS
BELGIAN MALINOIS 16-20″; 55-75 LBS
BERNESE MOUNTAIN DOG 20-26″; 75-100 LBS
BICHON FRISE 14-18″; 10-14 LBS
BLACK AND TAN COONHOUND 19-23″; 70-85 LBS
BLOODHOUND 22-28″; 88-105 LBS
BLUE HEELER 22-28″; 30-35 LBS
BORDER COLLIE 14-18″; 30-45 LBS
BORDER TERRIER 11-13″
BOSTON TERRIER 12-18″; 10-25 LBS
BOUVIER DES FLANDERS 22-26″; 60-77 LBS
BOXER 16-22″; 55-75 LBS
BRITANY 14-16″; 30-40 LBS
BULLDOG AMERICAN 18-24″; 60-120 LBS
BULLDOG ENGLISH 18-24″; 40-55 LBS
BULLDOG FRENCH 12-16″; 18-28 LBS
BULLMASTIFF 26-28″
BULL TERRIER 12-18″; 50-60 LBS
CAIRN TERRIER 10-16″; 12-16 LBS
CANE CORSO 22-30″
CAUCASIAN SHEPHERD 22-26″, 100-200 LBS
CAVALIER KING CHARLES SPANIEL 10-14″
CHIHUAHUA 8-14″; 2-6 LBS
CHINESE CRESTED 8-11″; 5-10 LBS
CHOW 18-24″; 45-65 LBS
COCKER SPANIEL 12-18″; 24-60 LBS
COLLIE 18-22″; 50-75 LBS
CORGI 14-16″; 25-38 LBS
DACHSHUND STANDARD 16-20″; 16-32 LBS
DACHSHUND MINI 8-18″; 9-15 LBS
DALMATIAN 14-20″; 45-65 LBS
DOBERMAN 18-24″; 66-88 LBS
DOGO ARGENTINO 20-26″; 77-99 LBS
ENGLISH MASTIFF 28-38″; 120-250 LBS
FOX TERRIER 10-16″; 14-18 LBS
GERMAN SHEPHERD 18-24″; 65-95 LBS
GERMAN SHORTHAIR POINTER 20-26″; 45-70 LBS
GOLDEN RETRIEVER 16-24″; 55-75 LBS
GREAT DANE 20-26″; 125-135 LBS
GREAT PYRENEES 24-30″; 90-125 LBS
GREYHOUND 14-18″; 55-80 LBS
GREYHOUND ITALIAN 8-11″; 7-12 LBS
HAVANESE 8-14″; 7-13 LBS
IRISH TERRIER 16-20″; 25-27 LBS
IRISH SETTER 16-22″; 53-70 LBS
IRISH WOLFHOUND 20″- 27″; 115-120 LBS
JACK RUSSELL TERRIER 10-14″; 9-15 LBS
KING CHARLES CAVALIER 10-14″; 12-18 LBS
LAB 18-24″; 55-75 LBS
LABRADOODLE 14-20″; 50-65 LBS
LHASA APSO 12-16″; 13-15 LBS
LOUISIANA CATAHOULA LEOPARD 18 1/2″; 80 LBS
LURCHER 13-20″; 35-100 LBS (depends on whether it is Whippet-bred (smaller) or Greyhound (larger))
MALTESE 10-14″; 6-9 LBS
MINIATURE AMERICAN ESKIMO 13-16"; 15-25 LBS
MINIATURE AUSTRALIAN SHEPHERD 10"-14"; 15-35 LBS
MINIATURE BULL TERRIER 14-18″; 25-40 LBS
MINIATURE GOLDENDOODLE 14-16″; 30-45 LBS
MINIATURE LABRADOODLE 12-16″; 30-50 LBS
MINIATURE PINSCHER 8-11″; 8-10 LBS
NEWFOUNDLAND 26-32″; 110-152 LBS
OLD ENGLISH SHEEPDOG 18-24″ 60-65 LBS
PAPILLON 8-12″; 9-11 LBS
PEKINGESE 12-16″; 8-10 LBS
PIT BULL 14-18″; 30-70 LBS
POMERANIAN 10-14″; 9-13 LBS
POODLE MINI 10-16″; 24-28 LBS
POODLE STANDARD 12-18″; 45-70 LBS
POODLE TOY 8-14″; 12-17 LBS
PORTUGUESE WATER DOG 15-20″; 60-95 LBS
PUG 12-16″; 14-18 LBS
PUGGLE 12-18″; 15-30 LBS
RAT TERRIER 13-16″; 11-14 LBS
RHODESIAN RIDGEBACK 20-23″
ROTTWEILER 24-30″; 100-120 LBS
ST. BERNARD 26-32″; 130-230 LBS
SALUKI 13-18″
SCHIPPERKE 10-14″; 14-45 LBS
SCHNAUZER GIANT 20-26″; 70-80 LBS
SCHNAUZER STANDARD 14-20″; 30-35 LBS
SCHNAUZER MINI 10-16″; 13-15 LBS
SCOTTISH TERRIER 14-20″; 19-23 LBS
SHAR PEI 16-20″; 35-55 LBS
SHETLAND SHEEP DOG "SHELTIE" 11-18″; 11-24 LBS
SHIBA INU 14-17″; 17-23 LBS
SHICHON 10-18″; 7-25 LBS
SHIH TZU 10-14″; 12-16 LBS
SIBERIAN HUSKY 16-22″; 40-55 LBS
SILKY TERRIER 10-14″ 8-10 LBS
SPRINGER SPANIEL 14-18″; 49-55 LBS
STAFFORDSHIRE TERRIER 14-20″; 50-65 LBS
VIZSLA 15-22″; 49-62 LBS
WEIMARANER 16-22″; 55-85 LBS
WEST HIGHLAND TERRIER 14-16″; 15-22 LBS
WHEATEN TERRIER 18-22″; 32-37 LBS
WHIPPET 13-15″; 30-35 LBS
YORKSHIRE TERRIER 6-12″; 6-9 LBS