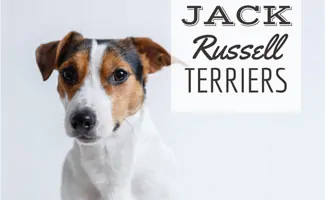 The Jack Russell Terrier is a small dog with a particularly big attitude. This breed's roots are in fox hunting and using its petite size to its advantage. Learn more about why it has earned a place in the hearts (and homes) of dog lovers everywhere.
Origins
It is thought that the Jack Russell Terrier found its beginnings from the English White Terrier when Reverend John Russell purchased a small, talented terrier from his local milkman.
As a hunter himself, it was important Russell had a fox hunting dog that was able to keep up with the hunt as well as drive out the foxes from their holes. John Russell later began a breeding program in which he strived to breed courageous fox hunters with good stamina. (Note: the name "fox terrier" comes from their ability to fox hunt and not for any relation to the Fox Terrier).
By the 1850s these dogs were recognized as a specific breed and where the Jack Russell Terrier officially began. However, over time, the demands and traits of the dog changed. Around 1894, Blake Heinemann created a breed standard for terriers who were skilled at digging out badgers. This type of dog required shorter legs and is believed that is why the Jack Russell began to shrink down in size from Reverend Russell's larger fox terrier.
From Hunting To Household
After World War II, there was less demand for hunting dogs, so the Jack Russell began to serve as a domesticated companion. During this time they were also crossbred with a variety of other smaller dogs creating a wide range of offshoots from the Jack Russell Terrier including "Shortie Jacks."
As society moved further away from post-war life, the terrier became a popular dog among households worldwide and prompted the formation of a variety of breed recognition clubs.
Physical Traits
While there have been some changes in the Jack Russell over its history (namely in its height and leg length) the actual breed has changed very little for the past two hundred years or so.
Today's standard for the breed has the following characteristics:
Measures between 10 – 15 inches tall at the withers
Weighs anywhere from 14 – 18 lbs
A thick double coat which serves as protection
Generally white with brown and black spots
Small ears that are triangular
One of the most favored characteristics of the spunky Jack Russell Terrier is its almond-shaped eyes that shine with life and excitement
The average lifespan is around fifteen years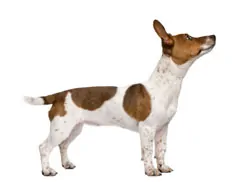 The tradition of docking the tail so it may serve as a handle to hold while pulling a ratting dog from a hole is still intact today (although rarely done for practicality it is mostly done for the look of it.). Find out more about dog tail and ear docking (i.e., cropping). When not docked, its tail often carries patched markings similar to those on the dog's coat.
Personality: Loves To Work (And Lives To Play)
Jack Russell Terriers are hunting dogs by nature, so they enjoy running and chasing. As a result, this is a high energy dog and requires adequate exercise and stimulation. Without sufficient activity, they are prone to destruction of property and terrorization of other household pets (and children).
The high energy level of the Jack Russell Terrier is a good fit for athletic individuals who are looking for a dog that can keep up with them. The Terrier's energy level is also particularly useful when training in agility or other outdoor activities like catch and fetch.
This breed is also known for its intelligence and often used in Hollywood films and commercials due to its high trainability. Unfortunately, as traditional working dogs, they are also prone to barking and making noise to gain the attention of its master and frighten foxes and badgers.
While they are family-oriented dogs, and generally do well with children, they do not tolerate being pulled on and taunted the way more family-friendly breeds like Labrador Retrievers do. This smart little dog is not afraid to nip or bite back when it feels it is threatened. Otherwise, they're a happy breed and thrive when respected.
Jack Russell Terriers also tend to fall into what is referred to as "Small Dog Syndrome" (when they try and make up for their size with a bigger personality). So you should maintain a firm and confident hand throughout your dog's training and obedience classes and establish your position as the alpha.
Potential Health Concerns
The Jack Russell Terrier is generally a healthy animal, but they do have a few common health problems:
Kneecap dislocation
Deafness (common among white-coated dogs)
Legg Perthes (a disease that affects the dogs hip joints)
Inherited eye diseases
Get Free Pet Insurance Quotes
If a Terrier suffers from any ailment,
it should not be ignored or untreated
. For instance, a Jack Russell with a dislocated kneecap should limit exercise, or it could cause additional problems, including depression.
When adopting any breed, it's essential to ask about any problems that exist (in the dog itself or its litters). If unknown, doing a dog DNA test is a worthwhile way to find out potential health risks. Learn what you can discover with a dog DNA test.
Video: Jack Russell Terrier Facts
Watch this short video to learn even more fun facts about this breed from the Jack Russell Terrier Club of America (and see them in action).
Best Toys & Treats
If you need some ideas on what your Jack Russell Terrier might like, check out our list below. Jack Russell Terrier can go through toys fast because they like to chew, so we suggest buying toys in bulk when cheaper.
Jack Of All Trades: Master Of Fun
Part of ensuring that the Jack Russell Terrier is the right breed for you involves maintaining an active home with regular, daily stimulation. Just because they are small, doesn't mean they don't need exercise. Learn more about dog fitness and activity trackers to help keep you and Fido accountable.
An unhappy dog leads to an unhappy family which often leads to rehoming. So be sure the characteristics of your dog are a good match for your family to ensure a loving home for everyone.
Tagged With: Small Dogs