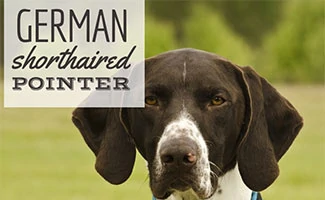 German Shorthaired Pointers have been among the most admired dogs for centuries. But, in 2018, they moved into 9th place among the most popular dog breeds according to the AKC. Why do humans love this breed so much? Learn about their appearance, behavior, health and more below.
Appearance
German Shorthaired Pointers (GSPs) are lean, muscular dogs used commonly for hunting.
Colors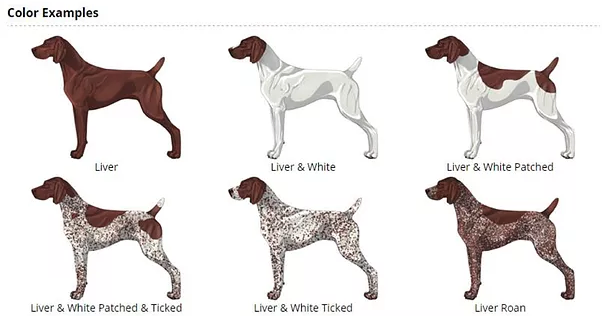 Their coats are solid liver (a reddish-brown) or liver and white in distinguishing patterns. According to The National German Shorthaired Pointer Rescue, there are a few rare black and white GSPs, but they are not accepted as part of the AKC breed standards.
Coat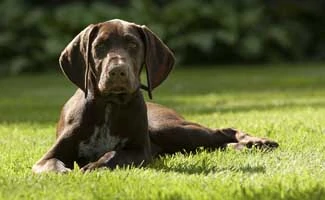 Grooming a German Shorthaired Pointer is pretty simple. Just give them a good brushing (here are some dog brush recommendations) every few days, and it will help keep your pup looking sharp. The coat is short, but it still sheds.
Don't forget to bathe your dog with a gentle shampoo (like this Pro Pet Works Natural Oatmeal Dog Shampoo) occasionally too. You should also inspect your dog's ears and trim the nails too.
Size
Males stand between 23 and 25 inches at the shoulder and weigh between 55 to 70 pounds. Females are a little smaller, standing 21 to 23 inches tall and weighing 45 to 60 pounds.
Exercise
German Shorthaired Pointers need plenty of exercise such as running and swimming. Ideally, they should be exercised twice each day, perhaps a brisk 30-minute walk in the morning and continuous play in a fenced-in backyard in the evening.
Your German Shorthaired Pointer may excel in dog sports too. Someone with an active lifestyle would be an ideal pet parent for a GSP.
Temperament
This is an intelligent breed that picks up on things quickly with consistent training. Enrolling in obedience classes and puppy training classes can be extremely rewarding for you and your dog. It's important to keep your GSP busy, or you could see some destructive behavior.
This is a high-energy dog with lots of power and speed. GSPs have high levels of endurance and are very agile. The breed is overall happy and bonds strongly to the family.
Health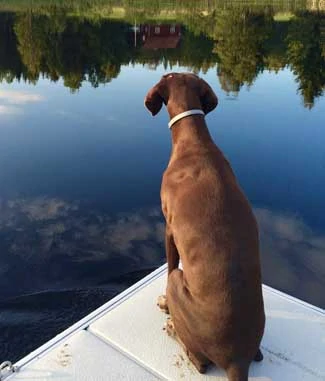 On average, a German Shorthaired Pointer lives to be 10 to 14 years old. The breed is generally healthy, but there are some conditions they are predisposed to.
Eye conditions
Heart diseases
Hypothyroidism
Osteochondrosis Dissecans
von Willebrand's Disease
Pannus
Lymphedema
Nutrition
Your German Shorthaired Pointer should eat high-quality dog food. Pups under 6 months old should be fed more than twice daily, but 2 meals per day will suffice for adults.
You should not feed your GSP after vigorous exercise due to their predisposition to bloat. You should also avoid exercising them within an hour after eating and drinking. Speak to your vet about the best dog food for your German Shorthaired Pointer.
English Pointer vs German Shorthaired Pointer
English Pointers are a part of the German Shorthaired Pointer's genetic makeup. Both breeds are hunting dogs; the English Pointer is used as a field dog for birds, while GSPs are more all-around hunters.
English Pointers are less popular than German Shorthaired Pointers. They stand slightly taller than GSPs but weigh roughly the same. They can live 12-17 years and require only a weekly brushing with their occasional shedding.
English Pointers come in many colors, including:
Black
Black and white
Lemon
Lemon and white
Liver
Liver and white
Orange
Orange and white
Pet Insurance Story
Pet: Pete, 3.5-year-old German Shorthaired Pointer
Diagnosis: Severe nausea/vomiting from ingesting something toxic to him
Treatment:

Emergency room visit (outside of normal vet hours)
X-ray
Anti-nausea injections and prescription medication
Subcutaneous fluid injection

Claim Cost: $902.32
Figo's Reimbursement: $900.14
Out Of Pocket: $2.18
Pete is a 3.5-year-old German Shorthaired Pointer and had what many GSP owners call "an extended puppyhood." He has plenty of energy; he's naturally curious; and he's prone to getting into things that he shouldn't.
Unfortunately, he also prefers to do his work well outside of our veterinarian's normal business hours, which has resulted in multiple trips to the emergency vet nearby (once for eating ibuprofen, another time for eating a whole pack of chewing gum and so on).
On one particular evening, we came home to find that Pete had gotten sick in a few places around the house, and we could tell that he really wasn't feeling good. Worried that he might have eaten something that was causing a blockage, we drove to the emergency vet nearby to have them take a look.
The vet performed an x-ray and luckily saw no signs of a blockage but decided to give him some anti-nausea medicine and fluids since he had gotten sick. After a few days of medicine and a bland diet, he was full of energy and back to his normal self.
This visit to the vet turned out to be an expensive one at around $900, but we were very fortunate to have almost the entire thing covered by our policy. Pete seems to be calming down a little as he's getting older, so hopefully our trips to the emergency vet are behind us. At least we know we're covered if we find ourselves back there.
Find The Best Pet Insurance Here
Should You Get A German Shorthaired Pointer?
GSPs need an active parent who likes spending time outside. If you enjoy hunting, running, hiking, swimming, etc., then this is an excellent breed for you. You may also want to get a fitness tracker for your dog!
If you like spending your time indoors curled up on the couch with a good book in your hands and your loyal companion snuggled up on your lap, a Yorkshire Terrier or French Bulldog may be a better fit for you.
Tagged With: Working Dogs