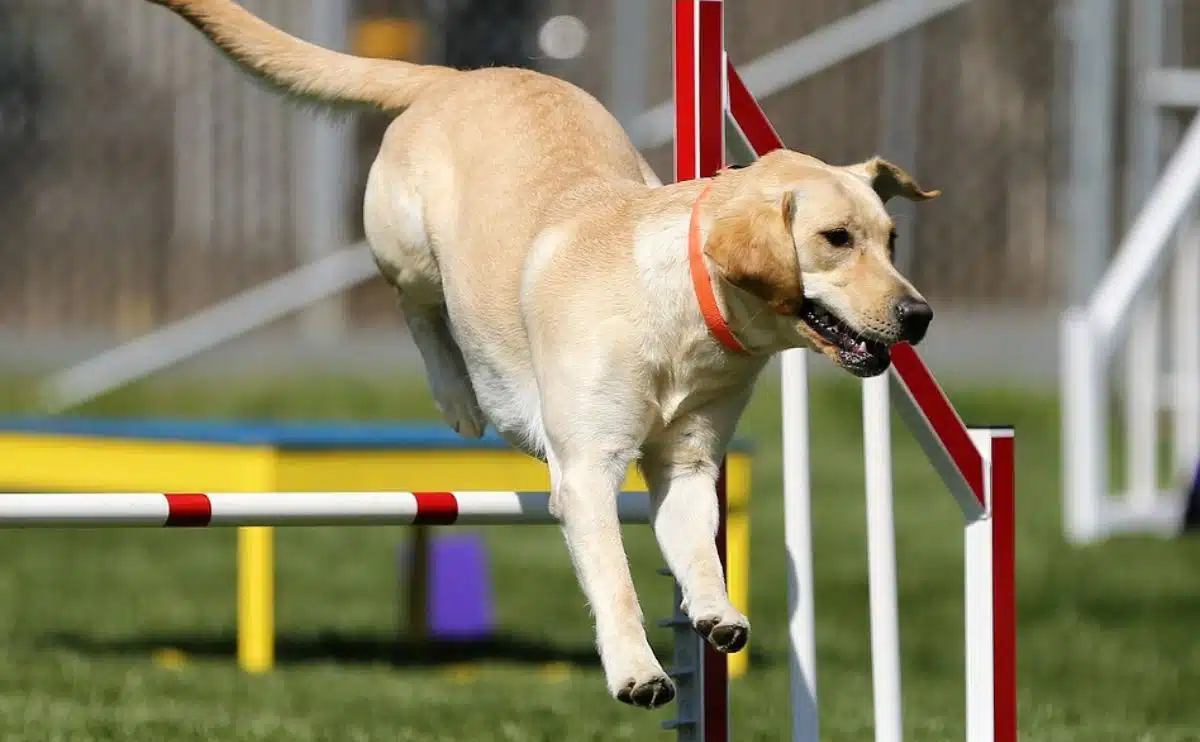 Have you ever considered getting your dog involved in something greater than himself? Do you and your canine companion happen to have a competitive spirit? If so, dog sports are a great way to get involved and use that competitive drive. There are more than enough options for all kinds of people and dogs. The AKC alone holds over 22,000 events each year in the U.S. Whether it's a nite hunt, agility races, or even just herding in your yard, there may be as many sports for dogs as there are for people. This is not a comprehensive list of dog sports but the most common.
Agility
Agility is one of the first things many people think of when they think of dog sports — and for good reason. It's the epitome of a competitive exercise for a dog — an exciting race to the finish with a dog and trainer running next to each other through an obstacle course in perfect unison. It's certainly a sight to behold and can be very intense when the finishing times are close together. This sport is for dogs and trainers looking to get out and run around in the fresh air.
Check out the PAWISE Agility Hurdle Starter Kit to start training for agility competitions with your dog.
Disc Dog
Disc Dog is a pretty popular dog sport. It involves trainers working with their dogs to catch discs flying through the air at various angles. This intensive sport requires a lot of teamwork, so be prepared to spend lots of time practicing and, of course, bonding with your teammate. The game is simple to learn but difficult to master.
Dogs can catch frisbees without much effort, but with enough practice, you can start to pull tricks and more impressive shots. This sport is definitely for people who enjoy spending lots of time practicing with their dogs and for dogs who love to run and catch things.
Get started training for Disc Dog with these Hyperflite K-10 Competition Standard Dog Discs.
DockDogs And Iron Dog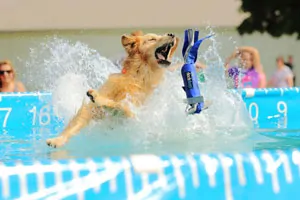 DockDogs is a program with aquatic sports options for dogs. This program has four different competitions — a long jump from a dock into the pool, a swimming speed retrieve, and a vertical high jump from a dock into the pool. These programs aren't meant for all dogs, but they're fantastic activities for dogs who have strong legs and love to swim.
If you're up for a challenge, you can try DockDogs' Iron Dog program and combine all three competitions in the same event. You can probably imagine that this takes a lot of training to pull off, but all that training is the precious time you're spending with your dog. This sport is for dedicated dogs and owners who love getting their hands and paws a little bit wet.
Dog Herding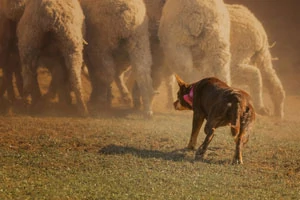 Herding is one of the most popular dog sports, and it's also one of the toughest. It requires a very special kind of herding dog. Some popular herding breeds include Corgis, Border Collies, Jack Russell Terriers, Australian Shepherds, and Australian Cattle Dogs.
This dog sport also has some of the toughest training requirements, with you constantly having to communicate and work with your dog to control an entire pack of animals. Herding is a popular spectator sport, which could even land you a paid gig and greater recognition. If you're up for the challenge, go for it!
Fast CAT®
You might think this sport is for felines. But Fast Cat®, which stands for "Coursing Ability Test," is a 100-yard dash where dogs chase a lure on a string as fast as they can. It's a sanctioned, timed event that is open to any dog over 12 months old and has an AKC number. There is minimal training involved, so it's a fun sport to pick up if you have a purebred dog that has the need for speed.
There is a handler and a catcher. The handler holds the dog in the starting area, and then when instructed, they are released to run towards their catcher on the other end of the course. The timer clocks the number of seconds it takes to run 100 yards and calculates the dog's miles per hour multiplied by a handicap to get their score. Dogs below 12″ get a handicap of 2, 12-18″ is 1.5, and over 18″ is 0. Entry fees range in price but can expect to pay around $20 for a chance to compete.
Our First Hand Experience With Fast CAT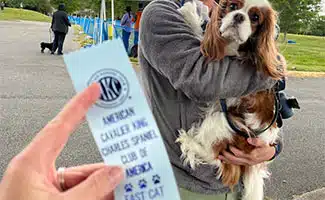 "We were at an ACK dog show for Cavalier King Charles Spaniels, and they had a Fast CAT competition going on. Our dog saw the other dogs racing and was jealous and wanted to join in the fun. Luckily they were taking walk-up registrations, so my husband and I entered him to run. They give you a number and do a quick inspection to make sure your dog is not injured or in heat, which involves having your dog trot a few feet down and back. When it was our turn, we entered the gate, and our dog was a bit confused at first. But once he saw the lure start moving, he was off. You can tell he really enjoyed it by the smile and wagging tale afterward. You get your time and score, and we even got a ribbon for participation. He didn't place, but we had a blast and are looking forward to another opportunity to try again if there is an event in our area."

– Sadie Cornelius, Cavalier King Charles Spaniel mom
Flyball
Flyball seems like it would be similar to disc dog, but it is actually closer to agility. In this sport, your team of dogs has to win a relay race to catch a ball through an obstacle course. But to get that ball, the dog has to jump onto a pad that launches the ball into the air! It's a fairly intense and fast-paced sport, which makes it popular for spectators.
This sport is preferable for dogs who love to chase balls and have lots of energy. It requires quite a bit of effort as you must train an entire team of dogs rather than just one. But for those of you prepared to train your hearts out with your canine team, good luck!
Check out the competition in action and see how fast the dogs must race back and forth!
K9 Nose Work®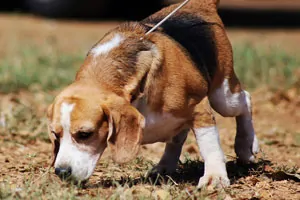 K9 Nose Work® is a sport where dogs are given an odor to smell and proceed to track it down. Dogs are timed by how quickly and accurately they track the source of the smell. It's a fairly simple sport, but it's also very convenient and has some great practical uses. You can use the skills your dog learns in almost any situation when you're missing something.
Maybe you want your dog to find a watch you lost or a child's toy, or you could even just train him to look for his favorite food for professional practice. And you can do K9 Nose Work® in almost any environment — a car, a football field, a house, the woods, etc. This sport is definitely for dogs who are bred for tracking, like Bloodhounds, Coonhounds, German Shepherds, Beagles, Golden Retrievers, and Labrador Retrievers.
Nite Hunt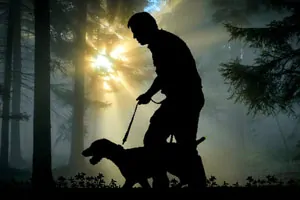 Nite Hunts are a popular event, especially with Coonhounds, where dogs are shown an object and must hunt it down with their owners in the dark of night. It's a fairly intense sport to watch, and being in it provides an even bigger rush. A scenthound is given a scent, and then he and the trainer must work together to find the item as fast as possible through the woods. In fact, this sport is one of the last to be performed in a completely natural environment.
This sport is for dogs who have bursts of energy and trainers able to keep up with them. These traits will help focus the speed and energy into the small amount of time needed for a nite hunt. While all dogs have an excellent sense of smell, some breeds that excel at this sport include Coonhounds, German Shorthaired Pointers, Bloodhounds, Beagles, and English Springer Spaniels.
Need To Work On Dog Training?
There are so many dog sports to choose from. Many of these sports will take a lot of dedication and some may only be performed by certain kinds of dogs, so you will have to choose carefully. But no matter what you choose, one thing will stay true: You will always remember the time you spent training and preparing with your companion, and that's the most important sport of all.
Do you need to work on training before launching into one of these dog sports? Check out our dog training tips and the best training treats for dogs to reward your dog for his hard work. You might even want to invest in a dog training collar or remote training collars for field work, hunting, hiking, and other outdoor activities.
Tagged With: Exercise, Sport