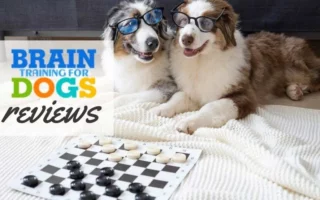 Have you tried multiple ways to train your puppy or dog on your own without much success? Don't want to fork out a fortune for a professional dog trainer? You may want to consider the online course, Brain Training For Dogs. Developed by Adrienne Faricelli, a certified dog trainer with over a decade of experience, Brain Training For Dogs has received major kudos from many top dog trainers. What can you learn from this training course? Does it actually work? And is it affordable? Read on to see if Brain Training For Dogs is worth it.
Visit Brain Training For Dogs' Website
Brain Training For Dogs Review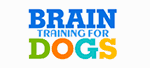 Product Name: Brain Training For Dogs
Product Description: Brain Training For Dogs has online dog training courses to help eliminate bad behaviors and teach your dog new skills.
Summary
Our experts determine the overall rating by considering many factors, including the number of videos, price, customer service and reputation, effectiveness, and more.
Pros
U.S.-based trainer with 10+ years experience
Adrienne is a CPDT-KA, featured in USA Today
Uses positive reinforcement; no force or dominance
Can start right away with instant access
One-time affordable fee
Troubleshooting guides and step-by-step guides with picture and video demonstrations
Private forum
60-day, no-risk money-back guarantee
Cons
Cannot download videos; must have an internet connection to view content
Clunky user experience on the site
No app (just browser version)
Key Features
Developed and taught by Adrienne Faricelli, certified professional dog trainer-knowledge assessed (CPDT-KA)
Can use with dogs of all ages
Teaches you how to correct problem behavior, like aggression, jumping, excessive barking, leash pulling, hyperactivity, impulse control, and much more
Helps your dog become more obedient and includes advanced obedience training
7 modules and 21 exercises that progress from beginning training to "Einstein"
Also includes bonus videos and materials: 7 Trick Training, Obedience 101, Polishing Up, Adrienne's Archives, and a Behavior Training guide, and Case Studies
Ability to submit questions directly to Adrienne and her expert team
Community forum
What Is Adrienne Farricelli's Training Philosophy & Method?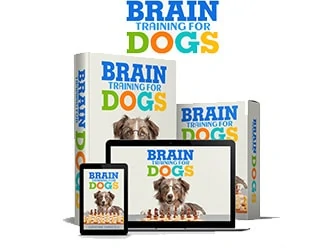 Adrienne follows a simple training philosophy that is kind, force-free, and science-based. Her training program shows you the power of positive reinforcement and reward-based training. Her philosophy involves mental stimulation learned through intelligence games, and she's developed this method over more than a decade.
Brain Training For Dogs is based on the scientifically researched idea of the 'neuroplasticity' of the human brain. As Adrienne states on her website, "it's a well-established idea, researched heavily at Harvard and other leading universities. In other words, our brains are like soft plastic — always capable of molding and changing to learn new habits and behaviors." And she believes dogs' brains are exactly the same.
Her stance is that with the proper mental stimulation and positive-reinforcement training, your dog's brain will become more open and receptive to learning new information and obedience skills.
Price
Brain Training for Dogs Course + Bonuses: $67
What Does Adrienne Say About Her Methods?
Learn more about Adrienne's philosophy and methods in this two-minute video.
What's Our Final Verdict?
Visit Brain Training For Dogs' Website
We think Brain Training For Dogs is one of your best bets if you need professional training methods and tips but you're not financially able or ready to seek help from a professional dog trainer (which can be very expensive). This course teaches you techniques that you may not easily find from other online training courses or even professional trainers.
Tagged With: