The use of bone broth goes back to prehistoric times when humans had to maximize their caloric resources. In modern times, people primarily use bone broth as a base for soups, stews, and sauces. But it's also become a trendy "drink" over the last decade for its purported health benefits.
Can dogs have bone broth? They sure can, and your canine companion likely will love this tasty treat as a meal topper or added to his water. Bone broth for dogs is growing in popularity as a nutritional supplement. But does it really benefit our furry friends? We'll shed light on its potential health benefits and which products are best for your pup.
At A Glance: Our Top Picks
Is Bone Broth Good For Dogs?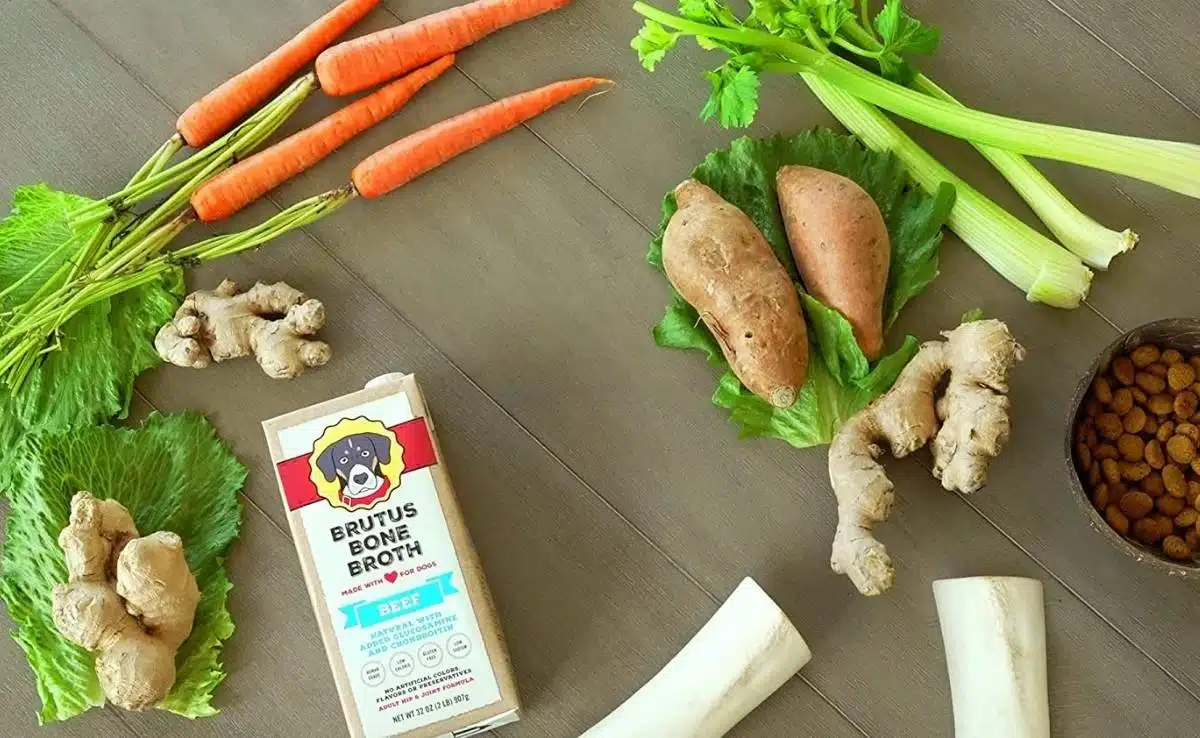 Animal bones contain a variety of vitamins, minerals, and other nutrients that are excellent for dogs. But giving your pup a solid bone (raw or cooked) isn't always safe. Some types of bones can splinter, posing a choking hazard and a potentially deadly risk that the sharp splinters could puncture your dog's gastrointestinal tract.
Is bone broth as nutritious? It depends. Unfortified bone broth doesn't contain the same levels of vitamins and minerals as raw bones or meat. (Adding vegetables can help boost your broth.) But bone broth does contain many other beneficial nutrients such as:
Bone Broth Benefits For Dogs
In addition to the ingredients and health benefits we highlight above, there are many other benefits of bone broth for dogs, including:
For your convenience and ultimate health benefits for your four-legged friend, you may want to consider a high-quality commercial bone broth formulated specifically for dogs instead of making your own. Some are fortified with nutrients and various other ingredients to promote canine health.
Bone broth isn't a replacement for a complete and balanced diet that meets the Association of American Feed Control Officials (AAFCO) guidelines. It's only meant to be used as a supplement to your dog's normal diet. Before giving your furry friend any type of supplement, it's best to check with your veterinarian to make sure it's safe for your pup.
Best Bone Broth For Dogs
We've chosen our top picks based on several factors, including the quality of ingredients, pricing, customer feedback, and more. We recommend that you steer clear of most store-bought regular broths that aren't made specifically for dogs. They often contain added sodium, which isn't healthy for dogs, and other additives and ingredients that may not be good for dogs.
Best Overall: Brutus Bone Broth Review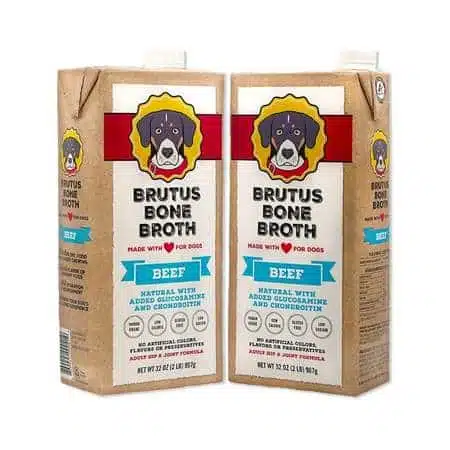 Brutus Bone Broth stands out among the pack for its excellent blend of ingredients and fantastic company practices. Brutus' blends are much more than bone broth. Their liquid beef, chicken, and pork broths are fortified with vegetables, turmeric (a natural anti-inflammatory), glucosamine, and chondroitin for multiple health benefits.
Every batch of human-grade Brutus Broth undergoes two rounds of quality assurance, which is governed by the USDA, so you know you're giving your furry friend a safe product. This family-owned company also offers bone broth biscuits and on-the-go powder packets.
| Pros | Cons |
| --- | --- |
| All-natural, human-grade ingredients, and manufacturing facility | On the pricey side |
| Non-GMO with no soy, wheat, dairy, and gluten | Several customer complaints that the packaging was damaged during delivery |
| Fortified with glucosamine and chondroitin for joint health | |
| Made in the USA | |
| Eco-friendly packaging | |
| Company makes charitable donations to animal welfare organizations | |
Price
Serving sizes vary by weight. As an example, a 32 fl oz box contains 16 servings for dogs 10-25 lbs.
Best Shelf-Stable: The Honest Kitchen Daily Boosters Review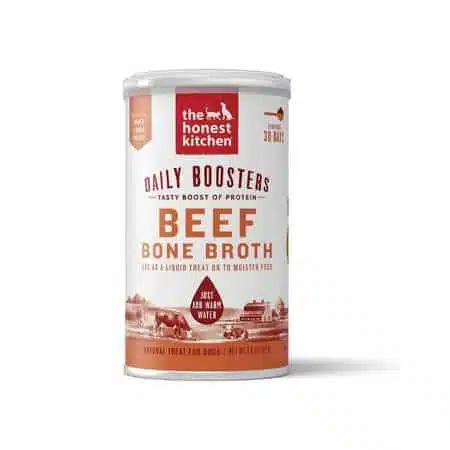 Don't have much storage space in your fridge or pantry? This Honest Kitchen powdered bone broth could be a perfect solution. All you have to do is mix with warm water and serve. Their beef and turkey options contain dehydrated bone broth, meat, and pumpkin (a digestive aid). It also includes dried parsley and turmeric for a tasty, healthy food topper.
The Honest Kitchen, the pioneer of human-grade pet food, is a well-known and respected brand for their high-quality products. They also offer single-serve powdered bone broth packets, wet bone broth, several other protein toppers, supplements, and a variety of dog and cat food.
| Pros | Cons |
| --- | --- |
| All-natural, human-grade ingredients and manufacturing facility | Several customers said their dogs don't like the taste |
| Non-GMO with no by-products, corn, wheat, or soy | |
| Includes pumpkin and turmeric | |
| Shelf-stable | |
| Made in the USA | |
| Offers discounts for non-profit rescue shelters | |
Price
Serving sizes vary by weight. As an example, each 3.6 oz container contains 30 servings for dogs under 25 lbs.
Full Review Of The Honest Kitchen
Best Organic: Native Pet Bone Broth For Dogs Review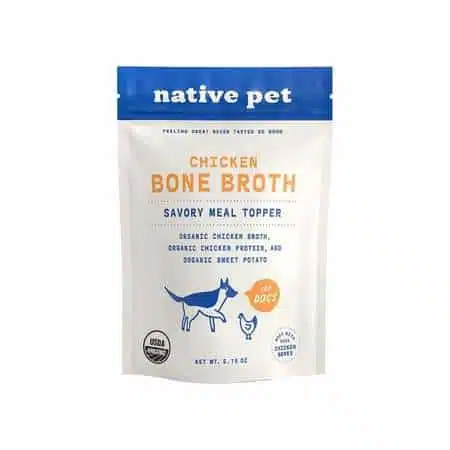 If you're looking for the best organic bone broth for dogs, Native Pet's powdered broth is an excellent choice. Formulated by veterinary nutritionists, their grass-fed beef and chicken formulas contain only organic bone broth, meat, and sweet potatoes (a good source of vitamin A). Native Pet specializes in producing a variety of all-natural dog supplements with minimal, healthy ingredients.
| Pros | Cons |
| --- | --- |
| All ingredients are USDA organic and all-natural | Several complaints that the resealable packaging gets caked with powder |
| Non-GMO with no by-products, corn, wheat, or soy | |
| 1-year shelf life | |
| Sourced and made in the USA | |
Price
Serving sizes vary by weight. As an example, a 5.75 oz pouch contains 48 servings for dogs under 25 lbs.
Best Ethically Sourced: Open Farm Bone Broth Meal Topper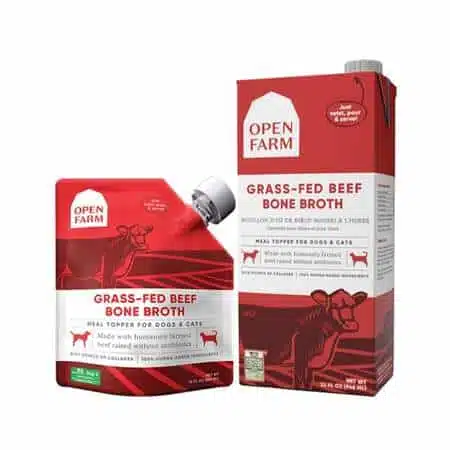 Open Farm's bone broth topper for dogs and cats (and their other pet food products) should be on your radar if you're committed to ethically sourced and sustainable ingredients. Their beef, chicken, and turkey bone broths are made using humanely farmed animals raised with no antibiotics. Each formula contains human-grade bone broth, carrots, pumpkin, parsley, turmeric, and cinnamon. All of Open Farm's pet food, treats, and supplements are human-grade, and you can trace all ingredients back to the source on their website.
| Pros | Cons |
| --- | --- |
| Humanely and sustainably sourced ingredients | Expensive compared to others we review here |
| All-natural, human-grade ingredients, and manufacturing facility | Must use or freeze within 5 days of opening |
| Non-GMO with no grain, corn, wheat, and soy | |
| Terracyle packaging | |
| Made in the USA | |
| Satisfaction guarantee | |
Price
Serving sizes vary by weight. As an example, a 12 fl oz pouch contains 6 servings for dogs 10-20 pounds. You can sign up for auto-shipping and save 5%.
Best With Vitamins: Purina Beyond Mixers+ Chicken Bone Broth Review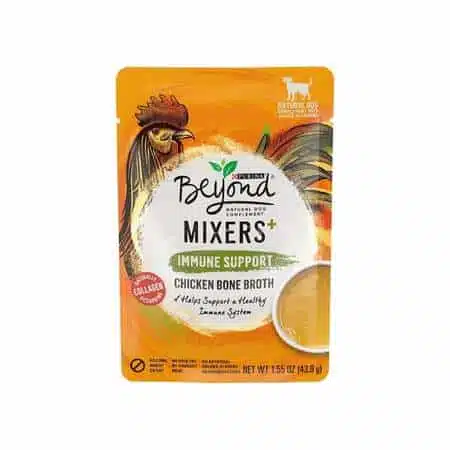 This Purina liquid chicken bone broth is fortified with vitamins E, A, D, and several B-complex vitamins to enhance your pup's health. It's also convenient to use with single-serve pouches. And most pet parents said their dogs loved the taste. It's made with real chicken broth and without artificial colors, flavors, or preservatives.
We love that the Purina Beyond brand has partnered with The Nature Conservancy for Project Blossom, whose goal is to protect nature's pollinators.
| Pros | Cons |
| --- | --- |
| All-natural ingredients with no by-products | Only chicken broth available |
| No corn, wheat, or soy | |
| Fortified with multiple vitamins | |
| Convenient, single-serve pouches | |
| Made in the USA | |
Price
Feeding guidelines are one pouch per day for an adult dog, so the pricing is about average for 16 servings.
Best Value: Nature's Diet Pet Bone Broth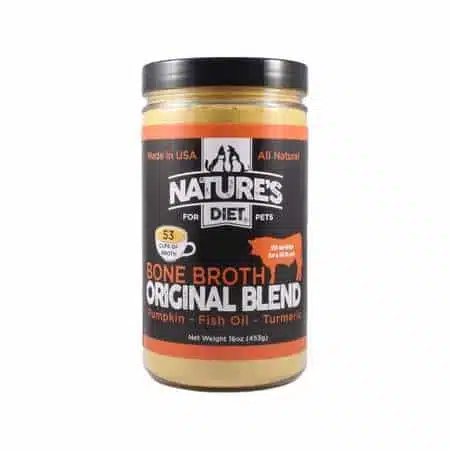 If you're on a budget, dog bone broth can get expensive if you want to feed it to your furry friend every day. But Nature's Diet high-quality powdered bone broth gives your pup the benefits of bone broth at an affordable price. On top of their good value, these all-natural beef and chicken bone broths are fortified with pumpkin, turmeric, and omega-3 and 6, known to help dogs' skin and coat health.
| Pros | Cons |
| --- | --- |
| Fantastic value | Several customers said their dogs wouldn't eat it when mixed with food (and it has a bad smell) |
| All-natural ingredients with no gluten, grain, or animal by-products | |
| Fortified with omega fatty acids for skin and coat health | |
| Made in the USA | |
Price
Serving sizes vary by weight. As an example, this 16 oz tub contains nearly 160 servings for a 30-lb dog.
How To Make Bone Broth For Dogs
Bone broth is made by boiling down animal bones and connective tissue. Sounds easy, right? It's simple to make at home, and you can add a variety of ingredients to make it even more nutritious and tasty. Here's a simple bone broth recipe for dogs.
Ingredients
If your dog has a chicken or beef allergy, you can use turkey, lamb, duck, or bison bones to make the broth.
Directions
Place bones in a large pot or crockpot.
Cover bones with water and stir in apple cider vinegar.
Cook on low heat for 12 hours on the stove (simmer) or at least 24 hours in a crockpot.
Add in optional ingredients, like vegetables, about 1/2 hour before your broth is done.
Strain out all the bones (never give your pup cooked bones).
Put broth in the refrigerator for a few hours until the fat has risen to the top. Remove fat with a spoon.
Note: You can also use an instant pot to make your broth, which reduces the cooking time to 3-4 hours.
How To Store Bone Broth For Dogs
You can store your bone broth in airtight containers in the refrigerator for four to five days or in the freezer in ziplock freezer bags for up to six months. If you have a small or medium-sized dog, you could even fill up an ice-cube tray with your broth for easy serving sizes. Another idea is to pour bone broth into an ice cube tray and freeze it. Just defrost it in your microwave and add it to your pup's food.
Vegetable-Rich Bone Broth Recipe For Dogs (Video)
Frequently Asked Questions
Here are some of the questions our readers ask most often about bone broth for dogs.
How Much Bone Broth Can I Give My Dog?
Bone broth is low in calories and fat, so you can give it to your dog every day. But it's still important to keep the portion sizes moderate to prevent your pup from gaining weight. If you use store-bought bone broth, follow the serving size recommendations on the package. For homemade bone broth, the general rule of thumb is one tablespoon for every 10 pounds of weight once per day.
Does Bone Broth Help For Pancreatitis In Dogs?
Veterinarians recommend a bland, limited-ingredient diet for dogs recovering from pancreatitis. Bone broth is usually easily digested, and it could be a good addition to your pup's diet. However, pancreatitis requires veterinary treatment and close monitoring, so check with your vet to make sure it's okay.
Is Bone Broth Good For Dogs With Diarrhea?
Yes, bone broth is excellent for dogs with diarrhea. It's easy on a dog's digestive tract and can help keep your dog from becoming dehydrated, a common concern with diarrhea. But make sure your pup is drinking plenty of water as well. If your furry friend's diarrhea is severe or lasts more than 48-72 hours, you should seek veterinary attention.
Is Bone Broth Helpful For A Dehydrated Dog?
Bone broth can help keep your dog hydrated in the short term when he's sick, has a poor appetite, and won't drink water. But if you think your four-legged friend is dehydrated, you should contact your veterinarian, even if it's a mild case. Sometimes, dogs can develop severe dehydration quickly, which requires immediate vet care.
Is Bone Broth Good For Dogs With Kidney Disease?
Generally, a small amount of low sodium bone broth is usually safe and beneficial for dogs with chronic kidney disease (CKD). It can help your pup maintain hydration and is often a good option for dogs with a poor appetite. However, make sure your veterinarian gives you the green light to add bone broth to your canine companion's diet. Following your vet's diet recommendations to help manage CKD is extremely important.
Considering A Healthier Diet For Your Pup?
If you're looking for bone broth solely to moisten your dog's regular kibble with a healthy additive, you may want to consider switching his diet to all-natural fresh meals. Several top-notch dog food brands will deliver tasty, fresh meals right to your door and even personalize your pup's food. However, if you don't want to abandon your furry friend's favorite dog food but are looking for specific supplements, check out our reviews of the best dog joint supplements and allergy supplements if you think they could benefit your pup.
Tagged With: Comparison, Supplements