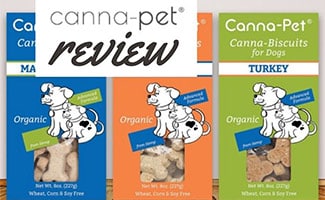 If you're looking for high-quality CBD (cannabidiol) pet products, you may have come across the popular brand Canna-Pet. Their capsules, oils, and biscuits are sold in select retail stores and online. They specialize in CBD products for dogs, cats, and horses. But are Canna-Pet's products safe and effective? Our experts give you our in-depth review of the Canna-Pet line of CBD products to help you decide if they're the best option for your pup.
Article Overview
Canna-Pet
Pros
Derived from organic and non-GMO hemp
Gold-standard CO2 process used to extract CBD from hemp plants
30-day money-back guarantee
Steep discounts for nonprofit organizations and shelters
Made in the USA
Cons
They say their products are third-party tested, but no testing analysis reports are available
Only one oil strength available
Customer support only available by email
Key Features
Full-spectrum CBD extract contains over two dozen cannabinoids, terpenes, and flavonoids, including CBD, CBC (cannabichromene), CBG (cannabigerol), beta-caryophyllene, limonene, alpha-pinene, and linalool
Oil and capsules are non-GMO, vegan, and free of preservatives, SLS, wheat, and sugar
Biscuits are organic and wheat, corn, and soy-free
In business since 2013 with an A+ BBB rating
Also carries CBD products for cats and horses
Price
Note: Canna-Pet offers bi-weekly, every three weeks, every four weeks, and monthly auto-shipping.
Advanced Formula Capsules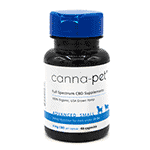 Dogs Under 20lbs
30 capsules (with 4mg CBD per capsule): $29.99
60 capsules (with 4mg CBD per capsule): $57.99
Dogs Over 20lbs
60 capsules (with 8.5mg CBD per capsule): $64.99
Advanced MaxCBD Formula Oil & Capsules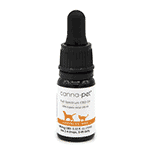 680mg strength CBD oil (0.33 fl. oz.): $79.99
30 capsules (with 30.2mg CBD per capsule): $99.99
Canna Biscuits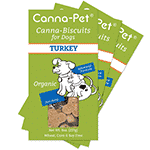 Advanced (turkey; maple bacon; and peanut, apple & banana): $16.99 (2.4mg CBD per biscuit)
Max (Maple Bacon): $38.99 (8.4mg CBD per biscuit)
Each bag contains approximately 40 biscuits.
Canna-Pet Coupon
Save
25% off of Canna-Pet
and have an additional 25% donated to WildLife SOS with code
WILDLIFESOS
via
this link
.
Canna-Pet Dosing Guidelines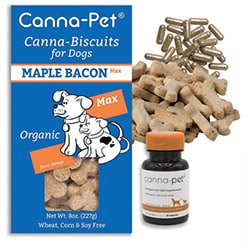 Knowing which concentration of CBD is right for your pet and how much to give him can be confusing. Below are some guidelines from Canna-Pet for their products. Note: the dosage details provided on the site do not always match what is on the package. So double-check this information before giving it to your pet.
Capsules & Oil
Dogs Under 20lbs
Advanced small capsules: mix 1 capsule with food twice daily, or
Max capsules: split 1 capsule between 2 meals each day, or
Max oil: 2-3 drops, 3-4 times daily directly in mouth
Dogs Over 20lbs
Advanced large capsules: mix 1 capsule with food twice daily, or
Max capsules: 2 capsules per day with meals, or
Max oil: 3-4 drops, 3-4 times daily directly in mouth
Advanced Formula Biscuits
Under 20lbs (9kg): 1 biscuit every 12 hours
21-44lbs (9.5-20kg): 2 biscuits every 12 hours
45-95lbs (20-43kg): 3 biscuits, every 12 hours
Over 95lbs (43kg): 4 biscuits every 12 hours
Max Formula Biscuits
Under 20lbs (9kg): ½-1 biscuit every 12 hours
21-95lbs (9.5-43kg): 1-2 biscuits every 12 hours
Over 95lbs (43kg): 2-3 biscuits every 12 hours
What Do People Think Of Canna-Pet?
Positive Reviews
I only have experience with the dog treats, but right now, that's enough for my beast. He is almost 11, with arthritis in his hips and ankles. He has pain medicine for it, but thanks to Canna-Pet, pain meds last several months. I love the product so much, I am sharing it with others to see what it does for their pups. – Angela R., Facebook 7/2/2020
I'm going to keep updating this review as often as I can but I must say that the products canna pet offer to pet owners are beyond belief in effectiveness for controlling pain. Our dog Lobo has an extremely aggressive tumor and once we started treating him with these products he became pain free and has regained his strength and stamina to a remarkable degree. The customer service personnel and corporate folks are the most caring and respectful folks I've met in the business world in literally decades. – Tim J., Facebook 3/13/2020
Negative Reviews
Goodness gracious NO! Customer service is non existent! No contact phone number either! That should have been a red flag right off the bat. SMH – Mary B., Facebook 3/22/2019
Although this company has a lot of very good information on their website, they have no phone numbers for customer support or service. Everything is done via email (if they respond to it)! This company also does not disclose any test information about the products (most highly rated companies show test results). I began administering this company's products to my Labrador pup to try to help him with seizures. Since trying Canna-Pet products, his seizures have increased from 1 episode every 2 months to every week he now has seizures. Definitely not going to be giving him this company's products again! I will be looking for a more valuable/trusted company for continuing my pups journey! – Lynett S., Facebook 10/22/2018
Does Your Dog Have Joint Pain?
CBD can help with a variety of health issues, including arthritis and joint pain, anxiety, pain relief, and more. Check out this video to see the signs of joint pain and how CBD may help provide relief. And be sure to read our article about the benefits of CBD for dogs.
Our Final Verdict
While Canna-Pet says their products are independently tested by a third-party laboratory for potency, pesticides, solvents, heavy metals, and terpenes to ensure safety and quality, they don't make the laboratory's certificate of analysis (COA) available on their website or on their packaging. All the other premium CBD companies that we review make their COAs readily available.
This doesn't necessarily mean their products aren't tested or safe, but it gives us some pause to recommend Canna-Pet over other companies that make their COAs public. However, if this isn't a dealbreaker for you, Canna-Pet could be a good option for your pup.
See how Canna-Pet compares to other top manufacturers in our reviews of the best CBD oil for dogs. We also have a separate article where our experts review the best CBD dog treats.
Have you ever given your dog CBD before?