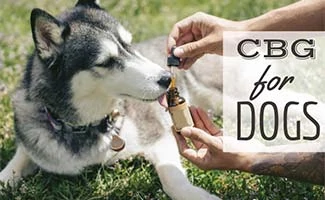 If you've looked into all-natural remedies for your pup, you've likely heard of CBD, or cannabidiol, derived from the cannabis plant. CBD has become a popular choice for many pet owners to help their dogs with anxiety, arthritis, and other ailments.
But now, there's a new product also derived from the cannabis plant, called CBG, that's just hitting the holistic scene for pets. What is CBG and how can it help your pup?
What Is CBG?
CBG, or cannabigerol, is one of many compounds (called cannabinoids) found in the cannabis plant. Two other major cannabinoids you're likely familiar with are CBD (cannabidiol) and THC (tetrahydrocannabinol).
Like CBD, CBG doesn't produce the psychotropic effects associated with THC. This makes CBG another great candidate for people who want to experience the medicinal benefits of cannabis without getting high. This also makes it a promising all-natural alternative for pets. So why isn't CBG as prevalent as CBD?
CBG, sometimes referred to as the stem cell or chemical precursor to other cannabinoids, is present in low levels (usually less than 1%) in most cannabis strains. Young cannabis plants contain higher levels of CBG, but as they grow, CBG converts to CBD, THC, and other cannabinoids. So when it's time for growers to harvest mature cannabis plants, much of the CBG has converted.
Several research studies found that CBG has numerous health benefits, some unique and some similar to CBD. This results in growers breeding strains that are high in CBG and harvesting plants at young ages.
Benefits Of CBG
What does CBG do for dogs? While there haven't been any published studies of CBG in dogs, there's a growing body of research in animal and human trials that suggests various health benefits from CBG. Potential benefits include:
Chronic pain relief: Research has found that CBG has anti-inflammatory and antioxidant properties, making it potentially beneficial for conditions in dogs such as arthritis and hip dysplasia
Mood enhancement: CBG could help dogs with anxiety without the drowsiness that CBD can cause
Cellular health support: Research suggests that CBG can help slow the growth of cancer cells, so it could be beneficial for dogs with cancer
Anti-bacterial agent: The topical use of CBG could help dogs with skin infections
Digestive health: CBG has been shown to offer a significant improvement in digestive disorders like colitis and inflammatory bowel disease
Bladder issues: Research has shown that CBG can help promote bladder control
Although there are no studies of CBG in dogs yet, vet experts are taking notice of these promising medical studies. The use of CBD in dogs is generally considered very safe at appropriate doses, so we expect in the future to see more veterinarians advocate for CBG in dogs as another beneficial holistic remedy.
Best CBG Oil For Dogs
CBG for pets is so new that we've only been able to find two companies that offer it with availability online nationwide. Fortunately, these two manufacturers pass our experts' scrutiny about high-quality product standards. This includes independent third-party product testing with results online so you can see for yourself how pure the oils are.
Several other companies are currently formulating CBG oil for dogs, including one of our favorite providers of CBD for dogs, HempMy Pet. Although they haven't announced a release date yet, you can sign up with HempMy Pet here to get notified when it's available.
Winner: HolistaPet Review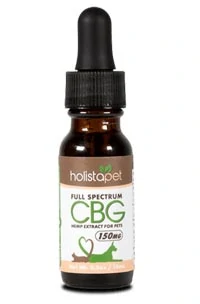 HolistaPet, a well-known manufacturer of CBD products for pets, also carries a high-quality full-spectrum CBG oil for dogs and cats. It's available in three strengths so you can find the ideal formula for your pet's size. Their products contain only organic vegan ingredients and are cruelty-free, non-GMO, gluten-free, and dairy-free.
They suspend their CBD extract in hempseed oil, which helps boost their immune system and promotes a healthy coat and skin. HolistaPet also offers a wide variety of full-spectrum CBD products, including oils, treats, capsules, shampoo, and catnip spray.
| Pros | Cons |
| --- | --- |
| All products tested by an independent lab – certificate of analysis (COA) listed on website | None found |
| Derived from organic hemp grown in Colorado | |
| Vegan, non-GMO, gluten and dairy-free | |
| Pesticide and solvent-free | |
| CO2 extraction process | |
| Made in the USA | |
| 30-day money-back guarantee | |
Price
You can save 25% if you subscribe for monthly auto shipments on all HolistaPet products.
$34.95 for 150mg oil (for pets under 20 lbs)
$64.95 for 300mg oil (20-60 lbs)
$109.95 for 600mg oil (60-100 lbs)
Free shipping
Runner-Up: Holistic Hound Review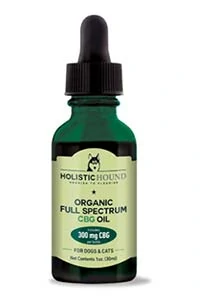 A well-respected, reputable manufacturer of many CBD products for dogs and cats, Holistic Hound currently offers one full-spectrum CBG oil for dogs and cats.
Holistic Hound's oil contains 300mg of CBG suspended in organic MCT coconut oil. An independent laboratory tests every batch they formulate to ensure that it's free from pesticides, heavy metals, and other harmful chemicals. It contains less than 0.3% THC (the legal limit).
| Pros | Cons |
| --- | --- |
| All products tested by an independent lab (COA listed on website) | Only one CBG strength available |
| Derived from organic hemp grown on a family farm in Oregon | 30-day money-back guarantee isn't clear about whether you can get a refund for opened products |
| Pesticide and solvent-free | |
| CO2 extraction process | |
| Made in the USA | |
Price
CBG vs CBD vs THC vs CBN
This video gives you a quick overview of the differences in the major cannabinoids, THC, CBD, CBG, and CBN. Keep in mind that the effects they're discussing are for humans (based on current research) rather than pets.
What Are The Best CBD Oils & Treats For Dogs?
If you haven't already tried CBD pet products or you want to switch brands, be sure to check out our reviews of the best CBD oils for dogs and CBD treats. We only recommend the highest quality products to help you choose safe and effective remedies for your pup.
Tagged With: CBD