The ketogenic (or keto for short) diet has become a popular fad diet in the last few years. It's also gaining ground in the canine world. But is the ketogenic diet for dogs safe? And what do know about the short and long-term health effects of this strict diet? We'll explore the research behind the keto diet and the possible health benefits and downsides for dogs. We also review the best commercial keto dog food and give you a homemade recipe.
At A Glance: Our Top Picks
What Is A Keto Diet?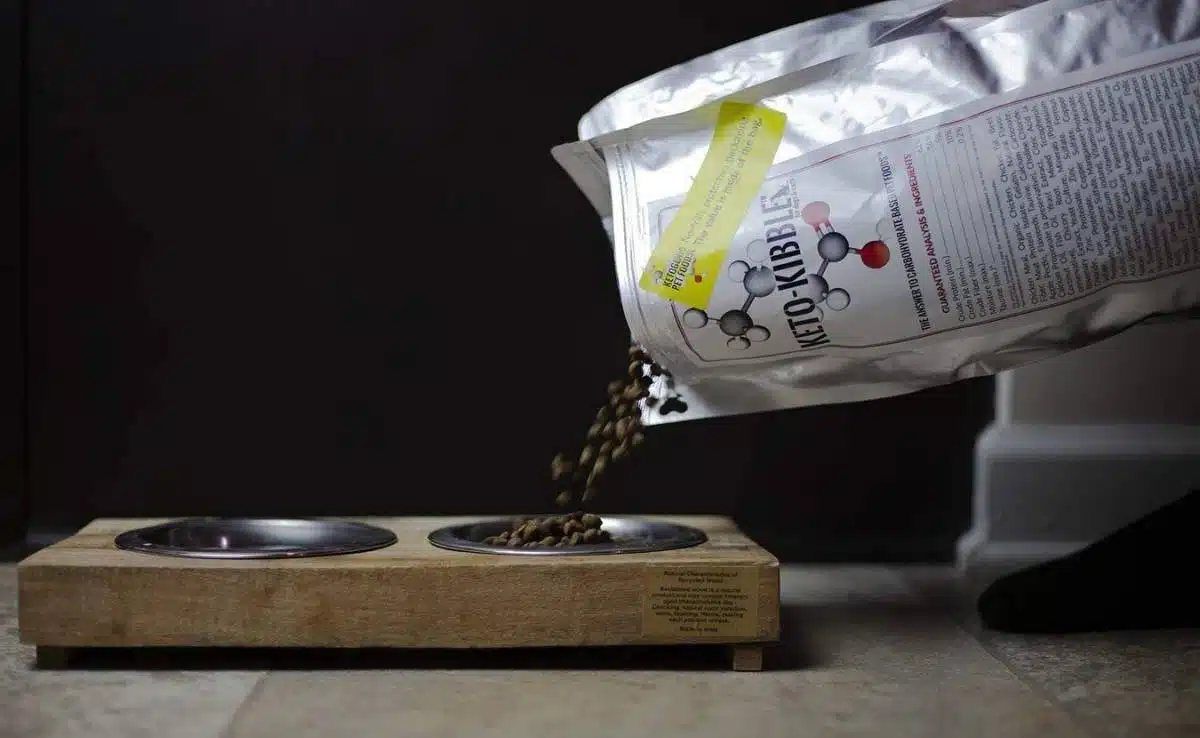 The keto diet for humans involves very low carbs, high fat, moderate protein levels, and caloric restrictions, similar to Atkins and other low-carb diets. The idea behind keto is to replace most of the carbohydrates you eat with fat. Normally our bodies convert carbohydrates into glucose for a quick fuel source, and unused glucose is stored in the liver as glycogen.
But with drastically low carbohydrate intake, glucose and glycogen levels are too low, so the body finds an alternate source of fuel — ketones converted from fat. When this occurs, your body has entered a metabolic state called ketosis. Ketosis causes weight loss, reduced insulin levels, and an increase in the body's ability to burn fat.
Keto Diet Research
Scientific evidence shows that the keto diet helps people lose weight and may have other short-term health benefits for humans. Studies have shown that a low-calorie keto diet is effective in significant weight loss in a short time and helps suppress appetite. There's also some (but limited) evidence to suggest ketogenic diets could help treat diabetes, epilepsy, some cancers, and neurodegenerative disorders, like Alzheimer's disease.
However, evidence from human clinical trials is lacking. The Mayo Clinic points out that there's very little evidence to show that the keto diet is effective or safe over the long term for any condition other than epilepsy.
What About Research In Dogs?
A few small studies show some promising results for dogs. For example, A study of 21 epileptic dogs on a keto diet rich in medium-chain triacylglycerols (TAG) for three months found that three dogs became seizure-free, seven experienced a 50% or more drop in the frequency of seizures, and another five had reduced seizure frequency.
Other evidence comes from the nonprofit KetoPet Sanctuary, a rescue shelter for dogs with terminal cancer. Upon arrival, dogs were placed on a keto diet and had their blood monitored to ensure that they achieved ketosis. At the same time, all dogs received optimal cancer treatment (chemotherapy, surgery, etc.), and tumors were measured with PET scans. While not a cure, results showed promise, with 55% of dogs living beyond their original prognosis.
Pros & Cons Of A Keto Diet For Dogs
Given the lack of research, many veterinarians don't recommend a keto diet. Many physicians believe the keto diet is unsafe for humans long-term because of its high fat content. Side effects of very low carbs include constipation, lethargy, headaches, and more. In dogs, the major concerns are pancreatitis, nutritional deficiencies, lethargy, diarrhea, and constipation.
Still, keto for dogs has its proponents, particularly for pups with certain conditions, most notably epilepsy, cancer, and diabetes. Many keto for dogs fans base their support largely on anecdotal evidence rather than scientific research. Before putting your dog on any special or restrictive diet, always consult your veterinarian. Dogs should only be on a keto diet under direct vet supervision.
Potassium chloride is the preferred form of potassium for people on a ketogenic diet. It's also used in the best electrolyte products. Potassium chloride is also used in pet food, but the small quantities are unlikely to have any noticeable adverse effects. In fact, for some dogs and cats, the added potassium could have beneficial properties.
The extrusion process can be used to produce keto-friendly food for dogs that aligns with their dietary needs. This includes:
Mixing: Combine the selected ingredients in appropriate proportions to meet keto dietary requirements.
Grinding: Grind the mixture to ensure uniformity and easy processing.
Cooking: The mixture is then cooked under high temperature and pressure during extrusion. This process not only sterilizes the food but also transforms it into a kibble-like form that dogs can easily eat.
Cooling: After extrusion, the keto dog food is cooled to room temperature to ensure it's safe and stable for storage.
Packaging: The final product is packaged in airtight, moisture-proof bags to maintain freshness and prevent spoilage.
Best Keto Dog Food
There aren't many choices out there for dog food brands that make keto-specific dog food. Here are our top picks from those that do.
Winner: Ketogenic Pet Foods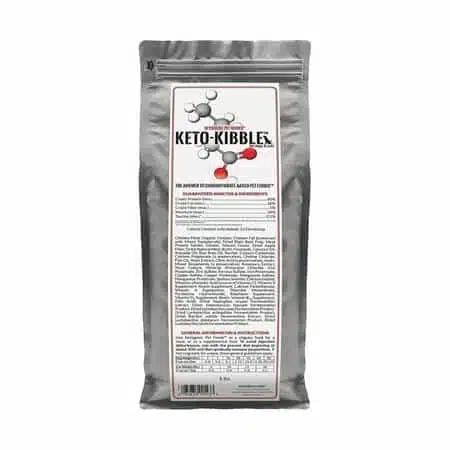 View on Amazon | View on Chewy
We've chosen Ketogenic Pet Foods Keto Kibble as our top pick for high-protein, low-carb dog food because of their nutrient-rich blends and competitive price for keto dog food. Their all-natural kibble contains a wealth of vitamins and minerals, as well as fish oil for skin and coat health and probiotics for gut health. Both formulas meet all Association of American Feed Control Officials (AAFCO) guidelines for nutritional content and are made in the USA.
More popular is their grain-free and starch-free Keto Kibble recipe which is 60% protein, 16% fat, and 5% carbohydrates. If you'd prefer lower protein and are concerned about giving your dog grain-free food, their Keto Foundation kibble recipe contains 40% protein, 18% fat, and 5% carbs. This formula includes brown rice as the second ingredient. Both blends get overall excellent customer reviews from both dog and cat owners.
| Pros | Cons |
| --- | --- |
| Good value for keto pet food | Only available in chicken |
| Meets AAFCO guidelines for all life stages | |
| Contains fish oil and probiotics | |
| Offers a grain-inclusive option | |
| Made in the USA | |
| For dogs and cats | |
Price
Runner-Up: Visionary Keto Pet Foods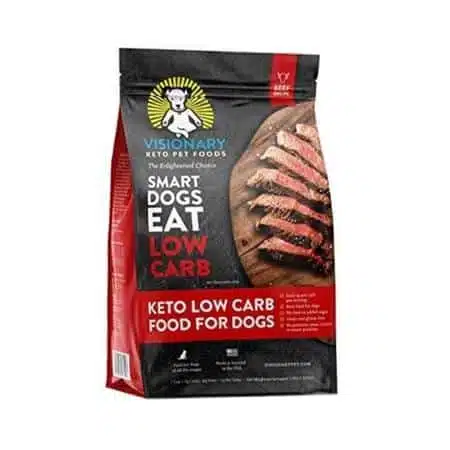 Visionary Keto Pet Foods worked closely with nonprofit KetoPet when formulating their high-protein, high-fat, and low-carb dog food that comes in beef and chicken recipes. Their meats contain no antibiotics or added hormones. One cup of kibble contains 58 grams protein, 45 grams fat, and 1 gram net carb.
Both formulas are gluten and grain-free and contain no corn, soy, rice, potatoes, peas, carrots, pumpkin, sweet potatoes, or fruit. The company also offers freeze-dried raw medallions and dog treats.
| Pros | Cons |
| --- | --- |
| Meets AAFCO guidelines for all life stages | On the pricey side |
| Recipes based on nutrition research by KetoPet | Several complaints that the kibble is too large and hard for smaller dogs |
| Made and sourced in the USA | |
| Company donates food and a portion of profits to KetoPet Sanctuary | |
Price
Third Place: Ketona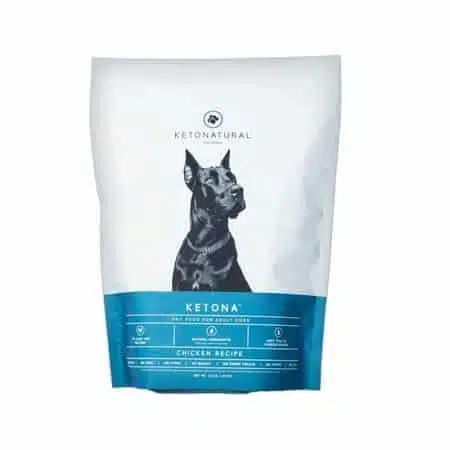 View on Amazon | View on Chewy
Ketona's high-fat low-carb dog food contains only natural ingredients, with whole chicken or salmon as the first ingredient. With 46% protein, 16% fat, and 5% carbohydrates, Ketona's grain-free kibble contains no wheat, rice, soy, barley, or potatoes. Their chicken is non-GMO, antibiotic-free, and raised by American ranchers who use sustainable practices. And both formulas are fortified with essential vitamins and minerals.
Ketona could be a good choice if your dog is under 70 pounds, but we don't recommend it for larger dogs because it doesn't meet their nutritional needs, according to the AAFCO. Ketona also offers freeze-dried raw chicken liver dog treats that have zero carbs, as well as calming chews with hemp and mobility chews.
| Pros | Cons |
| --- | --- |
| Whole antibiotic-free chicken or salmon as first ingredient | Doesn't meet AAFCO guidelines for large dogs (over 70 lbs) |
| No wheat, rice, soy, barley, or potatoes | A few complaints that the kibble is too small for medium-sized dogs |
| 30-day satisfaction guarantee | |
| Made and sourced in the USA | |
Price
Keto Diet For Dogs Recipe
Making homemade dog food can be challenging. Of course, you want to make sure your DIY recipes contain the recommended nutrients for your pup. According to Australian Vet's All Natural, your homemade keto recipe should contain roughly 80% high protein and fat, 15% leafy vegetable matter, and a maximum of 5% complex carbohydrates. Here's a keto recipe guideline for dogs, but we urge you to consult your veterinarian before putting your dog on any kind of homemade diet.
Not Sure Keto Is Right For Your Pup?
If you're looking for healthy, lower-carb dog food that's not so high in fat, you have many other options. You may want to consider fresh dog food that contains all-natural, whole foods and ingredients, and some can be personalized for your dog's dietary needs. If your goal is for your furry friend to lose weight, check out our reviews of the best dog foods for obese and overweight pups. Also, learn more about raw food diets for dogs and our top picks for raw food delivery.
Tagged With: Comparison