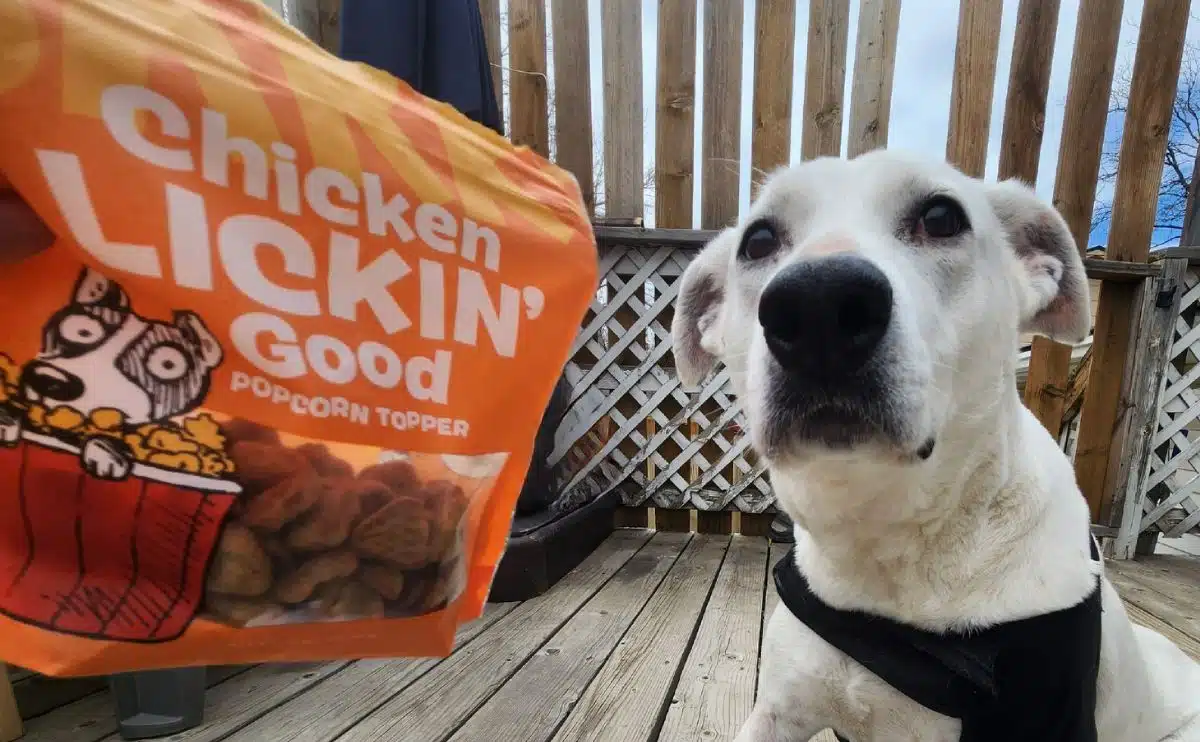 Making the right choices for your dog's nutrition is a big job for pet parents. Fortunately, there are many options out there, including those services that deliver a subscription box right to your door. BARK Food is a newer company in the dog chow market, but its parent company BARK is well known for its BarkBox dog subscription boxes. One thing that sets BARK products apart is its growing list of foods developed for specific breeds. Pet parents can set up a subscription service for their pets. We give you the details on their recipes, pricing, and more in our BARK Food reviews. Learn how our pups rated their food.
BARK Food Review

Product Name: BARK Food
Product Description: BARK Food is a delivery service for premium, dog kibble.
Summary
BARK Food offers premium kibble and customizable subscriptions. Kibble is formulated to meet breed-specific needs. 
Our team rates dog food based on several factors, including variety, nutritional value, pricing, customer support, and more.
Pros
Free shipping
10% off each month for subscriptions
No artificial ingredients
Prepared in BARK owned kitchens
Meats all sourced in the U.S.
Same price forever guarantee
!00% Happy guarantee
Affordable
Cons
Breed list is limited
No wet or fresh options
Limited recipes
Key Features
Breed-specific nutrition
High-quality ingredients
Adult and puppy formulas
Customizable delivery
One-time purchases are available
Always free shipping (except for Alaska & Hawaii)
Life-long price lock for customers
Offers grain-free and allergy options
No corn, soy, wheat, or artificial ingredients
A board-certified nutritionist formulates recipes
Price
Subscription box prices vary. Prices start at $22.50 and can reach over $50 a box, depending on the breed and additional items like treats, supplements, or toppers owners choose to add. Delivery frequency also impacts the price. Owners can choose delivery every 2, 4, and 8 weeks. This is a fantastic feature as it allows owners to truly get the amount they need, save money, and not waste anything. For subscriptions, shipping is always free. Orders mail out the first two weeks of every month.
Individual bags of food can be purchased, starting at $25 for a 4-pound bag. Toppers and treats start at $8.
Coupon
Get 30% off your first BARK Food order + FREE shipping with code CANINE30, just use this link to get started. For a limited time, BARK is offering a Summer Bundle featuring the best-selling pumpkin meal topper, 3 bags of treats, plus a FREE enrichment toy ($12 value) that you can create pupsicles for your dog with.
BARK Dog Food
Currently, BARK Food offers five varieties of dry kibble. They do not offer wet, fresh, or canned options currently. All recipes are formulated to meet American Association of Feed Control Officials (AAFCO) guidelines. Kibbles are sized appropriately for different breeds of dogs. Recipes also follow WSAVA global nutrition guidelines. Recipes are highly nutritious, flavorful as well as protein-rich. Each formula contains a minimum of 26% protein and 14% fat.
BARK uses high-quality ingredients with meats that are sourced in the United States. Most ingredients are locally sourced, and all kibbles, supplements, and toppers are made in the United States. All recipes are formulated to meet canine dietary needs, and all list named meats as the first ingredient. Recipes also include freeze-dried meats to give meals a deep meaty taste and add extra nutrients.
BARK Dog Food Recipes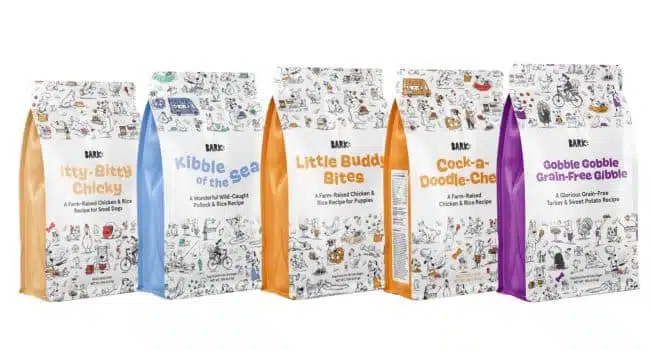 Currently, the company offers the following recipes:
These are subscription prices. One-time purchase fees are slightly higher. Customers who choose a subscription option save 10% each month and enjoy free shipping. An additional fun product, an empty box that smells like dog chow, for $10!
Breed-Specific Dog Food
BARK Foods is constantly working on increasing the list of specific breeds they serve. Each specific breed has a dedicated web page explaining the suggested choices for that breed, as well as treats, supplements, and toys. Additionally, they answer specific feeding questions for each breed. The company also has a live chat option where owners can get immediate help with their pet's needs. Owners can make a one-time purchase or set up a profile specifically for their pet.
Along with serving these specific breeds, the company can also help owners of mixed breeds and direct them to the most similar option for their pup.
| Breed | Adult | Puppy |
| --- | --- | --- |
| Australian Shepherd | | |
| Boxer | | |
| Chiuahua | | |
| Dachshund | | |
| Doodle | | |
| French Bulldog | | |
| German Shepherd | | |
| Golden Retriever | | |
| Labrador Retriever | | |
| Pit Bull | | |
Our Personal Experience with BARK Dog Food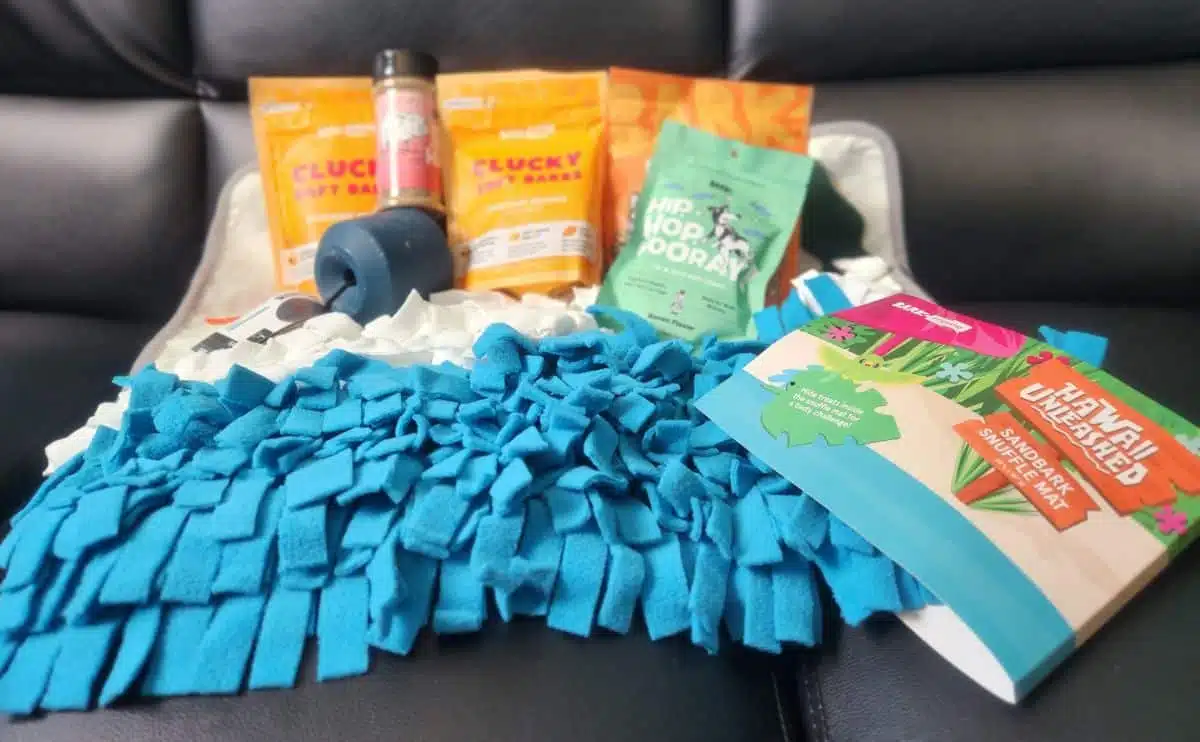 I tried out the Chihuahua box with my Poogle ( Poodle Beagle mix) Falkor. He is a 15-pound dog about a year and a half old. Our box included the Itty-Bitty Chicky kibble, Hip-Hop Hooray treats, and Beef Liver Powder. He has developed a habit of being a picky eater when it comes to kibble, so this was an excellent option to try. As soon as I opened the box, he immediately started sniffing the bag of kibble. We let him try a few bites immediately, and he gobbled them up quite quickly.
I started by mixing his regular kibble with the new brand at mealtimes. Falkor liked the new kibble so much that he ate out all of it and left his old chow in the bowl. He continued to do this every time I fed him the mix, so we eventually offered him the Itty-Bitty Chicky kibble alone. He really enjoyed the flavor, and the small size of the kibble was perfect for his little mouth and teeth.
We tried out the beef liver powder, which he enjoyed. However, he did not need it for this recipe. It has a very strong odor, so a little goes a long way. I have tried shaking it on other foods, and he has also enjoyed it. Regardless, he is happy to eat the kibble with or without the added powder. He absolutely loved the treats, so much so that I had to hide them because he was constantly after them.
The smaller-sized kibble has been great for his teeth and his digestion. Since switching to this kibble, we have noticed that he is energetic and in a very good mood. Additionally, he has no concerns with his bowels or smelly gas, which has been a long-standing issue. All in all, my little pup truly enjoyed this kibble. It looks, smells, and, I assume, tastes much better than the brand he was on previously.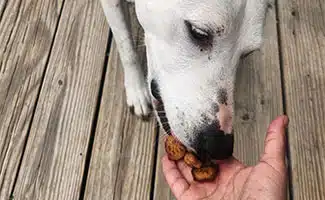 "For my larger dog Daisy, a ten-year-old Pitbull Lab mix, we tried a few different items. One was the Chicken Lickin' Good Popcorn topper. This was an immediate hit. As an older dog who can be fussy about her food, this has made her very happy. She will eat just about any other food I put these nuggets on. The Clucky Soft Bakes biscuits are a big hit as well. Lately, she has not been wanting to eat as much during the day, preferring a bigger meal in the evening. These biscuits have been a nice treat to have throughout the day."

– Danielle D., Canine Journal
The Hip Hp Hop Hooray! Hip & Joint soft chews are also something she likes. She is very picky about food and supplements but likes the taste of these. This is good news as she is an older and larger pup, about 85 pounds, and is starting to slow down in her movements. Overall, she has been very happy with the new offerings. Danielle D. CJ
Frequently Asked Questions
Does BARK USE Healthy Ingredients?
Yes, they make limited-ingredient recipes from high-quality foods. All recipes start with a named protein and generally include a named meat meal. They include other elements like eggs, sweet potatoes, potatoes, pumpkin, butternut squash, flaxseed, beet pulp, and vitamin and mineral supplements. BARK's formulas never use artificial preservatives, flavorings, colors, or additives.
Where Is BARK Food Made?
All kibble is made here in the United States. The company is headquartered in New York City but has production facilities in Kansas. All meats and many other ingredients are sourced from the U.S.
Are There More Breed-Specific Recipes Coming?
Yes. The brand is constantly working to increase the list of breeds they serve. Owners can sign up to be notified when new options are available.
Is BARK Worth The Price?
Yes, in our opinion, BARK Food is well worth the price. This brand is quite affordable, and the free shipping makes a big difference. It is one of the least expensive options in comparison to other delivery services. Additionally, compared to the prices of commercial brands in pet stores and grocery stores, this brand offers fantastic value and much higher quality products.
Can I Cancel Or Change My Subscription?
Yes, owners can change or cancel their subscriptions after the first delivery. Along with that, all products are available for individual purchase. Customers can email, call, and text the company if needed. Owners can change the quantity they receive, how often they receive it, and pick and choose which specific add-ons they want to include in their subscription. This is very helpful and allows owners with more than one pup to create a box that serves all their pet's needs, rather than having to set up multiple subscriptions or purchase food from different places.
Is This Food Good For Dogs With Allergies?
Yes, this chow is great for dogs who have allergies. Because they are wheat, soy, and corn free, these kibbles are easy on the stomach and avoid some common allergy issues. Along with grain-free options, owners can discuss allergy concerns with the company. Owners of dogs with sensitive stomachs, fussy eaters, and allergies all report their dogs doing very well with this food.
Our Final Verdict
Overall, we are very impressed with BARK Food. We appreciate the breed-specific formulas, as well as the limited ingredient recipes. Additionally, having all meats and most other ingredients locally sourced in the United States is beneficial. We appreciate that food is all prepared in the company kitchens and not outsourced. The high-quality meat sources used are also very important. These recipes contain natural, named ingredients and do not use artificial flavors, components, or fillers.
The recipes all meet AAFCO guidelines, and we appreciate the delivery convenience. Additionally, the ability to pick how often chow is delivered is helpful. Price-wise, this brand is quite affordable, and as it is much higher quality than many pet store options, it offers more value for your money.
Overall, we were quite satisfied with this kibble for our dog. If you are still exploring other kinds of healthy, tasty, and high-quality dog food, be sure to read our reviews of the best dog food delivery services. We also have an article on the best dog foods for most diet types, including health issues and age-related concerns. Owners can also learn more about the best joint supplements and allergy supplements for dogs as well.
Tagged With: Food Delivery