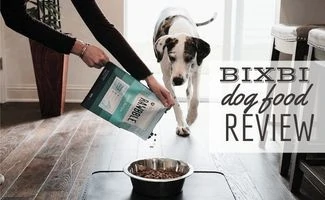 One of the best ways to care for your dog's health is to provide the healthiest food possible. More and more pup owners are turning to all-natural diets as a far superior alternative to overly processed kibble. BIXBI's extensive line of premium dog food, treats, and supplements are among several high-quality, healthier options on the market. What sets their products apart from the pack? We'll help you decide if BIXBI is the best food for your pup.
BIXBI Dog Food

Product Name: BIXBI Dog Food Reviews
Product Description: BIXBI offers dog food, treats, and supplements.
Summary
Our team rates dog food delivery companies based on several factors, including variety, nutritional value, pricing, customer support, and more.
After evaluating many top-tier dog food brands, treats, and supplements, we've found that BIXBI's products are noteworthy for their affordability when compared to other premium brands. Furthermore, we are impressed with their assortment of organic mushroom supplements, designed by specialists.
Pros
Wide variety of dry, wet, and freeze-dried dog food, treats, and supplements
Many gluten and grain-free options
All-natural ingredients with no meat meal or by-products
No soy, corn, rice, or wheat
All products are third-party tested
Ingredients sourced and food made in the USA
Cons
Food and treats are on the pricey side compared to traditional kibble (but competitive for high-quality dog food)
Several complaints that the Bark Pops aren't good quality
Key Features
Contains 100% fresh meat, high-quality fruits and vegetables, and essential vitamins and minerals with no artificial ingredients
All of their pet food is formulated by a team of animal nutrition and veterinary experts
Each recipe meets Association of American Feed Control Officials (AAFCO) guidelines for a complete and balanced diet
Ingredients sourced from local, high-quality, whole foods in the U.S.
Every batch of food and treats is tested for salmonella, E-coli, and listeria, as well as contaminants and environmental toxins
Manufacturing facilities are regularly audited by the U.S. Department of Agriculture (USDA) and the U.S. Food & Drug Administration (FDA)
Follows Good Manufacturing Practices (GMP's) and HACCP (Hazard Analysis Critical Control Points) food safety regulations
Colorado-based BIXBI provides charitable support for the dogs in C-RAD (Colorado Rapid Avalanche Deployment) program
Products & Price
The following food products are for dogs, but BIXBI also carries freeze-dried cat food. And their supplements are for both dogs and cats.
BIXBI Liberty Dry Dog Food
BIXBI's Liberty Line is an all-natural dry dog food alternative to highly processed kibble. It comes in a variety of grain-free formulas (see below) and two formulas that contain healthy ancient grains. All of their food includes minimally processed protein, which is cooked only once to deliver more bioavailable nutrients.
BIXBI Rawbble Dry Dog Food
BIXBI's Rawbble line features freeze-dried raw-coated kibble that's grain-free and has limited all-natural ingredients. It's made with fresh meat, carbohydrates from lentils and whole peas, fruits, vegetables, and essential vitamins and minerals. The following pricing is for a 24-pound bag, but it's also available in 4-pound bags.
BIXBI Liberty Wet Dog Food
BIXBI's wet dog food is great for picky eaters as a standalone meal or topper to dry food. The recipes contain 87-94% meat, liver, and broth with no potatoes, tapioca, carrageenan, guar, xanthan, or cassia gums. The 12.5-ounce cans are BPA-free and recyclable. The pricing below is per can.
BIXBI Freeze-Dried Rawbble
BiXBI's freeze-dried Rawbble dog food is a high-quality option for dogs on a raw food diet, or you can use it as a topper or treat. Every recipe includes 80-98% fresh meat, organs, and bone and contains no added hormones or antibiotics. It comes in three sizes: 4.5, 12, or 26 ounces.
BIXBI Dog Treats
BIXBI offers several types of all-natural treats for dogs.
Pocket Trainers
These small, soft treats are less than four calories each and make perfect training treats. They come in four flavors: bacon, chicken, peanut butter, and salmon.
Bark Pops
These light and crunchy dog treats are similar to small cheese puffs but a healthier alternative. They're also less than four calories each, so they make great training treats. And they come in three flavors: rotisserie chicken, white cheddar, and sweet potato & apple.
Jerky Treats
BIXBI's jerky treats come in two formulas, Hip & Joint or Skin & Coat, and each comes in three flavors: beef liver, chicken, and salmon. They're made with 100% U.S.-sourced meats and contain no artificial preservatives or flavors.
BIXBI Pet Supplements
BIXBI organic pet superfood daily mushroom supplements are formulated to support your pet's overall wellness and specific health needs, like digestive problems, skin allergies, joint pain, and more. They're made with USDA organic mushrooms grown in the U.S. Each jar contains a two-month supply of powder (for a 50-pound dog) that you can easily sprinkle onto your dog or cat's food. The supplements get overall excellent customer reviews.
How Can BIXBI's Mushroom Supplements Help Your Pup?
BIXBI got its start by producing various mushroom supplements that serve medicinal purposes for dogs. In the video below, Founder and CEO James Crouch, who grew up on a mushroom farm, explains how these supplements can help your dog's health.
What's Our Final Verdict?
We've reviewed dozens of high-quality dog food brands, treats, and supplements, and BIXBI's products stand out for their competitive pricing compared to similar premium brands. We're also impressed with their line of organic mushroom supplements, formulated by experts in the medicinal benefits of various types of mushrooms.
If you're still exploring other types or brands of healthy dog food, be sure to read our reviews of the best dog food delivery services, including personalized fresh meals and kibble, all-natural kibble, and dehydrated dog food. Also, check out our article on the best dog foods for most diet types, ages, health issues, and more.
Tagged With: