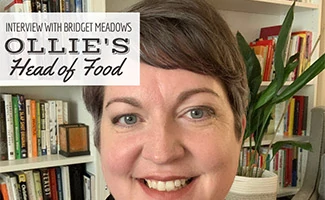 Human-grade, fresh dog food is on the rise in recent years, serving up a healthier alternative to traditional dog food. Ollie, an industry leader and one of our top-ranked fresh dog food delivery services, creates scientifically and nutritionally backed recipes and customizes meals based on your dog's unique needs.
We recently had the opportunity to talk with Bridget Meadows, Head of Food at Ollie, and learn more about their expert-designed and tested food products. Ms. Meadows shares her background, insights into the natural pet food space, and helps shed light on everything that goes into creating yummy, healthy dog food.
Visit Ollie's Website | Read Review
What inspired you to study food science?
If you can believe it, I actually first went into Food Science to study wine chemistry! As I learned, I found myself fascinated with the chemistry of all foods, how certain nutrients and molecules work together to form structures or flavors and found I had a real knack for understanding microbiology and other food safety concerns.
As a young, budget-conscious graduate student, I made a choice to focus my studies where I could best find scholarship opportunities for my Master's degree. At that time, I was fortunate enough to have my studies funded through research projects in food safety, microbiology, and meat processing, which led me to a job in the meat industry and eventually into pet foods.
I really enjoyed the challenges of working with variable, natural materials like meat as well as keeping both pets and humans safe from food safety risks. I have always been a pet lover and making great products for them is the most fun I can imagine having at work. I don't regret that decision I made as a student for a second. I'm very happy to have pet food as my expertise and wine as an enjoyable hobby!
What do you find most interesting about the pet food industry?
From a food development standpoint, we have two consumers to serve: the pet parent who makes the food choices and the pet who eats the food. Their needs don't always overlap perfectly, so we have to work to balance them, make sure the pet gets the taste they love, the essential nutrients that are good for them, in a format and package that their human parent is happy to purchase and serve.
When it comes to quality and food safety, the trust that pet parents put into us is extraordinary. We are providing nutrition for their babies, their four-legged family members. That trust can be lost in an instant if companies lose focus or forget the importance of what they are doing day-to-day. The act of feeding your family a meal, food that is carefully prepared to be delicious and nourishing, is a true act of love. It has to be safe, period.
How do pet parents select dog food?
Many pet parents are overwhelmed with the variety of options available. There are just so many choices, and how do you know which one is right for your family? Canned food or dry kibbles? Grain-free or not? So many strange-sounding ingredients? And then, how do you know if your dog will like it?
Consider your lifestyle, eating habits, and budget when you think about how to feed this new member of your family. At Ollie, we believe that by sourcing only human-grade ingredients, producing our food in human-grade facilities, and learning more about your dog's needs during our onboarding process, we can help make it easy to choose the absolute best food for your pup. We deliver wholesome, nutritious meals that your dog will love, right to your door.
How does Ollie source its ingredients and manage quality control?
Ollie works with some of the best partners in the industry who can meet our high standards. We only source human-grade ingredients, never the inedible ingredients and food by-products that are destined for other feed-grade pet foods. We believe that feeding real, natural, whole foods is a pathway to health and happiness for our pets.
What goes into product development for a new food?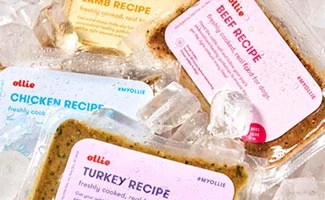 In designing our food, we first make sure that the nutrition will fully meet a dog's needs. We use canine nutrition experts to verify our designs are appropriate for all life stages of dogs, from young puppies to sweet senior dogs. We check those values using certified laboratories that can tell us everything from the protein percentage to the precise amounts of vitamins and minerals.
From there, we verify that the food is delicious (the dog has to love eating it) and highly digestible (the dog must be able to absorb the nutrients in the food during digestion).
As the food is produced, we verify that all of our ingredients meet our quality standards, manage our process to ensure the food is safely cooked and cooled, and test every batch to ensure it is safe.
Lastly, it may sound a little gross, but good "back-end performance" is an important food quality indicator. We use the right blends of natural fibers (from ingredients like flaxseed, fruits, and vegetables) to ensure the dogs have healthy, firm poops at the end of digestion.
How does Ollie stand out from the competition?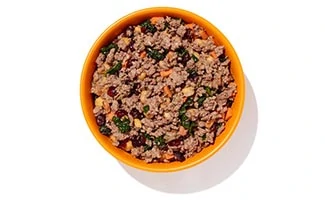 Our ingredients and formulation are the core of what we do. All of our ingredients are of the highest quality, and each vendor must go through rigorous vetting and approval processes before working with us. Ingredient quality and ethical sourcing have become musts in the fresh pet food space, but what sets Ollie apart is that our high food standards are paired with personalization and convenience for our dog parents.
Along with a serving kit, every new Ollie customer receives personalized feeding guidelines to help them provide precise portions for their dogs based on their pet's age, weight, breed, and activity level. Overfeeding is the leading cause of pet obesity in our country, and Ollie's tailored approach to serving makes it easy for dog parents to stay in control of their pet's calorie intake.
We also have a flexible and regular delivery service that makes receiving Ollie's healthy food something dog parents can depend on. During this year's COVID-19 spikes, Ollie was one of the few companies who remained unaffected by delivery delays or inventory set-backs and were able to continue to provide food for thousands of dogs sheltering in place with their families.
Lastly, our products are simply delicious to dogs. It doesn't matter how much nutrition you pack into food if the dog doesn't enjoy eating it. Ollie always tests for palatability, and results have shown that our products are the ultimate blend of fresh ingredients, nutrition, and great taste. Let your dog decide!
Any major success stories from a shift to Ollie's food?
Our customers come to us to usually solve a problem for their dog, whether it's picky eating, allergies, or overall nutrition concerns. We have been thrilled to hear our customers report a wide-range of success stories. Our Canine Care team shares stories with the broader Ollie team daily, so we've been able to react and study these successes in real-time.
We have heard from our customers about improvements to their dogs' energy levels, allergies, digestive health, and more. In a recent interaction, a customer reported her dog was suffering from post-clipping alopecia. As a result of bad grooming, her dog experienced damage to his hair follicles, preventing fur growth. After multiple vet visits, blood tests, supplements, and groomers the family could not find a solution. After switching to a full Ollie diet, everything changed. His family has reported that his fur has started growing back and looks healthy and shiny once again.
Another Ollie customer reported that his 14-year-old French bulldog has more pep in his step and has started going on longer walks than ever before— his dog has even lost a few pounds since being on Ollie.
Hearing these stories and what Ollie has done for pups all over is why I ultimately decided to join the team.
What do you see for the future of dog food?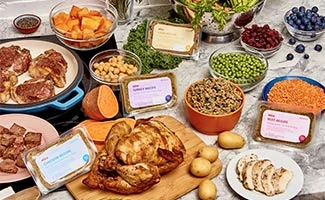 The recent impacts of COVID-19 quarantines have created a higher than ever demand for delivery and subscription services like Ollie.
I think pet parents will continue to search for better options than they've historically had in food and services, both for their pets and themselves. Pets are already part of our families, part of our homes. Before COVID-19, they were becoming more frequent parts of our workplaces and the world outside our homes.
As our world opens back up, I see pets continuing to be a growing presence in our lives, and I expect consumers to seek out products and solutions that reflect that.
What's the most rewarding thing you do?
I love knowing that pets are being nourished by something I helped create. The ultimate reward is hearing our customer stories and knowing we've positively impacted not only the dog's life but also the entire family unit.
The most challenging part of the industry is making sure that you are thinking about both the pet and pet owner, especially when their needs are at odds. Ollie's job is to sort through all the noise and find the best balance of science, nutrition, and empathy for our customers. The best feeling is knowing we are just getting started. The dog food industry still has a long way to go to ensure all food is the best for our pets, and Ollie will be at the forefront.
Any advice for someone interested in a career in pet nutrition?
As obvious as it may sound, my best advice for someone entering the field is that you must love pets. Whether you decide on a career in pet food or medicine, our pets need to be at the foundation of everything you do. Secondly, having a goal in mind for what you want to change will help you push forward and give you a North Star to guide your way.
On the technical side, I would also recommend enrolling in a food science and animal science program to learn the foundations of pet nutrition. Once you begin your educational journey, do not underestimate the value of hands-on experience with jobs, leaders, and resources in the field.
There's also so much value in building skills and knowledge in communication, business acumen, and manufacturing.
How do you stay up to date on the dog food world?
I regularly keep up with both dog and human food through websites, magazines, and industry publications — both as part of my role and as a foodie myself. I also love talking to people about their pets, how they feed them, and what they need as pet owners.
And lastly, I love browsing products both online and in-person to see what trends are taking off, what new ingredients or flavors are emerging, and to be able to take them home and try them. My pets could not be happier when I bring my work home with me!
Anything else you'd like to add?
As someone who has been in the field for ten plus years, I'm excited by the shift we're seeing in the pet industry. Families are no longer settling for the same standards of the past when it comes to what we feed our dogs, and companies like Ollie are helping to lead these conversations.
But there is still so much work to be done. In 2018, over 56% of dogs in the United States were reported overweight or obese. Our recipe formulation considers the age, breed, size, weight, and activity level of your dog and gives back custom feeding recommendations and portion sizes. This process really optimizes the caloric and nutritional content that your pet receives from our food and prevents the unnecessary overfeeding that can contribute to obesity.
It's our responsibility as a leader in the industry to give the best food possible to help keep our pets healthy throughout their long lives. Follow along with us—we're just getting started!
Thanks Bridget for taking the time to share your story and experience with Ollie. Learn more in our full Ollie review.
Tagged With: