To keep the lights on, we receive affiliate commissions via some of our links. Our review process.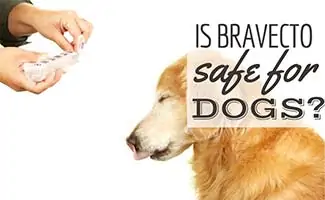 Bravecto is a controversial prescription medication in the pet world. Vets recommend it, it's FDA-approved, and it helps eradicate ticks and fleas in dogs and cats. However, many pet parents claim it causes seizures in their dogs and has even caused some to die. Is Bravecto safe to give your pet? Learn more so you can make an educated decision.
Below are some frequently asked questions regarding Bravecto from our readers.
What Is Bravecto Flea And Tick?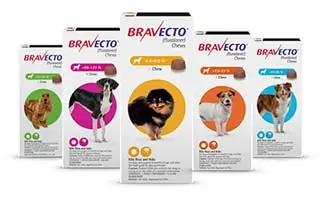 Bravecto is flea and tick protection that lasts nearly three times longer than other comparable products. Bravecto is available in a chew or a topical solution and can be given only by prescription by your veterinarian.
There is no access to Bravecto without a vet prescription.
How Does Bravecto Work?
After Bravecto is given as a chew or applied topically, the product reaches the fluid layer under your dog's skin. When fleas and ticks feed on your dog's blood, the Bravecto gets into their system and causes them to die.
How Long Does Bravecto Last?
Bravecto claims to provide 12 weeks of flea and tick protection with just one dose.
How Long Does It Take For Bravecto To Work?
Bravecto starts working within two hours of topical application or ingestion (depending on which form you give your pet).
Should Bravecto Be Given With Food?
Yes, you should give food with Bravecto flea treatment.
Can I Give My Dog Expired Bravecto?
No, you should never give your dog expired medication.
What Is Bravecto's Active Ingredient?
Fluralaner is the active ingredient in Bravecto. It works by disrupting the nervous system in fleas and ticks.
Is Bravecto Safe?
Bravecto is FDA-approved and proven safe and effective for dogs who weigh at least 4.4 pounds and cats who weigh at least 2.6 pounds. It's also approved for puppies and kittens who are at least six months old. Many vets recommend Bravecto to their patients.
That being said, Bravecto, as with many other drugs, can have negative side effects, which are discussed below. In fact, many of our readers have noticed the side effects listed below in their dogs. There are some consumer reports that Bravecto has been linked to canine fatality but this connection has not been proven.
Before administering Bravecto to your pet, we encourage you to speak to your vet about your concerns.
What Are The Side Effects?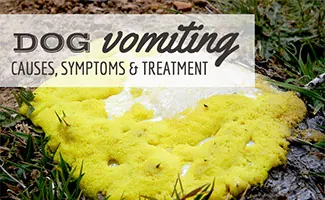 According to two U.S. field studies,1, 2 there were no serious side effects. However, some dogs have experienced side effects from Bravecto, including:
Vomiting
Alopecia
Diarrhea
Lethargy
Decreased appetite
Moist dermatitis/rash
Polydipsia
Flatulence
How Long Do Side Effects Last?
The duration of Bravecto side effects varies for each dog. However, most side effects last anywhere from two to six hours. If you're concerned about your dog experiencing side effects, contact your vet.
Does Bravecto Cause Itching In Dogs?
Dogs may itch after Bravecto is administered for a couple of reasons. First, if your dog has fleas, your dog may itch more because of them. Second, in a U.S. field study1 including 321 dogs, 0.9% of dogs given topical Bravecto experienced moist dermatitis/rash, which could lead to increased itching.
Is Bravecto Safe For Pregnant Dogs?
Both Bravecto Chews and Topical solutions for dogs are approved for use in breeding, pregnant, and lactating dogs.
Is There Bravecto For Small Dogs?
Bravecto is safe to use for puppies older than six months old and weighing 4.4 pounds or more. Bravecto Chews and Topical are available in different doses depending on the pet's size.
What Does Bravecto Do?
Below are some common questions about Bravecto and what it eliminates or prevents.
Does Bravecto Kill Mites?
In the U.S., Bravecto is approved only for killing adult fleas and ticks. But, in many other countries, it is approved to kill mites, in addition to fleas and ticks. So perhaps you can draw your own conclusions here.
Does Bravecto Kill Ticks?
The Bravecto label states that the product kills attached ticks in 12 hours. Below are a couple of stats about Bravecto's effectiveness in eliminating ticks, according to laboratory studies:
Greater than 93% effective in killing black-legged ticks, American dog ticks, and brown dog ticks 2 days post-infestation. This level of effectiveness lasted for 12 weeks.
Greater than 90% effective in killing lone star ticks 3 days post-infestation. This level of effectiveness lasted for 8 weeks.
Does Bravecto Kill Flea Eggs?
Bravecto doesn't kill flea eggs, but it will kill the eggs after they hatch — killing the infestation and preventing fleas from laying any new eggs. The Bravecto tablet for dogs kills fleas within two hours, and the Bravecto Topical for dogs reduces fleas by 99% or more within one to two days.
Does Bravecto Prevent Heartworm?
No, Bravecto doesn't prevent heartworm. Talk to your vet to find the best heartworm preventative medication to keep your pet protected.
Bravecto vs NexGard vs Simparica vs Frontline Plus
The table below compares the features for each product.
| | Bravecto | NexGard | Simparica | Frontline Plus |
| --- | --- | --- | --- | --- |
| Minimum Age | 6 Months | 8 Weeks | 6 Months | 8 Weeks |
| Minimum Weight | 4.4 Pounds | 4 Pounds | 2.8 Pounds | 5 Pounds |
| Can Be Given Without Food | | | | |
| Duration Of Dose | 3 Months | 1 Month | 1 Month | 1 Month |
| Chewable Tablet | | | | |
| Topical Solution | | | | |
| Kills Fleas | 2 Hours | 4 Hours | 3 Hours | 12 Hours |
| Kills Ticks | 12 Hours | 24 Hours | 8 Hours | 48 Hours |
| Treats Lice | | | | |
| Repels Mosquitoes | | | | |
| Active Ingredient | Fluralaner | Afoxolaner | Sarolaner | Fipronil and (S)-Methoprene |
| Prescription Required | | | | |
| Safe For Pregnant Dogs | | | | |
| Available For Cats | Bravecto Plus | | | Frontline Plus For Cats |
| FDA Approved | | | | |
| EPA Approved | | | | |
Bravecto Price vs Competitors
The table below compares Bravecto cost against other flea and tick preventatives.
Bravecto Rebate
Bravecto currently offers the following rebates (expires 12/31/2022):
Buy 4 doses of Bravecto + 12 doses of Sentinel Spectrum Chews, get a $75 rebate
Buy 2 doses of Bravecto + 12 doses of Sentinel Spectrum Chews, get a $20 rebate
Buy 2 doses of Bravecto,* get a $10 rebate
Buy 4 doses of Bravecto,* get a $25 rebate
*Excludes Bravecto 1-Month. To submit your rebate, visit Bravecto's rebate page.
Can I Use Bravecto And Frontline Together?
Yes, you can technically give both together. However, there is a risk of using multiple flea and tick prevention products together because their ingredients could react in a way that is unsafe. We recommend talking to your vet beforehand.
Keep in mind that you'll need to clean your home, bedding, clothing, etc., to help eliminate any infestations and spray your yard to help eradicate the pests. You can learn more about how to get rid of fleas here.
Quit Paying For Flea & Tick Treatment Today
Bravecto isn't our first choice for the best flea and tick prevention. We don't like that our readers have brought up major concerns about the prescription, including seizures and even death. There are other flea and tick products on the market that we'd recommend over Bravecto.
Did you know that some pet insurance policies can help cover the cost of flea and tick treatment? If you purchase pet insurance and sign up for a wellness policy, the company may designate a set amount of money for flea and tick prevention as well as other preventative items (e.g., vaccines, heartworm prevention, spay/neuter, etc.). Coverage depends on the wellness plan you choose.
Tagged With: Fleas, Medication, Reviewed By Dr. Pendergrass, DVM, Ticks