To sustain this free service, we receive affiliate commissions via some of our links. This doesn't affect rankings. Our review process.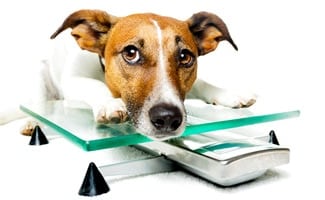 The holidays are just getting started. It is prime time for parties, elaborate meals, and holiday treats every place you turn. And your dog is getting more leftovers than he or she ever could have dreamed of! But all of these extra calories are making a straight line for your hips.
Lose Pounds with Your Hounds
To keep the pounds off this holiday season (I am guessing they are the ONE thing that is NOT on your wish list, right?!?)… so, get out and exercise!
Given the choice between doing step aerobics and walking your sweet doggy companion (or your uncles dog), why not grab your leash and head on outside? Any and all physical activity you do on a regular basis will help you maintain your current weight and will likely even lead to some firmer muscle tone (and, that's something that is on all of our wish lists, right?!?).
Further, what's good for the body is also good for the mind – we are pulled in so many different directions this time of year, making it essential to maintain your mental health and exercise actually is one of the best things you can do to reduce those dangerous stress toxins in your body! Serenity now… right?!? A walk with your dog is the silent night that you are really seeking!
Exercise gurus experts have been saying for years that having a workout buddy is key to maintaining accountability in your workout schedule. You are more likely to do it if that buddy is a tireless beggar with puppy dog eyes… standing there with his leash in his mouth – how could you possibly not go?
Even though walking may seem easy enough, you and your pup may want to work into it gradually. You both will obtain benefits by walking at a 15-20 minute mile, but if you haven't been exercising regularly, you may want to ease into your routine. You may also want to make a visit to your vet to check on your pet's physical condition and discuss your fitness plans.
Daily Walking Tips
Some recommendations to make your daily walk a success:
Start with short walks and gradually work into longer exercise sessions. Remember, four 10-minute walks are just as beneficial as one 40-minute walk.
Start out slowly and work up to a faster speed.
Stand up straight and look ahead. Keep your shoulders back and relaxed, chest lifted and butt tucked in. Your dog should be on leash and close to your side… we recommend no longer than a 6′ leash to maintain control over your dog in any situation.
Your heel should hit the ground before any other part of your foot and then roll forward to the ball of your foot, pushing off with your toes to restart the cycle. If done correctly, this will reduce the risk of injury.
Bring enough water for you and your dog.
For nighttime walks, use a reflective collar and leash for your dogs and reflective shoes and clothing to ensure safety.
As you are moving into the midst of this holiday season, make a commitment to yourself and your pet. Exercising with your dog is a great way to strengthen the bond between you. As an added bonus, you'll be exercising, your dog will be exercising, and you will both be enjoying quality time together.
Disclaimer: The information provided through this website should not be used for diagnosing or treating a health problem or a disease. It is not a substitute for professional care. If you have or suspect you may have a health problem, you should consult your health care provider.
Disclaimer: This website contains reviews, opinions and information regarding products and services manufactured or provided by third parties. We are not responsible in any way for such products and services, and nothing contained here should be construed as a guarantee of the functionality, utility, safety or reliability of any product or services reviewed or discussed. Please follow the directions provided by the manufacturer or service provider when using any product or service reviewed or discussed on this website.