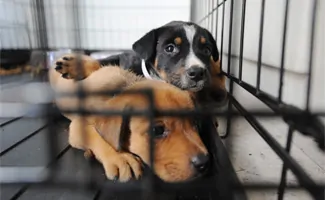 Most pet shelters operate using donations from the community. Often, the number of resources the shelters have don't even come close to the amount of need they face. Though many elements figure into the existence of pet shelters, it is often irresponsible owners that cause the majority of the need for pet shelters. So if you're a pet owner, the best place to start helping animal shelters is right in your own home. More responsible pet owners means fewer shelter pets!
Unfortunately, while pet shelter donations are something that many people think about, they rarely seem to make them. While you may think that money is the only way you can help, there are actually many things you can do to aid your local animal shelter. Whether you donate your time or items that can either be used, sold or auctioned, you can make a huge difference in the lives of many pets in just a few simple steps.
Donate Money To Help Rescue Dogs
Rescue animal organizations are always excited to receive donations in any way, shape or form. However, when you give money, you can write off the tax-deductible donation, and the organization can put this money to use where it is most needed! Visit your local animal shelter's website to learn more about their needs and donation options or visit the ASPCA website to donate to helping the cause on a national level.
Alternatives To Financial Donations
If you are looking for other ways to get involved, the needs are countless and so are the ways you can help. Here are a few non-financial ideas for you to consider if your heart and charitable inclinations lean in this pawsome direction.
Volunteer Time
One of the easiest things you can do is to donate your time. Pet shelters need people to walk pets, socialize, and just play with them. Best of all, this is something you can do in your spare time. Whether you have free weekends or evenings, pet shelters can always use more volunteers to help them care for the pets. In fact, this is the perfect position for animal lovers who have less room in their homes for animals than they do in their hearts. You can meet your desire to be immersed in the world of furry critters without taking the chance that you won't be able to care for them as you should.
Gently-Used Pet Supplies
If you have pets, you may have toys, blankets, beds, crates, and other items that they no longer use. Instead of throwing those items away, donate them to your local pet shelter. After all, that toy your dog no longer shows interest in may be the best thing a shelter pet ever had to play with. Just keep in mind that these should be items that are still in good shape. You don't want to donate bedding that has holes or toys that have been torn apart. You should only donate items that the shelter can still use.
Space In Your Home
Another way you can make a donation is to open your home to foster pets. Not only does this help get pets ready to be adopted, but it also frees up more room in the shelter so that more pets get the help they need. This can be a great way to see if your family is ready for a dog or to help you get used to the idea of having another dog if yours has passed on. Just make sure you choose to foster pets that are a good fit for your home.
Useful Skills
There are a number of skills you could donate to a pet shelter. For example, if you're good at web design, offer to build a website for the shelter. If you're good at photography, offer to take photos of the available pets to be featured on the website. Great photos can be a wonderful way to get pets adopted. Think about what you do on a daily basis and see how it could be used to help your local pet shelter.
You can even use your free time to help these pets without ever leaving your home. If you are active on social networks like Facebook or Twitter, you can help spread the word when an animal needs a home. Facebook is becoming a very popular format for promoting these kinds of causes. You'll help an animal and you will also make some new friends that are pet lovers like you.
Part Of Your Wish List
If you want money donated to your local pet shelter, but don't have the money to make the donation, ask friends and family to donate money in place of gifts. This could be during the holidays, your birthday, or even your wedding. It's an easy, selfless act that means so much to your local shelter.
Household Items
There are also a number pet shelter donations laying around your home. You can donate old blankets to keep pets warm. You might donate old newspapers to help in the training process. There are also a number of inexpensive household supplies you can purchase, such as cleaning supplies, office supplies, and even hand sanitizer. If you're unsure what the shelter may need, just call and ask.
Food And Treats
Obviously, one of the biggest expenses shelters have is food. It can cost a small fortune to feed these pets. Thankfully, you can purchase pet food and make a big difference. Just remember to spend the money to purchase good quality food. Poor quality food can actually make pets sick and may increase the expenses of the pet shelter. Also, don't forget to purchase some treats. Shelter pets rarely get treats, and it can make a big difference in their morale.
Items That Can Be Sold Or Auctioned
Also, don't forget the importance of items that can be sold. Some pet shelters have thrift stores where you can donate items you no longer need to be sold to cover the costs of running the shelter. Shelters also usually hold auctions to help raise money. If you have something auction worthy, contact the shelter and ask about making your donation.
You don't have to spend a fortune to help animals in need. There are so many easy things you can do that won't cost you a dime. There are also things you can donate that cost very little, such as food and treats. Of course, you can't underestimate the importance of donating your time and talents to care for and foster animals. Don't let your lack of funds hold you back; you can help your local pet shelter and make a big difference in the lives of homeless pets.
How have you contributed to animal shelters? What do you feel makes the biggest impact?
Tagged With: Gifts, Shelters