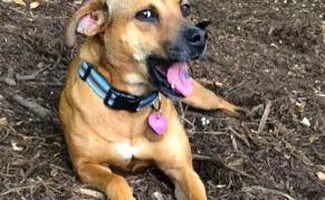 It was one of the scariest moments of my life when my dog Lily was bitten by a venomous Copperhead snake. All I could do was rush to the vet and pray for the best. But this very frightening experience has made me a colossal pet insurance advocate, and I hope my story helps you know what to do if you face a difficult life and death pet decision.
Did You Know?
Many people say "poisonous snakes," when really they should be using the term "venomous." These two terms are often used interchangeably, but they're actually quite different. Both poison and venom are toxic substances that can harm or kill you, but the difference is in the way the toxic substance is delivered to the victim. Poison enters the body through swallowing, inhaling or skin absorption, while venom is actively injected through a bite or sting.
Lily vs Copperhead
We adopted Lily from the local animal shelter in April 2013 (just before she was due to be euthanized, sadly). She was a new member of our family but fell in perfectly with my husband and me, our other dog Bella and our home.
Fast forward five weeks later… Lily was enjoying a warm spring day last May in our backyard. We had never given a second thought to whether our dogs would be safe in our own backyard, and Lily really loved to explore and bask in the afternoon sun. When we called the dogs in for dinner around 5 pm, Bella came running, but Lily was nowhere to be found.
First, we thought she had run away (she was new to our household, so we did not really know), but then Bella ran back down to show us where Lily was — behind a tree licking her wound. Her typically little leg (she weighs 35 pounds) was as wide as a Great Dane's leg! She could not walk on her tender, swollen foot/leg. We did not know what was wrong, but we picked her up quickly, put her in the car, and drove as fast as we could to the vet.
Get To The Vet ASAP For Snake Bites On Dogs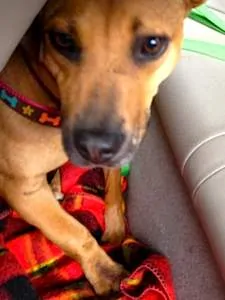 When we arrived, they were waiting for us on high alert. Based on our description on the phone, they were pretty sure it was a Copperhead snake bite. And, they quickly determined they were right, so we had to act fast. Sadly, they were about to close their doors for the night, and she would need at least 24-hour on-watch supervision if things went in a positive direction.
So, they called the emergency vet to explain the situation while we drove there to get her treatment. It was only a 15-minute drive, but we had been told already that her chances of making it decreased significantly every minute treatment was delayed, so it was a LONG drive.
When we arrived, the emergency vet was ready and waiting. They put Lily on an IV to start rehydrating her, and the vet sat us down to discuss our options quickly:
Give her anti-venom, which may work but also has a high risk of creating other health issues that could be deadly.
Hydrate her and hope it washes out the venom. But the speed at which her swelling was progressing, this option seemed pretty much a death wish.
Anti-Venom: A Costly Decision
The cost of the anti-venom (option 1) was high with an estimated cost of $1,500-2,000 for the treatment over the next 24 hours. But, we had to act quickly or she would be gone.
For most, this financial decision, especially on a dog who was new to our family, would have seemed insane but lucky for us we had signed Lily up for pet insurance the week we adopted her because we have seen minor benefits of hedging your risks with our other dogs. But, this truly tested the limits. With pet insurance as our cushion, we made the call to administer the anti-venom ASAP and hope for the best. We did not really think, we just said to the vet, "We have pet insurance" and hoped for the best. The vet immediately said, "Oh, thank goodness. Let's get started right now."
Pet Insurance Saved Lily's Life And Our Wallets
And that vet was right. After two nights in the hospital, Lily made it through and had a positive response to the anti-venom. When all was said and done, the bill came out to $1,900. We submitted the claim online to our pet insurance carrier two days later, and within a week, we had a check in our hand for 90% of the total cost. So, with one freak accident in the backyard and the treatment needed to resolve it, our pet insurance (~$32/month) paid for itself for the rest of Lily's life. I am thankful every day we could make that choice so quickly to treat her because now we cannot imagine our family without her in it.
Whether it be snake bites on dogs or a car accident injuring your cat, I strongly encourage you to learn more about pet insurance to see if it can help you save stress and money too.
Video: How To Detect Snake Bites On Dogs
Not All Poisonous Snake Bites Are Venomous
Not all poisonous snake bites release venom (about 25% according to WebMD), so your dog may not show signs of swelling or pain. However, keep a watchful eye on them as they may just not have the outward symptoms while internally, their bodies are still fighting the battle. Give them lots of fluids, and if they show signs of sluggishness, vomiting or other irregular behavior, visit your vet for an exam immediately.
Tagged With: Emergency, Poison