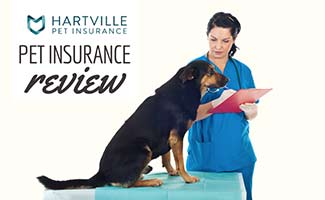 Crum & Forster (C&F) Insurance Agency administers Hartville Pet Insurance, similar to ASPCA Pet Insurance. Hartville has a 14-day waiting period for both accidents and illnesses (which is a little long for accidents compared to competitors). However, its waiting period for CCL surgery and hip dysplasia is only 14 days, which is extremely short compared to others.
The main reason our experts haven't chosen Hartville as a top pick in our pet insurance reviews is because customers report reimbursements are lower than they expected and claim repayment is slow.
Hartville Pet Insurance
Pros
Optional wellness plan (must purchase in conjunction with pet insurance)
Conditions that are free of symptoms and treatment for 180 days prior to enrollment aren't considered pre-existing conditions
BBB rating: A+ through C&F Insurance Agency, Inc.
30-day money-back guarantee
Your pet is covered when they travel with you in the U.S., Guam, Puerto Rico, U.S. Virgin Islands, and Canada
Accident-Only plan available
Offers a 10% discount for each additional pet
No upper age limits for coverage
Cons
$2 transaction fee, if not paying annually
Can't change/add some items to plan until the next 12-month period begins
Low reimbursements reported by customers
14-day waiting period for accidents is longer than competitors
Claim repayment is longer than normal due to COVID-19
Hartville Pet Insurance Promo Code
Consider All Your Pet Insurance Options
Hartville isn't our first pick for a pet insurance policy. However, we've reviewed more than a dozen pet insurance companies and chosen the best options based on coverage, customer service and reputation, claim repayment, price, plan customizations, and more. Our experts have also chosen category winners. Find who won our best pet insurance awards in categories based on value (such as healthy pet discount, multiple pets, 100% reimbursement), special needs (best for puppies, older dogs, dental), and more.
Would you purchase a Hartville pet insurance policy?