To sustain this free service, we receive affiliate commissions via some of our links. This doesn't affect rankings. Our review process.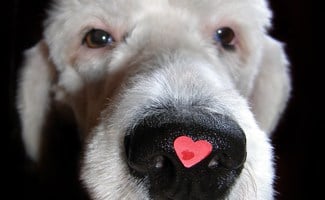 Valentine's Day is a time to shower your pup with love and affection. But February also means time to devote more attention to raising awareness for the important of spaying and neutering our pups. It's also a good time to think about what might make a good gift for your pooch this love-filled season. Don't chase your tail – leap forward into the month ahead!
February Is Spay/Neuter Awareness Month
In fact, February has been officially named Spay/Neuter Awareness month so I thought it was a great time to remind you that we can all help reduce the number of dogs and cats on the streets and in our shelters if we spay or neuter our pets. This surgery is inexpensive and can often be paid partially by local shelters if you qualify for financial assistance. And it will make your pet calmer and less of a stray – pun fully intended! 😉 Read our benefits of spaying and neutering article to learn more.
More Pup-tastic Holidays In February 2014
There's lots to love about February other than Valentine's Day. Dogs around the world can rejoice with a month full of celebrations in their honor this month. Check out our full guide of dog holidays.
Great Valentine's Gifts For Your Pup
Whether you are showing your love to your adult dog or a new puppy, there are lots of toys to pick from. So, how do you choose which will be top pick with your furry friend? We dug through all the offerings to find which make the top picks among all dogs so you can be sure to treat your pup with a sure winner this time around. Take a look at these 7 Gifts Your Pup Will Beg For – some doggone great gift ideas to share your puppy love this Valentine's Day.
Happy Valentine's to each of you and until next time, stay warm and cuddle up with your favorite canine.
Disclaimer: The information provided through this website should not be used for diagnosing or treating a health problem or a disease. It is not a substitute for professional care. If you have or suspect you may have a health problem, you should consult your health care provider.
Disclaimer: This website contains reviews, opinions and information regarding products and services manufactured or provided by third parties. We are not responsible in any way for such products and services, and nothing contained here should be construed as a guarantee of the functionality, utility, safety or reliability of any product or services reviewed or discussed. Please follow the directions provided by the manufacturer or service provider when using any product or service reviewed or discussed on this website.