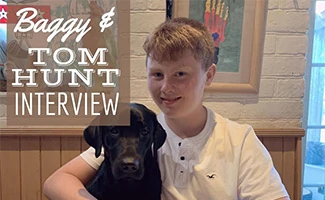 13-year-old Tom Hunt and his dog Baggy are from the UK, and they recently discovered an alarming environmental issue. We had lots of questions about the issues, the possible solutions, and how this powerful team hopes to make the planet healthier with their efforts.
We hope you enjoy getting to know this fascinating kid as much as we did. (Notes: we maintained the British English used during this interview; a pushchair is a collapsible stroller).
Tell us about Baggy and how you met each other?
Baggy is my dog, and I got her for my 13th birthday. She is a black Labrador and was the runt of her litter. I really recommend getting the runt of the litter because Baggy is the best. Her full name is Bagheera, after the Jungle Book character, but at home, she's Baggy.
On the day we got her, we travelled from our home in Buckinghamshire, England, to Durham to the breeder, and halfway there, Dad realised that he'd forgotten his money! It was a bit of a panic, but thankfully it all worked out. I can't imagine life without her.
What big issue are you and Baggy working on?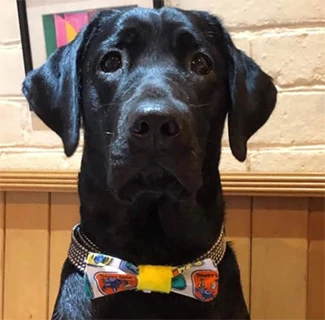 Last year I became really interested in air pollution and bought an air pollution monitor from the internet to see if I could measure the air quality around where we live.
On one of the days, I decided to put the (air pollution) monitor on Baggy's dog collar and see whether the readings at her height were any different. They are so much worse, and it really shocked us! It's really bad because Baggy's height is the same as pushchair height and toddler height.
Dogs and babies are exposed to more harmful fumes than the government knows about because they do their air quality testing a lot higher up. So that's when our campaign started, and we have been spreading the word ever since. We have appeared on television and at the Crufts national dog show here in the UK, in lots of national newspapers, and on news sites.
How did you discover the connection between air pollution and heights?
We discovered it by chance! But since then, we have expanded our testing to include indoor air pollution too. After our initial discovery was publicized, a company called Atmotube got in touch and gave us some top equipment that helps us test at Government standards, so our findings can't be ignored now.
Who are you working with to combat this issue?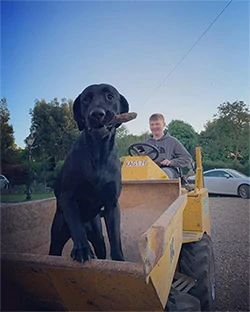 We are calling for the government to start testing pollution at a lower level in order to get the full picture. And we are also asking manufacturers of pushchairs to address this issue when they are designing new products. This could even include having an air quality monitor on the pushchair.
What precautions can owners take to keep dogs safe on walks?
Sadly, unless everyone buys an electric car, there is not a lot you can do when walking with your dog on a busy high street. We would advise keeping urban walking to a minimum, although this is not always possible, particularly for service dogs.
What other environmental dangers are humans and their pets at risk for?
Lots of things can damage ours and our pets' lungs, and there are plenty of changes that people can make in their own homes to limit the risk. This could be as simple as opening a window or avoiding spray deodorants and powder make-up. Open fires, paints, and air fresheners are all things to watch out for too.
What advice would you give other child activists?
Never give up! And you have to be cheeky. Also, don't be afraid to say what you think to adults. We are going to be living in this world for longer than them, and it's not right that they get to make all the important decisions.
How have you and Baggy been managing the pandemic in the UK?
Lockdown has been really strange, and I've really missed all my school friends. Baggy has been a great support, and walking with her in the countryside near where we live has been wonderful. The campaign has kept us going too, and we've been doing lots of indoor air quality testing.
I have also written my book Baggy and Me: An Indoor Air Pollution Survival Guide, which contains practical tips that everyone can try.
Besides helping others, what does Baggy like to do for fun?
She absolutely loves jumping in puddles and going out for walks with the other dogs in our household and me. She's been helping us grow vegetables too, although she eats the peas on our allotment before we have the chance to pick them!
What's next for you (and Baggy)?
We really want to make a change, so the sky is the limit! We have more media appearances planned, and I'm working on book two, which will be all about outdoor air pollution.
We won't stop until the right people listen to what we are saying and make a change.
Thanks so much to Tom for sharing his story with us! Follow Baggy on Facebook to see all the latest from the campaign and get tips to reduce air pollution risks for your pets and the whole family.
Tagged With: