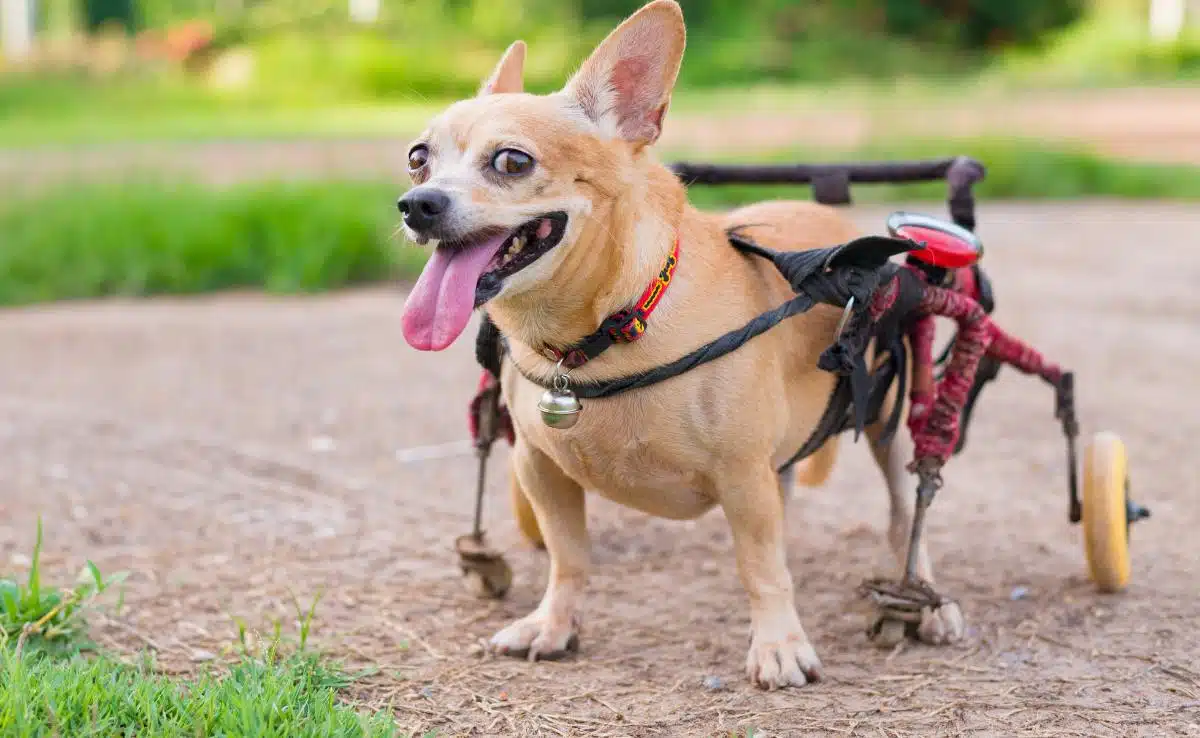 A dog's life is already too short. If your dog can't walk, a dog wheelchair for back legs can extend your dog's active years and improve its quality of life. The most important thing with these wheelchairs is to measure your dog correctly so you purchase the correct size.
Once you have a wheelchair, you'll want to carefully read the instructions to ensure you have it fit precisely to your dog. If you're thinking, "my dog can't stand up on his back legs," you might want to talk to your vet first before getting a wheelchair.
Best Dog Wheelchairs For X-Small Dogs: K9 Carts Review
Vets design these K9 Carts, and they're handmade in the USA with aircraft-grade aluminum. The cart can be used as a walking cart with the dog's rear paws on the ground or a suspension with the back legs held up in slings. The cable leg rings have foam padding to help prevent pressure sores and give pelvic support.
| Pros | Cons |
| --- | --- |
| Cable leg rings have foam padding | Wheels are not all-terrain |
| Lightweight aluminum | |
| Handmade in the USA | |
Price
Small Dog Wheelchair: Best Friend Mobility Review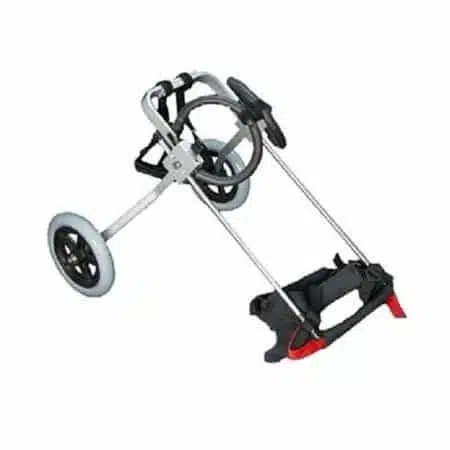 The Best Friend Mobility wheelchair for dogs has a lightweight, adjustable aluminum frame that won't rust. A K9 orthopedic surgeon designed this wheelchair. It has a front and rear harness and a fixed, padded seat to make your dog more comfortable.
You can easily adjust the height and length with a hex wrench. The wheels are all-terrain, so your dog can walk on many different surfaces. This wheelchair allows your dog to go to the bathroom comfortably.
Note: If you have a Corgi or Dachshund, Best Friend Mobility says to get the extra small size, no matter their weight, due to their short leg length.
| Pros | Cons |
| --- | --- |
| Front and rear harness | No customer service |
| Fixed, padded seat | Poorly written instructions |
| All-terrain polyurethane wheels | |
| Patented adjustable aluminum frame | |
Price
Small (15-17″): $179.44
Best For Large Dogs: Walkin' Wheels Review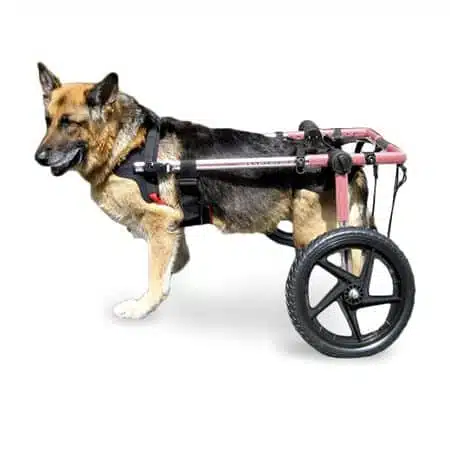 The Walkin' Wheels wheelchair for dogs uses lightweight aluminum. It has an adjustable harness to fit your dog comfortably and is adjustable in height, length, and width.
This wheelchair is best for dogs with limited or no mobility in their hind legs. Your dog can use it on many surfaces with its all-terrain wheels, and your dog can go potty while wearing this.
| Pros | Cons |
| --- | --- |
| All-terrain wheels | Heavier/bulkier than other picks |
| Comes in 3 colors (blue, pink, or camo) | 20% restocking fee for returns |
| Folds up and adjustable for proper fit | Only for dogs 70lbs and up |
Price
Large (dogs 70-180lbs): Check Amazon for availability
Best Front Leg Wheelchair: K9Carts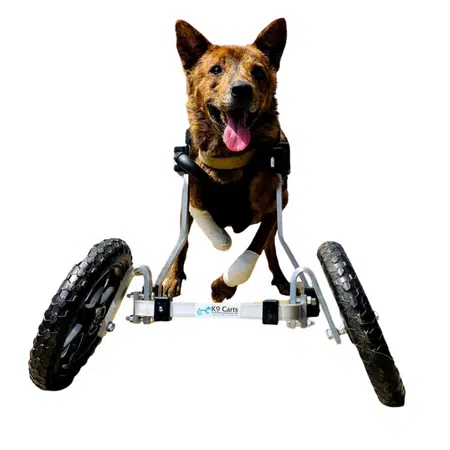 This front-leg wheelchair is for pets with forelimb or both forelimb and hindlimb disabilities. This lightweight wheelchair is made of aluminum. It is easy to adjust the height, length, and width. It's custom-made to fit your dog's specific needs and guaranteed to fit.
It is best for degenerative myelopathy, cervical spondylomyelopathy, or wobbler syndrome. You can also use it for multiple injury rehab, unilateral or bilateral forelimb weakness, strokes, and other neurological disorders. Pets with amputations, instability in the forelimbs (or all four legs), or deformity in the forelimbs (or all four legs) can also benefit from it.
| Pros | Cons |
| --- | --- |
| RX design with adjustable weight distribution | Expensive |
| Comes in a variety of sizes for dogs XS to XXL | Takes about a week to custom make and ship order |
| Made in the USA and unlimited support | |
| Trusted experts in pet mobility since 1961 | |
Price
Frequently Asked Questions
Here are some things you might wonder about dogs who use wheelchairs.
Can a dog lay down in a wheelchair?
Most dog wheelchairs do not allow canines to lie down comfortably as they have large wheels and metal braces to support the dog's weight, often on two legs. But, smaller dogs who are closer to the ground and those that have the strength to do so can most likely lay on the floor while wearing most dog wheelchairs. If the wheelchair is a good-quality design, it may offer the ability to allow the dog to lie down while wearing it, simply folding down as they sit.
However, if one is wondering whether a dog can lie down in a human's wheelchair, it depends on the dog and the wheelchair. Small to medium-sized dogs are more likely to fit in the seat of an adult person's wheelchair and small dogs in a child's wheelchair.
How do dogs in wheelchairs poop?
While an impaired dog can't squat or lift their leg like they might have done in the past, they can still spread their legs to carefully use the bathroom.
How To Put A Dog Wheelchair On
Why Would My Dog Need A Wheelchair?
We hope our dog wheelchair reviews helped you find the right fit for your pup. But why are you here in the first place, you might ask? A dog wheelchair may be something to consider if your dog struggles with walks, has difficulty going up and down stairs, cannot get in and out of the car, or struggles to defecate normally. Once you notice a change in any of these activities, you should consult your vet.
Your vet might not recommend wheelchairs if your dog has a treatable condition. No matter what, you do not want to delay this conversation with your vet. The sooner you approach the situation, the more likely you'll be able to prevent further damage from occurring and help your dog move more comfortably.
Dogs may benefit from a wheelchair if they have been diagnosed with one of the following:
Arthritis
Congenital Abnormalities
Degenerative Myelopathy
Hip Dysplasia
Injury
Intervertebral Disk Disease
Paralysis
Slipped Disc
Spinal and Neurological Problems
Surgical Recovery
Unfortunately, there are times when we need to say goodbye to our pets. If you are facing the decision of whether to euthanize your dog, we can't express how truly sorry we are. Please know that we are always here to share stories of the great times you've shared.
Tagged With: Aging, Arthritis, Comparison, Orthopedic