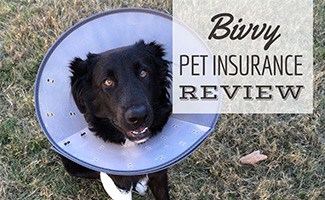 Bivvy offers an affordable pet insurance policy (in some states) with the option of adding on a wellness plan. However, it places limits annually and over the lifetime of a pet, which other providers do not.
Is Bivvy still worth it, or would it be best for you to choose a more traditional pet insurance company?
We don't include Bivvy or any company with less than five years experience in our annual pet insurance rankings because it takes time for policies to establish consistency of premiums. In our experience new companies' premiums, and thereby your monthly costs, tend to fluctuate the first few years.
Bivvy
Pros
$9-20/month for any pet insurance policy (price varies by state)
Cons
Only covers expenses up to $1,000-5,000 (varies by state) per policy term
No customer service phone number listed on website
Not available in all 50 states
$25,000 lifetime payout limit
14-day waiting period for accidents in most states and 30 days for illnesses in most states
6-12 month waiting period for CCL injuries and hip dysplasia (varies by state)
No BBB rating
Alternatives To Bivvy
Don't like the cons or uncertainty of a new company? Our pet insurance experts have analyzed over a dozen established pet insurance providers. Check out our pet insurance reviews to learn more about this year's top-ranked companies.
Key Features
Underwriter: CUMIS Insurance Society, Inc.
No exam required
All policies are one price per month, regardless of type of pet, breed, or age (price varies by state: $9-20/month)
Annual payout limits vary by state ($1,000-$5,000) and a lifetime payout limit of $25,000 (competitors don't place as many payout limits on pets)
Per claim deductible varies by state ($50-250)

No bilateral exclusions (a condition or disease that affects both sides of the body) listed in sample policy
Claims process:

Bivvy begins reviewing claims within 1 business day of being filed
Must submit claims within 90 days of the date of service
Submit claims via online account

Only available in the following states: AZ, CO, CT, GA, IL, IN, IA, KS, MD, MI, MN, NC, OR, SC, TX, VA, WI
Unrated by the Better Business Bureau (likely because Bivvy is so new)
Pre-Existing Conditions
Defined by Bivvy as:
a. Chronic Condition observed by You or Your Veterinary Provider prior to the Original Start Date or end of the Waiting Period for Your Pet and any related conditions;
b. an Illness or Injury that first occurred or showed Clinical Signs prior to the Original Start Date or end of the Waiting Period for Your Pet and any related conditions; or
c. Undiagnosed conditions with the same Clinical Signs as those in (a) or (b) above are also considered pre-existing.

Temporary conditions that started prior to the end of the waiting period that have not shown any clinical signs for 12 consecutive months are not considered pre-existing conditions.
Customer Service Hours
Email and FAQ (hours not listed)
Waiting Periods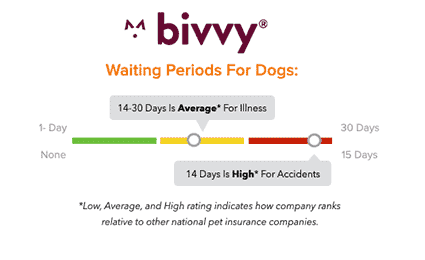 14 days: accidents (AZ: 3 days)
14 or 30 days: illnesses (length varies by state)
6 or 12 months: dog orthopedic conditions (e.g., cruciate ligament, hip dysplasia, etc.) unless the injury is the direct result of a trauma (length varies by state)
What Does Bivvy Cover?
Please know that none of the providers in our pet insurance comparison cover pre-existing conditions or cremation and burial costs. All of them cover the following items when deemed medically necessary: X-rays, blood tests, ultrasounds, cat scans, MRIs, rehabilitation, specialized exams, surgery, hospitalization, emergency care, specialty care, hydrotherapy, chronic conditions, cancer, diagnostic treatment, alternative/holistic therapy, and euthanasia. However, there may be limitations to this coverage, so please check your policy.
| Condition | Covered By Bivvy |
| --- | --- |
| Exam Required To Set Health Baseline | |
| Behavioral Therapies | |
| Exam Fees | |
| Wellness Care Available For An Extra Fee | |
| Non-Routine Dental Treatment | |
| Hereditary Conditions | |
| Congenital Conditions | |
| Prescription Medication | |
| Breed, Whelping, Pregnancy | |
| Cosmetic Procedures (e.g., Tail Docking, Ear Cropping, Dew Claw Removal) Unless Medically Necessary | |
Wellness Care
Bivvy offers one plan to cover routine and preventative expenses. The current cost for Wellness Care is $9 per month. Included are the maximum amounts that Bivvy will pay each year for specific treatments.
Wellness Care Annual Limit
Price Per Month
$9
Wellness Exam
$40
Vaccinations
$15 Rabies
$15 Other
Flea, Tick & Heartworm Prevention
$15
FELV Screen
$15
Heartworm Test
$10
Microchip
$20
Urinalysis or ERD
$15
Deworming
$20
Total Annual Benefit Available
$165
Pricing Quotes
Bivvy charges $9-20 per month (depending on what state you are in) for pet insurance, regardless of dog or cat, age, size, gender, or breed. The reimbursement level is 50% (most competitors offer multiple, higher reimbursement options). The deductible varies by state from $50-$250 (again, most competitors offer multiple deductible options in each state).
You have the option to add on Bivvy's Wellness Care plan for $9 per month to help cover routine and preventative expenses.
Both the insurance and wellness plans are among your least expensive options in many states, making Bivvy a good option to reduce your risk at a lower price.
You can get a pet insurance quote for your pet(s) from several top-ranked companies when you fill out just one short form.
Coupon Code
Customer Reviews
Bivvy was founded in 2019 and asks customers to submit reviews of the sign-up process. We feel these reviews are misleading since it gives the impression that Bivvy has a great reputation overall. We tried to sift through these reviews to give you helpful customer experiences about the claim process and coverage.
Positive Reviews
I've been a Bivvy customer for over a year now. They've been great from the start. Claims were generally paid quickly although this last time was incredibly slow. After many calls, I was able to get help from the CS manager. This doest prompt me to leave fewer than 5 stars however. Particularly because they are now offering direct deposit which is a smart move. Beterr for customers and better for Bivvy. It is with a very heavy heart that I have to cancel my policy. My beloved Great Dane Maya passed away unexpectedly. She had no long term illness that we saw coming. By the time Lyme symptoms showed it was too late. She was our family member, beloved friend, and protector. She saved my life from a bear attack. Heart is broken. 💔 Thank you Bivvy for being there when we needed you. – runatem, Trustpilot 6/11/2021
Great pet insurance! I've had a couple of claims so far and Bivvy reimbursed me very quickly for 50% of the bill, minus the $100 deductible. I am very happy with them and I signed up my other dog as well. – Laurie, Trustpilot 6/7/2021
Negative Reviews
I have been paying my policy, promptly every month. So far I've made 2 claims, but they come up with an excuse, everytime not to pay. Lots of reviews here, but only for how easy signing up is, and yes, setting up is easy, but good luck getting them to pay a claim. This company sucks, so don't waste your time with them. You will end up paying more and getting nothing back. I didn't even want to give 1 star, but had no choice. I just wanted to get this review out there for others to see. Dont waste your time or money with this company. I have canceled my policy. – Barbara, Trustpilot 4/16/2021
Under no circumstances use this company. Stay with ASPCA or whomever you're using. I just found out there is a 365 day wait on orthopedic problems. When I was on the phone with the sales person I was told of a 30 waiting period for all claims. I said, "So I should keep aspca for thirty days while I'm waiting for yours to kick in then, right?" Her response was, "That would be a good idea." Nothing about just pray your dog doesn't develop an orthopedic issue because we will pay nothing and you will be out anything you pay. We are 21 days shy of the 365.
DO NOT USE BIVVY. Now I won't be able to get coverage on anything my dogs have developed since the switch to bivvy when I go back to aspca.
Reply. I'm sure you are sorry. It sounded that way when I was on the phone with you yesterday and my dog was screaming in the background. – Kevin P., Trustpilot 2/17/2021
Our Final Verdict On Bivvy
Since it was recently founded in 2019, we'd like to see how Bivvy handles claim repayment, pricing, and customer service in the coming years. If you don't feel that Bivvy is the best choice for your pet, check out our recommendations for the best pet insurance.
Are you still considering Bivvy for your pet insurance needs?