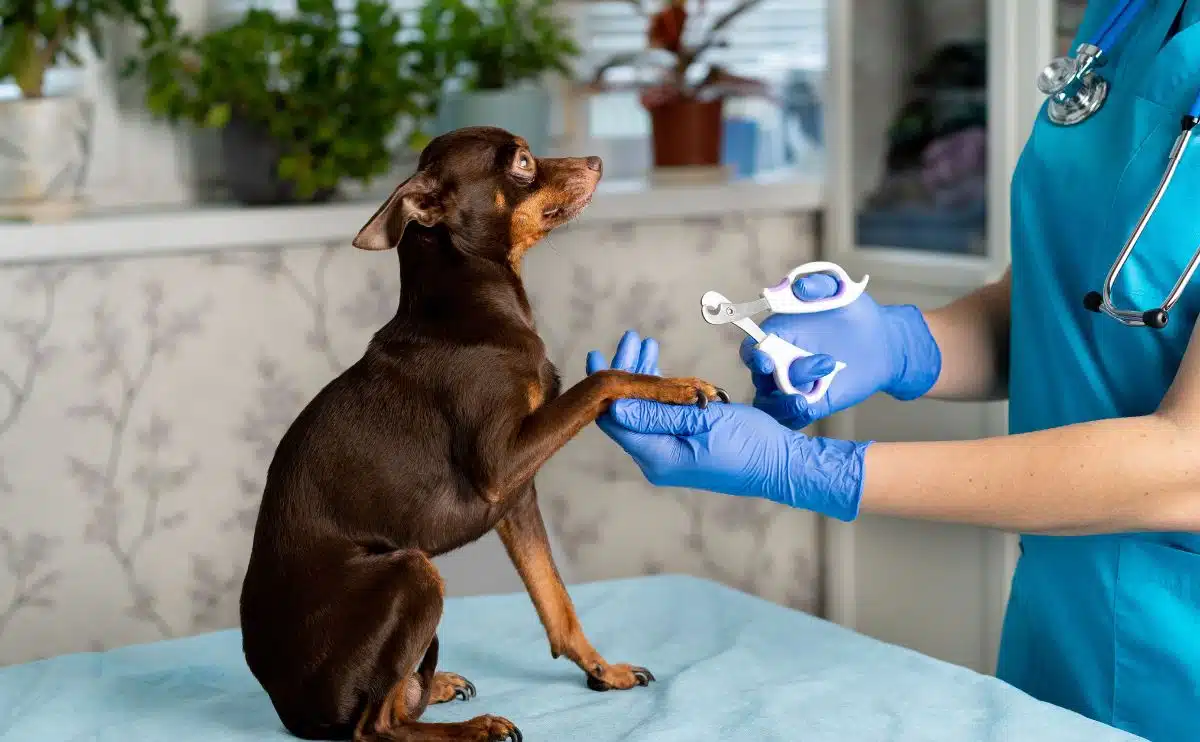 One of the most routine tasks or costs we can expect for our dogs is regular grooming and nail trimming. Professional dog grooming can easily exceed $100 and is determined by your dog's size and breed (based on how long the grooming takes and what exactly is needed, just a wash and dry or a haircut too). The frequency of grooming varies by breed, but at the very least, it's recommended to bathe your dog at least once every three months.
Nail trimming is often included with grooming, but it can also be requested without full grooming. Your vet office might offer this as a drop-in service as well. Nail trimming typically costs $10 to $25 and should be done about once each month.
If you follow the suggestions of grooming your dog once every three months and nail trimming every other month, you could be spending around $560 a year on grooming and nail clipping. But is this an expense pet insurance can help cover the cost of?
Does Pet Insurance Cover Grooming & Nail Clipping?
No, pet insurance does not cover grooming or nail clipping because these are routine cosmetic services. Pet insurance is the pet equivalent of human health insurance. So think of it this way: your health insurance doesn't cover the cost of your haircuts or nail appointments, nor does pet insurance for dogs.
If you'd like to get a full picture of what pet insurance does and does not cover, you can read our "What does pet insurance cover" article.
How To Get Coverage For Pet Grooming & Nail Trimming
Some pet wellness plans offer coverage for grooming and nail trimming. Depending on the company, you may be able to purchase a pet wellness plan as a standalone product, or it may need to be purchased as an add-on to a pet insurance policy.
The table below shows the companies that offer pet wellness plans, whether they cover grooming and nail trimming, and if they require a pet insurance policy to be purchased in conjunction with them. Note: wellness plans and availability may vary by state.
Can I Groom My Dog Myself?
One could argue that you can do just about anything yourself, but that doesn't mean you should. As humans, we need to know where our strengths and weaknesses lie. Some of us may feel equipped to groom our dogs because they only need a bath. Others may feel uncertain about trimming their dog's coat.
Based on your dog's breed, the condition of their coat, and what is needed, you may feel capable of grooming your dog yourself. If this is you, we have a how-to article for grooming your dog at home, including some equipment and tools you may find helpful.
If you feel overwhelmed by the thought of grooming your dog, don't put that pressure on yourself. It's okay to leave the grooming to a professional. A professional dog groomer's experience, tools, and patience can be difficult for pet parents to recreate.
Can I Trim My Dog's Nails At Home?
Yes, with patience you can trim your dog's nails yourself. Trimming a dog's nails at home can be intimidating, but with our tips, you might feel more at ease with doing it yourself.
Be mindful of the quick (the pink area containing blood vessels), which can be nearly impossible to see on dogs with darker nails. If your dog has dark nails, look for a chalky white ring (a flashlight can help). We have many more tips in our "How to trim dog nails" article.
What's The Best Pet Insurance For Grooming & Nail Trimming?
The best advice we can give you is to consider insuring your pet against accidents and illnesses. While grooming and nail trimming costs can add up over time, you're more likely to see large vet bills for unexpected health events (like a broken bone, ear infection, allergies, cancer, etc.).
For the best of both worlds, we recommend signing up for a pet insurance policy and adding a wellness plan to help cover the cost of routine vet care plus grooming and nail trimming. If this is the direction you're leaning, your options are Embrace or Wagmo. Wagmo isn't available in all 50 states and isn't as well-established as Embrace is. So, we'd recommend you get a quote from Embrace and go from there.
Tagged With: Grooming, Reviewed By Insurance Agent